About Dubai Marina
Fulfilling the idea of an amazing vacation Dubai Marina is an exotic place to visit. With all the luxurious spots and sites to wonder about it is a place that leaves you starstruck. An artificially designed canal-city, Dubai Marina is one of the major attractions in the United Arab Emirates. The marina which is a dock was created by bringing water from the Persian Gulf, which named it as a man-made marina. This segment of the city of Sheikhs provides luxury services and panoramic views by keeping comfort at its peak. The Jumeirah Beach is the heart of this place which is the world's largest single-phase residential area, providing lavish stay to more than 500 people. Marina was built and developed in two phases. The first phase focussed on building apartments and the Dubai Marina towers while the Second phase brought the night colors to the city by building skyscrapers.  

This place is a perfect blend of new-york like skyscraper sight along with a tranquil experience while floating in the midst of canals as if travelling in Venice with a different lens. People can witness the mesmerizing view of city lights and have a moment to enjoy their quiet time too. There are cruises for Dubai marina every hour and can be booked easily according to the affordability.

Also, one can have the privilege to watch sharks and whales on the shore of this place due to its proximity to the Persian Gulf. Dubai Marina also has exciting things to offer like, some great adventure sports, huge malls, restaurants serving delicious authentic cuisines and Yacht rides to make memories with their loved ones. Many places in this city can be seen by strolling and walking around on the Marina Walk. This place does make your pockets lighter but would leave the heart heaviest to crave for coming back again.
How to Reach Dubai Marina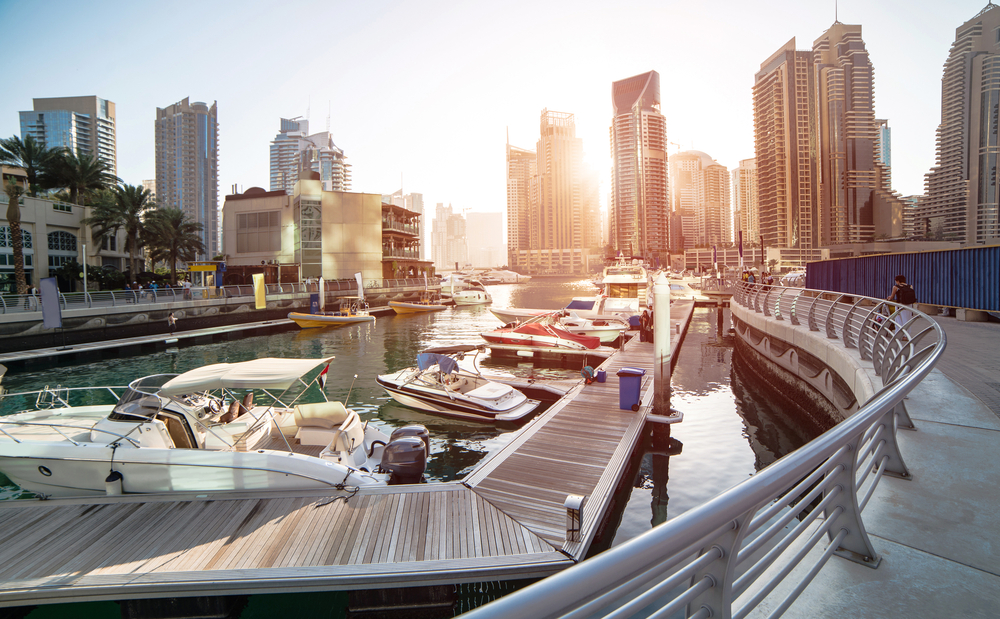 There is a train system that is followed from Dubai Airport to Dubai Marina operated by the Dubai RTA. It runs every ten minutes and the journey from the airport to Dubai Marina is about 46 minutes.
The cost of tickets in AED ranges from 3-6. One also has the option to reach by bus that is also operated by the Dubai RTA that runs in every 30 minutes. The cost of fare of the bus in AED 15 and your journey is of 1 hour and 40 minutes. If not these conveyances then one can also choose a taxi to reach the spot.
Best Time to Visit Dubai Marina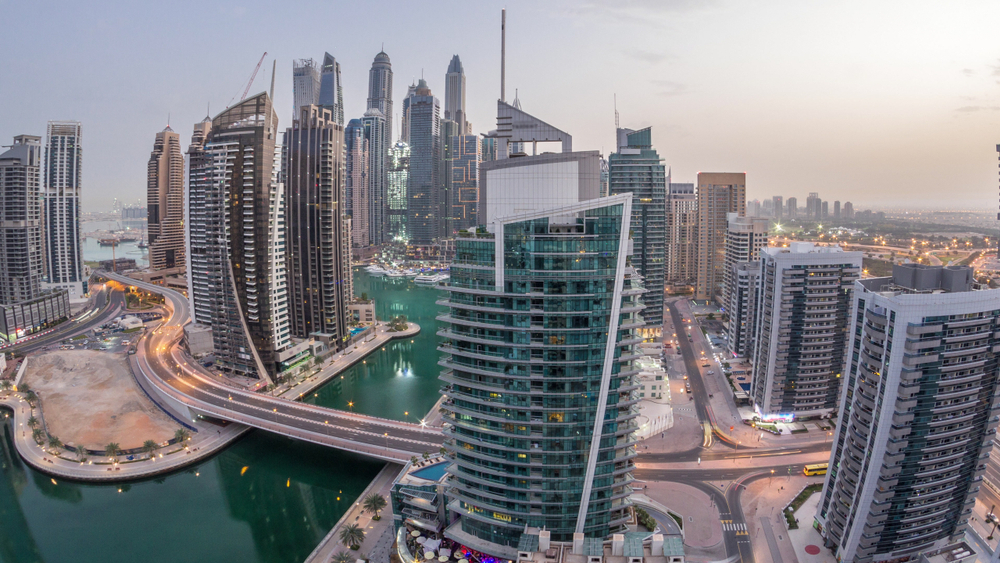 The best time to visit this gorgeous place is from November till January as during those months the winter makes it fun to enjoy the streets. One can also walk around freely and explore the place as during the remaining time of the year the temperature is too hot to enjoy the visit.
What Not to Miss at Dubai Marina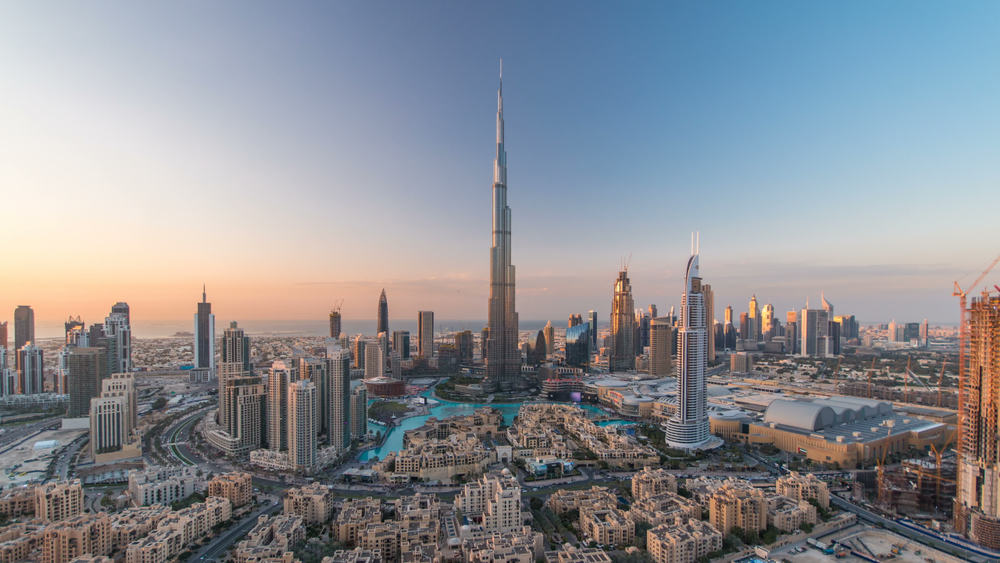 Here is the list of best places to visit in and near Dubai Marina:

1. Ski Dubai (Mall of Emirates) -
 A wondering place to visit for kids as well as for adults. You will find Ski Dubai in the Mall Of Emirates. Timings to visit this place are from morning 10 am till 11 pm at night. One can spend some chill hours with their family in the heating temperature of Dubai. One can enjoy activities like snowboarding, skiing, enjoy chairlifts and build a snowman. You can also see the penguins here many times.

2. Burj Khalifa-
  If one wishes to visit some exotic location near Dubai Marina then the Burj Khalifa is the one. This enormous skyscraper is all glittered with luxurious ambiance and interior. Presenting to you highly creative exuberance it has followed the Islamic architecture in making. One can also get on The Top to get a stunning view of this humongous city. It is open from 8 am to 3 pm and from 3:30 pm till 6 in the evening.

3. Dubai Aquarium-
 An enticing place to visit the mystique species of wildlife. Preserving more than 140 underwater species this aquarium should be a must-go-to place. This underwater zoo has a collection of endangered wildlife species like the tiger sharks that are being kept safe in this aquarium. The timings to visit this bewitching place is from 10 am in the morning till 12 am at midnight and prices are affordable too.

4. Dubai Miracle Garden- 
This is a heavenly place with some blossoming flowers to see. This garden will make your senses go all happy and dancing when you just have a look at them. Renowned to be known as the world's largest natural flower garden it is a wonder to experience in the desert city like Dubai. One can visit this garden from 9 am to 9 pm. Garden also showcases various models made by the flowers and are operated by machines that make these models move. One should definitely visit this place.
Things to Do in Dubai Marina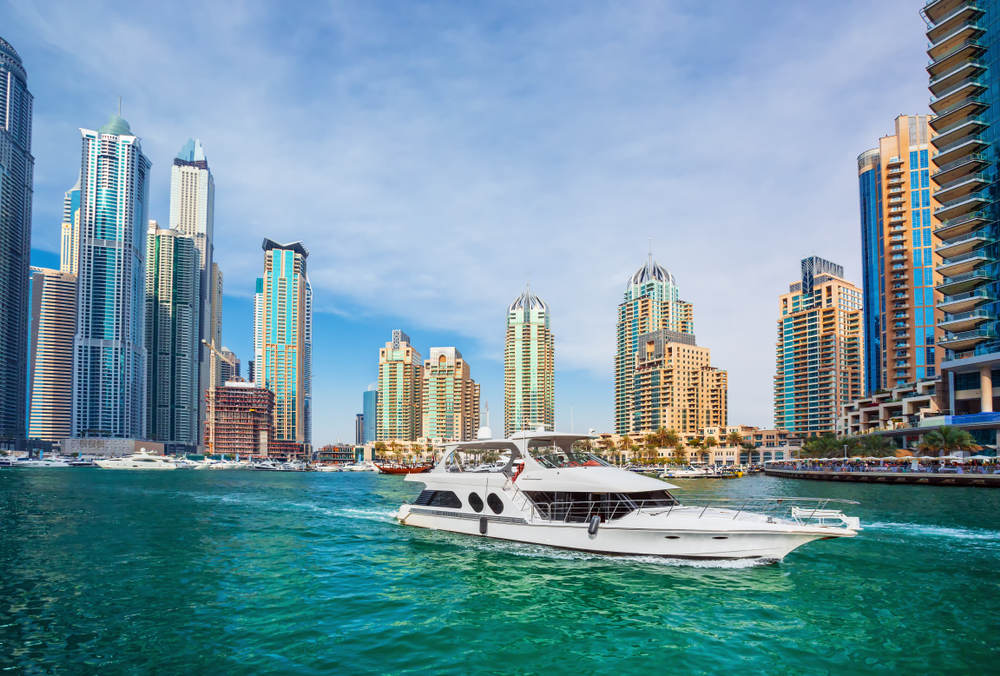 1. Take a ride on a cruise-
 Availability of things to do in Dubai Marina is in multitudes and in one of them comes taking a ride on a cruise. Spending some time with your family or partner in peace amidst the beautiful sea is a great idea for anyone. One can savour the grand gourmet meals and enjoy the live entertainment performances and light music to dance yourself. Many of the dinner cruises like the Alexandra dhow cruise Dubai marina, Bateaux Dubai Dinner Cruise, 5-Star Premium Rustar Dhow Cruise Dubai, etc. will mesmerize you and make your trip memorable.
2. Go shopping, munch in a cafe or take a swim- 
 Dubai Marina is a humongous place to keep you entertained!  While the children will be thrilled to play adventurous games elders can have their piece of peace with shopping fun and exploring new things.There are many exotic cafes and restaurants like Latino Garden Restaurant and cafe, Counter Culture Cafe, Shakespeare, and Co., etc.  that provide you with fine taste and amazing ambiance. And not only this but here you can even refresh the body with a small swimming session!
3. Try the RIB Speed Boating Sightseeing-
 Wondering how to check out the whole of Dubai Marina at once then try the RIB speed boating. A 90 minutes fun-filled and action-packed tour that will make you see the sights of the stunning Burj-Al-Arab, the skyline of Dubai Marina, Palm Jumeirah, and the beautiful Atlantis Palm. In addition to that an experienced tour guide who will give you a brief of all the lovely sites and make your ride a memorable one.
4. Zero Gravity Beach Club- 
A massive beach club that attracts a lot of people is a must to visit place when you land on to Dubai Marina. It is one of the area's hottest attractions as you can relax under the umbrella and soak the sun. One can enjoy the glass-walled infinity pool if they wish to go for a swim. People who crave for adventure and thrill can take the plunge to try skydiving at SkyDive Dubai. The club also gives you the dazzling night feels as they serve you with some classy music and drinks to relish in.
Other Essential Information About Dubai Marina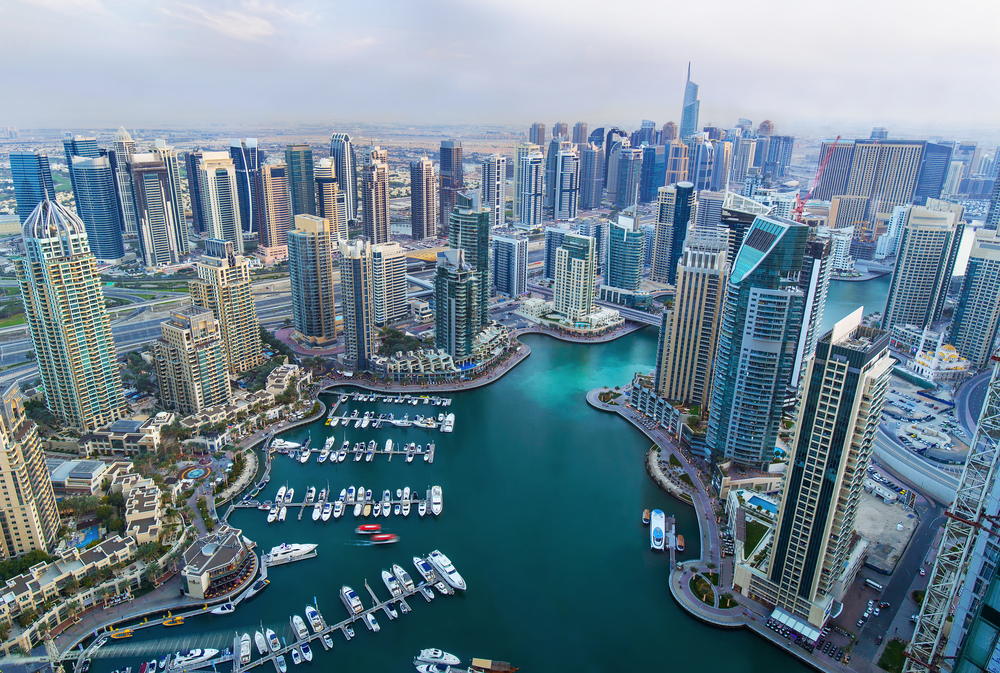 Location:
 Dubai Marina is a residential district in Dubai. It is a 7km palm-lined waterfront walkway dotted with global cafes, food outlets, and restaurants in the United Arab Emirates.
Timings:
 The place is open 24 hours for a visit.
Best Restaurants to Eat at Dubai Marina 
What is the satisfaction in travelling without having a ravishing meal that takes your heart away and leave you with the thought of visiting again and again? Well, then Dubai Marina serves you with the best choices of luxurious restaurants for that delicious satiety.
Here are you few restraint suggestions for you:
1. Massimo's Italian Restaurant: 
This place scores the best for both the scenic view and the tastiest food which it offers. They serve authentic Italian food and have a beautiful waterfront terrace. This place is a must to take your partner for a romantic dinner.

2. Rhodes Twenty10: 
A must-visit place to taste the food by a starred-award winning Chef " Gary Rhodes". Each dish will leave your mouth watered. The chef signed steak dishes are a must try. This place serves the most authentic American cuisines and is highly committed to its quality service. 

3. Catch 22: 
It's the most fascinating place to eat by a beachside. The place has a commitment to offering such an experience that is  cherished by the customer. They have a large variety of food options from most delicious salads to sandwiches and large plates servicing authentic dishes. 

4. Highway 311 Grills: 
The rich and delicate flavours in every dish of Latin America are offered here. This place also focuses on providing experience, it's a food trip leaving you with vibrant food colours and taste. The setting of the place is warm and lively. Do visit this place to have a food ride in Latin American cities.
Best Dinner Cruise to Choose in Dubai Marina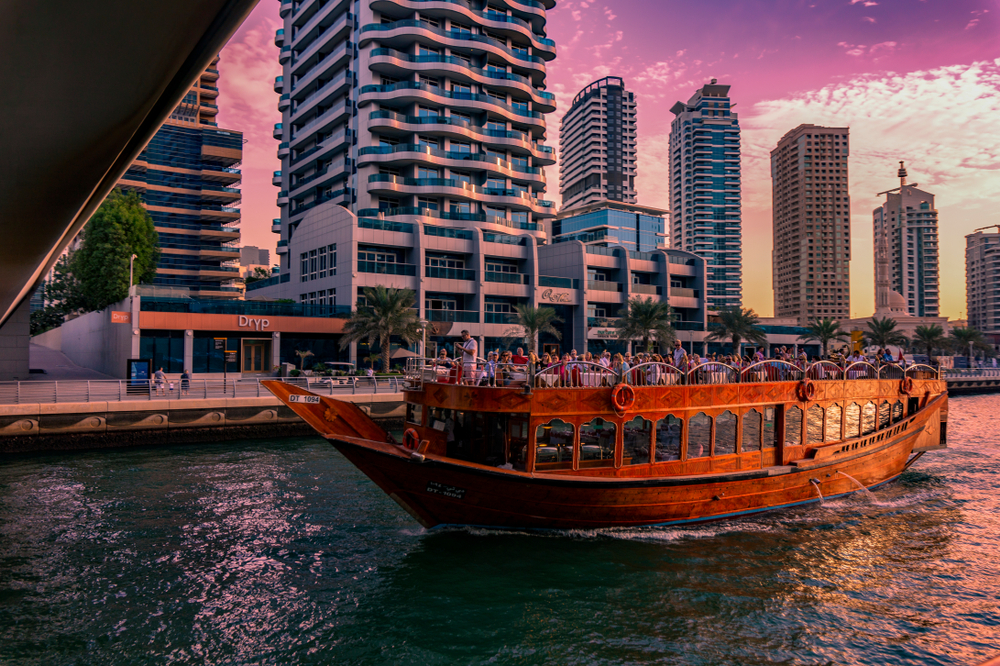 One cannot afford to miss having dinner on a cruise ride in the midst of Marina when in Dubai Marina. 
1. Alexandra dhow cruise Dubai marina:
 This place is highly recommended by visitors to have buffet full course dinner in the midst of Marina Canal at a fairly reasonable price. The cruise is a two-hour duration that provides a live dance and music show with an authentic dinner meal. 
2. Bateaux Dubai Dinner Cruise:
 Dine in on this lavish dinner cruise set on gorgeous Bateaux Dubai and waft along the Dubai Creek. Lookout for Dubai's landmarks shining in the sky at night. While you are diving in the depths of beauty make sure not to miss watching Maktoum Bridge that lightens up. 
3. 5-Star Premium Rustar Dhow Cruise Dubai:
  With stunning panoramic views while dining on a lavish floating restaurant known as the Rustar dhow one can savour the magic of fine cultural taste. Enjoy the live music and the entertaining Emirati dance performances while you dive in your drinks.
4. Luxury Canal Dinner Cruise ( New Route): 
A lavish dinner cruise is provided by the Luxury Canal. Spent some romantic hours with your loved one or company your family while having a full course gourmet meal. The sights you see of the grand Burj Khalifa and that shining skyline of Dubai Marina will keep your eyes wondering. Available to you at a very affordable price it is a must thing to do.
5. 2- Hour Zomorrodha Floating Restaurant Dinner Cruise: 
One can set on the deck or in their cabins and enjoy the views of floodlit Rolex towers. And this 2-hour cruise ride is available to you in a very affordable price and yet grand experience. Cruise along with that Venetian style and check out the versatility of Dubai and soothe your eyes.
6. Luxury Marina Dinner Cruise:
  Pass through the elegant Twin Towers, Clock Tower and Grand Mosque. Absorb the panoramic views from the shiny glass walls and savor the taste of a grand luxury meal and drinks and all of this at very affordable prices. One can also book in advance and be relaxed.
7. Dubai Creek 'Jameela' Floating Restaurant with Dinner Cruise:
 With lavish and fine cultural taste food you will always be impressed with the quality. Showing you around the bewitching sights of Dubai in an hour or two, this dinner cruise proves to be an exciting one to try out. While you spend your time wondering and wandering, gorgeous sights of the waterfall bridges will be heartwarming. Also, as you wander through the skyscrapers of the city like Burj Khalifa you will be enthralled.
8. Golden Dubai Tour With Dhow Dinner Cruise Combo:
  A "dhow" is a traditional concept among the middle east countries, which is a wooden vessel used for trading and has historical value. With a dhow cruise,  you will be accompanied with live dance performances, the rich drinks, fine dining, and exotic sights of the Burj Khalifa and the floodlit waterfall bridge.
Best Hotels to Stay in Dubai Marina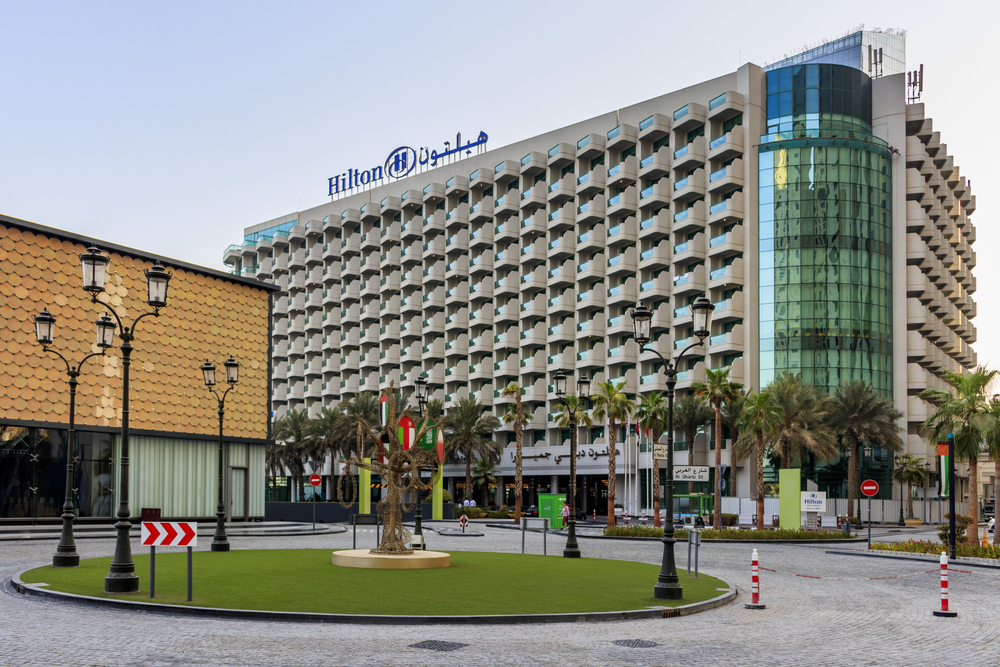 When in Dubai Marina, it's important to choose a hotel which leaves you extra pampered and offers the best all-day view. Here are your few hotels which have been selected for you:
1. Hilton Dubai Jumeirah: 
This beautiful hotel-cum-palace has its own private beach and on-site activities. It is close to Skywalk, multiple popular restaurants, and malls. The Hilton also pampers you with their spa and sauna services. A stay at this hotel is worth as they offer you the most comfortable stay along with many facilities. Also, when with family this place becomes most preferable as it has many indoor clubs and outdoor activities for children.

Price
- 12k – 25k

2. Address Dubai Marina: 
It's a 5-star Hotel on the coast of Marina bringing the most lavish experience to you. The unique feature of this place is "Igenie" a tablet feature in every suite to book your appointment or any services just with the touch of a finger. The place is all time suitable for a great view, service, and proximity to major spots of the city. 

Price: 
13k-40k

3. Le Royal Meridien Beach Resort & Spa: 
This place is an award-winning place for it's excellent and throughout commitment to quality service and providing a comfort-stay. The view of Arabian Gulf along with multiple amenities provided by the hotel makes it one of the most preferred spots that you can witness with your family and friends. It is also one of the most recommended places to stay in this city.

Price:
 10k-20k

4. Only & Only Royal Mirage Dubai: 
Being a little heavy on the pockets this place is surely a must add in the travel itinerary of Dubai! It has a traditional style built restaurant providing authentic cuisine, a breathtaking view describing the entire city and plenty of activities to keep you occupied for the entire vacation. It is a heritage resort where you can also learn about the culture of the place. The minute you will step in, the vibes of the places would not be any lesser than a palace. One of the best experiences it offers is its private water park.

Price:
 34k-1,30,000
Tips for Visiting Dubai Marina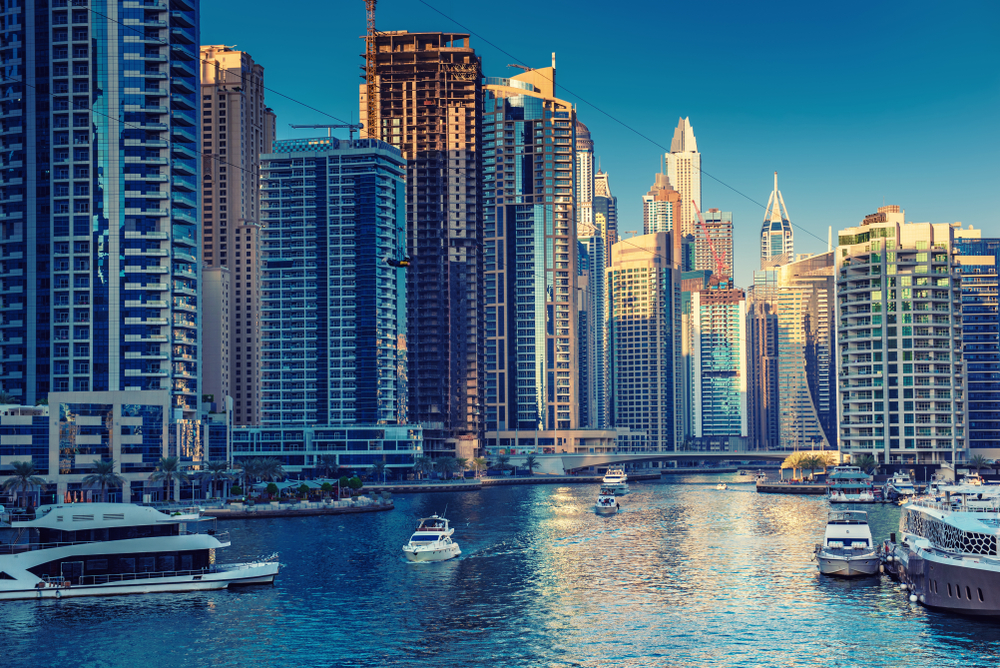 - Never forget to carry a water bottle as the temperature in Dubai is too high to handle
- For unlimited and easy travel one can apply for Nol pass of Dubai Metro
- Public service transport like the trams and buses are also there that work for 24 hours
- One can also rent a bike from Byky to go around the Marina walk in Dubai Marina.
- Carry a camera with you for sure as the vibrant places of Dubai will leave you awestruck and make you want to capture your moments.
- Although there is a strict rule to be fully covered when here but on the beachside, it is not necessary.
- One can ask from their hotel managers to appoint a show or a yacht in order to reach for the dinner cruise site.
- The best time to visit Dubai Marina is November till January as the temperature will be approximately 30 degrees
- There are abundant taxis and also Uber is available to you at cheap prices.
- One should take care of their kids and so for them also there are playrooms to keep them entertained while you shop.