About Dolphin Bay
Dolphin Bay, located in the Atlantis Palm resort, is one of the themed water parks that offer visitors of all ages an unrivaled experience. The destination spread across 11 acres of eye-pleasing verdant vistas with ponds, salubrious beaches, and astounding waterfalls, is home to one of the human-friendly and marine mammal creatures of the world, the Dolphins. The seven interconnected pools along with 3 synergetic lagoons form the most elaborate natural habitat for these warm-blooded animals.

A face-to-face encounter with these lovely creatures will leave an everlasting memory that one will cherish his/her entire life. The park has a whole lot of activities to choose from, depending upon one's age and swimming abilities. The main attractions at this venue include Dolphin Encounter, Dolphin Adventure, Royal Swim, Dolphin Scuba Dive, Dolphin Snorkel, and Dolphin Photo Fun. As a part of an escorted behind the scenes tour of the Bay, the visitors also get a chance to learn from the qualified sea mammal consultants, about the Medical Laboratory, record room, resident pools and the health regimen of the inhabitant dolphins.

If you are a person who loves water-related activities, then, you have an array of deepwater interactions ranging from swimming to scuba-diving with Dolphins to make your day.Those with sub-par swimming abilities and young need not feel lost at Dolphin Bay. They can bond and play with these wonderful creatures either standing in shallow lagoons or doing shallow swimming with dolphins to their heart's content.The people who hate to get into water or pools may wait until Dolphins get out of the water, which they do for short durations, to take snaps of themselves while petting or kissing the dolphins.

Friends and family members, who wish to accompany the participants but not take part in any of the interactions, have the option to buy Observer Pass and enter the Dolphin Bay. They can attend the 15-minute orientation by Sea mammal consultants, avail complimentary bottled water or soft drinks and click photographs of their loved ones from the embankments of the pools.Committed staff and expert trainers will persistently monitor the visitors' interaction with the Dolphins to provide a secure and congenial atmosphere and enhance your experience.Dolphin Bay accommodates visitors request for an exclusive experience of dolphin interaction in a private pond or lagoon. 

Wet suits and lockers are provided by the management of the Dolphin Bay for the visitors' safety and convenience.Those, who buy Dolphin Bay interactions get complimentary same-day access to Aquaventure Water Park the & The Lost Chambers, worth up to Rs. 7602. The Bay offers awesome marine mammal education-cum-adventure program to school groups comprising children aged 6 to 16 years. 

How to Reach Dolphin Bay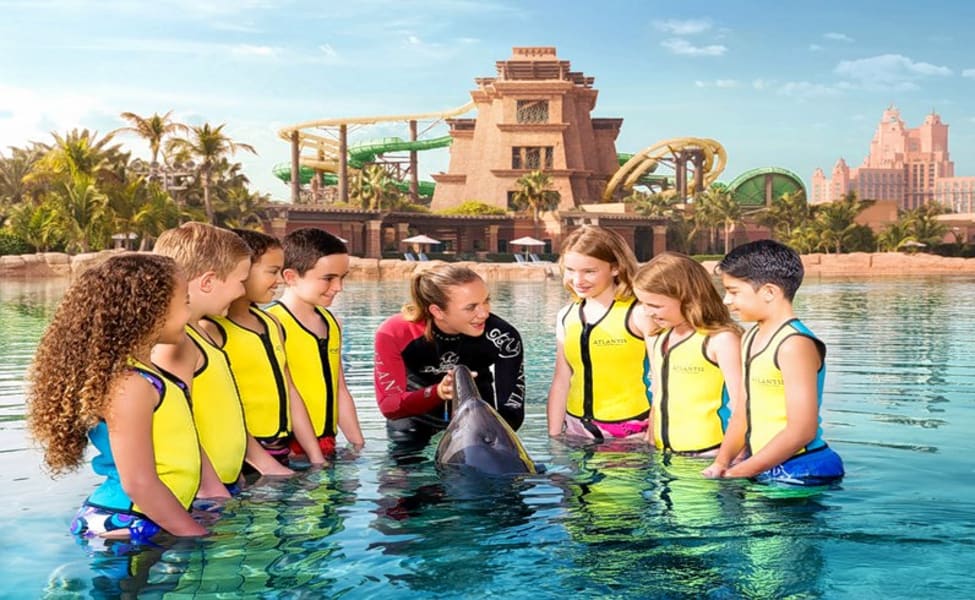 Dolphin Bay, situated at Atlantis Palm, on Palm Jumeirah, is reachable from all prominent parts of the city. The park is a 40-minute drive from Dubai International airport.
One can reach Dolphin Bay by either boarding a cruise over the creek or by engaging a taxi by road. Guests can also get on the Metro express bound towards Jebel Ali and alight at the Mall of the Emirates, which is the nearest metro station. From the metro station, a taxi can ferry to Dolphin Bay.
Best Time to Visit Dolphin Bay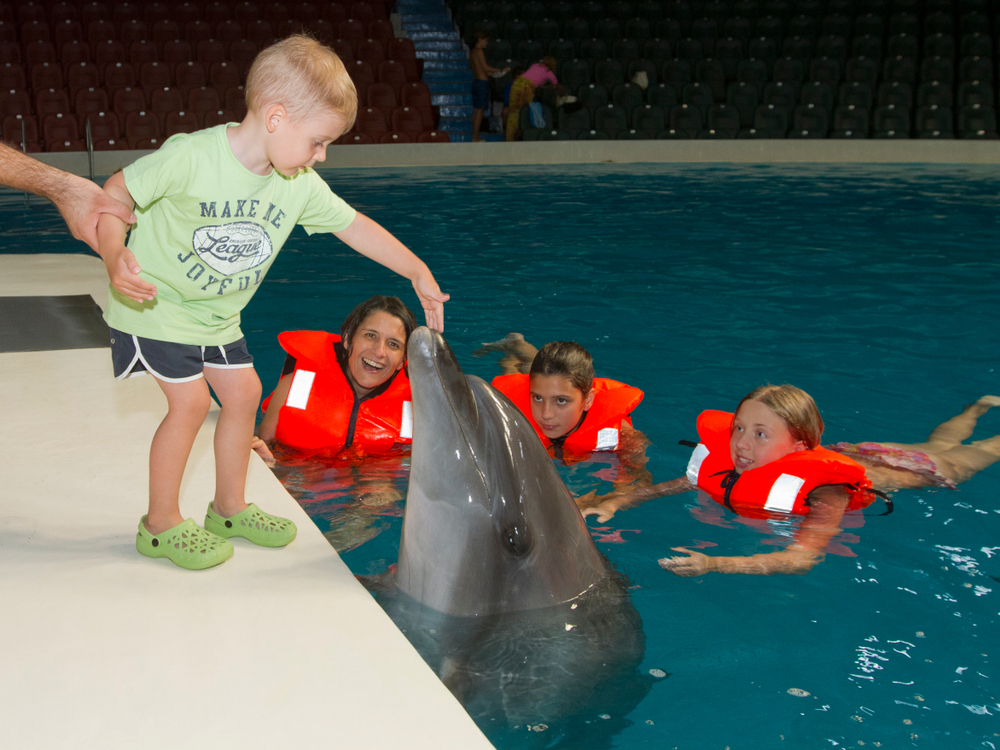 Dubai experiences tropical climate in general and summer temperatures touch in the excess of 38oC. Therefore, the best time to visit Dolphin Bay is during the winter season between November and March. As climate remains pleasant during this time, it is suitable for outdoor activities. 
What Not to Miss at Dolphin Bay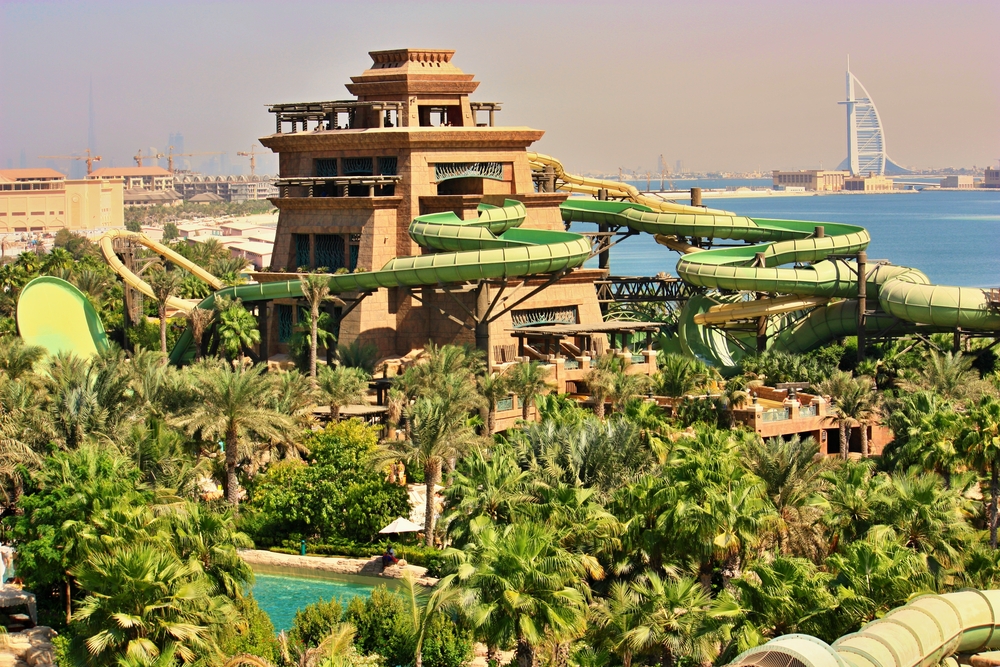 1. Blue Coast Water Sports (0.1 Km):
 It is a water sports haven for enthusiasts that offers exhilarating motorsport activities, lessons, and courses such as fly board, parasailing, jet-skiing, kneeboarding, etc. Water cycling, kayaking, Paddleboarding, Kids jet skis, and inflatable rides allure the kids and non-professionals.
2. Aquaventure Waterpark (0.4 Km): 
It is one of the largest and award-winning water parks with innumerable iconic rides and slides that take your excitement to unprecedented levels. The various attractions in the Tower of Poseidon, Tower of Neptune, and River Rides set the visitors' heart racing and guarantee an unparalleled experience.  The Shark Safari, Ray feeding, Splashers Kids play area and Aquaventure beach presents a unique and fulfilling experience.

3. Lost Chambers Aquarium (0.7 Km):
 A mammoth construction of a maze of underwater halls that give you the feeling of being inundated by water and aquatic life all around. The Lost Chambers Aquarium features 65,000 sea animals existing in their natural habitats, set in over 21 gigantic aquariums. Ambassador Lagoon, one of the largest among 21 aquariums, is a gargantuan structure that holds 11 million litres of water along with 150 types of fish. The aquariums showcase the recreations of the lost city of Atlantis. Blacktip reef sharks, Stingrays from the Arabian Sea, Piranhas, lobsters, small seahorses, jellyfish, and millions of colourful fish present a visual treat to the visitors.
4. Sea Lion Point (0.8 Km):
 The friendly social behaviour of the cute Sea Lions amaze the visitors. The Sea Lions are taught over a period of 6 months by a repetitive process of operant conditioning to clap, sing, kiss and jump. One can get into waist-deep waters and bond with these cuddly creatures with kisses and hugs or interact with them from the embankment of the pool. Under the guidance of the marine mammal specialists, cuddle with chubby Sea Lions and get clicked to capture the cherished moments.
5. Wave House (1.1 Km): 
Wave House is a massive bistro-cum-family entertainment zone located at Atlantis, The Palm. Ten-pin bowling alley set in a modish setting raises the competitive and enjoyment levels of the families and kids. The gaming zone spread over 2 floors with around 50 old and modern games such as Pac-Man, Stereo VR, Xbox's Fortnite, etc will test the mental acuity of the visitors and keeps them engaged. The soft play area will entertain the children. Hard-core adventurists will cherish the pulsating surfing experience of the Wave Rider. International & local cuisines like deep-fried Babybels, fish-finger sandwich, prawn cocktail tower, spaghetti Bolognese, pizzas, seafood, pork section, etc will take the foodies on a gastronomic tour that tantalize the taste buds and surfeit the stomach. Come Night time, Wave House reverberates with live music, Disc Jockeys, and events that set the revelers grooving and foot-tapping.
6. Atlantis Kids Club: 
An ideal destination for kids aged between 3 years to 12 years to amuse, create, and discover. Play zone and Command center through Xbox and Playstation develop kids imagination and co-ordination skills apart from focus and sharpness. Creation zone initiates children into vocational activities like painting, decorating, origami, etc and unlock their creative potential. The seven evening games that run between 5:30 p.m to 8:30 p.m. guarantee fun-filled experience. Underwater theatre teaches children about the wonders of the ocean and marine animals.
1. Dolphin Encounter:
 An awesome experience for all the non-swimmers and kids of all ages to personally interact with adorable dolphins. They can totter in the shallow lagoons and indulge in petting, dancing and playing with the cuddly amiable creature, enjoy the high-energetic show of the mammal and snap pictures with the lovable animal. The show is open to all ages but is limited to 10 guests per dolphin. Children under the age of 12 are required to be accompanied by a paying adult above 18 years. Those who are averse to getting into waters may enjoy the show from the banks and snap pictures for posterity.
2. Dolphin Adventure:
 Participants above the age of 8 years, who can swim confidently without the aid of life-jackets in 10 ft deep water, are qualified for this interaction. Enjoy the most unforgettable ride of your life, as you hold on to dolphins and swim across the lagoon. Experience the speed and agility of the big flipper. Feel the thrill of its belly-ride and its high-octane twits and maneuvers. Bond with the genial being in the 30-minute deep water interaction with hugs, kisses, and hops. Learn fascinating insights about the dolphins and other sea mammals from qualified marine authorities during the orientation program, before interacting with the animal.
3. Royal Swim: 
If you are looking for a high-paced activity, then Royal Swim is the correct option for you. The activity stipulates that one must be at least 12 years old and a good swimmer to be eligible. The act of a highly dexterous dolphin pushing your feet, to propel you forward, as you hold on to the boogie board, at high speeds across the 10 ft. deep waters make for a hair-raising experience. 
4. Dolphin Scuba Dive:
 Only those who are 15 years and above and hold valid Scuba diving certificate (junior certification not considered as eligibility) are entitled to take up this activity. Divers are required to wear the diving equipment provided by the management for the safety of the dolphin.  Feel the rush of adrenaline in your veins as you swim alongside the majestic mammal, just like any other aquatic creature, matching stride for stride. Feel the power and affable nature of dolphin as you snuggle, smooch and prance around it in the deep waters. Enjoy the underwater view of the twirls and drills of the dolphin. 
5. Dolphin Snorkel:
 It is a pulsating activity where swimmers with aid of snorkel, swim underwater, across the lagoon surrounded by freewheeling resident dolphins. Mandatory age to take part in this interaction is a minimum of 8 years. Albeit a life-jacket is provided for personal safety, one should be a good swimmer to partake in this exercise. Due to the physical activity, expectant mothers, persons with neck, back, joint and cardiac problems are not permitted to participate in Dolphin Snorkel. Similarly, guests with injuries, infectious diseases, and physical disabilities are not allowed.
6. Dolphin Photo Fun:
 This particular activity enables visitors to develop personal interaction with cute, cuddly creatures without getting into waters or getting wet. The 10-minute fun and frolicking interaction of touching, nestling, and pecking the adorable dolphins from the confines of the lagoon and being photographed by professional photographers to take a souvenir home make it one of the best activities. The action, which is open to visitors of all ages, is limited to 15 guests per session.
Other Essential Information About Dolphin Bay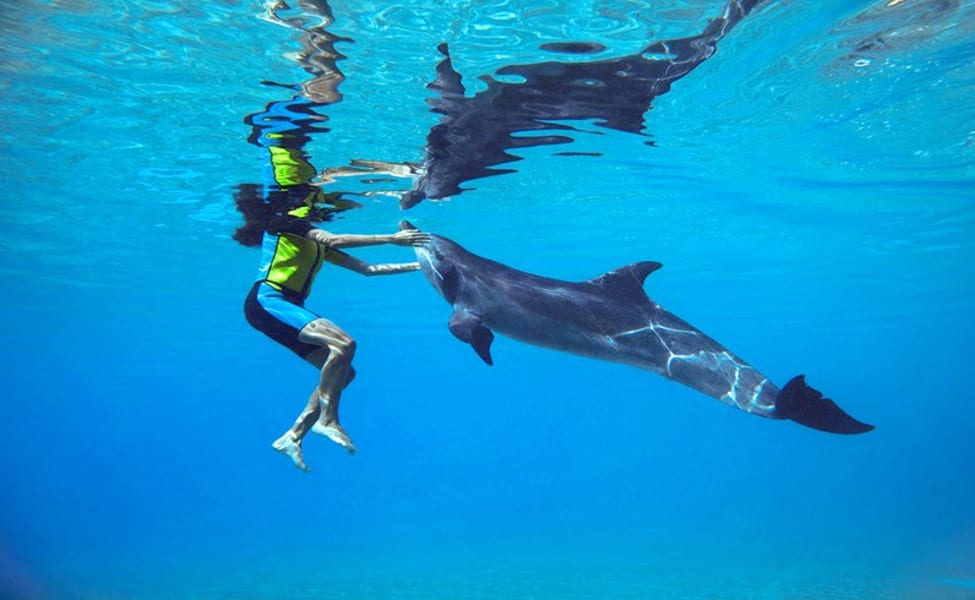 Location: 
Atlantis, The Palm Hotel, Crescent Road - Dubai
Timings:
 Monday – Sunday (9:30 A.M – 5:30 P.M)
Price: Dolphin Encounter Fees: -
For foreigners: Rs. 13, 942 -17,778 
-
UAE Residents: Rs. 11, 210
Dolphin Adventure:
-
For Foreigners: Rs. 17,310 –Rs. 21,146
-
UAE Residents: Rs. 14,952
Royal Swim: 
Rs. 20,117 – Rs. 22,363 
Dolphin Scuba Dive: 
Rs. 27,135
Dolphin Snorkel: 
Rs. 10,573 (Atlantis Guest) – Rs. 12,632
Dolphin Photo Fun:
 Rs. 7,673 – Rs. 10,199
Observer Pass: 
Rs. 5,521 – Rs. 6,550
Tips for Visiting Dolphin Bay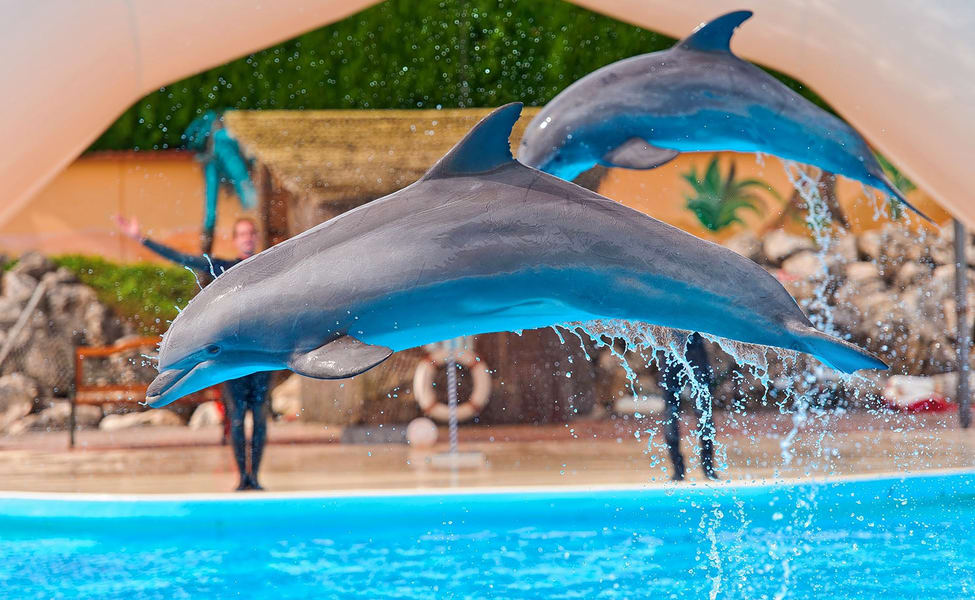 - Kids below the age of 12 years should be accompanied by a parent or an adult over 18 years.
- Visitors should compulsorily wear gear provided by the management while interacting with dolphins in the water. 
- Visitors will have 30-minute check-in or changing time to don the equipment and store their clothes in respective lockers, before getting into the waters.
- An orientation program by sea mammal experts briefs the explorers on what one needs to know before interacting with cuddly creatures.
- Only valid scuba certified divers are allowed to participate in the Dolphin Scuba diving activity.
- Personal belongings like Jewellery, wristwatches, hair accessories, hats, goggles, and other unfastened articles are not allowed to be worn by visitors willing to enter the lagoon.
- Explorers are not allowed to carry cameras inside the water. However, the management appointed professional photographers will be available throughout the interaction to capture the requested snapshots.
- Friends and Family members with observer pass are permitted to capture pictures from the embankments.
- Visitors should only touch the dolphins under the supervision of sea creature consultants. Any activity such as pulling, or grabbing or restraining the dolphin will result in the removal of the participant from the activity.
- The Staff of the Dolphin Bay reserves the right to disqualify any person if he is either physically unfit or drunk or violates safety instructions.
- Participants are advised to report at Dolphin Bay on time, to avoid the slot being sold to others due to belated arrival.
- Guests are requested to wash off excess sunscreen, sunblock lotions or ointments, and tanning oils before entering lagoons.