About Dubai Opera
Dubai Opera is a destination for performing arts, unveiling the rich culture of Dubai and hosting the finest, authentic, and captivating experiences from Dubai and the world. The main purpose of Dubai Opera is to host a wide range of performances and events such as conferences, theatres, opera, ballet, concerts, and so on. This multi-facet building is designed to resemble a dhow, a traditional sailing vessel. Thus, more than an attractive destination, it is also embraced as the vibrant cultural heart of Dubai and is committed to producing engaging performances to the people.

This splendid dhow-shaped masterpiece is a tribute paid to Dubai's maritime history. The building's exotic design is created by Atkins and lead architect Janus Rostock, who incorporated an exceptional feature to transform the entire building into three different modes; it can be changed from a theatre into a concert hall, and into a 'flat floor' shape becoming a banquet or event hall. This fine flat floor is solely used for special occasions like weddings, art galleries, fashion shows, and exhibitions. Similarly, in the concert hall, a series of towers and reflectors on stage and above will move and create a stunning shell shape around the orchestra and gives a perfect room for the sound hearing.

Apart from that, Dubai Opera is also boasted with world-class dining and other accessibility. The rooftop restaurant and sky garden having views of The Dubai Fountain and the world's tallest building, Burj Khalifa is mind-blowing. The whole building is well-equipped for people who have special needs and reduced mobility, making sure everybody is experiencing the best hospitality ever. Finally, the place is located at 'the most prestigious square kilometre in the world' in Downtown Dubai and the ever-glowing pearl of The Opera District. Hence, while visiting this famous place, don't miss to come in your voguish outfit.
How to Reach Dubai Opera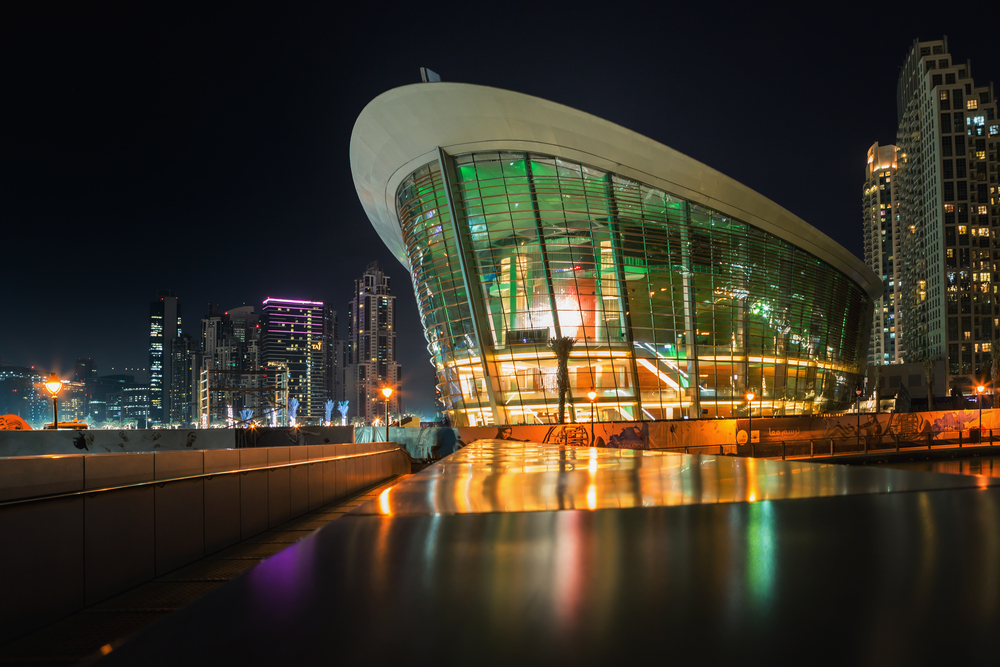 Dubai Opera is located 17.7 km away from Dubai Airport. One can take a metro and get off at Burj Khalifa Station on the Redline. Then take a stroll towards Dubai Opera from Sheikh Mohammed Bin Rashid Boulevard (it's exactly 25 minutes of walking). Apart from that, you can take a bus and arrive at the Dubai Mall Metro Station. From there, it's located very close by and easy to reach.
You can also hire a taxi/cab from the Airport Cab Service and reach the location 30 minutes before the scheduled time.
Best Time to Visit Dubai Opera
If you're a first-time visitor, you must come here after sunset to get the astonishing view of Dubai Opera. The mere design itself looks like a dhow, a traditional sailing vessel. Please note that the place will be open two hours before the scheduled show time. The main auditorium doors are open 30 minutes before the commencement of the performance.
What Not to Miss at Dubai Opera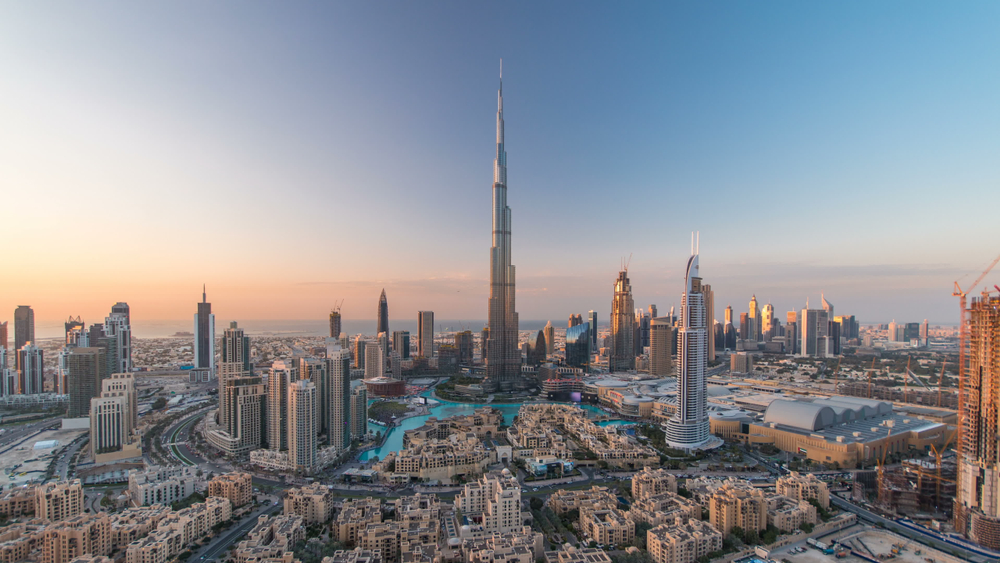 Here are some of the best places to visit near Dubai Opera:

Burj Khalifa –
 It's a spired 828-meter skyscraper with a viewing deck, restaurant, hotel and offices and 11-hectare park. With an incomparable feat of engineering, it is  one of the famous attractions in the world.
The Dubai Fountain – 
It is the world's largest choreographed fountain system, located at the centre of the Downtown Dubai. This huge fountain gives a unique experience of 30 minutes display of water jets, music, and the light show.
At.Mosphere – 
Situated 442 meters above the ground, At.mosphere at Burj Khalifa gives you the breathtaking views of the Arabian Gulf. This award-winning restaurant is boasted with menus of delectable food and desserts.
Burj Park –
 It looks like a small island featured with an 11,300 square metre lush green lawn and stunning views of the Burj Khalifa and the Dubai Fountain. By keeping in mind family entertainment, the place is built to host many outdoor activities.
Buhayra Lounge –
 It's a traditional Arabian drapery with a perfect mix of mezzeh, music, and drinks. They offer a large-size dining having the most exquisite Arabic delicacies, desserts and refreshing beverages.
The Dubai Mall – 
This shopping mall in Dubai is the second-largest in the world. For shopaholics, this place gives plenty of stores and varieties, right from an ice-cream to an XBOX, everything is available here.
Souk Al Bahar – 
It's another shopping mall boasted with antiques, carpets and other lifestyle products. This Arabic-style building has a luxurious waterfront dining for its customers. They can have a cosy meal with their family/friends.
Dubai Aquarium & Underwater Zoo – 
Are you ready to see some wild beasts of the sea? The Dubai Aquarium and Underwater Zoo have some of the huge sharks, dolphins, etc. It's divided into three different zones, namely, Living Ocean, Rainforest and Rocky Shore.
Level Shoes District – 
If you want to update with the newest fashion in the world, then you must come to the Level Shoes District and get to know the latest trends in footwear. It has over 200 labels merchandised, divided into multi brand areas.
Kinokuniya Book Store – 
This Japanese-based bookstore is famous across the world for its book collections, magazines, and DVDs. Kinokuniya is a globally recognized book shop and has books in English, Arabic, Japanese, French, etc.
Dubai Ice Rink – 
Get ready to enjoy the one and only snow ride in Dubai. With state-of-the-art infrastructure, it offers the real snow & ice to attract family tourists and allow them to enjoy the winter sports.
KidZania Dubai –
 This place is exclusively constructed for kids to live in their dream world. There are 40+ job roles available and kids can choose their favourite one and start pretending like working.
Things to Do in & near Dubai Opera
Dining –
 As we know, there are plenty of restaurants and food available near Dubai Opera. Starting from Arabic to European, Indian to Italian, one can easily find a lot of eateries serving the best cuisines they have. You can find both vegetarian and non-vegetarian food on the menu and enjoy your favourite one.
Shopping – 
Near this location, there is one of the biggest shopping malls in the world, the Dubai Mall. Moreover, other alluring shops offer everything under the Sun. You can spend hours of time in shopping and get the best respite out of it. There are also small restaurants to boost your energy.
Sightseeing –
 There are many tourist attractions available near the Dubai Opera like the famous Burj Khalifa, the Dubai Mall, etc. and each has its significance and uniqueness. One must delve into these most-visited places and get to know the rich culture and tradition of Dubai. These tourist spots are best suitable for solo travellers and wanderers.
Dubai Opera Exclusive Backstage Tour – 
Explore the backstage life of Dubai Opera and discover the hidden world of a theatre. This tour takes place at 9.30 am, 11.30 am, 2.30 pm, and 3.30 pm. Please note that this tour involves walking, standing and stairs, it lasts for 75 minutes.
Spa and Massage Treatment – 
If you'd like to get Spa or massage treatment, there are some of the top-notch spa centres available near to Dubai Opera, and it's open separately for men and women. It includes all necessary spa services like jet bath, manicures, paraffin treatments, waxing, herbal body masks, and so on.
Photography – 
With a wide array of mesmerizing views and attractions, the entire landscape itself looks vibrant and colourful. Hence, it's worth seizing in pictures and sharing their people's charm and beauty in social media. Moreover, the Dubai Opera looks glowing during night time, and that adds more glamour to the masterpiece.
Other Essential Information About Dubai Opera
Location – It's at Sheikh Mohammed bin Rashid Boulevard, Downtown Dubai, United Arab Emirates.

Timings – The tour timings are - 9:30 AM, 10:30 AM, 11:30 AM, 12:30 AM, 1:30 PM, 2:30 PM, 3:30 PM,4:30 PM and 5:30 PM.

Price – The starting price for an adult is AED 60.00 and for a child is AED 40.00.


Places to Dine near Dubai Opera

The Loft at Dubai Opera – It's a top-class dining venue, beautifully suited at the top of the Dubai Opera. It offers an array of glamorous dining experiences that guarantees to please the taste buds.

Armani/Amal – To have the regional Indian cuisine, you must come here and get your hands into some of the most palatable dishes of India. The exotic curries and other specialities are prepared and showcasing traditional cooking methods.

At.mosphere Burj Khalifa – Dine on contemporary European cuisine with a mouth-watering menu. The taste is rich and gives an unforgettable dining experience.

Armani/Ristorante – The true essence of Italy is given here at Armani/Ristorante. It includes the famous Italian delicacies that leave the customers on a delightful journey. If you want a romantic dinner, you must take your partner here without any second thought.

Armani/Prive – This is Milan's exclusive Armani/Prive lounge, where you can get palatable dishes, moreover, meet new people and get entertained with them. It is popular for the city's preferred after-hours destination to hang out with friends.

Armani Hashi – Delve into the best of Japan that gives an imaginative twist on traditional and contemporary cuisines. Moreover, the mere location introduces you to the best panoramic views of the iconic Dubai Fountain. It's complemented by DJ and other music systems.

Asado at Palace Downtown – One can experience the rich ingredients and flavour of Argentina, Asado, at Palace Downtown. It offers recipes prepared from age-old dishes and premium cellared beverages that are one-of-the-kind.

La Serre Bistro & Boulangerie – In this colourfully decorated Parisian-style place, one can get the Mediterranean-inspired dishes. Their warm and welcoming environment makes one stay as long as they'd like.

Thiptara at The Palace Downtown Dubai – The term 'Thiptara' means 'Magic at the Water' that specialises in Thai cuisine with special attention on Bangkok-styled seafood. The whole place is surrounded by Burj Lake, which gives fantastic views to its customers.


Tips for Visiting Dubai Opera

- Before visiting Dubai Opera is to bring your valid ID proof along with the ticket confirmation details. 

- Bring your latest high-definition camera and seize all the exciting moments. Please note that commercial photography or videography is not allowed.

- Come in a semi-casual dress like jeans, t-shirts, etc. or in a formal suit like a tuxedo and just ensure it looks voguish than others.

- Leave your heavy bags and luggage at the hotel. If not, you can keep it in the cloakroom.

- Please remember that visitors below 16 years of age must be accompanied by an adult. And he or she should also buy a ticket.