About Singapore Cable Car
Started in 1974, the Singapore Cable Car was the very first cableway in the whole of the country and remains the only one to date. Apart from acting as a mode of transportation for the local commute, the Singapore cable car has become more of a tourist attraction for travelers from all around the world. It connects the top of Mount Faber Park to Sentosa Island. The Singapore cable car offers you a great scenic experience with a 360 degrees Aerial view of the beautiful HarbourFront Skyline of Sentosa.

Moreover, it is the only cable car around the world that crosses over a highway, through a corporate building, and finally over a cruise bay into Sentosa Island. This fun ride has become so famous over the time that it has become one of the most favorite attractions for visitors in Singapore.

This ropeway consists of a total number of 3 stations, namely the Mount Faber Station, the HarbourFront Station, and the Sentosa Station. There are two supporting towers situated in between either of the stations. The total distance covered by the cable car adds up to 1650m and the trip duration from the first station to the last station comes to around a total of 15 minutes. The system currently consists of 67 cabins, each capable of accommodating 8 adults. The cable car system can transport up to 200 people on an hourly basis. This ride must be there on your to-do list whenever you plan to visit Singapore.
How to Reach Singapore Cable Car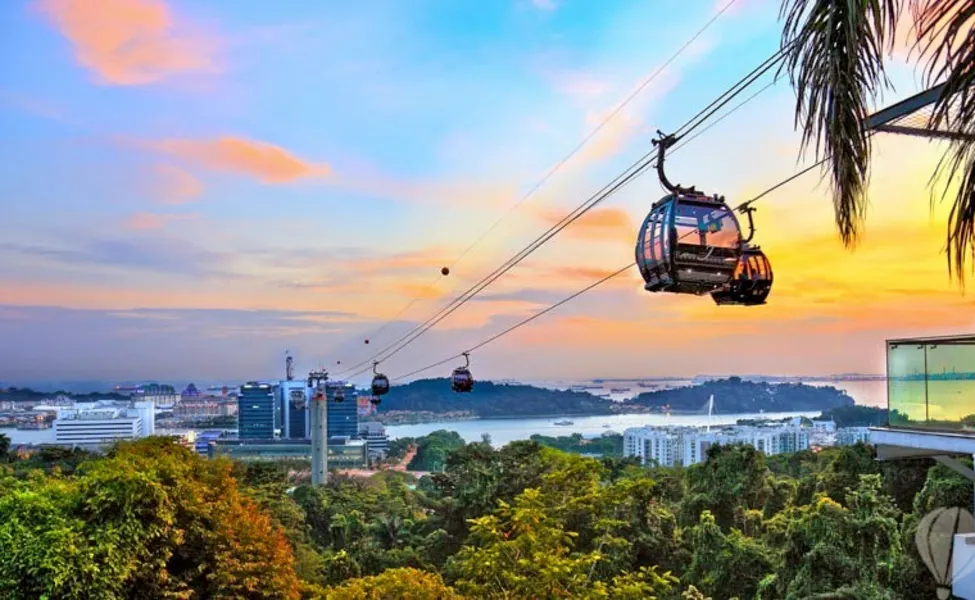 There are a number of transit options that can take you from Changi International Airport to the Singapore cable car. Below mentioned are the best options for you to pick from:

- By Subway:

Subway is the cheapest mode of transportation from the Changi Airport to the cable car. You can hop on a subway from the Airport to Chinatown. From Chinatown, get on the subway heading towards HarbourFront. The Mount Faber station is walking distance from Harbour Front.

- 
By Bus:

Get on Line 36 bus from Airport to One Raffles Link. From there you can fetch Line 57 bus heading towards Mount Faber.
- 
By Taxi:

You can get a taxi from Changi international Airport directly to Mount Faber Station that shall be the fastest mode of transport. It is the fastest mode of transport in Singapore, however, it will cost you much more than the other modes of public transport.
What Not to Miss at Singapore Cable Car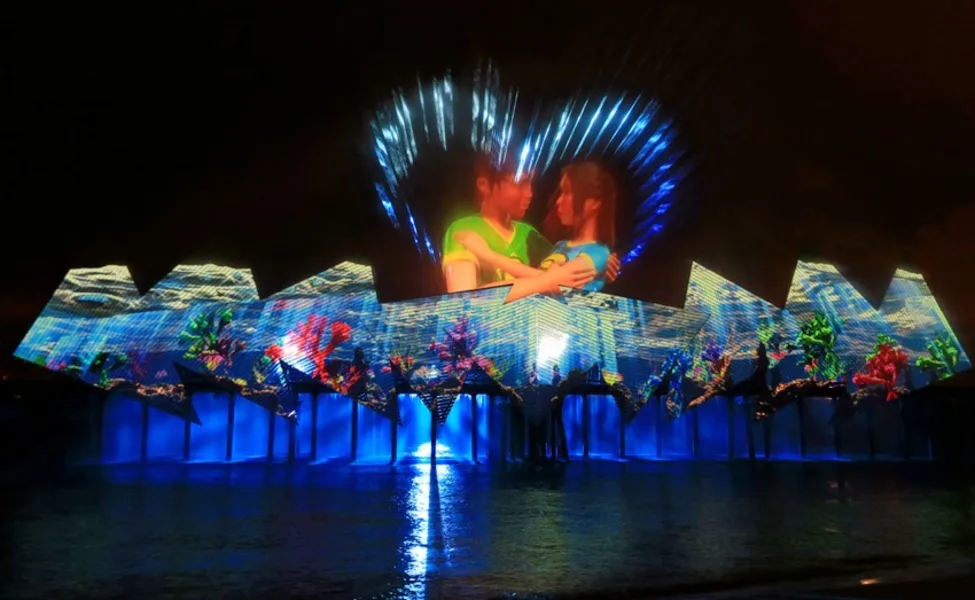 1. Resorts World Sentosa:
RWS is a resort situated on Sentosa Island. It is famous for withholding one of the most famous casinos of Singapore, Adventure Cove Park, S.E.A, and a Universal Studio Theme Park. It is impossible to enjoy all the destinations within the RWA in a day, however, make your pick and make the best out of it. The Adventure Cove Park is considered to be one of the best theme parks in the whole of Singapore and houses the best of the water rides. If you wish to experience the underwater world, visiting the S.E.A is a must for you.

- Timings: 9 A.M to 10 P.M

- 
Price:
 Separate for entry into Separate Destinations

2. Wings of Time: 

A perfect way to end your day in Sentosa, Wings of Time is an amazing show about courage and friendship. The show is a combination of jaw-dropping laster, fire, and water visuals followed by a great fireworks display. Your Cable car ride to Sentosa will not be complete if you miss out on this great show.

- 
Timings: 
7:40 – 8:05 P.M, 8:40 – 9:05 P.M

- 
Price:
 15-28 SGD


3. Trick Eye Museum: 

Trick Eye Museum is a huge collection of 3 dimensional pieces of art which act as optical illusions. This one of a kind art gallery which brings you closer to art through its optical illusion tricks. "Trick eye" is an old traditional trick used to reflect 2D images into 3D art. This is a must-visit for everyone and anyone visiting Sentosa.

- 
Timings:
 10 A.M – 5 P.M

- 
Price:
 25 SGD (Adult), 20 SGD (Child)


4. Kidzania: 

Kidzania is an indoor interactive theme park dedicated to fun activities and learning through the entertainment model for children. It is perfectly ideal for children from an age group of 3 to 17. If you are traveling with your children, nothing else would be a better option than taking them to explore this theme park.

- 
Timings: 
10 A.M – 6 P.M

- 
Price:
 62 SGD (Children), 35 SGD (Adult), 35 SGD (Senior Citizen)


5. Madame Tussauds Singapore: 

Madame Tussauds is one of the most famous chains of wax museums around the world. Madame Tussauds Singapore was launched in 2014 as the seventh branch of Asia. If you have never ever experienced a wax museum in the past, this one could just be it. Perfectly ideal for travelers of all age groups. It is advisable to book your tickets at least 48 hours in advance if you do not want to miss your chance to admire a completely different world of wax.

- 
Timings:
 10 A.M – 8:30 P.M

- 
Price: 42 SGD (Adult), 32 SGD (Child)

Things to do near Singapore Car Cable: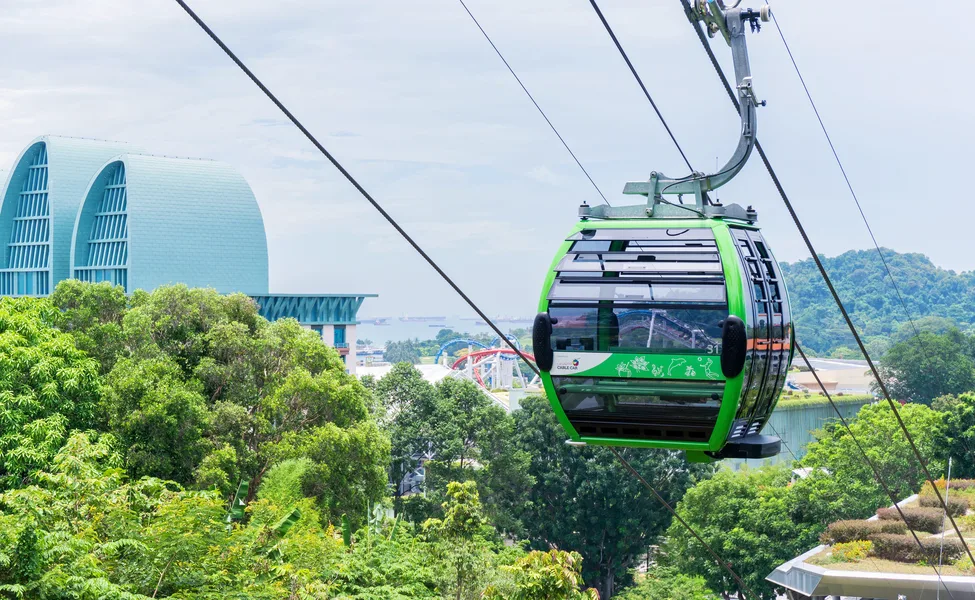 There are endless numbers of sightseeing points as well as tourist destinations near the Singapore cable car including natural abodes, museums, theme parks, as well as a casino. Below-mentioned are some of the best things that you can choose from to do along your ride in the famous cable car:


1. Unwind yourself at the Siloso Beach:

If you are in a party mood or just wish to bask in the sun and enjoy a beautiful sunrise or sunset, the Siloso beach is the perfect destination for you. It is known for its hippy culture as well as the crystal clear sandy stretch of beach.


2. Enjoy an Evening/Morning Stroll at Mount Faber Park:

Mount Faber has one of the most beautifully preserved landscapes in the whole of Singapore. It is a perfect spot for nature lovers as well as people who never shy away from hitting the trails for a jog amidst nature. Mount Faber Park also offers a great view of the central business district of Singapore.


3. Explore Singapore's history and experience the Fort Siloso's Skywalk:

If you are a history lover or an adventure enthusiast, nowhere else better for you that Fort Siloso. It is the only surviving fort of Singapore which serves as a memorial for World War II. The fort also offers a magnificent view of the island from its 11 stories high trail, commonly known as the Skywalk.


4. Get to know Singapore's Sports History at the Singapore Sports Museum:

If you are a sports lover and wish to explore Singapore's sports history, this is the perfect place for you to head to. You will get a chance to explore the lives of some of the legendary sports persons along with admiring some of the most iconic artifacts from Singapore Sports history. The museum preserves endless sports artifacts ranging from old Malaysia cup tickets to Ang's swimming trunks.
Other Essential Information About Singapore Cable Car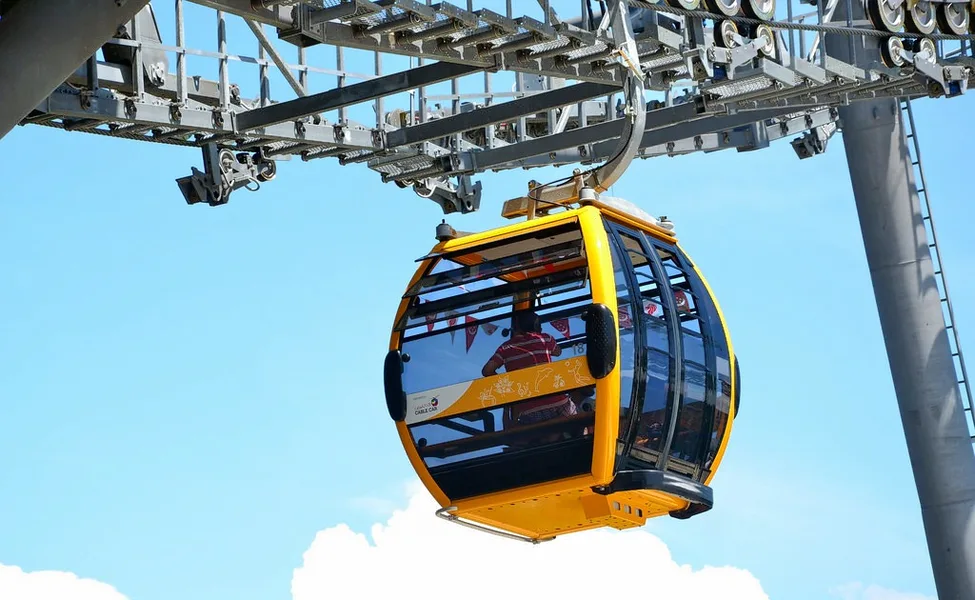 - Timings:

The Singapore cable car operates every day from 8:45 A.M to 10 P.M. The last boarding shall happen at 9:30.

- Tickets Prices:

Below mentioned are the detailed ticket pricings for foreign travelers as well as locals.

- 
Singapore Cable Car Sky Pass Round Trip: 35 SGD (Adult), 25 SGD (Child)

- 
Singapore Cable Car Sky Pass Round Trip (for Locals): 29.50 SGD (Adult), 21 SGD (Child)


- 
Singapore Cable Car Sky Pass Round Trip (senior citizen - local): 19.20 SGD (Adult)


However, if you wish to add on your Cable Car ride with a whole lot of other stuff such as sightseeing or dining, you shall be able to get yourself a great discount. Below mentioned are some of the offers with one of the finest dining experiences:

- 
Singapore Cable Car Round Trip with Lunch/Dinner: 46 SGD. This includes a two way cable car ride along with Lunch at Arbora Restaurant (Mount Faber Station) and Dinner at Good old Days (Sentosa).
- 
Cable Car Skypass with Wings of Time and Buffet Meal: 60 SGD. Your Cable Car ride cannot be considered complete unless you witness the adoringly beautiful Wings of Time Show at Sentosa. Mix in your Cable car ride with a great buffet lunch or dinner as per your choice alongside witnessing one of the greatest light and water shows.
Perks of Experiencing the Singapore Cable Car: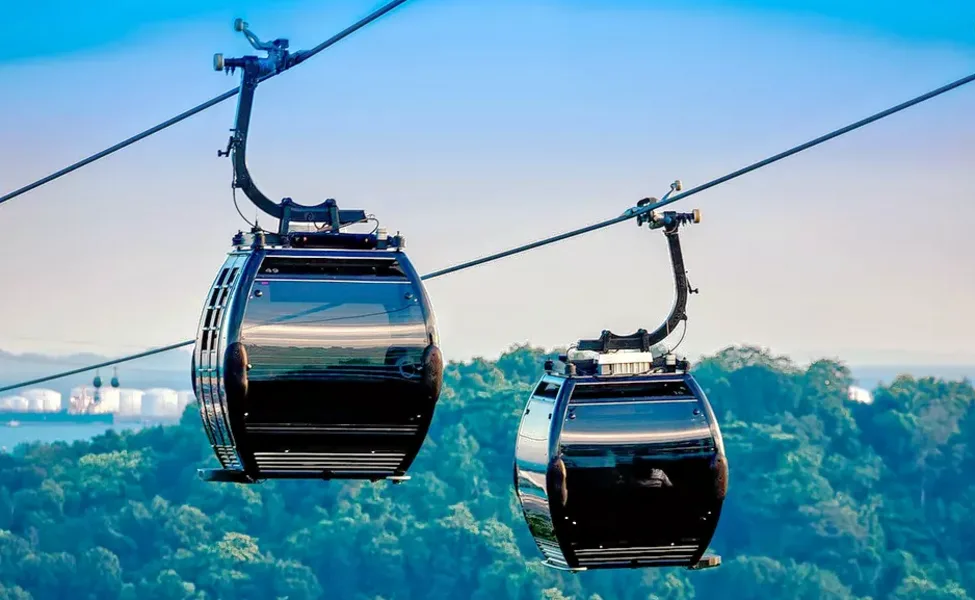 The Singapore Cable Car hovers over almost every important tourist attraction in the whole of Singapore, including humongous adventure parks, densely forested areas, harbor, and the major architectural attractions. Apart from enjoying the exciting enough cable car ride, you get an opportunity to peek into a whole lot of other major attractions of Singapore.

Visiting all these attractions within a single trip would be almost next to impossible otherwise. Here are some of the best perks that come along with a Singapore Cable Car ride from Mount Faber to Sentosa.


1. Witness the Attractions along the Mount Faber Cable Car Line:

Once your cable car sets off from the Mount Faber Station, it offers you a beautiful panoramic view of the Central Business District of Singapore as it hovers over one of the best highways of the world. The thickly forested landscape around Mount Faber provides you with relief from the steel-clad architecture of the city. Then the cable car moves over the harbor area, including the HarbourFront Cruise Centre. The view of the beautiful Merlion Park welcomes the cable car into Sentosa Island.


2. Witness the Attractions along the Sentosa Cable Car Line:

A considerable length of the Sentosa Cable car runs across the photographically beautiful landscape of the island. You shall also be able to admire the iconic tracks of Skyline Luge on your way from Imbiah to Merlion. Do not forget to capture some admiring photographs of the blue waters merging with the fine sand of the beaches all around. You shall also be blessed to witness the forested beauty of Mount Imbiah's Jungles alongside an Aerial view of the Fort Siloso and the MegaZip Adventure Park.


3. Stuff in Your Cable Car Rides with Sightseeing:

You can sandwich your Singapore cable car ride with a whole lot of sightseeing. A whole lot of tourist attractions are within a walking distance from the cable car stations in Sentosa. You can plan out visiting Sentosa Merlion, Kidzania, Madame Tussauds, Universal Studios, Siloso Beach, Fort Siloso as well as the Siloso beach as per your preferences in between your to and fro cable car rides. Try to fetch a Singapore Cable Car Line Skypass so that you do not have to buy a new ticket every time you board the cable car.

4. The Singapore City Pass:
If you wish to combine your two way cable car ride with a bunch of sightseeing attractions in the city, it is advisable to get the Singapore City Pass for yourself. The city pass is just perfect for people who wish to cover all the major attractions within a short span of time. You shall not be required to get yourself a ticket and wait in the lines at each of the attractions. Additionally, you shall also be offered a great discount on the combined price of the attraction entries as well as the cable car ride. Prepare your Singapore itinerary well in advance and try to squeeze in as many attractions you can with the help of this City Pass.
Tips for Visiting Singapore Cable Car: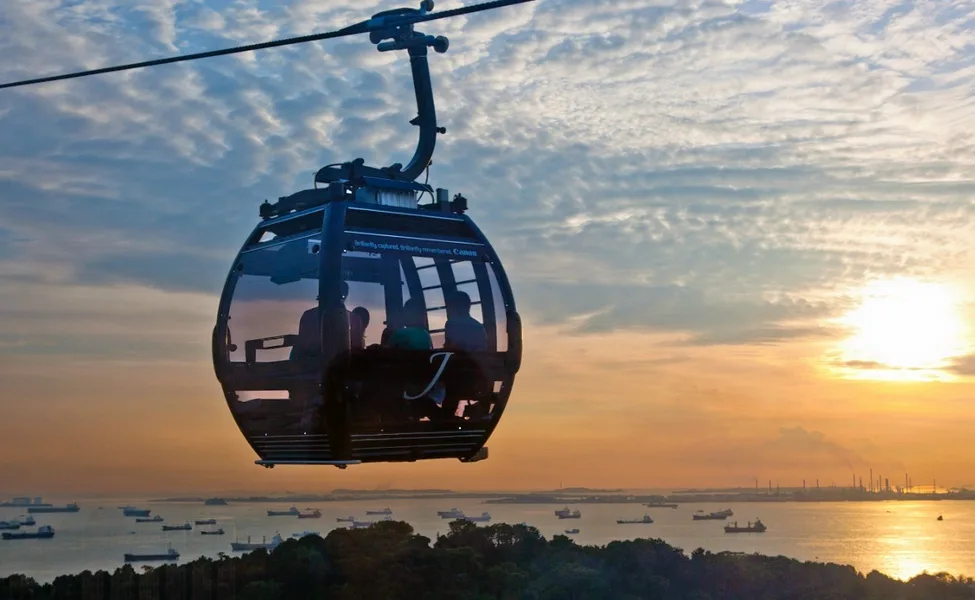 - Time your two-way Cable Car trips accordingly so that you get a chance to witness the morning glory as well as the beautiful view of the island and the city during the night time as well.

- 
The Cable Car rides can get quite hot on a sunny day. Try to avoid your ride during peak heat hours or make sure to open your windows to ensure proper ventilation.

- 
If you are a photography enthusiast, you can open up your window to prevent any kind of glass reflection affecting your photographs.

- 
Weekend mornings, as well as afternoons, are quite busy, especially on the Mount Faber Line. Try to prevent clash with timings or try to head off during the early morning to prevent peak hour rush.
- 
If you wish to re-boar the cable car at any of the stations, you shall be required to line up for the same as boarding points and alighting areas at the cable car stations are different.
- 
The cable cars are quite spacious and can accommodate up to 8 people in one go. You need not worry even if you wish to carry a baby stroller along with you on the ride.
- 
Do not forget to carry your water bottles along with your sunshades if you decide to take the ride on a sunny day.