About Pasir Putih Beach
Also known as the 'Virgin Beach,' Pasir Putih Beach is a wide stretch of powdery sand accompanied by the gleaming waves of the Indian Ocean. The spectacular beach is situated between two magnificent hills, adding on to its panoramic charm even more. Away from city life, the beach possesses its own aura which is bound to leave you speechless.

Although known by the name 'White Sand Beach,' it is a long stretch of luscious black sand. You can laze around the beach while soaking in the bright sunlight and getting some golden holiday tan. All of these make this 'Hidden Beach' a perfect place to spend some quality time while enjoying the watersports like snorkelling, scuba diving, fishing and much more.

Along with giving you splendid views of the small islet Gili Biaha, Pasir Putih Beach gives you various catchy backgrounds for vacation pictures. And with backdrops, you will also find an exotic tropical range of coral reefs and vibrant fish in the ocean. You can catch some fresh fish and get it cooked in the nearby bistros and eateries which also serves lip smacking local cuisines made with old school style of cooking.
How to Reach Pasir Putih Beach


Pasir Putih Beach is situated at a distance of 148 km from the Ngurah Rai International Airport (DPS). It will take approx. 4hrs to travel from the airport to the beach. You will face no problem as you can take a taxi or book a cab which are available at the airport and will give a comfortable ride to you for the Pasir Putih Beach.
Best Time to Visit Pasir Putih Beach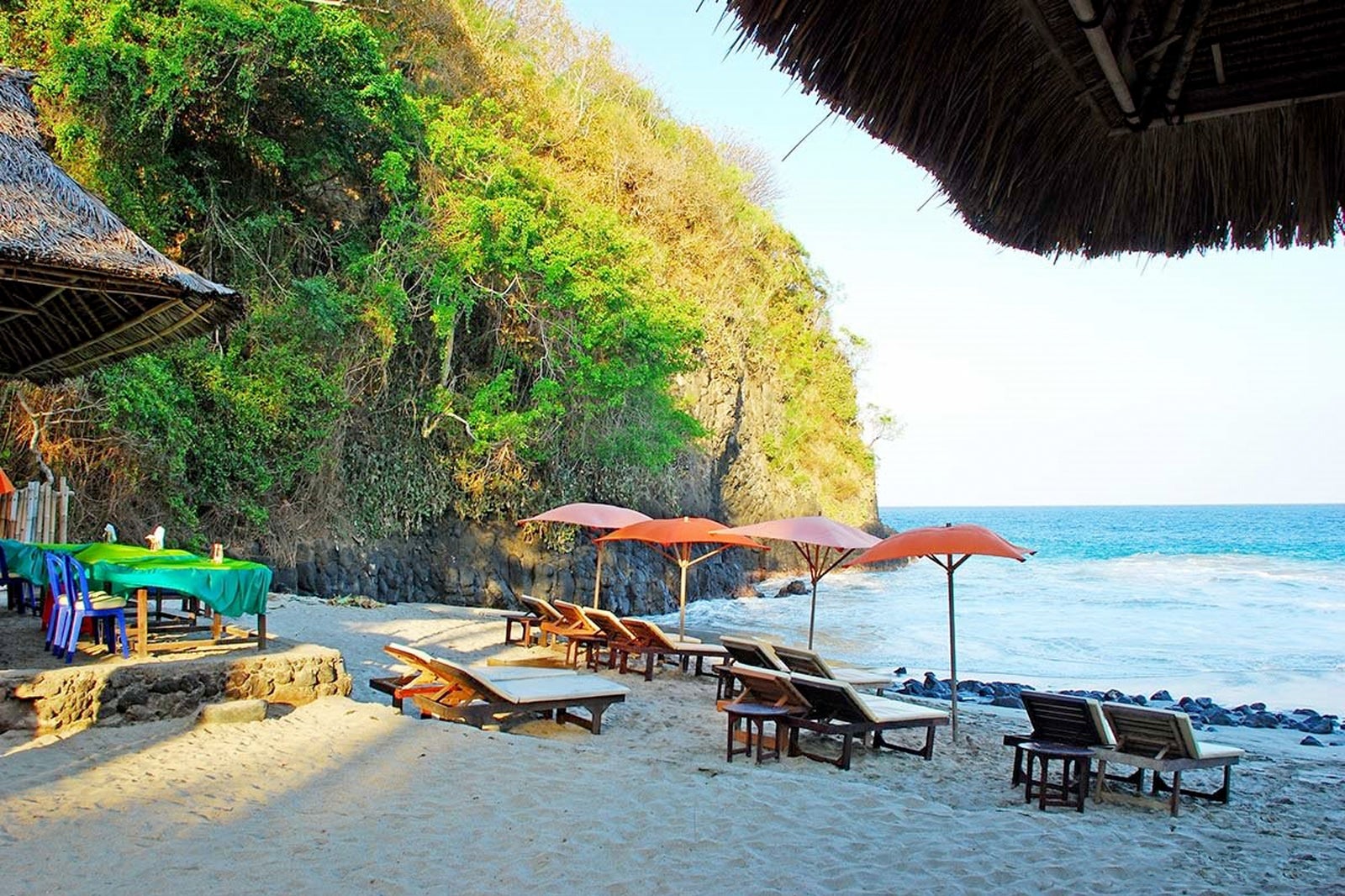 The best time to visit Pasir Putih Beach is anytime between April and October. During this time period of the dry season, the weather is breezy and pleasant. This is the perfect time to spend in Bali as you won't be facing scorching heat or chilling cold. The weather will simply add to your fun.
What Not to Miss at Pasir Putih Beach


Here are a few things that you can explore at Pasir Putih Beach:

1. Swimming: If you enjoy swimming then you won't be able to resist yourself at this beach surrounded by scenic beauty and the sparkling azure water. You can dive into the clear blue water and enjoy yourself.

2. Snorkeling: This beach is home to many species of different fish and corals inside the ocean. By taking part in this activity you can explore the majestic underwater world and can feel delightful.

3. Scuba Diving: You can witness the colorful life and untouched beauty of the underwater world from real close. This activity will allow you to have an unforgettable time while you see the beautiful fish and corals inside the ocean.

4. Sunbathing: Don't wish to splash inside the water or be part of any activity well you can simply relax yourself. Enjoy the sunbathing while lying under the various sunbeds on the beach. Feel the sunrays and mildly blowing wind on your body which will leave you refreshed.

5. Fishing: Pasir Putih Beach has very clear blue water and is home to many fish of different colours. You can enjoy fishing at this beach and catch fish which can later become your meal too. You will definitely be satisfied by the outcome of the energy and patience you put into this activity.
Other Essential Information About Pasir Putih Beach


- Location: Jalan Raya Pasir Putih No.87 Selomukti Mlandingan,Pandansari,Pasir Putih,Kec.Bungatan, Kabupaten Situbondo, Jawa Timur 68353, Indonesia.

- Timings: 24 hours

- Price (for locals and for foreigners) (if applicable): IDR 10k per person and IDR 5k for the car


Best Restaurants to Eat at  Pasir Putih Beach


Pasir putih beach has many restaurants or warungs which serves delicious local cuisines of Bali. You will be thrilled by the quality of fresh food they serve here, many of them have specialty in serving seafood. Place which you can visit to taste the mouth -watering dishes are:

1. Warung Pak Uyil: You can enjoy a fulfilling traditional meal at Warung Pak Uyil at the beach. It is a small but cosy kiosk where you can have your food in an open setting under the roof while watching the gentle waves going back and forth the cost.

2. Ikan Bakar P Eco 2: A beautiful garden setting full of the tropical vegetation of Bali. Ikan Bakar P Eco 2 will serve you authentic Balinese as well as Indonesian food which will enchant your taste buds as well as senses.

3. Oriental Purnama: A floating meal inside the salty pool is what the Oriental Purnama serves. Yes, you read it right! They serve your food on a floating table while you are accompanying your meal inside the pool.

4. Warung Cak Sapari: A simple setting furnished with regular tables, Warung Cak Sapari provides you with all kinds of Balinese delicacies cooked in traditional ways. You can grab a dish and be sure that you are tasting the authentic local taste of the island.

5. Green Cafe Jogja: Honoring its name, Green Cafe Jogja is a cosy place furnished with green furniture and lush vegetation. You can enjoy your Balinese food amidst a fresh setting and definitely refresh yourself from the tiredness from the fun you had all day.


Best Hotels to Stay near Pasir Putih Beach


There are many hotels near the Pasir Putih Beach which are available and will give you a charming experience of staying in Bali. Many hotels provide beach facing rooms which will give a beautiful touch to your vacation vibes.

1. Hotel Pasir Putih Beach: With patios facing the pristine bay of the Pasir Putih Beach, Hotel Pasir Putih leaves no stone unturned to make your vacation memorable. You could also get your water sports scheduled by the hotel for a comfortable day.

2. Pasir Putih Inn: Providing all kinds of necessary amenities, Pasir Putih Inn is a very reliable hotel. They also serve heavenly tasty and homely food in your room which will enhance your experience.

3. Mutiara Pasir Putih Hotel: Mutiara Pasir Putih Beach is a chic white villa with dusty red roof with a swimming pool where you can enjoy the water in privacy. You can rent this villa if you are a group of 4 or more and have a totally different experience than a hotel.

4. Hotel Papin Inn: A simple hotel where you can expect all the much needed services like a comfortable bed, attached lat-bath and room service. They provide you secure rooms and also arranges tours on request.

5. Hotel Sido Muncul 1: Although a regular hotel, Hotel Sido Muncul strives to provide you a comfortable room and excellent hospitality. You can rely on their room service as well as the front desk for food and tour arrangements respectively.


Tips for Visiting Pasir Putih Beach


Here are a few tips which will help you while you plan your visit to Pasir Putih Beach:

1. Do not litter at the beach and keep it clean.

2. Follow all the rules and regulations while taking part in any water activity.

3. Do take part in different water activities as it will add on to your experience.

4. Don't forget to carry towels, and extra pair of clothes if you are planning to enjoy the water activities.

5. Do carry a camera with you so that you can capture the beauty and your happy moments in frames.

6. Keep an eye on your children while they enjoy the water.