About Kuta Beach
One of the most popular and adventurous tourist destinations of Bali has got everything for a perfect family holiday! With no wonders, you can plan your Kuta Beach trip at any point of time throughout the year. Marking its presence a couple of minutes away from the Ngurah Rai International Airport, this beach is located close to Legian, Tuban, and Seminyak beach resorts. Coconut trees lined all along the shoreline gives a perfect panoramic view of the beach's beauty.

Once upon a time, Kuta Beach region was a serene fishing point. Later, it has undergone a massive transformation to reach its present beauty and glory. The long sandy beach of Kuta offers excellent waves to surf for the real surfing adventurers. In and around Kuta Beach, there are various options for accommodation, shopping and dining destinations. Bars, night clubs, resorts and hotels glorify Kuta's elegance multifold.

Parasailing, sunbathing, banana boat riding are some essential water activities to enjoy here at Kuta Beach. Sunsets are pretty awesome here at Kuta Beach when you can simply stroll or capture some picturesque moments. Instead, you can say, Kuta Beach is known for its transitory views during sunsets. As soon as the sun sets, after some time, you will find the Kuta Beach visitors heading towards shopping destinations.

After it is dark out there, Kuta Beach visitors amaze themselves with loud music coming out from bars and restaurants. This indicates that nightlife at Kuta Beach is worthy of marking your presence. The nightlife here combines fun, music and dance altogether to entertain every single visitor reaching here.
How to Reach Kuta Beach


You can either board a bus or a taxi from Ngurah Rai International Airport to reach your final destination of Kuta Beach.

By Bus: It will be a 40-minute journey by bus and will cost you around 0.3 US Dollars. Once you ride a bus, you can buy tickets from the person-in-charge in local currency only. From Denpasar Airport, you have to board a Trans Sarbagita bus. These buses run after 20 minutes.

By Taxi: In case you have a lot of luggage with you or you are in a group of three or more, its always better to hire a taxi. By taxi, you can expect to reach your final destination within 25 minutes. For a taxi ride, you will be paying approximately 20 US Dollars. 
Best Time to Visit Kuta Beach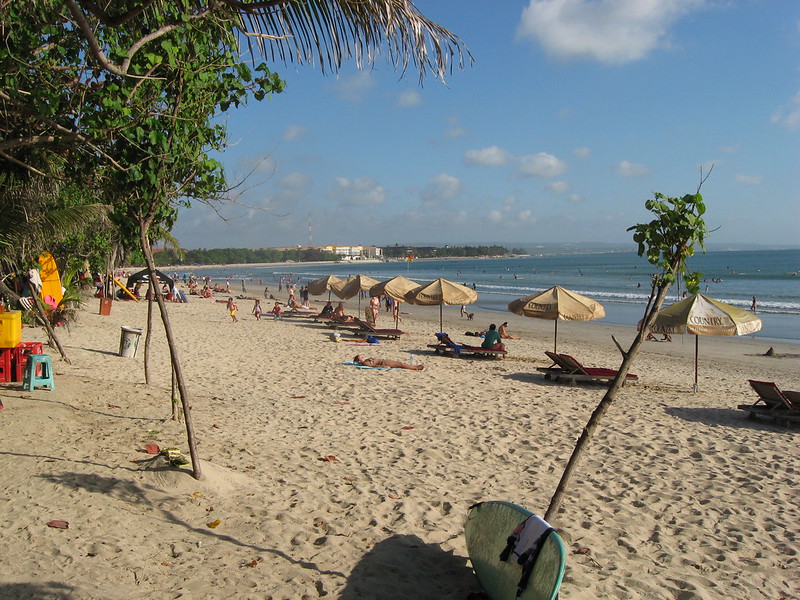 It is purely dependent on the climatic drift. Bali is busiest during its high time, which extends between July and August. Also, Easters, Christmas and the beginning of New Year is crowded here.

You can plan on your Bali trip anywhere in between April to September. Right from scuba diving to snorkelling, you'll have ample of water activities to enjoy here. Also, the family parks and other attractions of Kuta Beach shall have fewer visitors. As traffic will be low, it will be easier for you to commute to and fro Kuta beach.
What Not to Miss at Kuta Beach
Here are some of the best thing to do at Kuta Beach
1. Enjoy at Waterbom Bali –
One of the largest waterparks of Kuta, Waterbom Bali, is not a place to miss on! Travelling with your children to Bali's largest waterparks will definitely leave you spellbound with a wide array of rides. Do try Boomerang and Superbowl for a great water adventure.
2. Enjoy Bali delicacies –
If you ask Google, there are many international cuisines serving restaurants here in Bali. However, if your heart craves explicitly for something traditional to Bali, do have a heavy lunch at Warung Murah. This place offers the best Indonesian food at highly affordable pricing.
3. Upcycle Shopping –
A great place to halt and shop! Upcycle shopping will make you go crazy with its massive collection of Indonesian stuff. Right from twisted bags and purses to cans and ancient vinyl records, Upcycle has got it all. There are many unusual yet worthy to carry pieces for your onward journey. 
4. Fun at Armada Flow House –
If you are fond of flow riding, Armada Flow House is a place meant for you to dwell through. Armada Flow House serves you with the waves where you can ride your surf boat at any point in time.
5. Apache Reggae Bar –
One of the best spots to enjoy your nightlife at Bali is Apache Reggae Bar. It is an excellent partying place meant for nightlife lovers. The live music being played here will inevitably force you to step down on the dancing floor and enjoy the beats.
6. Beachwalk Shopping –
Beachwalk Shopping is by far the perfect place for those who want to witness the charm of mall shopping here in Bali. Your Beachwalk Mall is juxtaposed the shoreline of Kuta Beach and hence the name. Although it is still in its nascent phase of popularity, tourists visiting Kuta are finding it a worthy place to stroll.
7. Kuta Beach Surfing –
Whether you know it or not, Kuta Beach is a surfer's paradise! And yes, beginners have a lot of things to learn here. Beginners can simply rent a surfboard and undergo a day training here at Kuta Beach.
8. Embrace the magic of Kain Museum –
  Located atop the Beachwalk Mall, is a worthy cultural destination where you can find a wide array of indigenous textiles. Do watch how the fabric is dripped into wax for making a design onto it. Finally, dyes are added to further embrace the elegance of this design.
Places to Visit near Kuta Beach

1. Visit Kuta Theatre –
Kuta Theatre is one of the best places to visit near Kuta Beach. Right from some magical tricks to all those stage performances, Kuta Theatre stands unrivalled. Kuta's Jalan Kartika Plaza is an excellent way destination to spend some quality time with your friends and families.
2. Circus Waterpark –
Circus Waterpark, a leisure waterpark is an ideal destination to enjoy with your entire family. Besides slides, Circus Waterpark has got a lazy river that runs across and a dedicated kid's zone for heaps of activities such as enjoying at fountains, mini train rides, and so on.
3. Dream Museum Zone –
A tremendous indoor collection filled with mesmerizing paintings is waiting for you to mark your presence here. The immersive wall-paintings are carved in such a way that they illustrate a 3-D effect.
4. 5GX Bali Reverse Bungy –
It offers a thrilling reverse bungee experience where you can simply hop and fasten your seatbelts and enjoy the ride. What makes it more exciting is its mind boggling speed of 200 km per hour.
5. Upside Down World –
This is something you might have never experienced before. As soon as you step in one of its rooms, specially arranged décor and furniture will leave you amazed. Although selfie sticks are of no use here, you can still get an image from one of the friendly staffs here.
6. Pandora Experience –
The next best thing to do in Bali is the Pandora Experience wherein you can try a wide array of fun escape adventurous games. Just like Upside Down World, Pandora Experience also has specially designed rooms for your complete entertainment.
7. Vihara Dharmayana Kuta –
Alternatively known as Leeng Gwan Kuta Temple, Vihara Dharmayana Kuta is one of the considerable landmarks here. Although it appears to be slightly hidden, this Buddhist temple is worthy of visiting. The main entrance of this place features an architectural style of Far Eastern Zone. 
Other Essential Information About Kuta Beach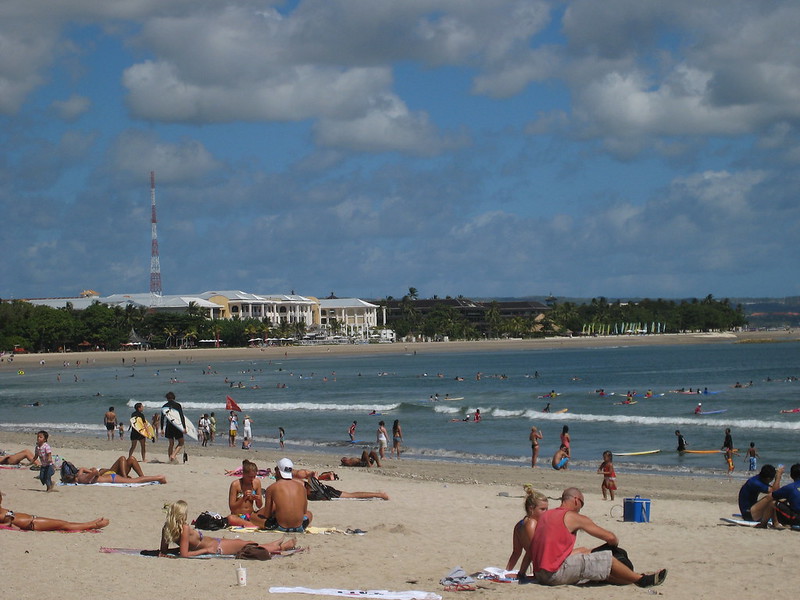 Location:
Kuta, Badung Regency, Bali Indonesia
Timings:
You can visit Kuta Beach at any point in time.
Best Restaurants to Eat at Kuta Beach
Besides being a delightful beach to visit. Kuta Beach homes to many top restaurants which provide a pleasant ambience and rich foods for all its tourists. If you are confused about where to have good food in Bali, here we go with some of the best ones –
1. Ma Joly Restaurant & Lounge –
You'll find this restaurant to be located near Sandi Phala Boutique Resort along its beachside. There are several dining settings here to please all their guests with a luxurious ambience and have some quality food. 
2. Rosso Vivo at Kuta Seaview Hotel –
Rosso Vivo offers the best of all classic food menu comprising of delicious soups, pasta, and some grilled pizzas. You can find either couple your food with wine or cocktails – the choice is yours!
3. Feast at Sheraton Bali Kuta Resort –
This is a newly opened restaurant at Bali offering some grand buffets with a contemporary style ambience. Carved with an exceptionally well and spacious interior, Sheraton Bali Kuta Resort offers you the best of everything right from starters to desserts.
4. Made's Warung – 
A renowned restaurant of Kuta, Made's Warung, is an age-old establishment where you can experience the social eating culture of Bali. Beginning its life as a traditional roadside root, now, Made's Warung has transformed into a big cosmopolitan restaurant.
5. Papa's Limoncello Bali Ristorante –
If your heart is craving for some Italian food, blindly head towards Papa's Limoncello Bali Ristorante. Do not miss on to try the famous Volcano pizza being served here for generations.
6. Ketupat Restaurant –
A traditional Indonesian restaurant, Ketupat Restaurant, offers you an authentic experience of real Indonesian traditional cuisines and delicacies. It has a beautiful Javanese architecture, a swimming pool, playground for kids, and 24/7 wi-fi connectivity. You will find every single flavour of Indonesia here. Do try their best offering – Rice Table Feast!
7. Hard Rock Café Bali –
One of the prominent blends for both dining and entertainment, Hard Rock Café Bali serves some exotic American dishes and platters. Appetizers in Jumbo Combo are one of their specialities which is crazily adored by tourists visiting this café.
8. Kori Restaurant and Bar –
Serving a wide array of both international and Asian cuisines, Kori Restaurant and Bar offers yet another exciting menus for their visitors. Hot stone meat preparations and other sea-food variants are some of their best saleable options.
9. Golden Lotus at Bali Dynasty –
One of the renowned Chinese restaurants of Bali, Golden Lotus, is a family oriented significant family dining outlet. The elegance of its dining room is multiplied by coupling it with the black wood tables.
Best Clubs and Bars near Kuta Beach
Kuta Beach region is a real paradise for nightlife lovers. Here are some of the best clubs and bars for your night entertainment in Kuta –
1. Sky Garden Rooftop Lounge –
Sky Garden Rooftop Lounge is a 61 Legian Entertainment Complex comprising of several different venues. Out of all those, the Rooftop Lounge and SkyDome makes the best one with a free-flow of different beers. With a large capacity of around 3000 guests, there's an advanced version of laser lighting and the audio system which embraces the overall elegance of this place.
2. Bounty Discotheque –
It is well-known as a legendary destination for nightlife lovers. It is a one-stop entertainment complex which club experiences of both restaurants and bars together. Fashion shows, DJ's adds on to the final tinge of entertainment here.
3. Paddy's Pub –
It is a famous nightspot which schedules various fun-themed parties and serves reasonably priced drinks such as cocktails and mocktails. As soon as it opens, you have to step in from its sidewalk and make your way towards the open-air terrace.
4. VH Bali –
VH Bali offers the best place for friend's meet to have some exciting sunset clicks. Regular club nights holds live performances and serves refreshing cocktails and pan Asian cuisines.
5. Pyramid Club –
Pyramid Club offers you a perfect dancing floor towards its centre as soon as DJs and live performers take on their stage. There's a great café which serves you some quick bites to have throughout your day.
6. Engine Room –
Renowned as a three-storeyed night club, Engine Room is a place where you can majorly find a young crowd down on the main streets of Legian.
7. Stark Beer Garden –
Also known as Beer Garden Kuta, Stark Beer Garden is the place where you can find only brewed beer. It's all timber interior coupled with long tables invites you for a relaxing retreat.
Best Hotels to Stay in Kuta Beach
Kuta hotels offer you the best of all hospitality services with its gorgeous pools, tropical gardens, and beachfront. Besides, many of the hotels provide a roundtrip shuttle service to pick you and drop you at the airport. Here are some of the best amongst the rest offering specialized services and facilities –
1. The Anvaya Beach Resort Bali –
Located at a distance of around 10-minutes from Waterbom Park and Lippo Mall, The Anvaya Beach Resort Bali features some exciting amenities. For those who like to begin their day with a newspaper reading, there's complimentary newspaper available in the lobby region.
2. Amnaya Resort Kuta –
Amnaya Resort Kuta provides a business centre, dry cleaning services and lots more to their regular customers. This resort offers the best of all-conference spaces and room space to conduct your business meetings efficiently.
3. Marriott Autograph Collection –
A five-star resort of Kuta, Marriott Autograph Collection features a well-designed luxurious layout making it a perfect destination for holidaymakers. Chill-out spots and great bars here ensure that your Kuta visit is filled with real entertainment.
4. Discovery Kartika Plaza –
An ideal place with 5-star luxurious hospitality forms the real highlight of Kuta Beach. From here, you can quickly head towards the surfing Kuta coast which is situated in its northern zone.
5. The Kana, Kuta –
Offering a budget-friendly travel space for all Kuta tourists, The Kana is a three-star hotel within reach of 25 minutes from the airport. There are air-conditioned rooms, with amenities such as satellite supported TVs, attached bathrooms, mini bar services, and a seating area.
6. Rama Beach Resort –
Rama Beach Resort is a perfect holiday stay in a location, offering the best of deluxe rooms and villas. Encircling it is a lush green garden with a fresh water supply, Every deluxe room home to a king-sized bed, bathtub and shower facility with all other essential amenities.
Tips for Visiting Kuta beach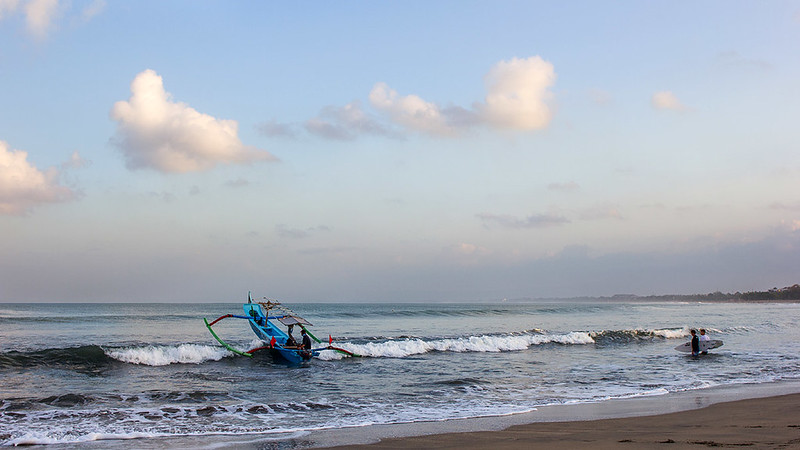 1.
You might come across street vendors offering you Marijuana or any other form of illegal drugs. Be careful in such situations.
2.
There are chances that you might come across money exchange scams. Make sure you do not fall prey to such illegal money exchange schemes.
3.
Be vigilant about your belongings as you might find pickpocketer roaming along the shoreline.
4.
It is always better to ensure that your hotel room is well-locked as and when you step out of your hotel.
5.
Be aware what's going all along the street of Kuta Beach. Pay careful attention to all forms of public announcements, flags or any such posted signs.
6.
Keep your eyes and ears open when you stroll along Kuta Beach, especially bars and nightclubs.