01
Jamali Kamli Mosque and Tomb
Image Credit : Varun Shiv Kapur
A famous mosque which is archaeologically significant for India is Jamali Kamali Mosque and Tomb related to it. It is located in the archaeological village complex in Mehrauli in Delhi. The two monuments situated in contact with each other are the mosque and the tomb of two persons, Jamali and Kamali. The Urdu name Jamali originated from Jamal which means beauty. The name was an alias given to Shaikh Fazlullah and he was also known as Shaikh Jamali Kamboh or Jalal Khan. He was a great Sufi saint lived during the pre-Mughal period ruled by Lodi. While on the other side, Kamali was not famous as Jamali but he associated with Jamali.
Nonetheless, his antecedents have not been established. Perhaps, both their names were tagged as Jamali Kamali for the mosque and the tomb since they were buried close to each other. Both the mosque and the tomb were constructed during 1528 to 1529 but Jamali was buried in the tomb after his death in 1535. The mosque as well as the tomb are located in an enclosed garden which has a southern entry. The structure is appealing with the properly arranged red sand stone along with marble embellishments by which it looks extra ordinary.
It was believed to be a forerunner in the design of Mughal mosque architecture. It is comprised of a large prayer hall, a courtyard at the front, five arches in which the central arch only possesses a dome and much more. The arches have spandrels which are decorated with medallions and ornamentation. The central arch is astonishingly magnified by the presence of fluted pilasters. The rear end of the mosque is beautified with oriel windows. In the tomb chamber, there are two marble graves, one of Jamali and the other one is of Kamali.
There are a lot of easy modes to reach the mosque though Qutub Minar metro station is the nearest metro station to the tomb.
Jamali Kamali Mosque and Tomb entry timings:
 It is open on all days of the week from sunrise to sunset.
Jamali Kamali Mosque and Tomb Entry fee:
The entry to the mosque and the tomb is completely free to all.
Jamali Kamali Mosque and Tomb location:
Archeological Village Complex, Mehrauli, Delhi.

Popular Reads: 25 Best 2 Days Trip near Delhi
The Agrasen Ki Baoli is one of the top historical monuments located in Hailey Road, New Delhi. It happens to be one of the old age water reservoir that was used to quench the thirst of many.

This water reservoir is almost 103 stone steps tall above the ground and happens to be hidden in the middle of the top corporates and business towers of Delhi in recent times.
This place is now protected under the Archaeological Sites and Remains Act, 1958.

The Agrasen ki Baoli is located inside a structure, which is 15 meters in width and 60 meters in length. As per the beliefs, the Agrasen Ki Baoli dates back to the age of Mahabharata and it was a part of the ancient civilization that flourished here.

On many occasions, the lower parts of the Baoli seems to be submerged with water. This signifies this ancient water reservoir is still serving its purpose.
The Agrasen Ki Baoli is widely acknowledged for its serene atmosphere and peaceful environment.

Tourists, as well as local Delhi people, come to this place to spend their leisure time. Photographers love this place as it offers amazing backdrops for picture-perfect portraits. When you are in Delhi, you can come over to this amazing place and explore this enigmatic architecture.


History of Agrasen ki Baoli -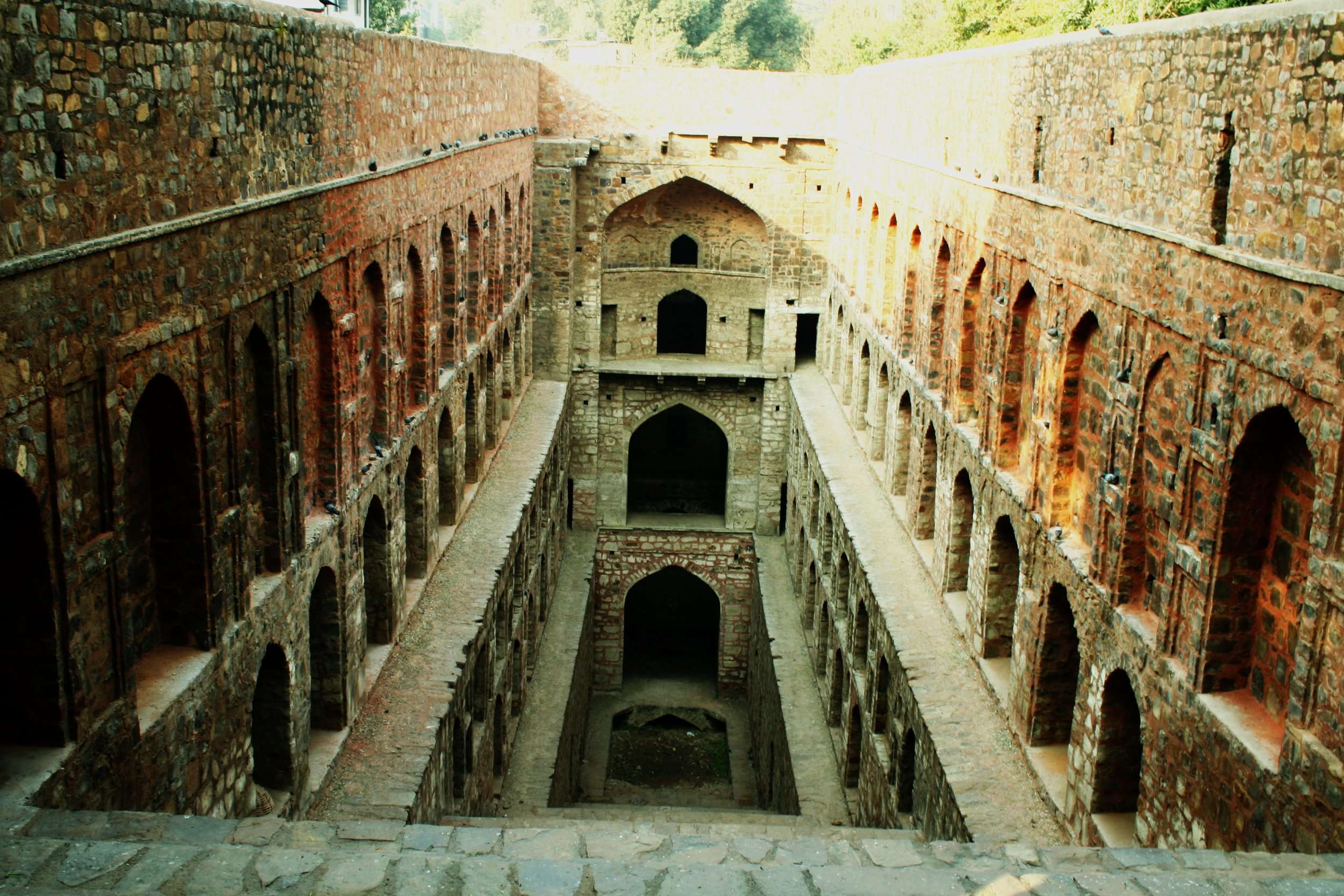 The Agrasen Ki Baoli has been connected with a number of past historical significances. It has been associated with many powerful civilizations and kingdoms.
This age-old water reservoir has been shrouded in mystery. As per the beliefs, the King Agrasen had built it in the Mahabharata era. It is also said to have been renovated in the 14th
century by Aggarwal's.


The Agrasen Ki Baoli happened to be one of the important places for the ancient community.

It used to be a meeting point of the women as they used to spend time around the place in the summer days to beat the scorching heat.


The Agrasen Ki Baoli has also been used for celebrating many rituals and religious ceremonies.

This community-building served a number of other purposes apart from being a mere water reservoir.


With time, this place has been a popular shooting set for a number of Bollywood movies. If you can recall Raju Hirani's movie 'PK', then you can reminisce about this place.

On the other hand, it has been associated with a number of haunted stories from the past. As per beliefs, it is considered to be a place for many haunted incidents and happenings.

The Architecture of Agrasen ki Baoli -


The Agrasen Ki Baoli is considered to be one of its kind architecture that dates back to the time of Mahabharata. The architecture of this water reservoir is considered to be very futuristic.

The structure of the place is completely different from any other water reservoir built across the country.
In the monsoon season, the level of water in the Baoli rises up to about 4-5 meters above the earth and remains completely dry for the rest of the year.
The Agrasen Ki Baoli was not constructed in a round shape as any other traditional Baoli in India. However, it was built over a series of 108 steps that slopes into the earth and was constructed over three floors.
People used to spend leisurely time in each of the floors and the floors were decorated with intricate stone carvings. Moreover, the stone carvings were made in complete symmetry with each other. It is believed that this water reservoir has also undergone a number of renovations in between.
This is evident from the Tughlaq style of architecture and from the Aggarwal style of architecture.

The architecture of this place is said to be progressive at that point of time as it was not only built to serve the purpose of water reservoir but also to be a popular place for rituals and community meets.


When you come over to this place, you may not find huge architectural marvels in the present time, however, you will certainly like the covered wall, a small mosque and arched alcoves in the complex. This place is worth paying a visit.


Haunted Stories about Agrasen ki Baoli -
The Agrasen Ki Baoli has got a number of haunted stories associated with its name. The locals term it as a haunted place because of various haunted incidents and paranormal activities.

As per the beliefs, it is believed that it was once filled with black water and people were compelled to commit suicide.
It is also considered that the Agrasen Ki Baoli casts as a magical spell on the tourists who tend to stay back in the complex until late evening after dusk. In order to top up the paranormal activities, the presence of some nocturnal creatures like bats and owls elevate the inexplicable proportion.
Many tourists have experienced an unseen force that pulled them towards the water when they went downstairs.

Conversely, it is not known if all these paranormal activities are true but these incidents certainly make the place popular among adventure seekers.

All these stories and beliefs have certainly made this place more titillating. If you want to know more about the haunted stories and cross-check if they are true or not, then you can visit this top haunted places in Delhi.
Read more
Image Credit : wikimedia.org
One of the oldest hidden places in Delhi, Satpula Bridge, was built about 700 years ago by the Tughluq dynasty. It is one of the oldest dams in the city and is surprisingly close to the suburb Saket. 'Satpula' translates to seven bridges, and is rightly called so as the dam is built on seven arches. The structure is still intact despite centuries of degradation.

This dam was intelligently built to regulate water for irrigation. Locals believe that the water, which has now dried up, had healing powers because saint Nasiru'd-Din Mahmud performed ablution there. There are Octagonal chambers at the sides of the structure, which are said to have once been a Madrassa. Tourists flock to this place in numbers to experience calm and serenity.

Location: Khirki Village, Malviya Nagar, New Delhi.
04
Haveli of Mirza Ghalib at Gali Qasim Jaan
Ghalib Ki Haveli is the erstwhile residence of the 19th century Hindu Poet, Mirza Ghalib, and is now converted into a heritage site. The Haveli serves as a reminder of the Mughal style of architecture and offers insight into the poet's lifestyle. The walls are adorned with lifestyle images of the late poet and the side walls are designed with engravings of his couplets and it is one of the best unusual things to do in Delhi.

The Museum also houses a life-sized replica of the poet with a hookah in his hand. It also preserves handwritten poems by the poet and some of the first copies of his poetry books. The historical and literary significance of the Haveli makes it one of the most offbeat places to visit in Delhi.

Location: 2469,Gali Captain ,Baradari, Balli Maran, Delhi, 110006

Timings: The Haveli is closed on Mondays. It remains open between 10.00 AM to 06.00 PM on all other days of the week.
Image Credit : wikimedia.org
Spread across the area of 443 acres, Sanjay Van is the most widely spread forest area in Delhi. It is one of the most interesting secret places in Delhi where you can witness a number of species of birds and animals. The birds dwelling there include Eurasian golden oriole, purple sunbird, Asian koel, starling, Indian silverbill, white-throated kingfisher, etc.

It is also home to jackals, snakes, nilgais, and several species of butterflies. Sanjay Van is also known for its paranormal occurrences. The fear is often connected to a nearby crematorium and several unclaimed bodies found in the dense forest.

Location: Vasant Kunj, New Delhi.
Image Credit : wikimedia.org
Being dedicated to the community of hijras makes this spot extremely unique and worth a visit. It is an Islamic monument located in Mehrauli in South Delhi, which literally translates to "Sufi spiritual retreat for Eunuchs." This monument was built in the Lodi period and is known for its serene atmosphere.

It is maintained and managed by the Hijras (eunuchs) of the Turkman gate. The cemetery is an abode to forty-nine eunuch graves dating back to the Lodhi Dynasty. Among the many tombs that lay there, the most important is of a eunuch named Miyan Saheb.

Location: Pani Tanki Road, Zero Street, Sana'a, Mehrauli, New Delhi
Bhardwaj Lake is considered to be one of the most beautiful hidden places in Delhi that was formed due to the mining of Lime, Badarpur, and Sandstone sand in the region. Pebbles and sand are not the only things you will find here; the surrounding area is also home to a number of birds, butterflies, and insects.

Some claim that you can also witness wild animals over here. The surrounding semi-arid forest has one of the most adventurous nature trails. It has been catching the attention of trek lovers in recent years as the rocky paths make for interesting hikes.

Location: Asola WildLife Sanctuary, Asola, New Delhi.

Timing:
-9.30 am to 5 pm- Monday to Friday
Closed on Weekend.
Built under the reign of Mandu Sultan Ghiyas-ud-din Khilji who had a vast harem of about 15000 women. In order to accommodate the ladies in a proper building, this monumental palace was constructed. Jahaz Mahal is located in the Mandu Fort near Munj Talab along Gada Shah Mahal and Hindola Mahal.
This double-storeyed palace is encircled by twin ponds that give an impression to the spectators that it is a floating structure. If you are visiting Mandu fort, this can be one of the places to visit in Madhya Pradesh that will intrigue you with its phenomenal architecture.
Location: Jahaz Mahal Internal Rd, Sulibardi, Madhya Pradesh 454010
Timings: 6 AM to 6 PM on all days of the week.
Entry Fee: INR 5 per Indian adult.
Suggested time required: 1 to 2 hours.
Distance from Mandu Bus Stand: Approximately 1 KM.
Read more
Tughlaqabad Fort is also named as the Ruined Fort and is considered to be a symbol of strength for Tughlaq dynasty. Built in 1321-1325 AD by Ghiyasu'd-Din Tughlaq, this fort is said to be his dream even before he was the ruler. He wanted to build a city where his people could live in harmony and feel protected by the presence of the fort. Tughlaqabad Fort is most beautiful specimens of pure islamic architecture and has a touch of the Sultana's.

From the walls to domes and carvings everything was on point and It can be witnessed on the 13 entry gates of this fort, each one of them have amazing designs. Tughlaqabad Fort was famous for its greatness but still it got abandoned not long after it was built. There are many stories which claim that the place is cursed and is haunted.

Legends says that a Sufi saint cursed the place and it led to the downfall of Tuglaq dynasty. Today this place has become home to many other stories which adds to its existence. It is cursed or not, but this place will not fail to amuse you as you can enjoy the breathtaking view of the capital from the top of the fort and can capture the scenic beauty this place offer in your frame.
Read more
Image Credit : wikimedia.org
Adham Khan's Tomb is located in close proximity to Qutub Minar and was built in the 16th-century. Adham Khan was a minister of the royal court of Akbar, and he was also the son of Akbar's wet nurse Maham Anga. The Mughal Emperor Akbar built this monument after Adham Khan killed one of Akbar's favorite courtesans.

The tomb stands on the wall of a Rajput fortress called the Lal Kot. An interesting fact about this tomb is that it is octagonal in shape, and not the typical hexagon to signify it is a traitor's tome.

Location: Seth Sarai, Mehrauli, New Delhi, Delhi 110030.
Image Credit : chunnamalhaveli.com
The old alleys of Chandni Chowk bear one of the most awe-inspiring architectural wonders named 'Chunnamal Haveli," which is one of the secret places in Delhi. It is one of the very few architectural remnants of the 19th century, which are still quite well-maintained.

Spread over one acre of land; it has about 128 rooms constructed on three floors. The terrace gives a 360-degree view of the Chandini Chowk market. The Haveli has high roofs and vintage windows that recite the tales of its grandeur.

Location: 838, Chandni Chowk Road, Katra Neel, New Delhi.
Image Credit : flikr.com
Begampur Masjid is one of the oldest mosques in Delhi, located in the Begumpur village near Malviya Nagar. It is also one of the most significant architectural wonders of its time built with red and white marbles. It was constructed by Khan-I-Jahan Maqbool Tilangani, the prime minister during the Tughlaq rule in Delhi.

It is said to be planned by an Iranian architect Zahir-al-Din al-Jayush. The hidden place is famous for its 64 domes, each being 9 feet tall. The Masjid is also the only one in India to follow the Bharat Mukhi Masjid style.

Location: Begumpur Village Malviya Nagar, Near Mata Mandir, New Delhi, Delhi 110017.
13
Bhuli Bhatiyari ka Mahal
Nestled in a dense forest near Karol Bagh, Bhuli Bhatiyari ka Mahal is a monument maintained and preserved for sustenance by the Archaeological Survey of India. Feroz Shah Tughlaq built this fort as a hunting lodge in the late 14th century.

There are no chains or locks on the gate, but there is only a warning sign that warns anyone not to come after sunset as haunted and paranormal tales have been experienced by the tourists here. It is said that if anyone stays here after night he/she either gets mad or dies. This place is popular among youngsters and Bravehearts, who wander here to explore and justify the haunted claims.

Location: Asola WildLife Sanctuary, Asola, New Delhi.

Timing(If applicable): Monday to Friday – 9.30 am to 5 pm.
This is one of the hidden places in Delhi tucked inside several residential colonies and an urban village in South Delhi. It is the remnant of Jahanpanah, which was one of the medieval cities which played a crucial role in the formation of Delhi.

It was built in the fourteenth century by Muhammad Bin Tuglaq, and it stands as a testimony of unusual architecture with several doors and windows in each direction. It was believed to function as an observational tower by Tuglaq to keep an eye over his troops. The ruin is also known as the thousand pillared castles as more than a thousand pillars were used in its construction.

Location: Kalu Sarai, New Delhi, Delhi 110016.

Timing (If applicable): 6 am-6:30 pm.
Champa Gali is a community in Delhi that has recently risen to prominence due to its casual, laid-back vibe, a plethora of cafes that line it and its Parisian labyrinthine setting. The locale received its name for the number of 'Champa' plants that were brought and planted here when the first café, Blue Tokai, was established in Gali and it is one of the best offbeat places in Delhi.

Champa Gali offers a picturesque, postcard vibe and is built out of small homely cafes, art galleries and quaint little stores. There are a number of handicraft stores that attract connoisseurs of art to the place. Champa Gali is especially popular among younger college crowds, who visit the place for live music gigs or spoken poetry sessions.  With its rustic charm, this is one of the offbeat places in Delhi that should be visited by all. 


Location: Shed 4, Khasra 258, Lane Number 3, Westend Marg, Behind Kuldeep House, Saidulajab, Saket, New Delhi, Delhi 110030

Timings: The community remains open for public visits between 11.00 PM and 10.00 PM every day of the week.
Located in the heart of Hastsal Village in Delhi is the Chhota Qutub Minar, a minaret tower built by Mughal Emperor Shah Jahan. Constructed in 1650, the tower made of red sandstone is three stories tall . It resembles Qutub Minar in its architectural style and structure.

The tower was initially 5 stories tall, with the dome top consisting of two stories. The tower was initially built as an entertainment sector for the Emperor after he had finished with his hunting session in the wilderness that immediately surrounded the tower. The curious architecture and historical significance of the Chhota Minar makes it one of the most prominent offbeat places in Delhi.

Location: Hastsal Village, Delhi.

Timings: The Mini Qutub Minar is not open for public visits.
Majnu ka Tila is a small colony in Delhi, which is famous for its beautiful Gurudwara situated on the bank of river Yamuna. This shrine was built in the 18th century by the military leader Baghel Singh Dhaliwal. The most unusual thing about this spot is that it provides shelter to Tibetan refugees and is dominated by them.

The streets over here are very narrow and it might be difficult to walk if the streets become overcrowded. Many restaurants are also located here that serve Tibetan cuisine. Many trinket stores are also located here that sell Tibetan handicrafts.

Location: New Aruna Nagar, Delhi.
18
Santushti Shopping Complex
Away from the city's noise and chaos, this is truly a heaven for shopping lovers. The most unusual thing about this shopping complex is that the alleys are very small and every corner looks somewhat similar so you might end up visiting the same shop after every twist and turn.

A favorite among Delhi's elites, Santushti has designer boutiques selling exquisite sarees, heavily embellished salwar suits, stylish western dresses, ornate shawls, and trendy stoles. Not only apparel, but you can also find beautiful jewelry and silverware in some shops. Santushti is always known for its variety of cafés and salons where you can rejuvenate your body and soul.

Location: Chanakya Puri, Race Course Road, New Delhi.

Timings (If applicable):
-Monday to Saturday – 10 am to 8 pm.
Closed on Sundays.
"Phool mandi" is one of the hidden places in Delhi that is an absolute paradise for flower lovers. You can get here exotic varieties of flowers at wholesale rates. Lilies, Roses, Marigolds, Orchids, Gerberas, and many other exotic flowers make their way from all over India to this market.

Some exotic flowers are even brought from South Africa, China, Holland, and Thailand. Ghazipur Phool mandi usually opens at 4 am in the morning and goes on as long as customers keep flooding in.

Location: Zorawar Singh Marg, Tis Hazari, Near Anand Vihar ISBT.