About Jantar Mantar Delhi
Jantar Mantar is an astronomical observatory situated in the heart of the capital city of India – Delhi. This is a phenomenal marvel of architectural brilliance whose shape represents a big sundial. Since its construction, this observatory has seemingly contributed to the study of both time and space. Maharaja Jai Singh laid the foundation stone for constructing this magnificent structure in the year 1724. Likewise, today, we have four more observatories situated in the cities of Varanasi, Jaipur, Mathura, and Ujjain. 

The primary aim underlying the construction of this massive observatory was the preparation of astronomical charts. These were then used to track the local time zones by keeping an eye on the movement and transitions of the sun, the moon and the different planets that constitute our solar system. It thus follows that a highly precious observatory of the ancient past never fails to surprise the technology-influenced astronomers and researchers. 

The Delhi's Jantar Mantar has a got a whopping height of around 723 feet and is comprised of different astronomical instruments totalling to a count of 13 units. Amongst these, the most precious and widely acknowledged ones are – Samrat Yantra, Misra Yantra, Ram Yantra, and Jai Prakash Yantra. The sundial, which forms the chief attraction here, is highly influenced by the ancient Egyptian Ptolemaic Structure. It strictly adheres to the sequential celestial orders of the local arrangement of the equatorial, ecliptic, and the horizontal-zenith planes. 

Thus, Delhi's Jantar Mantar brings close the three different dimensions of belief, universe, and society. It conjoins the aspects of astronomical skills with cosmological concepts arising out of the court of a scholarly prince.
How to Reach Jantar Mantar Delhi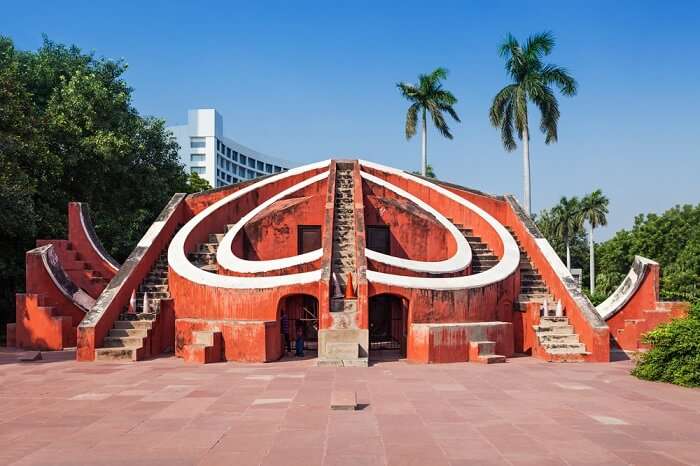 So, are you eager to explore this first astronomical observatory of India? Let's begin...

Jantar Mantar of Delhi is located on Parliament Street (Janpath) and close to Connaught Place. Hence, reaching Jantar Mantar from Delhi International Airport is not a huge task. Here's a simple travel guide for you to get transferred between Delhi International Airport and Jantar Mantar, Delhi. 

By Metro – You can opt for a metro transfer from Delhi International Airport to drop you to the Jantar Mantar, Delhi. As it is an international airport, you have a subway service after every 15 minutes of interval. Once you board the subway from the Delhi International Airport, you can alight at the Shivaji Stadium. Next, you need to walk for another 15 minutes until you reach your final destination – Jantar Mantar, Delhi. 

By Bus – You can start your bus journey from Delhi International Airport itself and get down at PS Parliament or Jantar Mantar Bus Station. From there, your final destination is at a 6 minutes walkable distance. 

By Road – If you do not want to opt for a public mode of transport, you can either go ahead with a direct hired taxi ride or plan for a self-drive to Jantar Mantar from Airport. The distance between the two destinations is merely 18.7 km and will consume 19 minutes of your travel time.
Best Time to Visit Jantar Mantar Delhi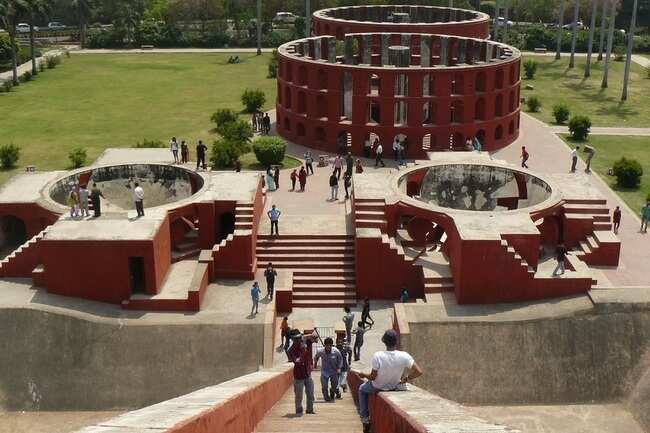 Winter season (between November to March) is the best to plan your visit to the Jantar Mantar Delhi. Throughout the period, the climate remains consistently pleasant. For your ease of movement, twin your light wear clothes coupled with a pair of best sunglasses and a wide-brimmed hat.
What Not to Miss at Jantar Mantar Delhi
Places to Visit Around Jantar Mantar


Once you are done with your visit to the Jantar Mantar Delhi, here's a list of some nearby tourist attractions to explore on the go – 

1. Agrasen ki Baoli – Agrasen Ki Baoli is a historical monument resembling a massive step-well structure built by Agrasen (the legendary ruler). It has got 103 steps cascading amidst 3 floors and leading towards the basal well. Not to forget the various haunted stories that have been widely associated with this magnificent structure. As you move to the bottom of the well, you will soon realise that you are isolated from the surrounding noise. There is a different sense of thrilling peace right where you could hear nothing except the echo of footsteps. 

Distance from Jantar Mantar – 1.1 km 

2. The National Museum of Natural History – The National Museum of Natural History is located at the intersection of Mandi House and became influential since 1972. It shelters three altogether different galleries, each one dedicated to the concept of Ecology, Environment, and History. 

Distance from Jantar Mantar – 1.1 km 

3. Gurudwara Bangla Sahib – One of the most eminent structures dedicated for the Sikhs, the Gurudwara Bangla Sahib was constructed in the 17th century. Its golden dome with a tall flag (Nisan Sahib) accounts as a chief attraction of this Gurudwara Bangla Sahib. 

Distance from Jantar Mantar – 1.4 km 

4. Connaught Place – Connaught Place has various blocks within 3 layers and is shaped in the form of a horseshoe magnet. Right from monument to art to food to structures to international brands, this place has got everything directly to entertain you. 

Distance from Jantar Mantar – 2.4 km 

5. National Museum – National Museum is an ancient structure sandwiched in between Maulana Azad Road and Janpath Marg. This museum was established in the year 1949 where you can witness a phenomenal collection of both arts and artefacts dating back to the prehistoric and modern times. 

Distance from Jantar Mantar – 3.3 km 

6. Shankar's International Dolls Museum – This International Doll Museum was constructed in the year 1965 by Mr K. Shankar Pillai. There are nearly 6000+ varieties of dolls which have been collated from different parts across the globe. Out of all, a total count of 150 dolls here depicts the different lifestyles that exist across the borders of India. 

Distance from Jantar Mantar – 3.3 km  

7. Gandhi Smriti – Also known as Birla House or Birla Bhavan, Gandhi Smriti is the place where Indian freedom fighter – Mahatma Gandhi resided during the last few days of his life. It is the same place where he was assassinated by Nathuram Godse. 

Distance from Jantar Mantar – 3.5 km 

8. Rashtrapati Bhavan – Rashtrapati Bhavan is the residential place of the Honourable President of India. This enormous mansion shelters around 340+ rooms, guest rooms, halls, and other utilities. As soon as you step within the Purdah Garden, the 16 square rose beds greet you with a warm gesture. 

Distance from Jantar Mantar – 3.7 km
Other Essential Information About Jantar Mantar Delhi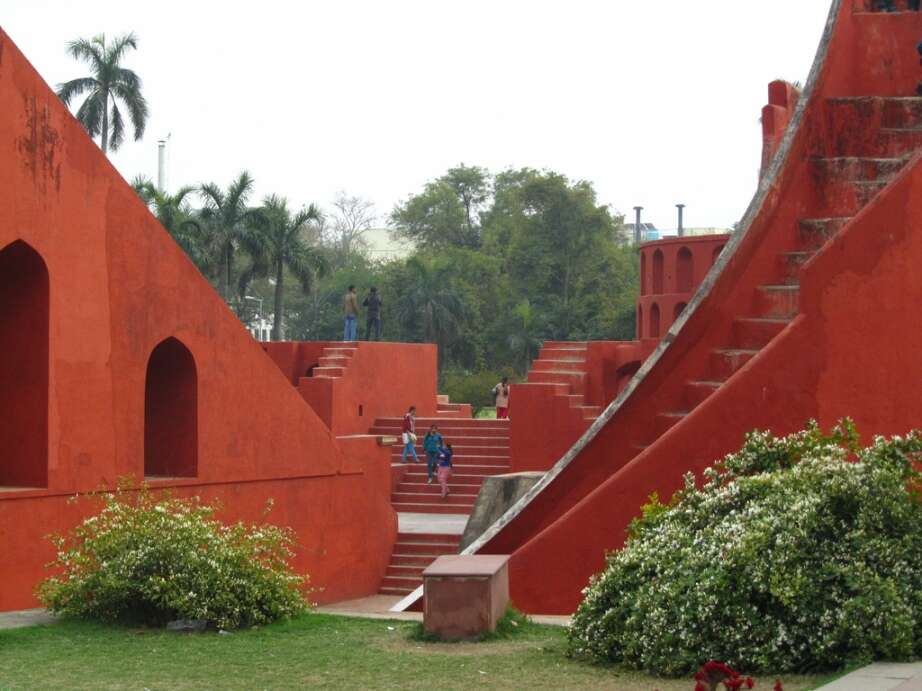 - Location:
Connaught Place, Sansad Marg, New Delhi, Delhi 110001

- Timings: 
Delhi's Jantar Mantar opens sharp at 06:00 am in the morning and closes its doors by 06:00 pm in the evening. An average tourist usually spends around 25 minutes to 1 hour of his visit to this astronomical observatory at Delhi. 

Fee:
The entry tickets to the Jantar Mantar of Delhi are as follows – 

         Indians – 15 INR per head 

         Foreigners – 200 INR per head 

History of Jantar Mantar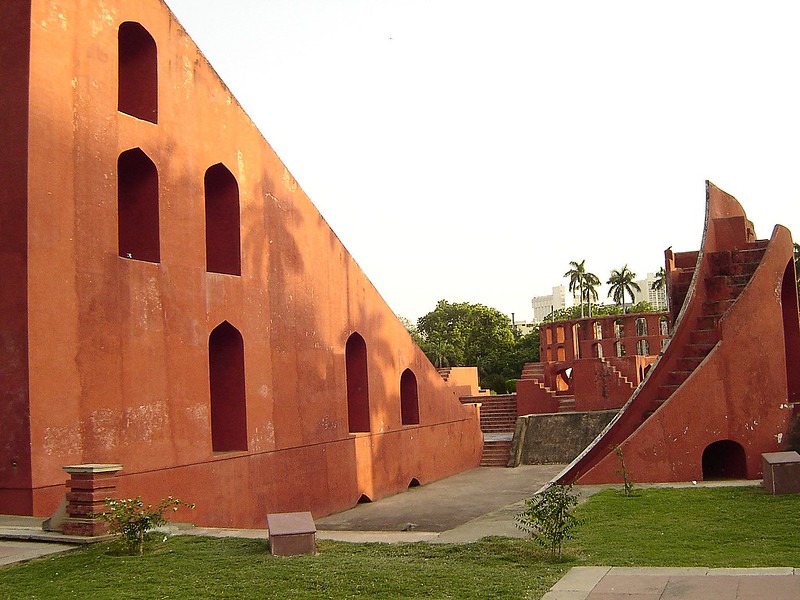 Maharaja Sawai Raja Jai Singh was a renowned scholar in the court of Emperor Muhammad Shah. He was assigned the task of confirming and rectifying currently available data about the movement and transitions of the celestial bodies. This task made Maharaja Sawai Raja Jai Singh direct his focus towards refining ancient Islamic Zij tables. By doing so, the astronomers of that era could be in a position to trace the exact hour for the said day.

In fact, his aim was designing a precise calendar for giving rise to astronomical predictions for benefiting mankind. As an undeniable part of his mission, he set out on a task to lay the foundational stone for Jantar Mantar in the year 1724. Likewise, the astronomical observatory first came to built in the heart of the capital city of India – Delhi. After that, four more observatories were raised each in Ujjain, Varanasi, Jaipur, Ujjain, and Mathura. 


Over time, the astronomical observatory structure at Delhi underwent deterioration until 1867. This called for the direct attention of the administrative measures to restructure it to its former glorious foundation. With a proper administration and maintenance, this observatory at Delhi today stands as a popular tourist attraction. 

The Architecture of Jantar Mantar


The credit to this architectural brilliance is attributed to Maharaja Sawai Jai Singh who was working on a project assigned by his Mughal Emperor – Muhammad Shah. With a view to re-assessing the current astronomical observations and charts, Maharaja Sawai Jai Singh laid the foundation for these sundials in different parts of the country. The first of all these astronomical observatories was the one constructed in Delhi. The four main instruments present within the premises of Delhi's Jantar Mantar are as follows –

1. Misra Yantra –This instrument was constructed to translate into a mix which is a combination of five different devices. The basic idea behind blending these five instruments to work in tandem was to assess both the shortest and longest day of the year. Besides, it was even used to track the noontime across different cities of the world. Interestingly, the instrument worked in their favour to accurately predict the noon time in major cities across the globe. 

2. Samrat Yantra – Samrat Yantra is alternatively known as a principal instrument. It measures 70 feet high and has a thickness of 10 feet. This resembles an equal hour sundial which has the shape of a great triangle. It is acknowledged to hypotenuse runs 128 feet in its overall length. Lying parallel along the earth's axis, the instrument points in the direction of the North Pole. It has got indicators on either side of it where every single unit represent hours, minutes, and seconds respectively. It was uniquely constructed to predict the declining phase of the celestial bodies more accurately in comparison to other sundials of that era. 

3. Jaiprakash Yantra – Jaiprakash Yantra is comprised all of the hemispherical structures which are hollow in their overall appearance. They have a concave appearance. They are equidistantly marked and accompanied by attached crosswires stretched in such a way to meet their rims.

A crosswire present at the level of the rim has a metal plate with a circular opening towards the centre of the Yantra. This is the most important plate to serve as a device for recording all the night observations. It also works towards casting the identifiable shadow on the interior portion of the yantra to record solar observations. 

4. Rama Yantra – Rama Yantra are those instruments which were devised to accurately measure the altitudes of the planet based on their celestial position. 


Facts about Jantar Mantar Delhi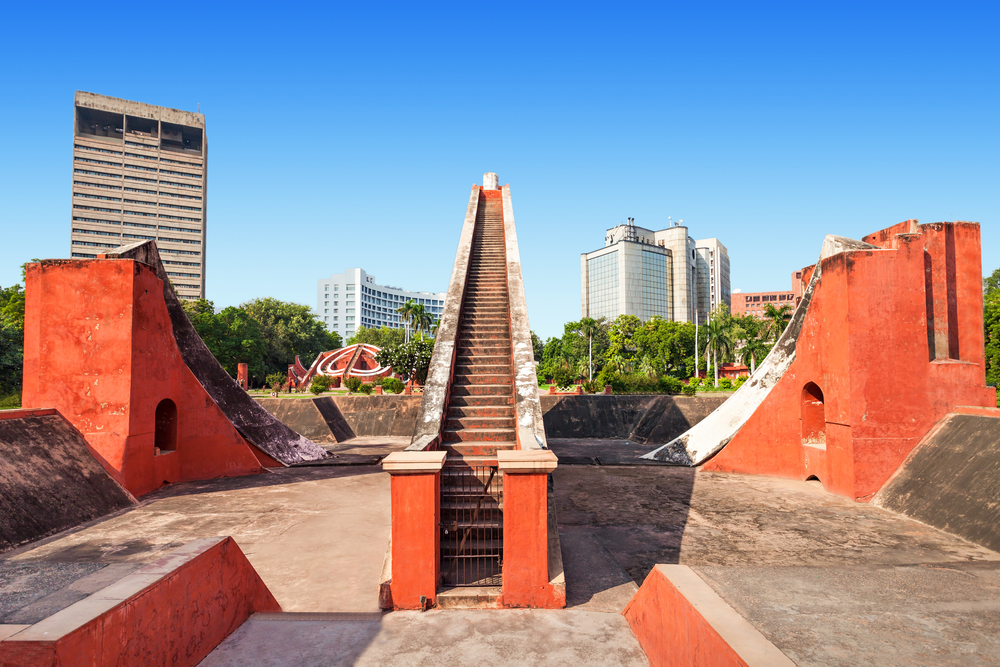 Here's a quick look at some of the interesting trivia of Jantar Mantar at Delhi – 


1. This is a brilliant testimony representing a blend of both scientific and technical concepts of the most enormous observatories of the medieval era. 


2. Even before the construction of this observatory, the sundials still were held in practice. However, the structure of the Samrat Yantra re-defined the use of sundial into a more accurate instrument so that it could be used in the determination of various astronomical factors about the celestial bodies. It also proved to be a boon in predicting the declining angle of heavenly planets within our solar system. 


3. It was during the Asian Games scheduled in the year 1982, that a logo of the Delhi's Jantar Mantar was brought into use. 


4. The placing and location of the instruments within this observatory was done in such a way that observers could be assisted in predicting the celestial movements with bare eyes. 


5. It is believed that there were five such astronomical observatories built in totality between 1717 to 1738 CE. 


6. The sundial, one of the chief attractions at the Jantar Mantar, helps in measuring the exact time of the day. It can accurately predict the time at the exactness of one a fraction of one second. 


7. One of the structures here have a plaque affixed on to it. This plaque dates back to the construction year of this observatory as 1710. It was somewhere later that the research findings revealed the exact construction year 1724. 


8. The sculpture structures located within the premises of Jantar Mantar have actually been influenced by myriads of contemporary art pieces that exist across India. 


9. The Jantar Mantar observatory at Delhi continued to produce astronomical data for seven years down the line. These data were then collated, calculated and placed in front of the Mughal Emperor. As soon as the structure was encircled with tall buildings, it stopped its process of accurate astronomical data production. 


10. The literal meaning of Jantar Mantar is – Jantra or Yantra signifies an instrument whereas Mantra signifies calculation. Thus, when the two different phrases were 
brought together, it is pronounced as a calculating instrument. 

Tips for Visiting Jantar Mantar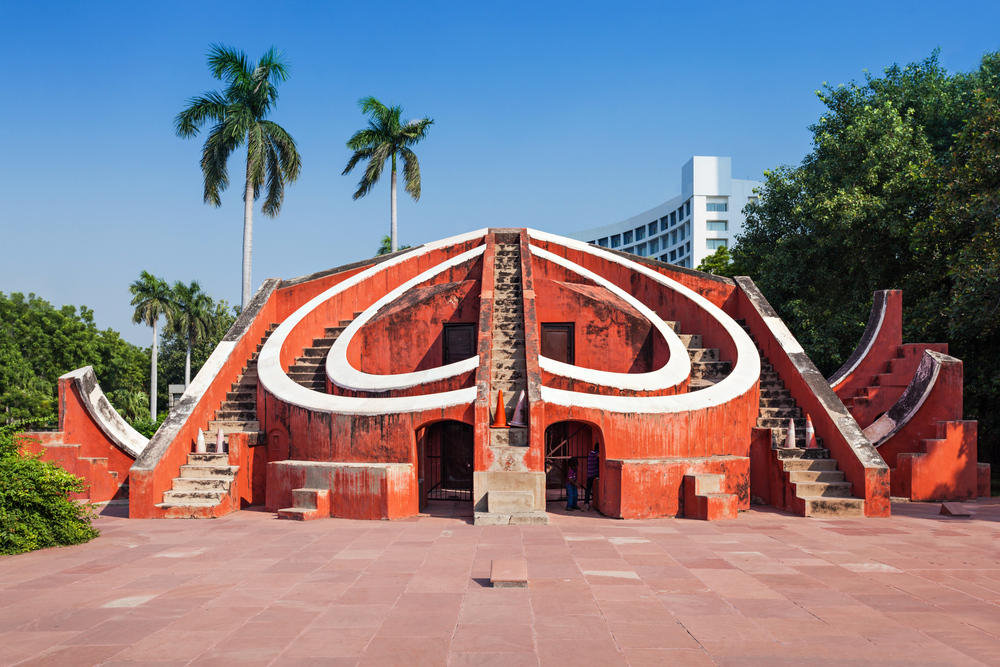 Here are a few tips for you to have an unparalleled experience with Jantar Mantar, Delhi – 


1. Most of the instruments situated within Jantar Mantar, Delhi are based on sunlight. Hence, to have a track of their functionality, you need to plan your visit to this magnificent observatory in the daylight. 


2. If you are eager to understand the mechanism underlying the working and functioning of this observatory, we highly recommend you to hire a tourist guide. 


3. Make sure that you always keep a bottle of water with you so that you remain hydrated. 


4. In case you are targeting summers for your Jantar Mantar, Delhi visit, either plan it early in the morning or late in the evening. This will shield you from the sweltering heat of the capital city.