About Seine River
Our eyes love a pleasant view and you can get that in Paris. A dividing yet unifying landmark of the city of lights- the Seine River is the pride of Paris. It is also known as 'Sequana' for its snake-like path across the city. River Seine has been an onlooker of the evolution of Paris. Since the time of Parisians in 250 B.C., Seine has been the harbinger of prosperity through its navigable waters.

Even today, its commercial importance is valued by the people of Paris. The banks of Seine locate most of the city's landmarks. Sailing through the slow-paced water, you get glimpses of every important and magnificent structure, gardens, cityscape and cheerful people.

Its riverside has been the dwelling place of popular names like Claude Monet, Vincent Van Gogh and Napoleon Bonaparte. The river has been a source of inspiration for several artists. The beauty and cultural importance of Seine made its banks a part of the UNESCO World Heritage list.
How to Reach Seine River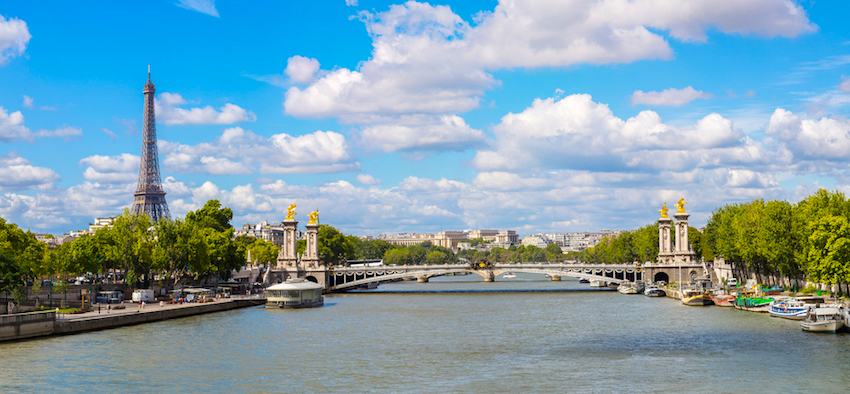 By Train - The airport has a metro station and to reach the Seine River, you would have to hop on the RER train from terminal 1 or 2. 

By Bus - Buses from CDG airport to Paris run from every 15-30 minutes. Some of the well-known public bus services are Roissybus and Le Bus Direct. 

By Car - If you would like to have a more private journey, taxi services are also available which you can book in advance for a smoother experience.
What Not to Miss at Seine River

Here is the list of things to do in and around Seine River:


1. Walk on the banks:
The length of Seine River is lined by stone quays that are ideal for a light evening stroll. Take your friends and family by the riverside and enjoy the ambience. The banks are always oozing with lively and cheerful vibes.

People love cycling along the river or have a light lunch under the shining sun by the flowing water. These bustling areas are pedestrian-friendly and are bustling with a happy crowd. From musicians to excited tourists, you will find everyone here. 

2. Enjoy some time in the parks:
The Seine River is beautiful as it is and its experience becomes even more unforgettable from amidst the enormous, lush gardens on its banks. You can visit the 10 hectares, Parc Rives de Seine for a breath of fresh air or get competitive at its sports facilities.

For a more unique experience, take a trip to one of the islands of the Seine River. Square du Vert-Galant at Ile de la Cite and Square Barye at Ile Saint-Louis are popular public parks alongside the flowing river where you can have a relaxed time while enjoying the splendid city view.

3. Cross the bridges:
Seine River meanders through the city of Paris and creates the iconic division of the left and right side. These sides are connected through more than 30 bridges, each of which is iconic.

Along with providing spectacular vistas, most of the architectural marvels of Paris are accessed by crossing the bridges. Pont Alexandre III
connects the Champs-Élysées with Invalides and the Eiffel Tower. You must visit Pont Nerf, which is one of the oldest standing bridges across the Seine. Passerelle Debilly is also an aesthetic beauty with a slight resemblance to the Sydney bridge.

4. Join a boat cruise:
One of the most common and exciting ways of getting a Seine River tour is by hopping on a cruise. Multiple companies in Paris provide cruise facilities and you can choose budget or luxury ones depending on your convenience. You can take a Batobus instead of a regular bus to navigate around the city. Some of the best companies in the business are Bateaux-Mouches and Bateaux Parisians which have open terrace boats and breakfast-lunch-dinner arrangements for its passengers. Passengers can also opt for a cabaret show on the decks of the cruise.

5. Visit the Notre-Dame Cathedral and the Sainte-Chapelle:
On the island of Ile de la Cite, facing each other, lie two of the world-renowned gems of history, Notre-Dame Cathedral and the Sainte Chapelle. Notre-Dame is one of the oldest and finest French Gothic style monuments.

It is decorated with structures of Gargoyle and Chimera and houses the glorious Grand Organ. The unique aspect of Sainte Chapelle is the extensive collection of stained-glass windows. It is built in Gothic style with an upper and lower chapel. If lucky, you may even get to attend a classical music concert at the Sainte Chappelle. Both monuments have an overwhelming interior that will leave you awe-struck.

Places to Visit around Seine River


1. Arc de Triomphe: An astounding historic masterpiece sits in the centre of Place de l'Étoile called the Arc de Triomphe. It was built by Napoleon to celebrate his victory at Austerlitz and stands as a mark of honour to the soldiers who fought the Napolean wars. Visit its terrace for a panoramic view of the city and its small museum that recreates the history of Arc de Triomphe. 

2. Tuileries Garden: Amongst the architectural marvels and city life of Paris, Tuileries Garden is a pocket of greenery and hosts a beautiful natural landscape. You can find a relaxing moment by the pond or the tree-lined avenue. The gardens are perfect for a lazy evening and sunbathing under the bright sun.

3. Eiffel Tower: A symbol of Paris and France, the Eiffel Tower is an unmissable, exquisite creation. Standing at a height of 300 metres, you can scale it to the top for a breathtaking view of the cityscape of Paris.

Its levels have restaurants, cafeterias, restrooms and even a post office to look after its visitor's needs. At night, the Eiffel Tower looks even more alluring with its golden lights, fountains and light shows.

4. Place de la Concorde: Once known as the execution grounds of Paris, the Place de la Concorde is now one of the largest public squares of the city. It is marked by the presence of a 3000-year-old Egyptian obelisk flanked by two fountains called Fontaine des Mers and Fontaine des Fleuves.

5. Les Invalides: A beautiful Baroque style structure with gold decorations, Les Invalides is of great historical and cultural value. The structure has several museums like the Army Museum and the Museum of Military Models. The highlight of Les Invalides is the church Dôme des Invalides which houses the tomb of Napoleon Bonaparte.
Other Essential Information About Seine River


Visitor's information: Seine River will not leave its visitor's disappointed. Apart from its aesthetic charm, the river is a relaxing spot for people. Enjoy a walk by its banks, cross the bridges, have a picnic with your family or lie on the grass of numerous parks bordering the river. Click pictures by its decorated stone quays or grab a coffee while enjoying the extensive view of Paris.

Both sides of the Seine are covered with important monuments like the Eiffel Tower, the Louvre Museum, Notre Dame Cathedral, the City Hall and many more. The Seine River is one of the major attractions of Paris, which is why a number of restaurants and hotels are located on its banks.

The top activity on your itinerary should be a cruise of the Seine River. Whether you want to have dinner, a city tour or conveyance across Paris, a cruise is the best option.


Facts About Seine River


1. The banks of the Seine River have been classified as a UNESCO World Heritage Site for its cultural importance.


2. The length of the River Seine is approximately 777 kilometres.


3. River Seine flows through the centre of Paris and divides it into the left and right side.


4. The Seine river is the primary source for half the water supply of Paris.


5. River Seine has two inhabited islands called the Ile de la Cite and Ile Saint-Louis.


6. There are more than 30 bridges over the River Seine.


7. The oldest bridge over the Seine river is Pont Neuf which was built in the 16th century.


8. The depth of the River Seine is artificially maintained through reservoirs.


9. It was used for the 1900 Olympic Games' rowing, swimming and water polo events.

Places to Eat near Seine River

1. Chez Pippo:
If you are craving for some pizza or carbonara with a glass of wine or beer, you must visit Chez Pippo. Taste delicious Italian cuisines in a chill-out vibe and do not miss out on trying their array of mouth-watering desserts.

2. Le Calife:
Nothing's better than a hearty meal with a splendid view. Le Calife gives the best of both worlds with a restaurant on the deck of a cruiser. It serves French delicacies and embarks on a city tour twice a day. 

3. Restaurant de La Cordonnerie:
Located on Rue Saint Roch, La Cordonnerie is a French restaurant that will please your senses. It offers a perfect blend of delectable savoury and sweet courses along with a traditional decor comprising mainly of wooden work. You can also bless your palates with a taste of fine wine or coffee.

4. Boutary:
An excellent dining experience is guaranteed at Boutary. It is a French restaurant offering 5-course meals and wine pairing with a cosy ambience. The main attraction of the restaurant is its high quality and delicious caviar that is worth a try.


Places to Stay near Seine River

1. Espace Leonard de Vinci

Distance from Seine River: 17 minutes


Located 65 kilometres from Charles de Gaulle Airport, Espace Leonard de Vinci is a 3-star hotel in Lisses. The hotel has air-conditioned rooms, a gym, a full-service spa, free parking and an indoor pool. 

2. Hotel Novotel Evry Courcouronnes

Distance from Seine River: 16 minutes.


If you wish for a more luxurious stay, book your stay at Novotel Evry Courcouronnes. It is a 4-star hotel with two restaurants and several recreational facilities like an outdoor pool, a playground and a garden. 

3. Residhome Paris Evry

Distance from Seine River: 11 minutes


Residhome Paris Evry is a 4-star aparthotel that gives you the comfort of a luxury hotel and apartment. From studio to double room apartments, each of its rooms have a kitchenette and free wifi. It has a restaurant and offers free breakfast to its guests.

4. Hotel ibis Styles Evry Cathedrale

Distance from Seine River: 11 minutes


Hotel Ibis Styles Evry Cathedrale is a 3-star hotel with 110 guestrooms. The hotel offers free wifi, French dining and an in-house bar that serves till midnight. 

Traveller's Tips for Visiting Seine River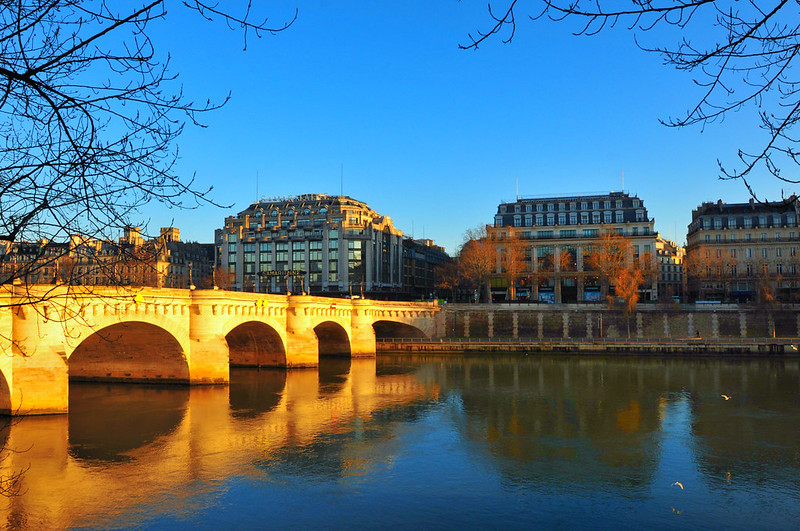 Right before you decide on visiting the beautiful waterway of Paris, read the following tips for a smooth, comfortable and possibly cost-effective journey of the Seine River.


1. The currency used in Paris is the Euro.


2. June-August is the peak season of Seine River tourism.


3. The best time to visit Seine River is the shoulder season from April-June and October-November.


4. Seine River is a popular tourist attraction and its cruises are usually full. Remember to make reservations in advance if you wish to go on a Seine River cruise. 


5. Check for tourist discount passes before booking Seine cruise tickets.


6. Use the Batobus cruise instead of bus service for navigating the city.


7. If your stay in Paris is for more than a day, buy a 2-day pass for a hop-on and hop-off cruise to save money.


8. Ticket costs half the price for children from 4-12 years old.


9. Check the itinerary for your cruise before booking.


10. Seine River is always open for visitors.