About Disneyland
Located at Marne-la-Vallee, Disneyland Paris is a world-famous theme park and an enchanted kingdom both for the adults and kids. It is the spot to meet your favourite heroes and heroines from the fairy-tale stories of Disney. In fact, it is a world that inspires imagination, wonder, and enchantment all together to entertain every single individual stepping inside this wonderland. 
The entire wonderland is spread across a total dimension of 4800 acres and is an excellent combination of thrill and entertainment. With its uncountable rides, shopping experiences, dining facilities, and resorts, Disneyland Paris features amongst Europe's most visited theme parks.

Right from Buzz Lightyear's Laser Blast to Big Thunder Mountain to Mad Hatter's Tea Cups, there are good counts of thrilling attractions for the younger generation within. For older people, you have Indiana Jones daring loops and Temple of Peril and other related attractions. Besides, a boat ride is also one of its kind adventures to enjoy here. 
Disneyland Park and Walt Disney Studios are two key attractions within Disneyland Paris itself. Mickey's PhilharMagic, Adventure Isle, Autopia, Big Thunder Mountain, Discovery Arcade, and Disneyland Railroad are some rides to explore within Disneyland Park. 
On the other hand, the Walt Disney Studios is entirely dedicated to its business-centric approach, featuring Hollywood movie themed rides and attractions. There are four different studio lots within – Toon Studio, Front Lot, Backlot, and Production Courtyard. Every single one of them features a good count of rides, street sets, restaurants, and ample shops.
How to Reach Disneyland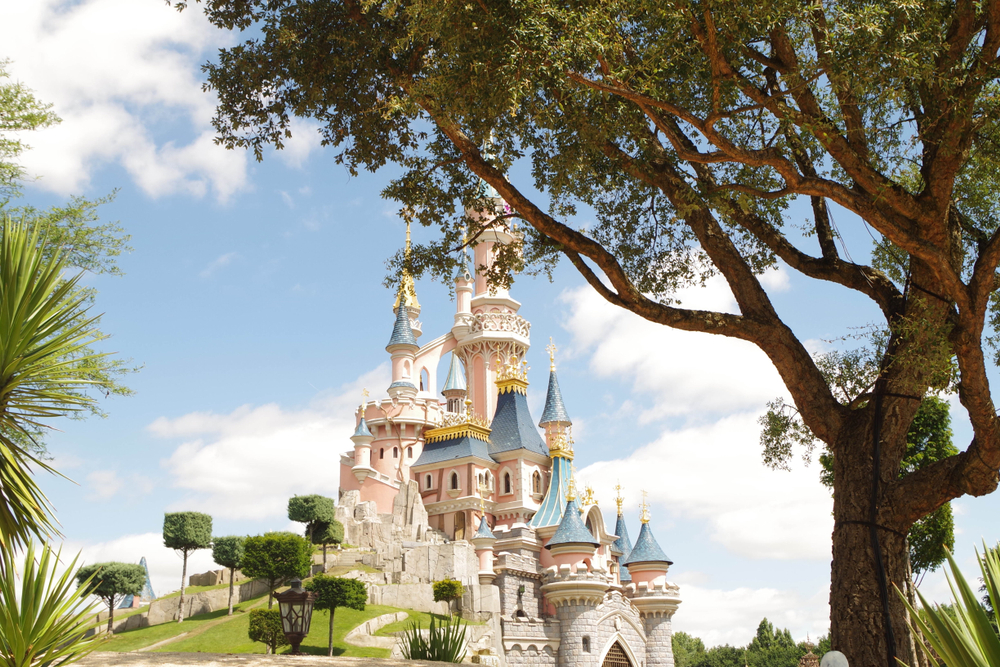 There are shuttle buses, train services, rental cars, and private chauffeurs to get you transferred between the Paris Airport and Disneyland Paris. 
Magical Shuttle Airport Transfers – 
You may avail shuttle transport facilities through the official website of the Disneyland Paris itself. You just need to make a 2-day pre-booking to avail this facility. Also, If you do avail online booking for this service, you are requested to get your e-voucher printed and display it at the time of boarding the shuttle.
RER A Express Train Line – 
RER A regional train service between Paris Airport to Disneyland Paris is just a 30 to 35 minute long and hassle-free trip. To get details about the RER A services, you may browse through the official website of the RATP. 
Hertz Rental Car Ride – 
With Hertz Rental Car Ride, you can travel between the Paris Airport and Disneyland Paris at your own pace. For online pre-booking, you may browse through the official website of Hertz Rental Car Rides.
Best Time to Visit Disneyland
Loaded with numerous attractions, parades, and shows, Disneyland Paris is a hidden gem of Paris to explore throughout 365 days of the year. 
Off-season - 
However, Mid of January to Mid of March and later from Mid of April to Mid of May is off-season here. Thus, the number of accommodations available will be more in comparison with that of arriving guests. However, there are very few shows and events that are scheduled during this period. Also, it is right for you to reserve any day between Tuesdays to Thursdays of these months for planning a visit at the Disneyland Paris. 
Peak-Season - 
On the other hand, if you want to enjoy the extended hours, a higher number of shows and parades, visit Disneyland Paris between the months of May to March and on weekends. But we can't really assure you about the weekend crowd.
What Not to Miss at Disneyland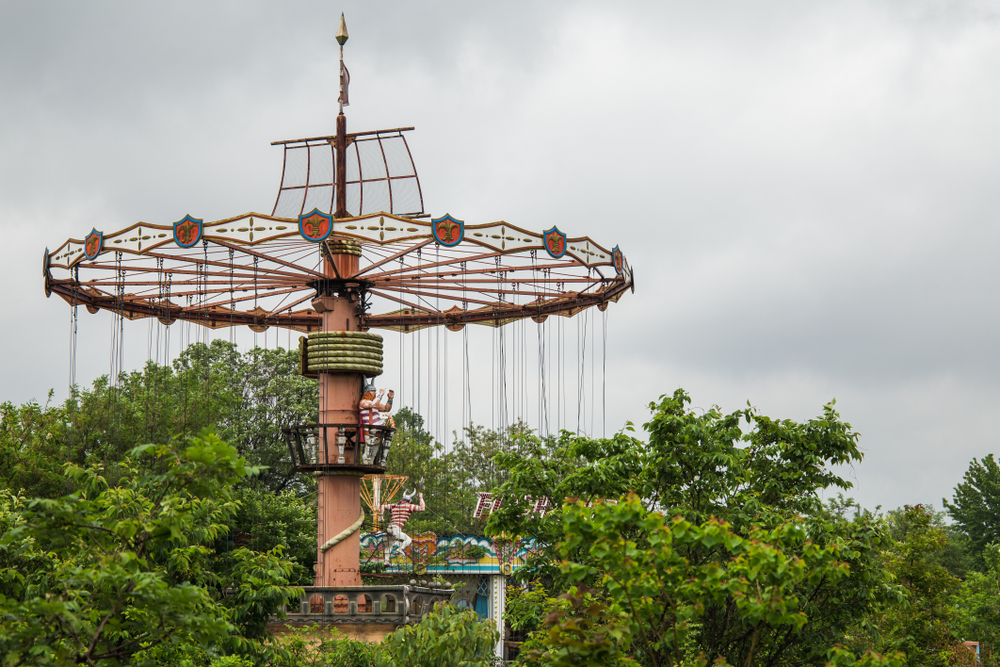 Here are some of the best rides in Disneyland:
1. Phantom Manor – 
This is an interpretation of the Haunted Mansion of Disneyland Paris. The Phantom Manor has got a fierce and complicated plot portraying the darker story of the land. Renowned as one of the most spooky mansions of Disneyland, it is useful if you plan your visit here with the rising sun. 
2. Big Thunder Mountain – 
This is yet another exciting roller coaster ride and one of the must-do activities at Disneyland Paris. This ride comes under Fastpass attractions, so if you have one with you, you can easily trespass the long queue. Big Thunder Mountain ride allows you to dive below the raging waterfalls by climbing steep heights. 
3. Adventure Isle – 
This attraction is located within the Adventureland and is a great spot to lose yourself. The caverns here appear simple and innocent until you get lost amongst them. With Adventure Isle, train your little treasure hunters to trek down the landscape of Spyglass Hill. 
4. Mickey's PhilharMagic – 
This is a spectacular 4D experience where the magic and the music of Disneyland meets each other. 
5. Alice Curious Labyrinth – 
This wonderland gives you an opportunity of enjoying an encounter with all your favourite magical characters from Disney. The hedge maze attraction within leads you straight away to the Queen of Heart's Castle from where you can witness the magnificence of the entire Fantasy Land. The only challenge before you is to get through this hedge maze puzzle. The route of the maze resembles the shape of a Cheshire Cat. 
6. Discovery Arcade – 
Discovery Arcade is an attraction where imaginations, ideas, and inventions meet each other to create a brilliant illustration for the future. It has exhibitions of and about the 19th-century inventors. Here, you'll see startling posters, display cases, and visionary gadgets lined along with a wooden green iron framework. 
7. Dumbo the Flying Elephant – 
Hop on the top of the Dumbo ride to take a blissful aerial journey while enjoying the brilliant vistas of the entire wonderland. While you might be excited to ride the flying elephant, do not miss on the warm welcome by Dumbo's close friend Timothy Q. Mouse. He is the one who will greet you at the arched entry itself. 
8. Pirates Beach – 
Located deep within the Adventureland is a Pirates Beach encircled all over by dark caverns, plank, rope ladders and slides. With so many rides around, the Pirates Beach, makes it a perfect place for all your little ones to enjoy inside the Disneyland Paris. 
9. Sleeping Beauty Castle – 
The central icon of Disneyland is a magical world of both fun and fantasy. The stained glass windows, tapestries, ornate turrets, soaring spires, and royal blue rooftops all blend to embrace the overall beauty and elegance of this fairy-tale castle. This castle is the exact site where the Disneyland parade of the Disneyland is scheduled and as well as there is a firework exhibit in the dim lights of the night.
Things to Do in Disneyland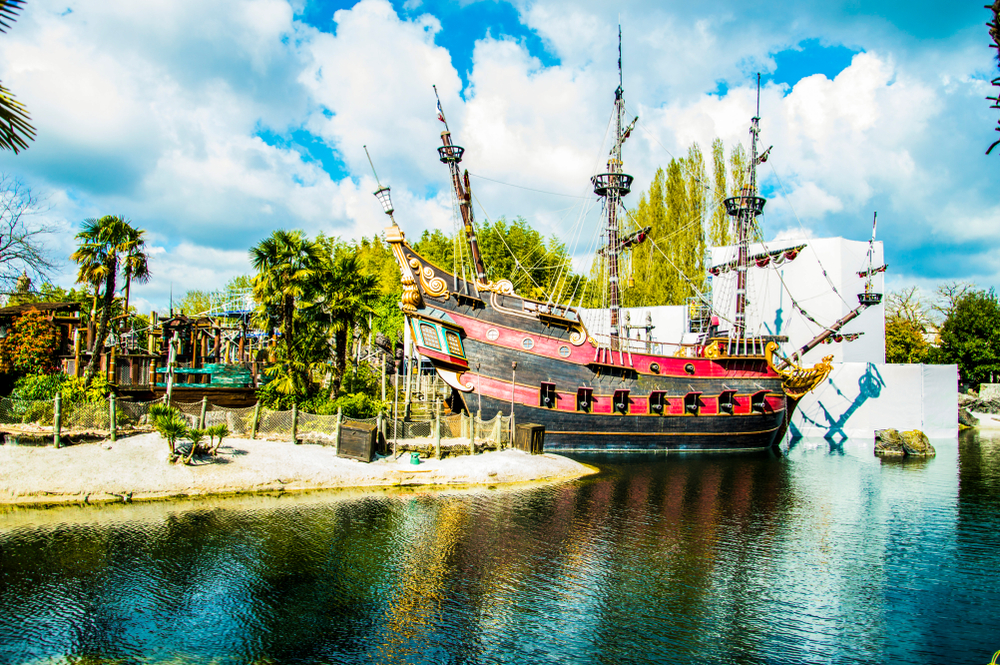 1. 50+ thrilling attractions – 
Disneyland Paris offers countless moments of magical experiences spread across its 50 thrilling rides. The rides and attractions at this giant adventure playground offer seamless fun to both young and old alike. You can either hang out with the Caribbean Sea Pirates or fly through the skies with a massive flying elephant or simply gaze at the twinkling stars shining brightly at the Star Wars Hyperspace Mountain. 
2. Les Mysteres du Nautilus – 
A stroll through the Les Mysteres du Nautilus takes you deep down Captain Nemo's Submarine. You can call it an updated yet retooled version of California's Disneyland dating back to the era of 1955 to 1966. 
3. Disney Dreams Night Show – 
If you want to explore the bliss of the nightlife here, reserve your spots at the Disney Dreams Night Show. The perfect blend of nighttime light, firework, and fountains at display here presents an altogether different illustration. Moreover, Sleeping Beauty Castle's mind-boggling canvases of numerous video projections loaded with special effects are the principal attractions of this night show. 
4. Crush Coaster – 
Crush Coaster is a wheeling roller coaster ride which forms a key attraction at the Walt Disney Studios Park. While you enjoy the Sydney Harbour Scenery, you can even connect your smartphone with the free Wi-Fi system available there and play their exclusive new version of Crush Coaster – The Game. 
5. Mickey's PhilharMagic – 
This 4D experience presents you with some fantastic songs and stories from our very favourite Disneyland. This spectacular fantasy adventure features a wide array of all our beloved Disney characters with whom we grew up. 
6. The bliss of the Live Shows – 
Be a part of the crowd at the grounds of colourful parades and breath-taking shows for creating some unforgettable memories. The spectacular Disney illumination show or some featured displays of the classic and new Disney stories all await you to knock its doors. 
7. Disney Idols – 
Did you ever watch your favourite Disney characters in person eager to interact with you? If not yet, this is an exciting opportunity to meet and greet all your Disney Idols right at the footpaths of Disneyland Paris. From Mickey to Captain Hook, and Minnie to Jack Sparrow, Goofy, and Belle – you have a lot of famous characters to meet here. 
8. Highlights of the Disneyland Paris Calendar – 
There is a wide array of regular sporting and culture-based events happening in and around Disneyland Paris across all 365 days of the year. Get a hang to their calendar before you step inside the wonderland. Christmas, Season of the Force, Halloween, and St. Patrick's Day are some of the key events celebrated here. 
9. Disney Village – 
Disney Village features numerous themed restaurants, shopping zones, and entertainment options for all its visitors. While you wander through the nooks and corners of this miniature village, do not miss on a chance to ride a hot air balloon here while enjoying the aerial views of this themed park in a real luxurious style. 
10. Relax at the in-house spa and fitness centres – 
The spa facility at Disneyland offers a perfect wellness and relaxation experience to care for your body, mind and soul. Take some time off from the attraction to give yourself some much needed TLC (tender loving care). 
11. Fitness Centre – 
This is a full-service gym offering a great experience of some of the state-of-the-art machines and facilities. 
12. Sports and Recreational Complexes – 
Go for a fascinating journey down the shimmering waterline of the River Seine and discover beyond 50 different vibrant colours of marine life. This experience blesses you with an exciting opportunity of getting close to more than 5000 marine species inclusive of the Green Sea Turtles.

Aquarium SEA LIFE Paris Val d'Europe, Big Cats Park, Davy Crockett Adventure, Golf Disneyland, Pony Rides at Disneyland Paris are some of the key recreational adventures at Disneyland Paris. Disney Stadium is a great sports complex where you can stop and play with your little ones and replenish your childhood days. Some of the key attractions of this Disney Stadium are button bashing, driving simulators, arcade classics, dance machines, and sports challenges. 
13. Disney's Fairy Tales Wedding – 
Want to make your wedding date or engagement date a memorable one for you? Get in touch with the Disneyland Paris wedding planners and design an unforgettable moment of real joy and wonder for you and your better half. With the awesomeness of Disneyland Paris, you are surely going to have a fairy tale beginning of your happy married life.
14. Enjoy sumptuous food at the in-house restaurants – 
Satiate your taste buds with some utterly delicious foods and flavours at the uncountable meal kiosks, food carts, and restaurants at Disneyland Paris. From amazing starters to a platter loaded with salads, sumptuous desserts, and fruits, these restaurants have flavours that can satiate the taste buds of every single foodaholic. 
15. Shopping – 
While you enjoy Disneyland Paris, do not forget to buy some local souvenirs from the shops within. There are various shops selling apparels, accessories, foods, spirits, gifts, housewares, and other stuff for people visiting this wonderland. 
16. Staying at ease – 
Staying at Disneyland Paris in itself is a wonderous dream. There are Disney hotels, nature resorts, and partner hotels nearby to make your stay a luxurious one for you and your company. Every single resort or hotel here features an opulent backdrop, thereby embracing the overall beauty of their entire set.
Other Essential Information About Disneyland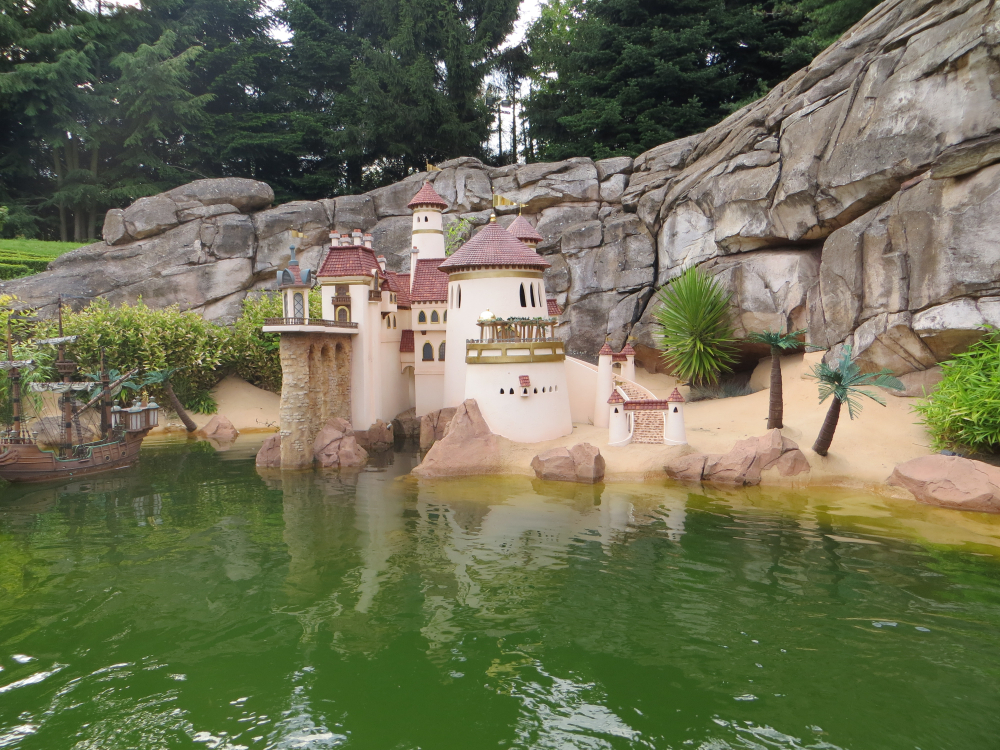 Location –
Disneyland Paris is located at Boulevard de Parc, 77700 Coupvray in France. 
Timings – 
Disneyland Paris is open 365 days in the year. However, the official schedules of the park may vary according to the season. You may refer to their official website, the Park hours calendar to know the exact opening timings as per your planned visit. 

Disneyland Paris Attraction Pass Types –

1. Tickets for 2+ days
- Pass Price:
Varies according to the number of days and age group.
- Inclusions:
Inclusive of entry to both the key parks at Disneyland Paris.

2. One Day Tickets
- Pass Price:
Mini – 44.85 Euros onwards 
Magic – 59.81 Euros onwards  
Super Magic – 70.36 Euros onwards 
- Inclusions:

Inclusive of entry to both the key parks at Disneyland Paris.
3. One day plus shuttle service
- Pass Price:
80.91 Euros onwards
- Inclusions:

Inclusive of entry to both the key parks at Disneyland Paris.
4. Super Fastpass
- Pass Price:
Low Season – 26.39 Euros 
High Season – 39.58 Euros
- Inclusions:

All Family Attractions and Big Thrill Attractions
5. Ultimate Fastpass
- Pass Price:
Low Season – 52.77 Euros 
High Season – 79.16 Euros
- Inclusions:
All Fastpass Attractions
Places to Stay at Disneyland Paris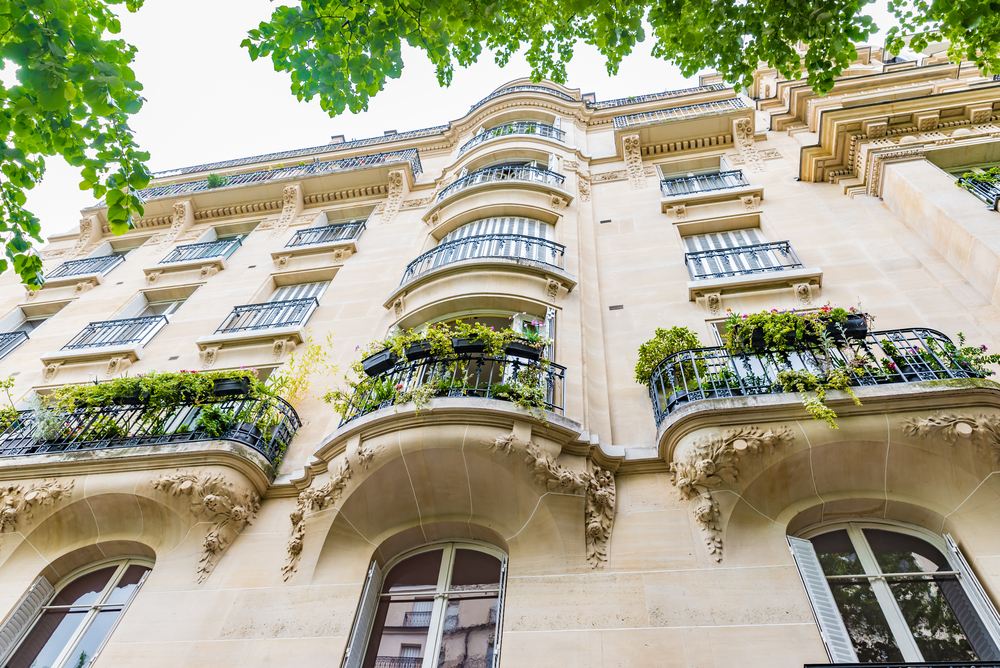 There are hotels, resorts, and partner hotels to accommodate yourself on your tour to the Disneyland – 
1. Disney Hotels – 
With Disney Hotels, experience a luxurious vacation like never before. The interiors of the hotel premises have an opulent setting of the Victorian railroad era décor style. There are two different categories of accommodations available here – Superior and Empire State Club Rooms and Suites. 
2. Disney's Hotel New York – The Art of Marvel – 
This hotel features an iconic contemporary setting where you have over 300 marvellous pieces carved out by around 50 international artists. The best part of this hotel stay is that you can avail their shuttle service to avoid the fancy 10-minute walk to reach Disneyland Paris. 
3. Disney's Newport Bay Club – 
This is a 4-starred hotel featuring a luxurious coastal experience where the rooms are themed with the wonders of Disneyland. The most beautiful part of your stay here will be rising to the sightseeing of Lake Disney. 
4. Radisson Blu Hotel – 
This is a partner hotel of Disneyland Paris and is situated at a 10-minute walking distance from the Park. While the interiors are relaxing and warmer, the exteriors offer a picture-perfect backdrop to embrace the overall beauty of this stay accommodation. 
5. Disney's Davy Crockett Ranch – 
This unique and calm retreat is nestled amidst a beautiful backdrop which allows you to stay at your own pace. This spacious forest bungalow features a fully-equipped kitchen and a reserved parking lot. 
6. Vienna House Dream Castle Hotel – 
This elegant medieval castle features all the modern facilities and amenities. It has a jaw-dropping backdrop where you can either relax on the terrace or stroll through its French gardens during your off-hours. Besides, the castle offers a stunning view of the lakefront. 
Places to Dine at the Disneyland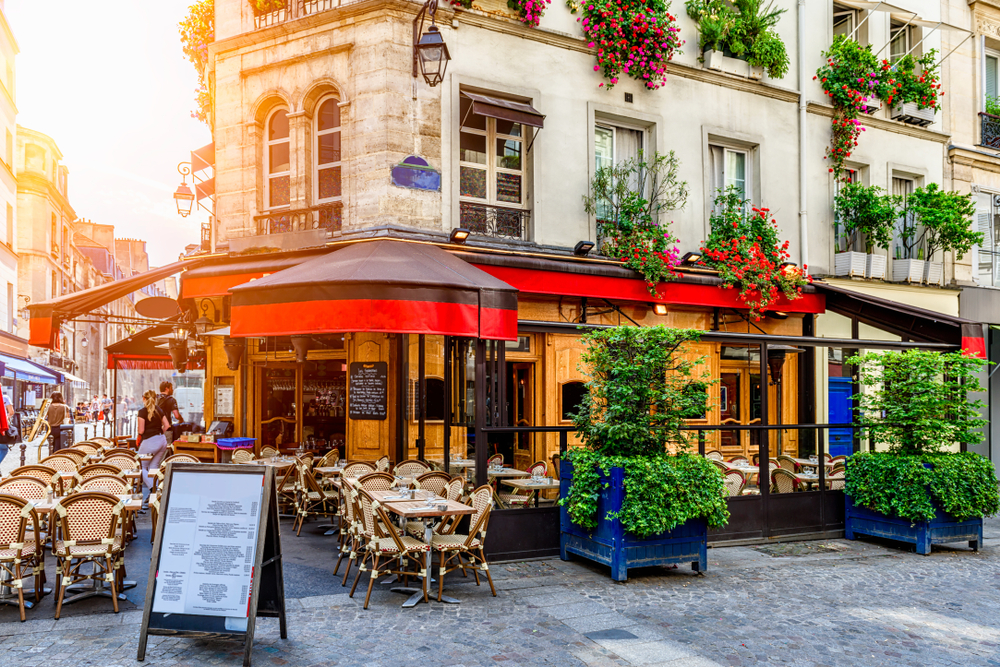 1. Annette's Dinner –  
Annette's Dinner is an American dining outlet at Disneyland Paris where you can hop for a wide range of culinary options and local delicacies. There are hot dogs, hamburgers, and milkshakes to enjoy the real American style delicious meal. Besides, there are special food arrangements available for people with food allergies or specific dietary requirements. 
2. Billy Bob's Country Western Saloon – 
This place serves some utterly delicious nachos and a wide assortment of beers and flavoured soft drinks. As you settle on the table with your favourite customized meal, do not forget to shake your legs to the tune of the lively dance rhythms. 
3. Buffalo Bill's Wild West Show – 
A hearty Texan meal served here surprises you with cattleman's chilli, camp cornbread, old-style potato wedges, and warm apple desserts garnished with a topping of delicious vanilla ice-cream. 
4. Café Mickey – 
Treat yourself with the flavoursome varieties of pizzas, pasta, and some exciting chilled flavours of coffee. The culinary delights available at the Café Mickey are a perfect blend of some refined flavours. 
Places to Shop at the Disneyland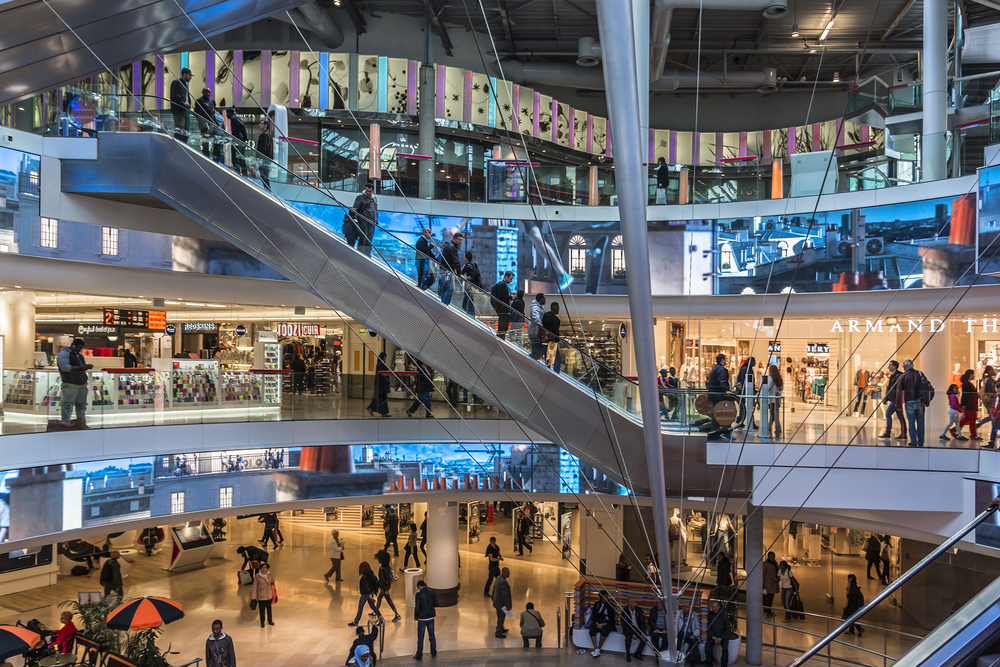 1. Alamo Trading Post – 
This is a mini-supermarket and a souvenir shop, offering every single thing which the visitors need to carry back as a memory of Disneyland Paris. From apparels to toys to plush to accessories to food and spirits, you will find everything here. 
2. Bay Boutique – 
This is a beautiful maritime-inspired boutique where the three different colours – fresh whites, sea blues, and sandy yellows blend perfectly with each other. The moment you step inside, this boutique offers you a wide array of Disney souvenirs, novelties, and collectables to pick from. 
3. Big Thunder Photographer – 
This is a must-visit for all the photo-crazy people to capture some thrilling moments of joy and enthusiasm with your friends, families, and relatives. This spot is exceptionally recognisable for its imaging and media.
Tips for Visiting Disneyland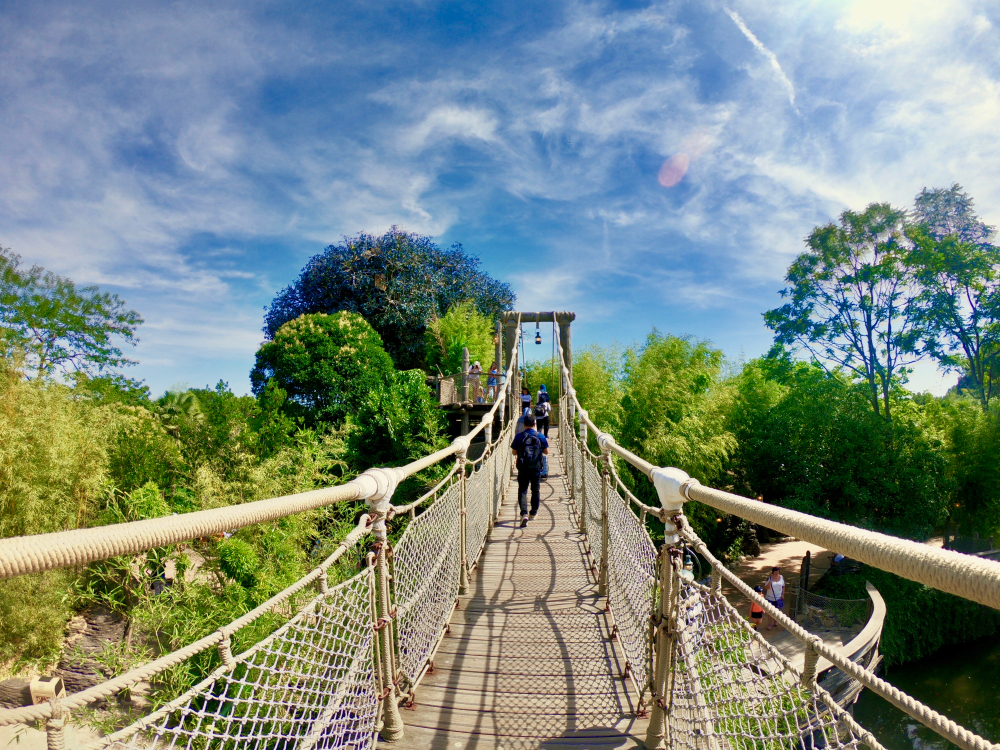 Here are some quick tips to ponder before planning on a visit to the Disneyland Paris – 
- No matter where you are standing in Paris, catch a train to make your way to Disneyland Paris. This is one of the cheapest options to reach your final destination. 

- Google for the weather conditions prevailing in Paris on your date of visit. 

- Select a quieter day to plan your visit to Disneyland Paris. For this, you can browse through the crowd calendar of Disneyland Paris on Google. 

- It is always better to get early access to Disneyland Paris. For this purpose, you can also accommodate yourself at the Disneyland Hotel. 

- If possible, try to get to the park ahead of their official timings as the officials there usually allow their visitors to step in as early as possible. 

- Once you decide to visit Disneyland Paris, grab hold of the Fastpass for easy access to some of their most attractive yet thrilling rides. 

- If you are not much fond of the parades, enjoy the rides during the parade time. This is the time when the majority of the crowd is engaged in parade watching, and there won't be much crowding around the rides. 

- Make sure that you try to eat either before or after the peak lunch hours to avoid overcrowding at the food carts. While the restaurants may be crowded during peak lunch hours; the rides may be less crowded. 

- While stepping inside Disneyland Paris, make sure to download their official app so that you could be in touch with the time. This will help you to decide where to go next while roaming inside Disneyland Paris.  

- If you have kids along with you, do take them to the Adventure Isle. There are caves, a Pilot Galleon, La Cabane des Robinson, and numerous suspension bridges to explore within. 

- Before calling it a day from Disneyland Paris, make sure to relax with a cup of hot and brewing coffee at the Main Street Bakery.