About Louis Vuitton Foundation
Louis Vuitton Foundation, started in 2006, is a cultural centre and an art museum which is run as a non-profit organisation by the LVMH for promotion of art, culture and creativity. The building of the museum, located at the 16th Arrondissement of Paris, was designed by Frank Gehry. The Louis Vuitton Foundation has been a catalyst internationally for innovation in digital design and construction, setting a brand new standard for the use of fabrication and advanced digital technologies. 

The museum here holds regular temporary exhibitions that include multidisciplinary installations, commissioned works from artists and loans from other private institutions. The works of major artists covered by the foundation are Janet Cardiff, George Bures Miller, Taryn Simon, Sarah Morris and Adrian Villar Rojas among others.

The Louis Vuitton Foundation was created to promote art and culture, especially contemporary art. It aims to perennialize the patronage actions undertaken by the LVMH group since 1990.
How to Reach Louis Vuitton Foundation


By Metro: You can opt for the Line 1 trains in Metro from the Paris airport and get off at Les Sablons station to reach the Louis Vuitton Foundation. The journey time is around 35 minutes and a single ride will cost you around 15 euros.

By Bus: There is a direct bus service from the airport, Aeroport Roissy CDG T2 A/C/D. The service departs every 30 minutes and operates daily. A ticket will cost around 5 euros.

By Car/bike: Reaching the Louis Vuitton Foundation from the Paris airport through car and bike is the fastest way. The drive costs around 65 euro to 80 euro and it takes approximately 32 minutes.
What Not to Miss at Louis Vuitton Foundation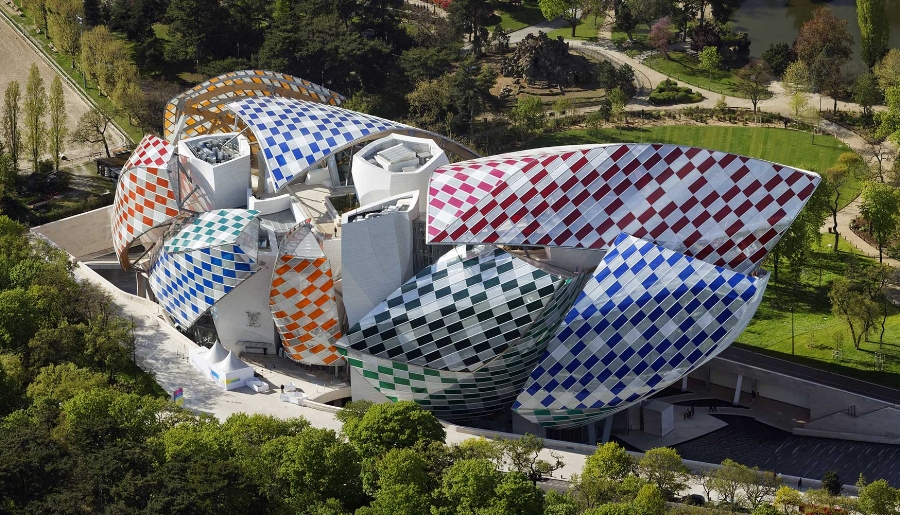 The Louis Vuitton Foundation has some permanent collections and also some temporary exhibitions. Events, musical programmes, seminars, discourse and a great variety of activities take place here on a regular basis. Here's a guide on how to make most of the place during your visit.

1. Check out the permanent collection:
Visiting the permanent collection at the Louis Vuitton Foundation, which is a constantly evolving body of works that follows different directions of arts such as pop, music and sound, expressionist and contemplative is a must.

The total collection comprises more than 250 works. You can follow the works of a particular genre that catches your interest or take a look at all paintings, architecture, sculpture and photography made by around hundreds of artists.

2. Book your visit for temporary exhibitions:
Generally, two temporary exhibitions are organised simultaneously at the foundation for around two months. You should book your visit at the foundation for its Beyond the Walls programme that includes major works from the Louis Vuitton Foundation wings in Tokyo, Munich, Beijing and Venice.

3. Musical programmes and events:
The Foundation regularly organises music recitals in its auditorium. It is open to all forms of artistic expressions. Great musicians, artists and creators perform here in front of a knowledgeable and enthusiastic bunch of audience.

Similarly, discussions on sociology, philosophy, science, anthropology, fine arts among other subjects are held at the foundation. If you are a knowledge seeker, attending one of these could be your food for thought before the visit.

Places to Visit around Louis Vuitton Foundation


Louis Vuitton Foundation is centrally located on 8 Avenue du Mahatma Gandhi in Paris.  There are multiple places to visit around the foundation such as museums, gardens, public parks, galleries and monuments. Some of the major tourist attractions around the foundation are as follows.

1. Jardin d'Acclimatation:
Founded in 1860, this is one of the major theme and amusement parks in Paris that has a Normandy-style farm, animals, an aviary, boar-riding facility, mini roller-coasters, flying chairs among such entertainment arrangements. Most of the attractions are free, while others cost around 3 Euros or so. The park remains open from 10am to 7pm daily. It is a great spot for a visit with your family.

2. Arc de Triomphe:
The Arc de Triomphe du Carrousel is a triumphal arch in Paris situated at Place De Carrousel. The arch, an example of the Corinthian style of architecture, was built in between 1806 to 1808 to celebrate the military victory of French ruler Napoleon Bonaparte. It is a major tourist spot and a great photo op place. Buses to major places across the city are also available from here. 


3. Eiffel Tower: You cannot possibly visit Paris without taking a look at the Eiffel Tower. The 984 ft tall tower in the heart of Paris is one of the top five tourist attractions of the world. The tower was built by architect Gustave Eiffel in 1889. You can climb up to the summit of the tower through multiple elevators and take a complete tour of it in 2 hours. You can book your visit through various online platforms for a starting price of 2 Euros. 


4. Musée d'Orsay: Located at 1 rue de la Légion d'Honneur, Musee d'Orsay is famous for its impressionist art collection. The place also displays western artistic creations from 1848 to 1914. The collections here vary from painting to architecture and sculpture to photography among other things.

Inaugurated for the Universal Exposition 1900, the museum is vast and dazzling with detailed monument style architecture. It remains open from 9.30am to 6pm daily and an independent tour ticket for an adult will cost you around 14 Euros.

5. Pont Alexandre III:
It is a famous deck arch bridge over the Seine in Paris that connects the Champ-Elysees quarter with the Invalides and Eiffel Tower. The bridge is highly ornate and extravagant in its architecture. One of the major tourist places in Paris, this bridge has been classified as the French monument historique since 1975.
Other Essential Information About Louis Vuitton Foundation


The opening hours at Louis Vuitton Foundation change according to the exhibition hours.

Opening hours: It remains open from 11am to 8pm from Monday to Thursday, except Tuesday when it remains closed. On Fridays and weekends, the Louis Vuitton Foundation remains open from 11am to 9pm. However, it is best to verify the opening hours just ahead of your visit from the foundation website.

Ticket cost: The entrance ticket to the Louis Vuitton Foundation costs around 16 euro which also gives access to the Jardin d'acclimatation, located next door. Visitors aged below 18 years, professional artists, national speakers, national or region interpreter guides and RSA beneficiaries among others need to pay just 5 euro to buy a ticket upon presenting supporting documents.

Family passes for 32 euro or above are available, while entrance to journalists, critics, disabled persons are free at the Louis Vuitton Foundation.


Places to Eat near Louis Vuitton Foundation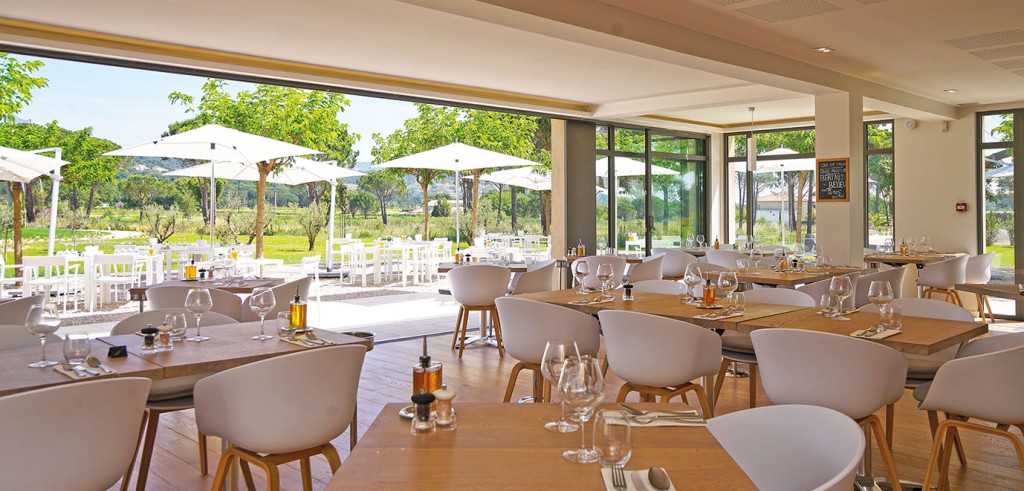 A proper tour at the Louis Vuitton Foundation takes around 2 to 3 hours. Once you're done, you might feel famished but not to worry as the place is surrounded by several restaurants and cafes that offer great food and brilliant ambience. Here are some of them. 

1. La Table de Jules Gouffè:
Located at Carrefour des Sablons Bois de Boulogne, this restaurant offers Italian, French, barbeque cuisines for their lunch, dinner and brunch. The open-air sitting arrangement, beautifully curated food and drinks menu, prompt service by hospitable staff and kid-friendly atmosphere are some of the major features of this place. A meal for two will cost around 120 to 200 Euros here. The restaurant functions between 9am to 11pm.


2. La Terrasse du Jardin: This cafe is located right adjacent to Louis Vuitton Foundation on the 6 avenue du Mahatma Gandhi. French and European cuisine food are available here for lunch and dinner buffets. The set up here is al fresco, more like an outdoor family dinner. Try the beef carpaccio, gazpacho soup, burgers with fries and some top notch salads. A meal for two will cost here around 100 to 170 Euros. The cafe remains open from 9am to 10.30pm.


3. La Table des Oliviers: This is one of the best restaurants in Paris that tops the review charts. La Table des Oliviers is famous for its best fresh food offerings, simple yet strong winery menu, brilliant fish and meat dishes, cosy ambience and excellent array of desserts. Trying the seafood main course items and parfaits in desserts is a must here. A meal for two will cost around 120 Euros. The place remains open from 9.30am to 11pm.


4. Au P'tit Grec: Located at 68 rue Mouffetard, this cafe functions as a takeaway counter of French fast food. The place is renowned for its variety of crepes loaded with ingredients. Be it traditional style or the new ones, all the crepes here come fresh and filling. Sweet, savoury, vegetarian or with spicy base, you can ask for any type of crepe you want that starts at just 5 Euros. The place remains open from 9am to 10pm.


Places to Stay near Louis Vuitton Foundation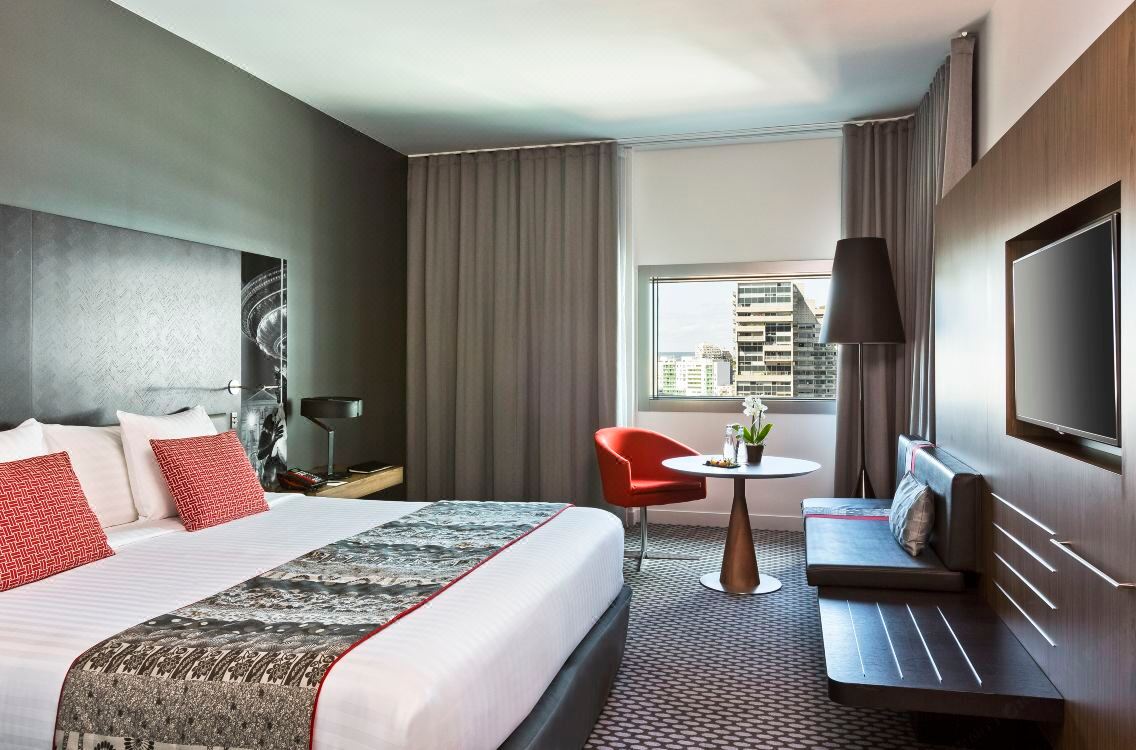 The stay options around the Louis Vuitton Foundation are galore. Some of them are as follows.


1. Meliá Paris La Défense: This hotel is situated at 3 Boulevard de Neuilly, at the centre of La Defense business district. The place offers a great panoramic view from the bar lounge on the 19th floor. Brilliant interconnected rooms, suits, family rooms with mini bar and tea and coffee making arrangements, TV, free wifi, free access to fitness centre among other such facilities are available here. A one-night stay here will cost around 350 to 400 Euros.


2. Hotel Novotel Paris La Défense: This hotel is also situated at the heart of La Defense and offers a great view of the Seine river and the Eiffel Tower. Free parking, free wifi, cosy and spacious family rooms, friendly staff, in-house bar and restaurant are the major facilities here. A stay per night will cost around 150 Euros here.


3. Hotel Pullman Paris La Défense: This is a five-star facility located at La Defense, opposite to CNIT and Grande Arche. The rooms here are of contemporary style with free internet and private bathroom. The breakfast buffet is lucrative here that offers all gluten-free healthy food from 6am to 10am every day. 24-hour room service, nearby Metro station, airport transfer facility are some of the major features of this hotel. A stay per night here will cost around 600 to 800 Euros for premium rooms. 


4. Fraser Suites Harmonie Paris La Défense: Located at 6 Boulevard de Neuilly, this hotel is near the banks of the Seine. Large, spacious comfortable rooms with TV, private bathroom, DVD player, microwave, refrigerator, balcony, daily buffet breakfast, multiple language speaking staff, free parking, airport shuttle, pet-friendly atmosphere are some of the great features of this hotel. Per night stay here will cost you around 400 Euros.

Traveler's Tips before Visiting Louis Vuitton Foundation


1. Book your tickets online to avoid the queue unless you decide to visit the museum right after arriving at the spot.


2. Make sure you walk around the museum to see as much as you can. Take little breaks in between your trip.


3. You need at least three hours to complete the tour at the Louis Vuitton Foundation. So plan your itinerary accordingly.


4. The building alone is a gem of modern architecture. If you don't want to go into the detailed visit of the exhibits, try to view the building and its interiors at least which will take around 1 hour 15 minutes.


5. For specific temporary exhibitions, keep checking the Foundation website and book your tickets accordingly.