About Montmartre
With its cobbled streets, artists, bistros and the majestic Basilica, Montmartre is full of charms. Located on the top of a small hill in the 18th arrondissement, Montmartre is one of the most famous Parisian districts. The place has evolved from its traditional village atmosphere of the 19th and 20th centuries that appealed to artists so much. Montmartre has been depicted in various popular culture stories as well. It is the highest point in the City of Lights.

Montmartre is an ideal melting pot of art, music and culture. As a tourist, the best thing here is to take a stroll down the roads, visit the museums, art galleries and other such hubs of art and culture here. You should take a wonderful view of the city from the top of Sacre Coeur, the most prominent landmark of the city and a masterpiece of grandeur and grace.

Montmartre is a little green haven that has been mesmerising its visitors with its beautiful gardens and vineyards. With its gorgeous locales, vibrating nightlife, rich history of art and great archaeological background, Montmartre is a must-visit place for all tourists, especially backpackers.
How to Reach Montmartre


Metro: There are three major metro stations of Abbesses, on line 12 and Blanche and Avengers, both on line 2, that are connected to Montmartre. Any of these stations can be reached from the Paris airport Charles de Gaulle. You can transfer to the RER trains and metro from the airport itself and it will take you around an hour to reach Montmartre and cost around 10 euro.

Bus: Air France buses are available from the CDG airport. It will take around one-and-a-half hours to reach Montmartre from the airport by bus and you will have to spend around the same fare as the metro.

Car/bike: This is the fastest means to reach Montmartre from the airport. You can hire cabs directly from CDG which will charge around 70 to 80 euros and take 30 minutes to ferry you to the hill district. You can also hire bikes and cars to be driven by yourself from various agencies available at the airport facility. This will be slightly cheaper.
Best Time to Visit Montmartre


Montmartre is a village on a hilltop, so there is no skirting around. The best time of the day is to visit this popular destination in the middle of the afternoon on weekends. If you settle in the place by evening, aim to venture out in the charming cobblestone alleys and stone walls draped with colourful flowers in Montmartre first thing in the morning.
What Not to Miss at Montmartre



Montmartre is the most picturesque among all the exotic locals across Paris. With its own unique bohemian history and hilltop geographical location, there are plenty of exciting things that you can do here. Here are some of them.

1. Wander around the Museum of Montmartre and Renoir Gardens:
Nestled into narrow hillside roads, Montmartre museum is truly a hidden gem. The museum is situated halfway up the hill, right corner of the Montmartre Cemetery. You can get a heavy dose of Parisian culture at the museum. There is no queue to enter, the exhibits are impressive, to say the least. 


The Renoir Gardens have been set up in memory of famous artist Pierre Auguste Renoir around the Montmartre Museum. It is like a fairytale type of small garden with a host of gorgeous blooms, lush green grass, a terrace, a pond and lots of trees. 


2. Rue de Steinkerque – A Destination for Smart Shopping: One of the top places with highest footfall in Paris is Rue de Steinkerque. This 150 metres long narrow alley is replete with stalls of varied items such as gift items, bags, caps, scarves, tees, trinkets, souvenirs, trendy clothes, bakery among other things.

You have to trudge amid the crowd here as the pathway always remains busy with hundreds of tourists. Most items at cheap rates are available here, though you can find some branded goods as well. You can do some last minute shopping here and collect something for all loved ones back home. 


3. Snap Photos at Musée de Montmartre: Taking snapshots of anything and everything at Musee de Montmartre are one of the best things you can do to make the most of your Paris visit. This awesome little place is steeped in history. Click some photos of the great works of artists like Renoir, Picasso, Van Gough, Toulouse – Lautrec preserved here.

Capture a photo of the cool 3D model of the Montmartre miniature here. Roam around in the Renoir garden and pose as you like. Take photos of the flowers, the tiny pond, trees and the doors and corridors here. This altogether is a unique experience for any tourist. 


4. Enjoy at The Moulin Rouge: Moulin Rouge is almost synonymous with the emblematic Parisian culture and lifestyle. It is located alongside the Place Blanche on Boulevard de Clichy on the outskirts of Montmartre.

The colourful cabarets, the lights, the night spirit are some of the essential features of Moulin Rouge that draws thousands of eager and diverse population to Montmartre to experience what then was a typical Parisian neighbourhood. The Bohemian and artistic spirit of the place keep the place still charming.

Places to Visit Around Montmartre


Montmartre is replete with unending tourist destinations. Right from museums, gardens, churches, cemeteries, library, park, it has something for everyone. Here are the five most exciting attractions of the place that you can't miss to visit during your trip to Montmartre.

1. Dali Museum- 
Here you can watch the original works of Salvador Dali. More than 300 works of the artist have been preserved here. This is relatively a small museum but remains full of visitors almost every day. Not only sculptures and paintings but some alternative works, including sketches, furniture, audio and video pieces in the artist's own voice are available here. You can opt for the free guided tour at the museum.


Location: It is located on 11 Rue Poulbot, just a minute's walk from Place du Tertre

Entry fee: The entry fee is around 9 euros to 12 euros for children and adults.

Timings: Remains open from 10am to 6.30pm every day.

Facilities: 
- Photography is allowed as per museum rules.

- Locker to store visitors' luggage.

- Guided tours.

- Washroom.

- Wheelchair for specially-abled visitors.

2. I love you wall-
Spanning over 416 square feet, the I love you wall was created by two artists, Frederic Baron and Claire Kito, to make this place as a rendezvous place for lovers and a lasting moment of eternal adoration and joy. Total 612 lava tiles of this wall carry the sentence, "I love you" in 311 different languages of the world. The closest Metro station to reach this spot is Abbesses. A must visit site if you are in Paris with your partner or spouse.

Location: It is located n Square Jean Rictus 
Entry fee: There is no entry fee.

Timings: Remains open from 8am to 6pm every day.
Facilities: 
- Photography allowed with no restrictions.

- Nearby bus and metro services.

- Good restaurants, cafes around.

3. Musée de la vie Romantique-
Located in the district of New Athens, this beautiful townhouse represents a plethora of scenic beauty. Paved courtyard, central garden, two artists studios among other things are the major attractions of this place. If you are a connoisseur of art and culture, then visiting this serene, green and refreshing place is a must where you can revive your creative or artistic side.


Location: It is located at 16 Rue Chaptal, Paris

Entry fee: Permanent exhibits are free here, though for temporary exhibits, you have to buy tickets.

Timings: Remains open from 10am to 6pm.

Facilities: 
- Photography is allowed, barring the specific exhibits that carry no photography signage.

- Lockers to store light luggage.

- Guided tours by expert operators.

- Washroom.

4. La Halle Saint Pierre-
The Halle Saint Pierre houses a museum, a bookshop, a gallery, and a cafe inside a building decorated in the Baltard style architecture in the gardens at Butte Montmartre. Large temporary exhibitions, discussions, seminars, workshops and artistic cultural activities are held here regularly in this harmonious set up that celebrates creativity and art. Around 30 works have been put on display from the permanent collection of Naive Art.


Location: It is located at 2 rue Ronsard, Paris

Entry fee: Tickets per head costs 7 euros to 9 euros.

Timings: Remains open every day from 11am to 6pm. 

Facilities: 
- Designated parking

- Nearby bookshops, food stalls

- Free of charge lockets to store coats, umbrellas and other such stuff.
Other Essential Information About Montmartre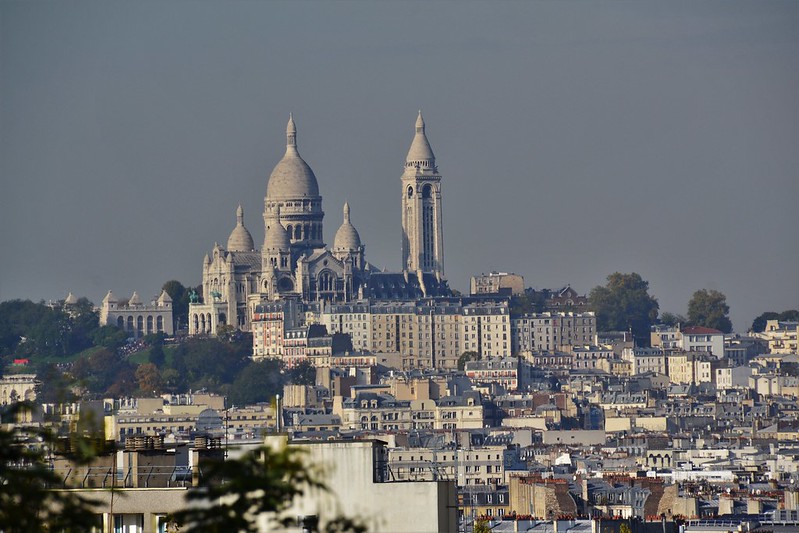 1. Montmartre is the most bohemian place in France and it is also the most romantic place in Paris.

2. The district earned its unique name after the 130 m high hill.

3. Sacre Coeur Basilica and Moulin Rouge are two main attractions of Montmartre that travellers around the globe know.

4. Montmartre is a melting pot of cultures with artists, musicians, writers coming here from varied corners of the world to practise their form of arts.

5. Quaint windmills, staircase streets, vineyards, gorgeous gardens set Montmartre apart from the rest of the attractions in Paris.

6. The place held an important role in the history of France, as well as the entire Europe.


History About Montmartre Paris


According to the archaeological excavations, the heights of Montmartre were occupied from the Gallo-Roman times. Scriptures from the 8th and 9th century mention the names of Mount Mercury and Mount Mars. Saint Denis, a Roman missionary, was martyred on top of the hill here in 250AD.

After being beheaded, Paris's first bishop picked up the head and walked for six miles next to the city of Saint Denis. The first mention of a church dedicated to the miracle can be found in the 8th century texts. King Louis VI built the church of Saint Pierre de Montmartre in the 12th century. Paris was very small and Montmartre was an isolated country village with croplands and nuns before the revolution of 1789. It was an outing spot for Parisians with great bucolic aspirations.

Since the nineteenth century, Montmartre started enjoying its worldwide popularity. With Baron Haussmann's administrative reforms in 1860, Paris welcomed the district within its own walls. However, with its rich rural identity, Montmartre resisted the impending industrial urbanization for a long period of time. Montmartre started to imbibe the revolutionary spirit of freedom in 1889 with Paris magnetism at its peak. Since then, tourists started pouring in here from all over the world. The picturesque landscape, the sparkling pubs, cabarets, watering holes, the cultural rich heritage and warm people have been drawing thousands of tourists to this hill district for years.   

Places to Eat at Montmartre


Montmartre is also a place for foodies. Some of the great French cuisine dishes can be tasted here in these following restaurants.

1. Babalou:
Located at Rue Lamarck 75018 Paris, this is a fine restaurant that serves excellent starters such as artichauts, tomates sechees, roquette, tomatoes cerises with parmesan, in the main course you can relish on the delectable thin crust basil tomato, cheese pizzas and some excellent tiramisu. This is a very cosy, small and neat place for families and couples. A meal for two would cost around 30 to 40 euros.

2. Restaurant Le Poulbot:
Located at 3 Rue Poulbot in Paris, this is all about great food and an exotic warm ambience. Here you can start your meal with Rillette d'oie and Soupe à l'Oignon. Plato del dia is a popular main course here. The meat dishes cooked in traditional French style are simply awesome. A meal for two would cost you around 30 euros. The staff of the restaurant are hospitable and chefs are a class apart. 

3. The Hardware Société Paris:
Situated at 10 Rue Lamarck, The Hardware Societe is famous for its lip smacking desserts. Don't forget to taste the cheesecake here. Some of the best gluten free vegetarian and non-vegetarian Australian and European dishes are available here at a very reasonable rate. A meal for two would cost you around 45 euros. 

4. L'Arcane:
This fine dining restaurant is situated at 39 Rue Lamarck in Paris. In the starters you can get some amazing three, four or five types entrees, while in the main course, you can order from the popular choices such as saumon juste nacre, surprise de tomate, burrata et gaspacho de Noire de Crimee among other delicacies. A meal for two would cost you around 50 to 60 euros here.

Places to Stay near Montmartre


Montmartre is a relatively small area in comparison to other neighbourhoods in Paris. However, this whimsical district of Paris has a plethora of stay options, including luxury hotels, budget accommodation, home stays and hostels among other such facilities. Here are some of them. 

1. Hôtel Regyn's Montmartre: This hotel is located right in the heart of Montmartre on Place des Abbesses near Saint Jean Church. Each room is soundproof, cosy with all facilities like internal heating, WIFI, private washroom, elevator, TV among other things. The hotel staff are friendly and they speak English. The hotel is nicely connected to the metro and all famous tourist spots are around. A standard room here will cost you around 70 euros.

2. Hotel Des Arts: If you are looking for a luxury stay in Paris, then this facility is an ideal one. With soundproof rooms, blackout curtains, excellent housekeeping, friendly staff, well-equipped bathroom, big cloakrooms, this hotel is perfect for couples and families. A premium room here will cost you around 120 to 150 euros.

3. Timhotel Montmartre: This is a classy hotel located at 11 Ravignan in Paris. Here you can get all decked up cosy rooms with breakfast, laundry, air conditioning, extra bed, room service, 24x7 front desk, free wifi among other such facilities. You can roam around Montmartre from this place via cycle, cab or on foot. A standard deluxe room here will cost you 100 euros.

4. Vintage Paris Gare du Nord: Located at 73 Rue de Dunkerque, this place is a great hostel facility that is a 15 minutes walk from Moulin Rouge. You can get friendly and round the clock front desk here. In the lounge, there is free wifi, table football, TV among other stuff. Each guest room has a private bathroom, while the dormitories have shared facilities. You will have to pay around 20 to 30 euros per room here.


Fun Facts to Know About Montmartre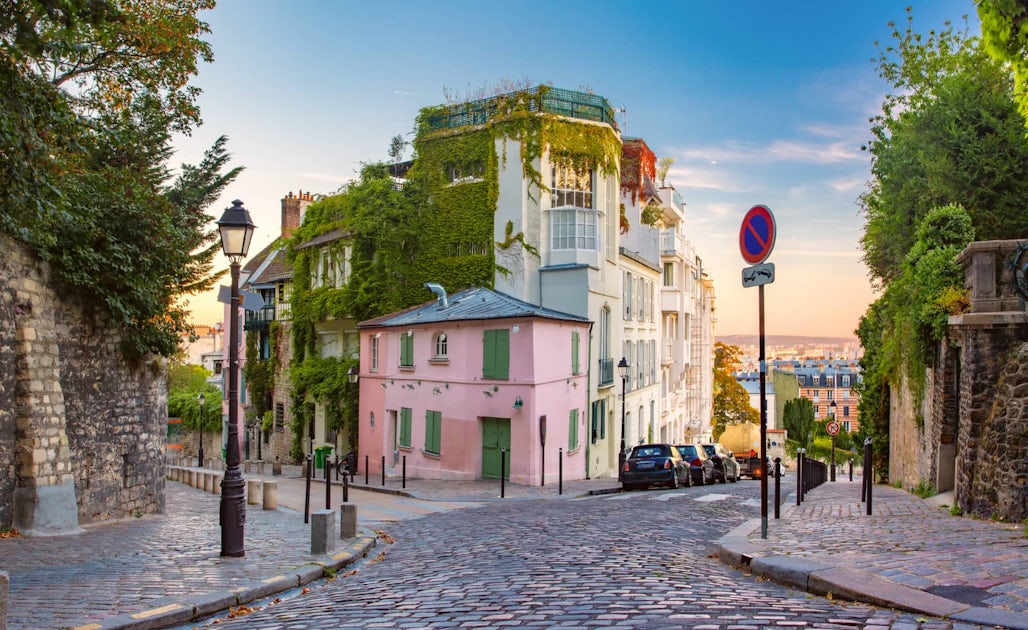 For the Parisians, Montmartre is a haven of peace. Once it was the artists' quarter with famous personalities like Vincent Van Gough and Picasso among others calling it home. Here are some fun facts about Montmartre:
1. The name's origin:
 There are two popular theories about the name Montmartre. As per one theory, Montmartre was named Mons Martis, meaning the Mount of Mars. Later, it was renamed Montmartre, meaning the Mount of the Martyrs.
2. Rebels' home:
 Montmartre has always been a safe haven for rebels. If you focus on the place's history, you shall see that the place has always been in conflict with the rest of Paris. This may be because Montmartre was geographically separated from the mainstream Paris. Therefore, in 1860, Napoleon III and Baron Haussmann decided to change the setup of the city entirely. Still, Montmartre carries its own unique rural ethnic set up, a beauty that has been attracting tourists for ages. 
3. Montmartre is the hub of artists:
 With its rich artistic background, Montmartre is like a Mecca to varied types of artists and creative people. The place is replete with museums, galleries, art centres and archives among others. One of its many charms is Picasso and a cabaret called Au Lapin Agile where the artist used to visit regularly.
4. Montmartre has its own vineyards: 
Just next to Au Lapin Agile, there is an unmissable spot in Montmartre that is the Clos Montmartre vineyard, the only vineyard left in Paris. The Montmartre wines are very expensive; however, the taste experience differs from person to person.