About Palais Garnier (The Opéra Garnier Grand Hall)
Palais Garnier or  is one of the most renowned and impressive landmarks located within the city of Paris. It symbolizes the opulence of the Second Empire. Commissioned by Napoleon III in the year 1861, the present-day structure of the Palais Garnier is nothing short than a luxurious architectural delight.

The moment you step inside, you will see a big chandelier hanging from the Opera Garnier ceiling staggered in 7 tonnes of pure bronze.

The entire Opera Garnier is a brilliant masterpiece of classicism, and eccentricity. The main façade here was tailored as a theatre set. It was entirely dedicatedOpera Garnier to the lyric piece of art with stone columns and arcades. Every single element of this grand edifice is adorned with elaborate statues, carvings, and sculptures. 

The auditorium is a definite sight to behold with a plush bloody red and golden seating area. The stage in the auditorium is massive enough to accommodate a total count of 450+ artists at one go. 
How to Reach Palais Garnier (The Opéra Garnier Grand Hall)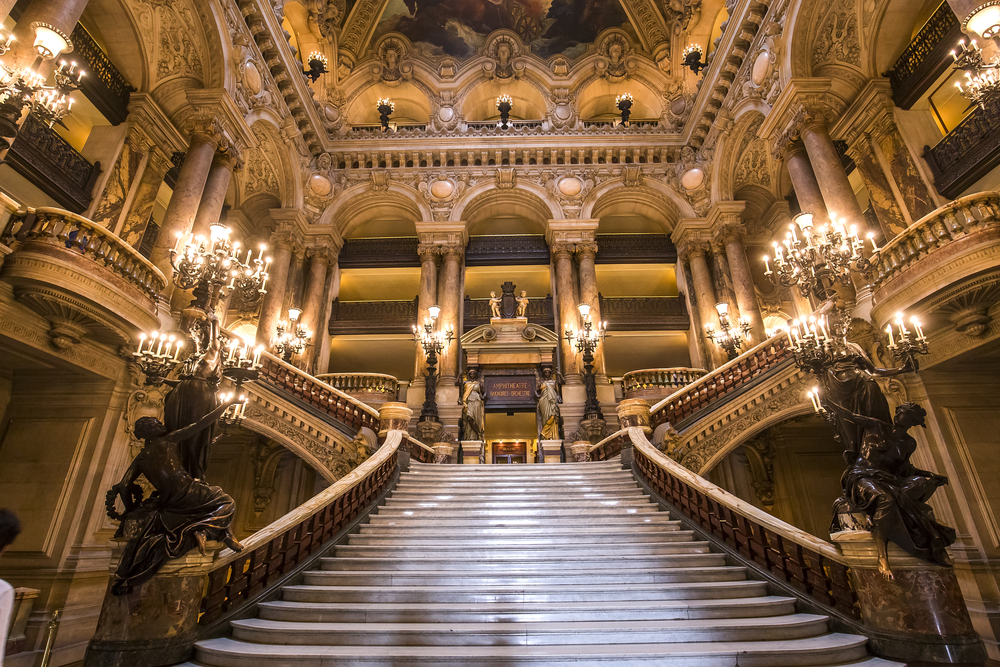 Palais Garnier is situated at the edge of Rue Auber and Rue Scribe. 

By RER – 
If your preferred choice of transport is RER, you need to board off at Auber RER stop on Line A. 

By Bus –
If you are planning to visit the Palais Garnier by bus, you can either opt for Routes – 20, 21, 22, 27, 29, 42, 52, 53, 66, 68, 81, and 95. 

By Metro – 
If the metro is your preferred option, Opera metro station is the nearest point for you. You can either take Line 3 or Line 7 or Line 8 to reach your final destination.
What Not to Miss at Palais Garnier (The Opéra Garnier Grand Hall)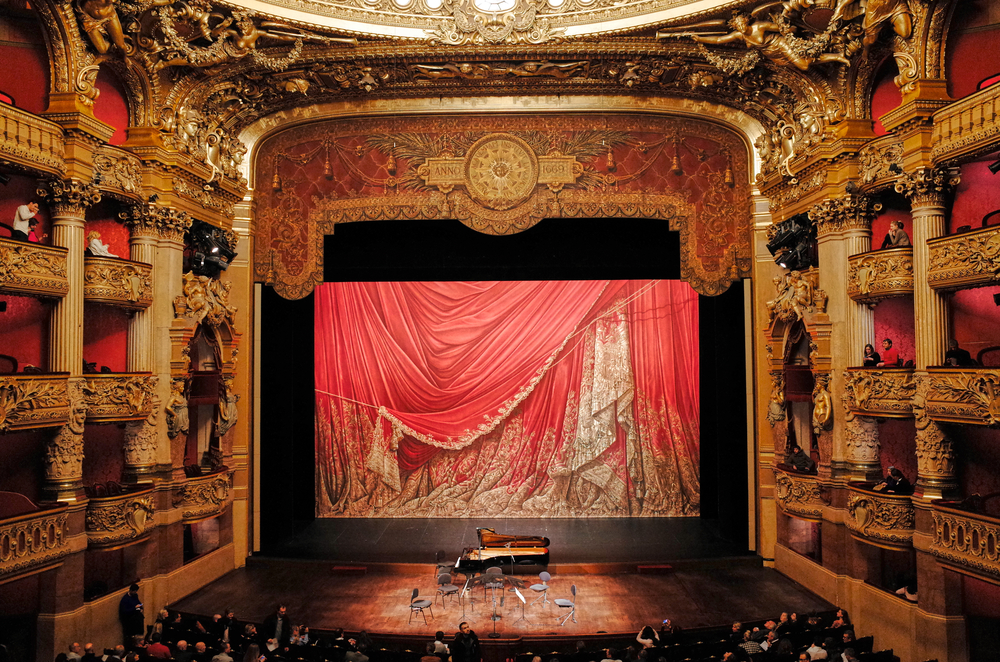 Here are the best things  to do in and around Palais Garnier
1) Free walking tour – 

Be an active part of the guided tours here at the Palais Garnier, where you will be briefed about the cultural and historical findings that led to the rise of this massive edifice. 
As a part of this tour, you have a 20 minutes audio-visual session in the auditorium where you can calmly listen to the stories about the elaborate decorations, elites of French societies, and ballet artists. You can either be a part of a group tour or plan on your self-guided tour. 

2) Visit the Opera House – 

Every piece of architecture here is a masterpiece on its own. Gaze at any nook and corner of the building; you will find a seamless blend of painting, sculpture, and architecture. 
The Opera house dazzles with its onyx balconies, smooth marble pillars, and rich gilding.

The grand staircase is the first one to attract your attention as soon as you step within. Its exquisiteness reflects from a perfect blend of three different colors – white, pink, and green marbles. 
The auditorium is the place where you get to witness occasional live performances of the local French artists.

It has got a stage that is massive enough to accommodate around 450+ artists at one go. Apart from this, the Opera House has also got a Grand Foyer and an Opera Library- Museum for all the visitors to explore. 

3) Lunch or dinner at L'Opera Restaurant – 

L'Opera Restaurant has an elegant ambiance featuring a lounge, a mezzanine, a large outdoor terrace, and a reception hall. Here, you get to taste a blend of the ancient and modern flavors of the French classics. 
The red and white classic combination at the Mezzanine offers a picturesque destination to conclude all your precious occasions.

4) Shopping on the Boulevard Haussmann – 

Boulevard Haussmann is a leading commercial center near the Palais Garnier, where you get to witness all the latest fashion trends. The place shelters many big and small brands of almost every single person and household requirement. 

Places to Visit around Palais Garnier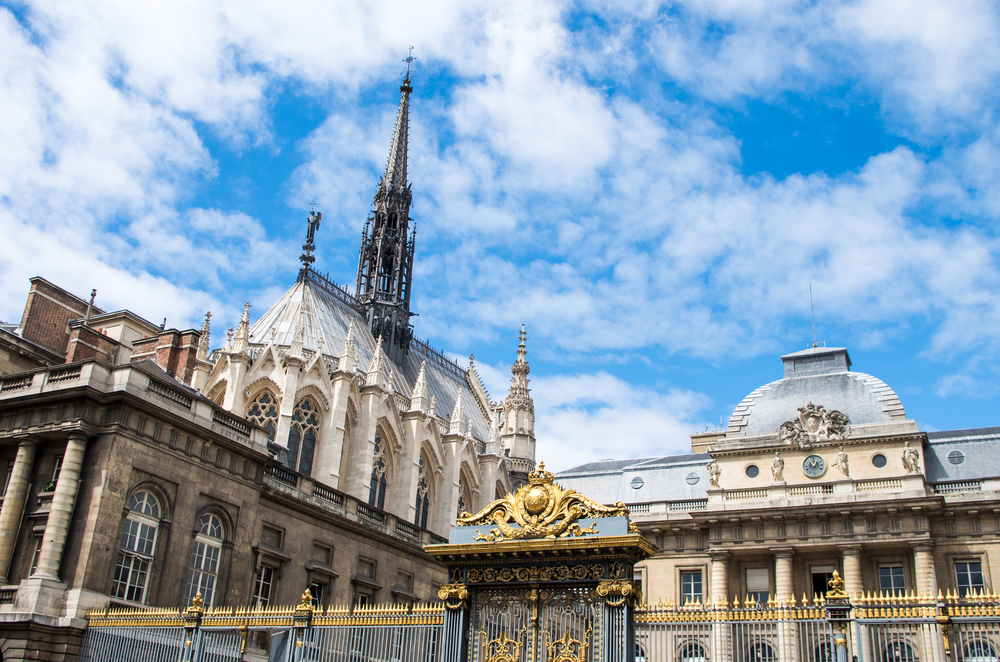 1) Bibliothèque-musée de l'Opéra –

This museum was opened for a public visit in 1881, while its current layout and appearance dating back to 1991. There is a large reading area situated within the parlor here.

The former smoking room displays permanent exhibits, whereas the lower Rotunda is known to display all the temporary ones. You can walk in and out anytime between 10:00 am in the morning until 05:00 pm in the evening. The museum remains closed on Sundays. 

2) Place Vendôme -

This place is home to some stunning rubies, sapphires, diamonds, and emeralds in the world. So, if you are a jewelry lover, you should never miss this place. This place is crowned to be amongst the highlights of the Paris city. 


3) Tuileries Garden – 

Tuileries Gardens resembles the French Garden and is a fashionable walking space amongst the local inhabitants. 
The wide array of statues here gives you a touch of the cultural aspect of the city of Paris. There are two pools within which are meant to relax and be stress-free. 


4) Sainte-Chapelle - 

Sainte Chapelle accounts for one of the most precious Christian relics of Paris. There are more than 1113 scenes of both old and new testaments imbibed into 15 different stained glasses. 
The visiting timings differ according to the season and so the entry fees. It is always better to check their official website before planning a visit here. 


5) Musée du Parfum - 

This museum offers a free guided tour for all its visitors to get an insight into the past and the presence of the perfumery making process. Apart from the briefing about the evolutionary process of the perfumery production, you get to witness an extensive collection of old and new perfume storage bottles here. An unforgettable and sensory experience here will be creating your own cologne. 
Other Essential Information About Palais Garnier (The Opéra Garnier Grand Hall)


Location –  Place de l'Opéra, 75009 Paris, France

Timings – The Palais Garnier usually remains open on all 7 days of the week. If you are planning to visit the place anytime between the 10th of September to the 15th of July, you can walk in between 10:00 am to 04:30 pm. For those who are planning to visit between the 16th of July to 10th of September, visiting hours are fixed at 10:00 am in the morning and 05:00 pm in the evening. 

Please note – The premises of the Palais Garnier remain closed on the 1st of January as well as May. Also, it is advisable to reach you destination at least 30 minutes before its closing time. 

Price –  Ticket prices for various age groups are as follows – 

Adults - €12 per head entry 

Young visitors (below 25 years) and students - €8 per head entry 

Small Children (below 12 years) – free admission. 


Interesting Facts about Palais Garnier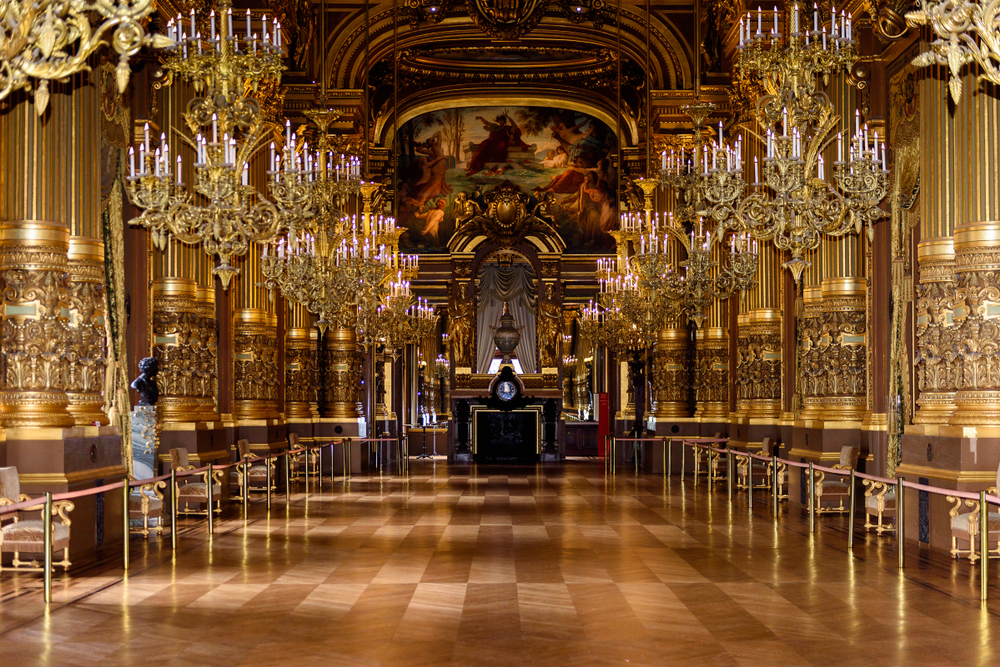 Here are some fun facts about the grand Palais Garnier – 

1) The palace is alternatively known as the Opera Garnier or Opera de Paris. 

2) Once in a while, it was a primary residential address of the Paris Opera and its associated ballet. 

3) This place symbolizes the pristine Second Empire. 

4) The commissioning of theatre is attributed to Emperor Napoleon III. 

5) There was an international competition organized for its construction. Amongst the rest 171 participants, Charles Garnier was acknowledged to be the winner of the competition. 

6) It was officially inaugurated on the 05th of January in the year 1875. To mark its grand opening ceremony, there was a lavish gala performance organized which was attended by the Lord Mayor of London. 

7) The building exhibits a seating capacity of 1979 heads at one go. This crowns it as one of the largest theatres in the world. 

8) The principal façade of the Palais Garnier is located to the South of the main building. 
9) Pavillon de l'Empereur homes to around 600,000 documents inclusive of 1680 periodicals, 100,000 books, 100,000 photographs, and 10,000 programs. 


10) The grand staircase of this palace is considered to be one of the most striking features of the interiors of this mansion. 


11) The auditorium of this palace has been explicitly carved to represent a traditional Italian horseshoe shape where the central stage can accommodate as many as 450 artists at one go. 

Places to Eat near Palais Garnier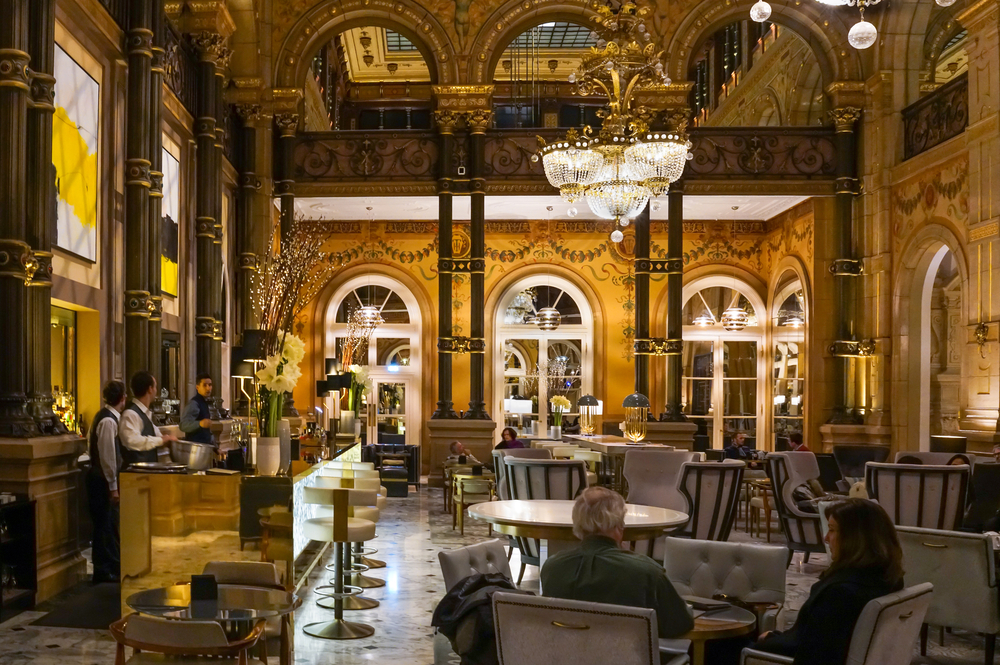 1) Café de la Paix - 

Opened in the year 1862, this place offers a luxurious dining facility. With the availability of seasonal foods, you get to see a change in their menu. But be prepared to taste some rich flavors of Paris here. 
The restaurant remains open from 12:00 pm until 03:00 pm and after that from 06:00 pm until 11:30 pm. 


2) L'Entracte Opéra - 

This is one of the most favored dining options amongst the wanderers of Paris. The classics of wine cellar décor and elegant Parisian brasserie imparts an overall lounge-style look to this place. Frog legs, homemade tartare, various salad options, sandwiches, soups are their prime servings. 

Places to Stay near Palais Garnier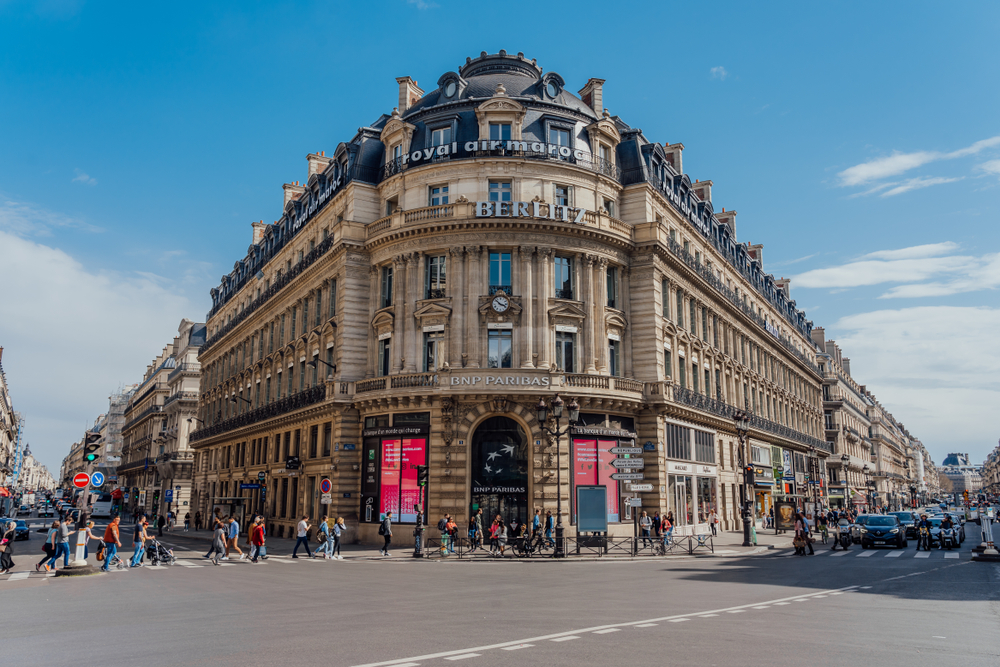 1) Mercure Paris Opéra Garnier Hôtel & Spa – 

This hotel is located in the heart of Paris and just a few minutes walk away from the Opera Garnier. There are around 139 fully air-conditioned rooms here equipped with all essential amenities. 
Besides, the hotel also features a natural light fitness room, inner courtyard, vertical garden, thermal spa center, and a fitness center for the complete comfort of all their guests. 


2) InterContinental Paris - Le Grand – 

InterContinental Paris – Le Grand features Napoleon III-style rooms equipped with free Wi-Fi and satellite TV connectivity. 
Some of them have opera house views, while others have 4 poster beds. The club level rooms here guide you through the lounge where you can try some of their delicious appetizers. 


3) Hôtel Ritz Paris - 

Hotel Ritz Paris offers spacious rooms, suites, and prestige suites for all their guests. Every single type of accommodation here overlooks the rooftops of the City of Light. 
Suites are exceptionally tailored apartments that are equipped with a private terrace to give you the bliss of a bucolic view.


The sumptuous setting of the restaurant and bar here offers a perfect ambiance to sit down with your friends, families, and relatives and enjoy a piece of an utterly delicious meal. 


4) Hilton Paris Opera - 

Experience the classic Parisian style accommodation at the Hilton Paris Opera. This hotel is known to offer stylish rooms and suites, first-class amenities both for business and recreation, some fabulous dining options. The restaurant here captures and serves some explicit flavors and essence of Paris.

Traveler's Tips before Visiting Palais Garnier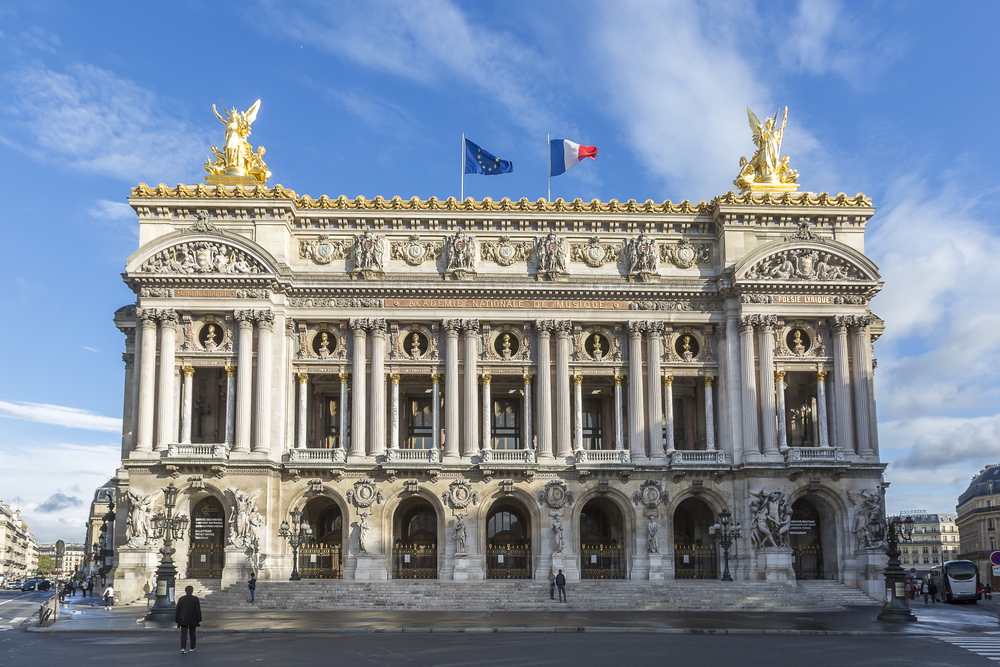 1) If you are standing in the Paris historical center, getting to the Palais Garnier on foot is quite more comfortable. In case you are planning to reach here by metro, board either 3 or 7 or 8 to get to the Opera. A taxi ride is always one of the most convenient trips to reach here. 


2) As it is a working theatre, it is always advisable to check for its schedule on its official website before planning to reach here. 


3) You are allowed to carry your cameras inside; however, make sure that you do not click flash pictures here. Also, you won't be allowed to take your tripods or camera sticks within. 


4) While you are exploring the Palais Garnier, it is advisable to avoid touching the walls of the plaza. As they are delicately carved, a small touch could quickly destroy its creativity and excellence. 


5) Make sure that you do not forget to carry your ID card. There are various discounts available for the students and the senior citizens.