About Priyadarshini Park
Priyadarshini Park and Sports Complex is a clean and well-maintained sea-facing attraction in South Mumbai. Located in one of the sophisticated localities, this Napeansea Road park overlooks many expensive apartments on the street. Every nook and corner of this 20 acres land has now become a powerhouse to keep the heart of Mumbai pumping. For more than 3 decades, this wonderland has served as a recreational site, and sports and fitness complex.
 Visit here early in the morning to witness the magic of this refuge for the inhabitants of Mumbai.  Also, Mumbaikars do not forget to visit here in the early monsoons to sit on its sea-facing end and seek a delight with the sound of soothing waves. Once, this piece of land was merely a rocky patch of the coastal area of Malabar. What you see today is a gorgeous lush green garden lined up with a total of 600+ coconut trees. 

With a perfect and well-maintained ambiance, this park is a boon for early morning yoga, jogging, walking, aerobics, and so on. The credit, of course, goes to its active group – the Malabar Hill Citizen Forum, who looks after it as its own child. You can connect with their authorities to be an annual member of the plethora of recreational sports activities that they organize. 
In addition to pumping the adrenaline of youth with its recreational touch, Priyadarshini Park of Mumbai also serves as an ideal family outing location and a lover's point. If you are fortunate enough, you may even witness little squirrels accompanying you here for some pleasing views. 
How to Reach Priyadarshini Park
Here are the simple ways to commute to Priyadarshini Park from Chhatrapati Shivaji Maharaj International Airport (Mumbai) – 
Bus – You need to opt for a bus to drop you at the Grant Road bus station. From there, you can opt for a second bus to take you to the Priyadarshini Napeansea Road Bus Stop. 
Train – If you are planning to reach by train, then you need to reach Vile Parle Railway Station first. From there, get on a train traveling towards Churchgate and alight at Grant Road Railway Station.

Then you may opt either for BEST service or a hired cab ride to reach Priyadarshini Park. 
Hired Cab or Self-drive - Although it might cost you a bit high, a hired cab ride is the most convenient way to reach Priyadarshini Park from Chhatrapati Shivaji Maharaj International Airport.

In case you are self-driving, you will end up troubling yourself with the car parking issues.  
Best Time to Visit Priyadarshini Park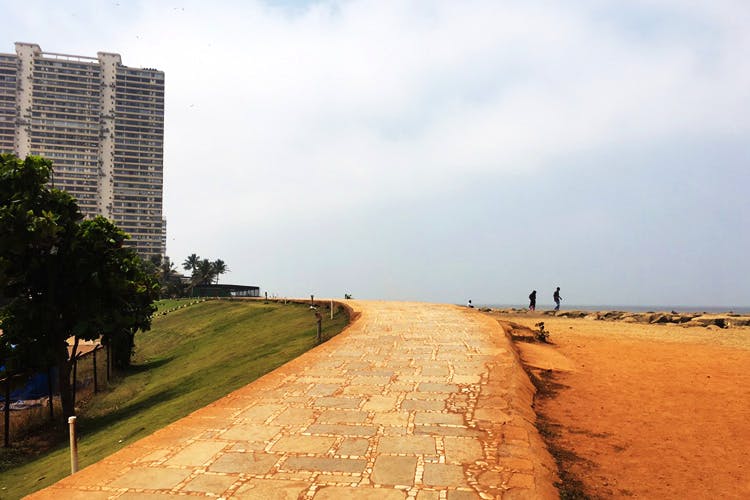 Early monsoons are best to plan your visit to Priyadarshini Park as the views are simply astounding. You can sit in the corner of Priyadarshini Park, which overlooks the sea beyond, and calmly listen to the resonating noise of the tides.

 A cool breeze blowing from the sea in your direction will relieve all your personal stresses. If possible, try to visit early in the morning or late in the evening to witness a beautiful transition of daylight.
What Not to Miss at Priyadarshini Park
Places To Visit Near Priyadarshini Park-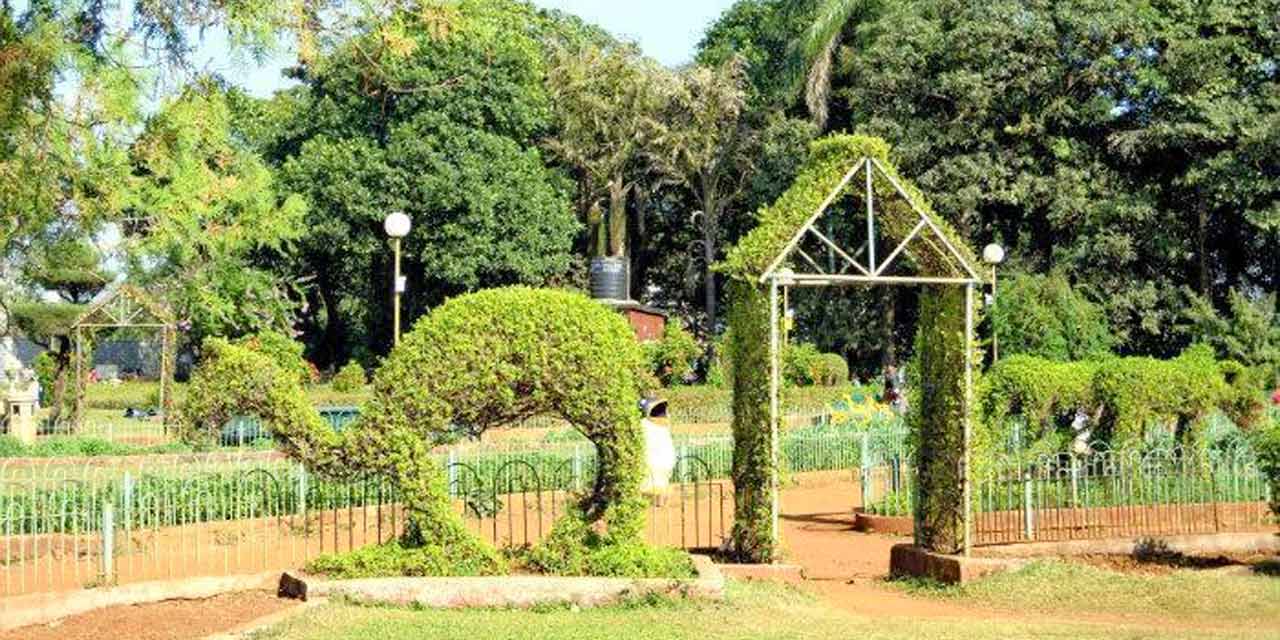 Here are some famous tourist attractions in Mumbai to cover once you are done with your visit to the Priyadarshini Park –


1.Malabar Hill – Malabar Hill is a verdant hill overlooking the sea and is known as a sophisticated lane with the most expensive homes in Mumbai.

It has got a hillside park, beautiful Hanging Gardens, sculpted hedges, Walkeshwar Temple, and a Banganga tank to embrace its beauty. 


Time taken to reach from Priyadarshini Park – 14 minutes 

2. Babulnath Temple – This is a very ancient temple of South Mumbai dedicated entirely to Lord Shiva. To seek blessings here, you need to climb atop a small hillock which stands adjacent to the Girgaum Chowpatty. 

Time taken to reach from Priyadarshini Park – 19 minutes 

3. Sri Sri Radha Gopinath Temple – Also known as the ISKCON temple, you get to witness a pious bhakti-yoga here. The temple doors remain open in the morning between 05:30 am to 01:00 pm and then from 04:30 pm to 09:00 pm. 

Time taken to reach from Priyadarshini Park – 22 minutes 

4. Hanging Gardens – Also known as Pherozeshah Mehta Gardens, Hanging Gardens are perched atop Malabar Hill. These terraced gardens lie in the opposite lane of the Kamla Nehru Park and provide a soothing delight of the sunset views. 

Time taken to reach from Priyadarshini Park – 12 minutes 


Things to Do at Priyadarshini Park – 
Usually, people plan to visit Priyadarshini Park as a famous tourist spot in South Mumbai. Here's how Mumbaikars reap out the benefit of this recreational park – 
1. Athletics – Be it either youth or an adolescent, Priyadarshini Park is a favorite recreational complex for the Mumbai athletes. The recreational committee of this park does make efforts to train the upcoming athletes to compete at different levels.

Developing strength, athleticism, and coordination are essential nourishments that every athlete needs to undergo, and this is precisely what is being done at the Priyadarshini Park and Sports Complex. 
Timings – Monday to Saturday (06:00 pm to 07:00 pm) 
2. Tennis – There are 3 full-sized tennis courts of international origin inside the Priyadarshini Park. So, if you have a budding tennis player down in generation, take some efforts to introduce him to the Priyadarshini park's tennis program organizers. 
They provide training even for the kids as small as 4 years of age. 
Timings – Mon-Wed-Fri or Tue-Thur-Fri (04:00 pm to 08:00 pm); one-hour session per day. 
3. Football – If you are a true fan of Ronaldo or Messi and want to emerge successfully just like one of them, Priyadarshini Park's football trainers are calling you. 
This being the most favored sport of the majority of people today, those who are new to it must at least start playing for their physical fitness. 
Timings – Monday to Friday (05:00 pm to 06:30 pm) 
4. Aerobics – There's no better way to shed off the excess amount of fat from your body than aerobics. 
The aerobics training team at Priyadarshini Park is keen enough on improving all the essential elements of your physical fitness. 
Timings – Monday to Friday (10:00 am to 11:00 am) and Mon-Wed-Fri (06:30 pm to 07:30 pm) 
5. Yoga – It says that if you are not functioning at your ease, it's now the right moment to spare some alone time for yourself.

Yoga is the best way to harmonize your body, mind, and soul to one tune and coordinate from your neural system. 

If you live within close proximity of Malabar Hill, you should definitely tune in with the yoga sessions at the Priyadarshini Park. 
Timings – Mon-Wed-Fri (07:00 am to 08:00 am; 10:30 am to 11:30 am; 6:00 pm to 07:00 pm) 
6. Kickboxing – Who says girls can't learn kickboxing? Come and witness the female kickboxing power at the Priyadarshini Park of Mumbai. 
Whether you are a soft-hearted person or a rock-solid personality, Kickboxing training will prepare you for your self-defense.
Timings – Tue-Thurs-Sat (07:00 am to 08:00 am; 08:00 am to 09:00 am) and Mon-Wed-Fri (09:00 pm to 10:00 pm) 
7. CrossFit – It is both a conditioning and core strengthening program for optimizing your physical competence. In case you are aiming to rework on your stamina, flexibility, accuracy, and coordination, this program at the Priyadarshini Park is meant for you. 
Timings – Monday to Friday (07:00 am to 08:00 am; 08:00 am to 09:00 am; 06:00 pm to 07:00 pm; 07:00 pm to 08:00 pm) 
8. Gym – Locals of the Malabar Hill now do not need to go for a sophisticated gym that charges high prices for the gym routine. Priyadarshini Park has its own in-house gym where you can train your body to build a good physique. 
Timings – Monday to Saturday (06:00 am to 10:00 am – Unisex; 04:00 pm to 09:00 pm – Unisex; 10:00 am to 01:00 pm – Only ladies) 
9. Jogging on Track – Head towards the Priyadarshini Park early in the morning, and you will find a good flow of people busy with their jogging activities. 
Timings – Everyday (05:30 am to 09:00 am; 07:30 pm to 09:00 pm) 
10.Krav Maga Israeli Self-Defence – If you want to try something new in 2020, enroll yourself for the Kravmaga Israeli Self-Defence training program. 
This is a specially designed practical and tactical program where you are trained with the right skills to prevent, deal, and overcome all attacks. 

Timings – Tuesday & Thursday (06:30 am to 07:30 am) 
Other Essential Information About Priyadarshini Park


Location – Priyadarshini Park is situated at L. Jagmohandas Marg on Malabar Hill, Mumbai. 

Timing - The park opens sharp at 05:00 am in the morning and closes down by 09:00 pm at night. If you are simply planning to visit Priyadarshini Park as a tourist spot, 2 hours is enough to explore it entirely. 
Price – There are no charges for entry to the Priyadarshini Park. However, if you want to participate in any of their recreational events, make sure that you contact the Malabar Hill Citizen Group. 
There are nominal charges applicable for participation in every single recreational activity.