About Snow World
Take a fascinating relief from the sweltering heat of Mumbai at a one-of-its-kind theme park – Snow World. Situated in Phoenix Market City, Snow World is a perfect place for your family to enjoy a day in the world of snow. 

The state-of-art technology at the Snow World is such that you get to witness the bliss of Kashmiri snowfall in the financial capital of India. Engineers of the Snow World have tried their best to maintain the mercury level below minus 10 degree celsius. 

So, spare some time from your schedule and indulge in snowy adventures like ice skating and sledging. If still your child craves for something more, lead him towards the Snow Dance Arena to witness the realistic rainfall. Watch your child building his own dream snow castle here or set him free to perform his favorite snow dance. 

From beginner to veteran, this world of snow has experiences for one and all. There are guides near every snow activity here to guide you with the basics to your comfort and convenience. 

Apart from enjoying it with your family, you may bring in your companions or your school kids and have a moment of joy with them. It is also a great place to organise your child's first birthday or encourage his academic excellence here. Snow World, Mumbai has also been a place for corporate events in the past. 


Activities and Things to Do at Snow World Mumbai 
Enjoy the bliss of natural snowfall –


Are you unable to plan your Kashmir visit? Snow World in Mumbai brings you an exciting opportunity to experience the magical touch of snow at your hometown. Surprise your loved ones with a snowy tour on their birthdays with the chilling adventure rides right in Mumbai. 

Slide on a speeding rubber tube at -10 degrees Celsius – 


Slide along the curves and slopes of the speeding rubber tubes from a height of 100 feet. Having a jungle view in its backdrop, it forms the most picturesque spot for some candid moments. 

Throw snowballs at your friends or siblings at the snow play area – 


There's a snow play area inside the Snow World where you can live your childhood days. Wear your snow jackets and step in the play area to throw some soft snowballs at your family, friends and relatives. Here too, you can ask someone to click some candid moments to cherish your family time. 

A little flavour of adrenaline adventure –


How does it sound to sledge, board or skate on the snowy land? Although it might seem like an easy task, there's a little chance of slipping over the ice. Make sure that you follow the instructions thoroughly to experience a snow adrenaline adventure. Once you understand the tips and tricks here, you can make your adventure a challenging one!
How to Reach Snow World
From Mumbai Airport?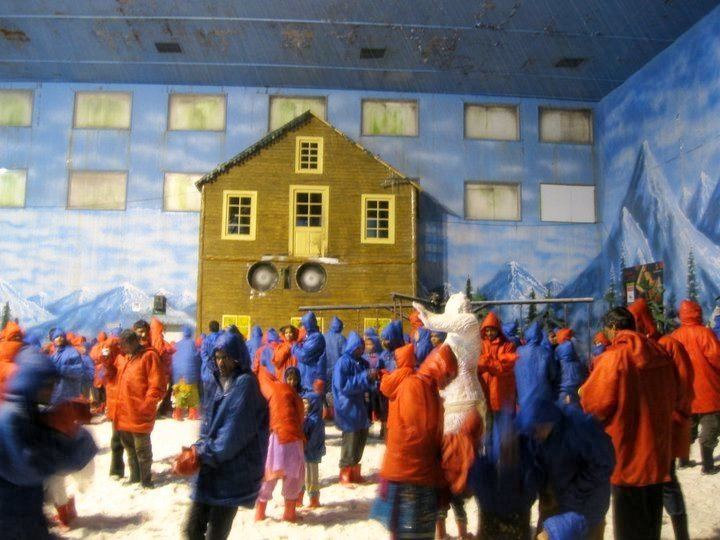 You have two options open in front of you - Bus, metro – 
First board either C-72Express or C-71Express and alight at Bahar Cinema. Walk for the next 9 minutes to reach Western Express Highway. Get into a subway that will drop you at Ghatkopar. From there, travel to Vidyavihar by train. Walk in the direction of Vidyavihar Bus Station and board a bus to drop you to Mukund Colony. 15 LBS Road is at a distance of 5 minutes walk from Mukund Colony bus station. Your overall travel will charge you somewhere around 150 to 200 INR per head. 
Taxi, Uber, Self-drive - 
Either hire a cab or an uber service to transfer you directly between Mumbai Airport and Snow World. Alternatively, you can even opt for a self-drive in your private car. A taxi ride will charge you around 350 to 450 INR per trip and an Uber ride between 170 to 200 INR per trip. 
Best Time to Visit Snow World
Anytime is the best time to experience the free-falling snow at the Snow World, Mumbai. It is in the summer when you will witness a lot of crowding here. The wrath of the city's heat in summers makes Snow World, Mumbai a perfect family outing spot. 
Other Essential Information About Snow World


Location
 : Snow World Mumbai is located at Lower Ground Level 58 - 61, Phoenix Market City, Kamani Junction Kurla (W), Mumbai, Maharashtra 400070
Price :
 A regular entry ticket to the Snow World Mumbai will charge you 600 INR per head. 
Inclusions 
: Snow World Gears – Jackets, shoes, and gloves 
Activities 
: Snow play, ice skating, snowfall, snow sledging, snowboarding, and ice sliding. 

Timings: 
Snow World Mumbai remains functional on all days of the week between 11:00 am to 10:00 pm.