About Water Kingdom
Owned by the EsselWorld Leisure Pvt Ltd, Water Kingdom is among the biggest water parks in the continent. Spread across 22 acres, the amusement park boasts of over 30 rides. With its multitude of water rides and swimming pools, the theme park is suitable for all age groups, including toddlers, kids, and adults. Along with the neighbouring EsselWorld amusement park, it is the largest of its kind in the country.

Visited by hundreds and thousands of families every year, Water Kingdom proudly houses the largest Aqua play pool in the country, the Lagoon. The park has five more sections with numerous sides suitable for all age groups. There is also a rain dance floor which is enjoyed equally by kids as well as couples, friends, and families. 

Some of the rides, such as What A Coaster, is specifically designed for thrill-seeking adults. The ride takes you to a height equal to a seven-storey building and drops you vertically at a speed of 40 miles per hour. 

With over 20 million visitors to date, the park is one of the most popular places in Mumbai to visit for a daybreak. Located on the outskirts, Water Kingdom allows you to be disconnected from the hustle and bustle of the city life and enjoy a day with your family and children. 



Water kingdom Attractions Pass Types:
Water Kingdom – This ticket allows you to make a single entry to the Water Kingdom. The prices are INR 559 (plus GST) for children between the height of 3'3" and 4'6" as well as senior citizens. For adults, the tickets are priced at INR 877 (plus GST).

Combine Ticket – This ticket permits you a single entry to both EsselWorld and Water Kingdom. The price is INR 801 (plus GST) for children and INR 1191 (plus GST) for adults.

Fast Track Entry – This type of pass allows you to enter Water Kingdom through a priority gate without having to wait in queues. The cost of the tickets is INR 839 (plus GST) for children and INR 1076 (plus GST) for adults.

Annual Pass Passport Next – This special type of annual pass allows you 3 entries to EsselWorld or Water Kingdom in a year. The first visit has to be made within 30 days of purchasing the ticket. The year is counted from the day you first visit the park. The fee for the pass is INR 1390 (plus GST) for children and adults.


Rides & Attractions at Water Kingdom:

1. What A Coaster – Only for adults, What A Coaster is one of the steepest vertical drop slides in India. Travelling up to 40 miles an hour, the seven-story slide assures to get your heart racing.

2. Bratzone – Suitable for both children and adults, Bratzone is a dedicated rain dance area with a groovy dance floor and water sprinklers. Adorned with Coco beach, a shallow pool, the Aquadrome is a perfect place to relax and have a nice time.

3. Goofers Lagoon – Perfect for all age groups, including toddlers, Goofers Lagoon is equipped with a spinning tray, some water guns, a splash roof, and a tilted bucket.

4. Adventures Amazonia – One of the most interesting parts of the water park for adults as well as kids, Adventures Amazonia is equipped with quite a few exciting rides such as the Rock n' Roll Safari, Elephant Safari, and the Serpent Safari (not suitable for claustrophobics).

5. The Lagoon – Reportedly, the largest aqua pool in the country, the Lagoon is expanded across 30,000 feet and has 10 different rides to suit all age groups. The section also has a massive elephant bucket which splashes water at an interval of 5 minutes.

6. Wetlantic – The most visited section of Water Kingdom, Wetlantic is an enthralling wave pool with fountains and gentle and massive waves. The area is also adorned with caves and towers and has lifeguards on standby.
How to Reach Water Kingdom
From Airport?
From Chhatrapati Shivaji International Airport, Mumbai, you can take a taxi or rent a car to get to the Water Kingdom. The route takes you along the Western Express Highway to Kashimira where you turn left to get to Mira-Bhayander Road. From here, you can follow the signages to reach the park. Water Kingdom is about a 40-minute ride from Kashimira. 
Best Time to Visit Water Kingdom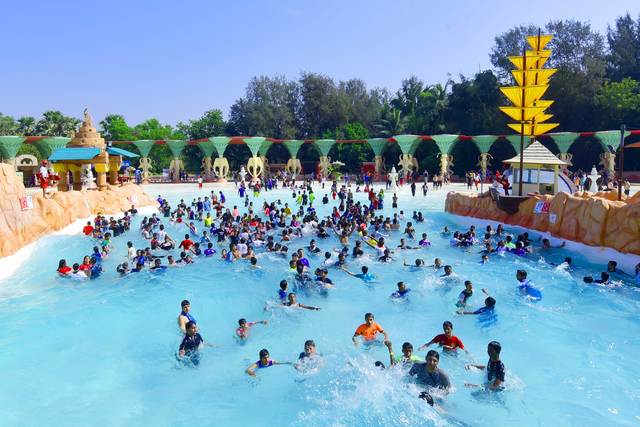 Though the Water Kingdom is open throughout the year from 10:00 AM to 6:30 PM, January to June and October to December are considered the best months to visit the amusement park. Keep in mind that the winter months could be slightly colder but they are still favourable.
Other Essential Information About Water Kingdom

Location:
 EsselWorld, Global Pagoda Road, Gorai, Borivali West, EsselWorld Amusement Park, Gorai, Mumbai

Timings:
 10:30 A.M. - 6:30 P.M.
Places to stay at/near Water Kingdom:

1. Treebo Trend Ocean Suites – 
Located slightly over 3 kilometres from the Water Kingdom, the property is one of the most rated places to stay near the amusement park. It offers well-decorated guest rooms with complimentary breakfast and Wi-Fi, 24-hour front desk, dry cleaning and laundry facilities. 
2. Eskay Resorts – 
A lavish resort property 3.7 kilometres away from the Water Kingdom, Eskay Resorts offers an outdoor swimming pool with poolside bar, an in-house restaurant, a café, and a fitness centre for its guests. 
3. The Grandeur Boutique Hotel –
 Boasting of beautifully structured guest rooms fitted with fireplaces, the luxurious hotel provides its guests with a 24-hour front desk, a lounge bar, an outdoor garden, and an in-house restaurant. Guests can enjoy free breakfast and complimentary Wi-Fi during their stay.
4. Levels Resort – 
Featuring a selection of 30 deluxe and premium guest rooms with fireplaces, the resort is one of the most surreal places to stay near the Water Kingdom. Among its many amenities, the property features a rooftop dining area overlooking the lake.
Tips for Visiting Water Kingdom:
Following things should be kept in mind when visiting the Water Kingdom:
-Types of tickets/passes –
 Water kingdom offers various types of passes for visitors. Ensure that you check your ticket/pass properly and redeem it before it expires. Also, the prices for passes may be different for children, adults, and senior citizens.
-Valid ID –
 A valid ID is a must to be allowed entry into the park.
-Costume –
 You must carry proper swimming costumes to enter the park. Water Kingdom only allows swimming costumes (nylon/lycra) for visitors entering water rides. This is done to maintain the safety of the visitors. 
-No Outside Food and Beverages – 
Water Kingdom strictly prohibits any outside food and beverages. There are several outlets within the amusement park for refreshments.
-Child Supervision –
 If you are travelling with children, they must be accompanied and supervised by a parent or guardian at all times. 
-Best Time to Visit – 
Though the park is open until 6:30 PM, it is better to arrive early so you can enjoy all the rides in daylight and have more time to spend at the Water Kingdom.