About Fun World Amusement Park
Whether you are a toddler, adult, or senior, the Fun World Amusement Park has something for you. All over, the park is a combination of four different worlds- Fun World, Water World, Snow World, and Wow World. 

You will be spoilt to choose one from all of them. But do not worry! You can enjoy all of them with a little planning and coming early. There is 'Fun World', which is full of adventurous rides.
You must have enough time to hope from one ride to another as each ride has its own fun and none should be missed. 

Snow World' is another section of the park, which is a virtually designs place where you can enjoy the delicate snowflakes amidst the tropical Bangalore. One would also enjoy the 'Water World', which is loaded with curvy slides bumping people into the gleaming water.

Lastly, no one should miss the Wow World, which holds power to transcend to the beautiful days of video gaming. Whatever combo you may make with all the time you have, do not forget to have 'FUN.' 
The Fun World Amusement Park is meant for that, and you will end up having one of the best times with your friends and family.
How to Reach Fun World Amusement Park
From Bangalore Airport - 

Bangalore Airport is just 32.7 KM away from the Fun World Amusement Park. Considering the traffic in the city, it would take around 1 hour to cover this distance. You can hire a cab from outside the airport which will be the easiest option available.

You may even consider booking a taxi online to get a fair fare. It might make you wait a little but you will be ensured of paying the deserving amount. You can also try hiring an auto which would be a cheaper option or catch local transport to get the cheapest conveyance.

Best Time to Visit Fun World Amusement Park
Since it is Bangalore, you can visit the water park at any time of the year as the temperature remains pleasant throughout the year. Summers are of course the best time for a day out in a swimming pool. 
You should definitely plan a trip or two in this season with your friends and families to escape the scorching heat of the sun. Although winters and water doesn't sound comfortable but that is the beauty of Bangalore, to help you get out of the bed even in winters.

The temperature remains soothing enough to hit a water park. It is best for the outsider travellers as Bangalore welcomes everyone best in this season.

What Not to Miss at Fun World Amusement Park
Places to visit near Fun World Amusement Park -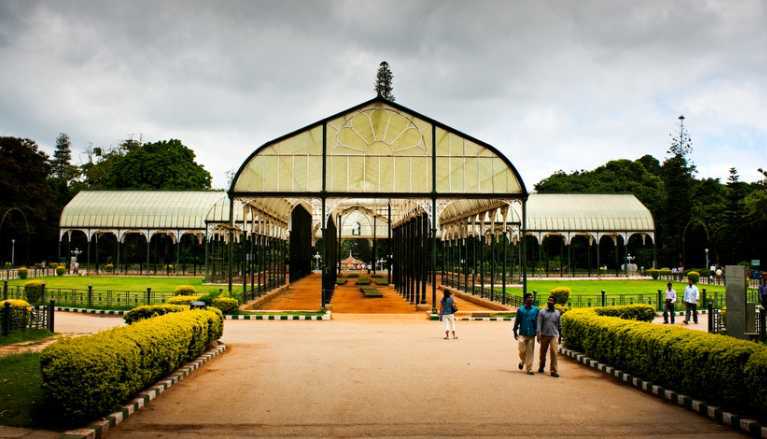 1. Snow City:
Jayamahal, Fun World Complex, opposite TV Tower, J.C.Nagar, Bengaluru, Karnataka 560006
2. Bangalore Palace:
Vasanth Nagar, Bengaluru, Karnataka 560052
3. Cubbon Park:
Kasturba Road, Behind High Court of Karnataka Ambedkar Veedhi, Sampangi Rama Nagara, Bengaluru, Karnataka 560001
4. Lumbini Gardens:
Gate, Outer Ring Rd, Nagavara, Bengaluru, Karnataka 560045
5. Jawahar Bal Bhawan:
Kasturba Road, Sampangi Rama Nagar, Ambedkar Veedhi, Bengaluru, Karnataka 560001
6. Government Aquarium:
Kasturba Rd, Shanthala Nagar, Bengaluru, Karnataka 560001
7. St. Mary's Basilica, Bangalore:
Msgr. F. Noronha Road, Shivaji Nagar, Bengaluru, Karnataka 560051
8. Lalbagh Botanical Garden:
Mavalli, Bengaluru, Karnataka 560004
Rides and Activities -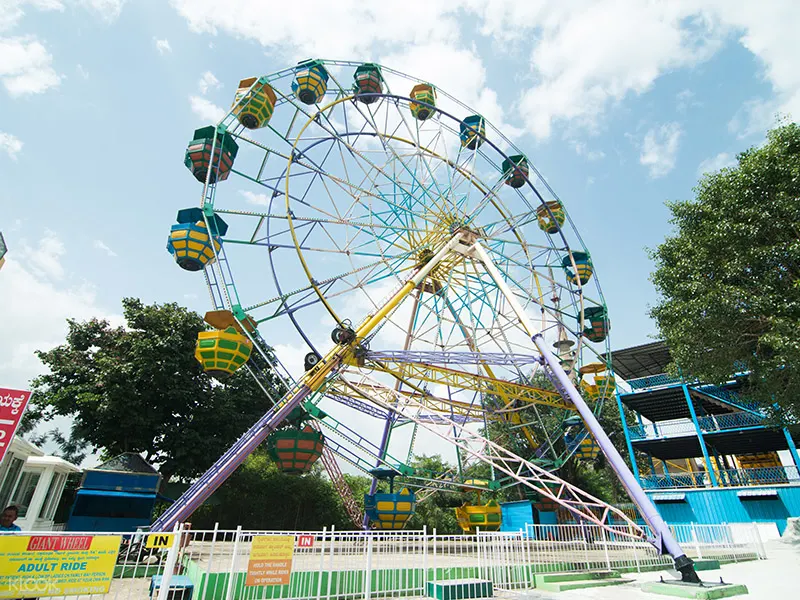 - Kids: 
Toy Train: It is a tiny train with little bogies where kids can sit and the train can take them around on an adventure.
Mini Columbus: The huge Columbus ride scares little toddlers so it is important to take one step at a time. They can start from this ride where there is no compromise with the fun as well as safety.
Flying Appu: It is a slightly fun version of a merry-go-round. Here the elephants are not static rather they go up and down to add on some adventure.
The Jumping Frog: This frog doesn't jump rather falls free from a certain height giving a rush of adrenaline through the veins.
Kiddies Bumper Boat: Small kids can have their own boats to ride in the tiny pool and enjoy the confidence of sailing in them.
- Family:
Octopus: The entire family can sit in a bucket attached to each hand of the octopus. These buckets spin and swirl at the same time along with going up and down.
Super Jet Ride: These small rockets swirl around with full speed and gradually take off and bring you in the air to have a chit-chat with the winds.
Hang Glider: The seats where you will be seated would be swirled with so much force that the hand glider will start pushing them away from itself and you will find yourself half tilted in the air.
UFO: You UFO will rotate, go up and down and swirl around at the same time. These moments ensure a great deal of adrenaline rush into your body.
- Adult:
The Spanish Bull Fight: You need to get into the ring and sit on the bull. Make sure to hold tight because that is all you have to do as the bull dances around.
The Swing Chair: You will be sitting on a chair attached to the main pole which will revolve to push you away in the air.
The Space Vehicle: This ride is smaller than a regular roller coaster but faster than ever. Hold yourself tight and let it take its high speed to give you a lifetime experience.
The Crazy Fireball: The crazy fireball sticks to its name and gives you a life-size thrill which will definitely stay with you until a couple of more shots on other rides.
Other Essential Information About Fun World Amusement Park
- Location: Palace Grounds, Jayamahal Main Road, Opposite TV Tower, J.C.Nagar, Bengaluru, Karnataka 560006
- Price: INR 750.0 per person for Fun World (all days)
INR 900.0 per person for Water World (all days)
INR 1200.0 per person Combo (Fun World + Water World) all days
- Timing: 11:00 am to 07:30 pm

Places to eat near Fun World Amusement Park - 


There are numerous places to eat near Fun World Amusement Park. Here are some of the distinct options where you can grab a bite:


1. Sattvam Restaurant: 

Sattvam Restaurant focuses on bringing the best quality of food on your table. They serve an array of selected Indian and Continental Cuisines which will treat your taste buds for sure.

2. JayaMahal Palace Hotel:

 This 4-star heritage luxury hotel runs two branches of restaurants namely Gallops and Golden Restaurant. You get Indian, Continental, Italian, and even Pan Asian cuisines along with items from their grills and tandoors.

3. Kitchen on Table- PEBBLE:

KOT aspire in getting you homely food from their professional kitchen. The chefs interact with their guests and prepare cuisines according to their taste expectations as a mother always does.

4. Kesariya Restaurant:

Kesariya strives to give you Rajasthani feel away from the deserts, right in Bangalore. The entire place is designed following the traditional Shekhawati culture which could be reflected from the walls and ceilings of the restaurant. You get traditional Rajasthani food in gorgeous silverware here.

5. Caprese:

Caprese is an Italian restaurant which serves great Italian food encircling a large variety of pasta, pizza and risotto. Enjoy the delicious meal amidst their classic and relaxed environment.


Tips for visiting Fun World Amusement Park - 

To be aware of all the tips for visiting Fun World Amusement Park beforehand is very much essential. Here are some points you can tick-off before leaving for the park:
1. You must carry your own swimsuit for the times of emergencies like the costumes provided by the park doesn't fit you or they are out of dry and clean costumes for you.
2. You will be hopping from here and there on the rides and dipping into the water while your belongings will be away from you. So you must carry only the required things making taking care of them easy.
3. You must apply and carry sunscreen in your bag to protect yourself from the harsh sun rays.
4. You must keep most of your stuff inside the locker to keep everything safe.
5. You must reach the park as soon as it opens to avoid any kinds of long queues and unnecessary waiting.
6. You must follow all the instructions given to you to avoid any kind of mishappenings.
7. You must carry spare clothes as you might need them after the fun you will have at the water park.