About Sri Mahamariamman Temple
Sri Mahamariamman Temple is situated in Jalan Bandar or High Street on the edge of Chinatown in Kuala Lumpur in Malaysia. Established in 1873, this is the only Hindu temple in the country. Initially, the temple was a shrine that was privately worshipped by K. Thamboosamy Pillai from 1873. However, in 1920, the temple opened its doors to the general. In 1887, the shrine was demolished and a brick structure was erected in its place.

The current temple, as it stands today, was completed in 1968. Italian and Spanish tiles were used along with precious stones and gold motifs to give the temple the brilliant look that it is famous for. The Sri Mahamariamman Temple resembles a human body lying on its back, whose main feature is the "Raja Gopuram" which is constructed at the "feet" of the human figure. This is a lofty 75-foot, five-tiered entrance to the main temple. The entrance is richly decorated with intricate sculptures depicting 228 different gods and goddesses from Hindu mythology and also sculptures depicting historical moments from the Ramayana. The architect of this astounding temple-gate is S.T. Muniappa.

Sri Mahamariamman is the South Indian depiction of goddess Parvati. There are three more shrines around Sri Mahamariamman, devoted to Lord Ganesha, Lord Murugan and Goddess Lakshmi. All of these idols are unique attractions of their own and draws huge crowds of pilgrims and devotees from around the world every year. The temple is also famous for its colourful annual festivals like Thaipusam and Deepavali, which are the two main festivals celebrated with great fervour and enthusiasm every year.

The famous 6.5 metres tall silver chariot, made with 350 kilograms of silver with 240 bells, is displayed here during this time. Due to the central location of the temple, you can also visit other nearby attractions such as the aquarium, the Petronas Twin Towers and the famous market places of Kuala Lumpur when you are in the vicinity.
How to Reach Sri Mahamariamman Temple


There is a wide network of efficient public transport in Kuala Lumpur which can ferry you between the City Centre and the temple. 

- By Car: The distance between the Kuala Lumpur City Centre and Sri Mahamariamman Temple is 1.2km via Jalan Tun Perak Road. It takes around 10 minutes to reach the temple by car. Travelling down the Jalan Tun H S Lee Road, one has to cover a distance of 700 metres. You can also travel to the temple from Jalan Tun Tan Siew Sin Road and Jalan Tun Tan Cheng Lock. You can book a private car or a hired taxi to reach the temple. 

- By Train: While the easiest way to cover the distance to the temple is on foot or by car, you can also take a metro via Jalan Tun H S Lee, which will help you traverse the distance in less than 5 minutes. 

- By Bus: Buses that ply on the route between the city centre and the Mahamariamman Temple are frequent. They take the same route as your car would take- via Jalan Tun Perak Road or the Jalan Tun H S Lee Road.
What Not to Miss at Sri Mahamariamman Temple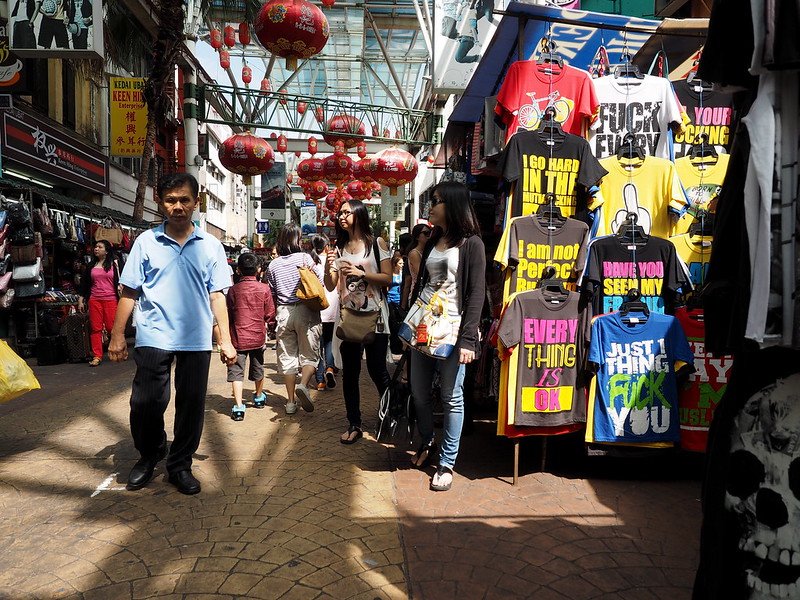 The city of Kuala Lumpur is bustling with life. There are numerous interesting activities a tourist can indulge in after their visit to the Mahamariamman Temple:

1. Shopping at Petaling Stree- Petaling Street is a World Heritage Site, and one of the most famous places in Kuala Lumpur. It is the ultimate hub for designer goods that you can get at unbelievable prices. 

2. Visiting the Museum of Illusion at Kuala Lumpur- The Museum of Illusion is a fascinating place with many optical illusions, fun games and interactive stations where you can learn scientific facts and cool anecdotes.

3. Spa session at Mandarin Oriental, Kuala Lumpur- Make sure you sign up for a rejuvenating spa session at the Mandarin Oriental. Their award-winning treatments include Shirodara, full-body exfoliation, hot stone massages and body wraps.

4. Visiting the Petronas Twin Tower- The Petronas Twin Towers is one of the most iconic buildings in the world, and also one of the tallest. Apart from its 5-star restaurants and luxury cafes, visiting the towers is also worthwhile for the panoramic views.

5. Walking around the Central Market Kuala Lumpur- You can find everything imaginable at the Central Market including spices, clothes, accessories, jewellery, souvenirs and most importantly, an impressive selection of local street food.


Places to Visit near Sri Mahamariamman Temple
There are numerous interesting places a tourist can visit after worshipping at Sri Mahamariamman Temple.

1. Sunway Pyramid Shopping Mall- You can spend your afternoons in this sprawling shopping mall in Bandar Sunway. They have various luxury boutiques, food courts and recreational centres to keep you occupied.

2. Play Club at the Roof- Play Club is an exclusive and premium dance club which is frequented by the members of Kuala Lumpur high society, celebrities and international DJs.

3. Aquaria- Aquaria is one of the largest aquariums in the country, with several exotic marine creatures and underwater walking tubes.

4. Sunway Lagoon Theme Park- Sunway Lagoon is a theme park with pools, slides, attractions and rides to keep you entertained and occupied throughout the day.

5. Batu Cave- Batu Cave is one of the oldest mountains in the region. It is a limestone hill which is home to several crags and caves.
Other Essential Information About Sri Mahamariamman Temple


- Location: Jalan Tun H S Lee, City Centre, Kuala Lumpur 50000, Wilayah Persekutuan Kuala Lumpur, Malaysia.

- Timings: Monday to Sunday (6:00 am – 12:00 pm and 4:30 pm – 9:00 pm)

- Entry Fee: There are no charges or entry fees to visit the temple. But the devotee has to enter the temple barefoot and keep the shoes with a shoe-keeper at the entrance paying a small amount of charge for its safekeeping.

- Distance from City Centre: 1.2km

- Photography Charges: No charges for photography.

- Dress Code: Visitors are requested to wear formal clothes while entering the temple. Men are to wear full-sleeve shirts and trousers while women are expected to wear saris.  There is a counter available, in case ladies need to rent a saree, if they aren't wearing one already. You also have to remove your shoes before entering the temple. The worshippers can leave their shoes at the entrance with an appointed shoe-keeper in exchange for a small charge of RM 20.


History of Sri Mahamariamman Temple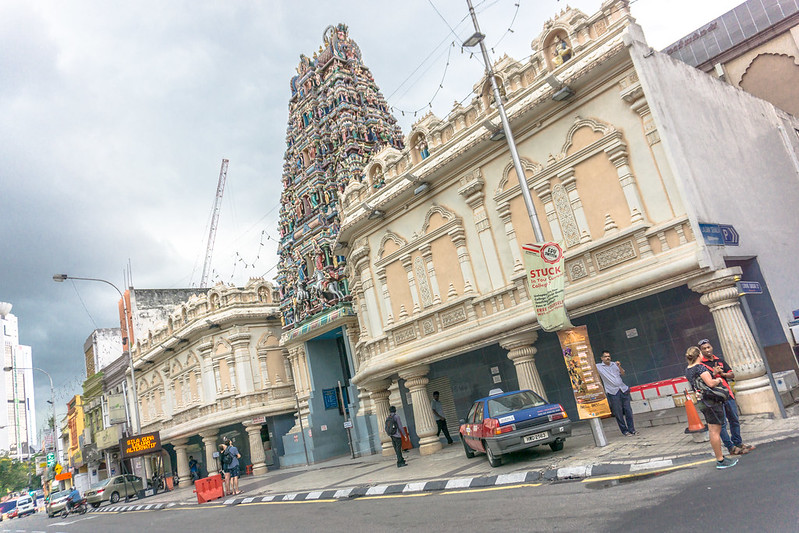 The Sri Mahamariamman Temple was founded in the year 1873 by a wealthy businessman K. Thamboosamy Pillai. Initially, it was a simple shrine which was worshipped by the Pillai family. In the late 1920s, the Pillai family made the temple accessible to the public, so that everyone could pay their respects and worship the deity. Since then, the temple is run by a board of trustees.

In 1885, the temple was shifted from its previous location at Kuala Lumpur Railway Station to the present location of Chinatown in Jalan Tun H S Lee Road. In 1887, the original structure was destroyed and a structure made of bricks was built in its place. Later, the brick structure was demolished and the current Dravidian architectural pattern was erected in its place. The temple was completed in the year 1968.

The construction of the famous Gopuram gate was completed in 1972. The main temple represents a human form, lying on his back and the foot is the entrance of the monumental structure of Gopuram. This architectural wonder was created by S.T. Muniappa. The huge gate is a five-tiered tower with 228 structures of Hindu mythological Gods and Goddesses along with the depiction of scenes from the Ramayana.

Places to Eat near Sri Mahamariamman Temple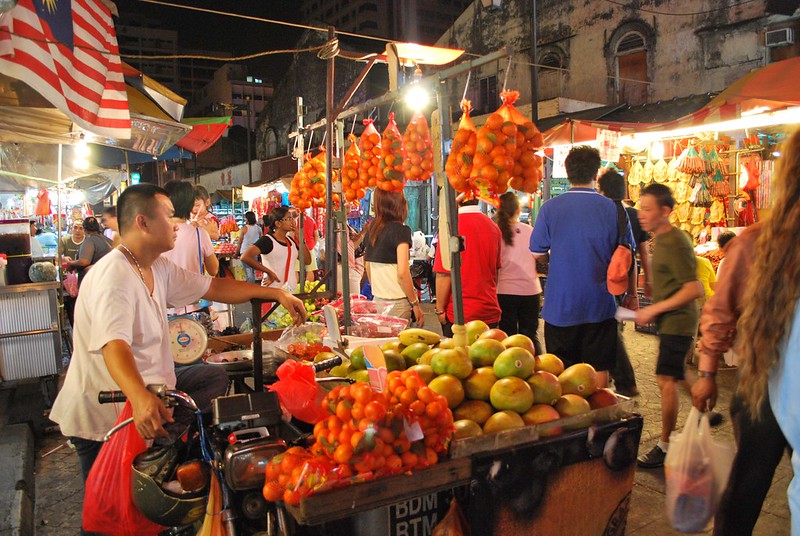 The city of Kuala Lumpur is brimming with a host of mouth-watering street food stalls, as well as family restaurants and fine-dining options. 

1. Petaling Street- This restaurant in Chinatown is the busiest street food hub in the city, where you can sample dishes like Nasi Lemak, Satay, Nasi Kandar, Rojak, Ikan Bakar, Asam Laksa and much more.

2. Shawarma Damascus- This place located at the centre of Kuala Lumpur is famous for its juicy meats and authentic flavours in all their food.

3. Iketeru Restaurant- Iketeru is situated at Jalan Stesen Sentral Road and is a chic place for fine-dining with family and trying out some of the best authentic Malaysian food.

4. The Canopy Rooftop Bar and Lounge- This restaurant is located at Jalan Mayang Road and is a moderately priced restaurant, serving delicious grilled food and pizzas.

5. The Sushi Hibiki- The Sushi Hibiki is located on Jalan Ampang Road, is the perfect haven for seafood and sushi lovers. This stylish restaurant also serves a range of dishes from Asian and Japanese cuisines as well. 


Places to Stay near Sri Mahamariamman Temple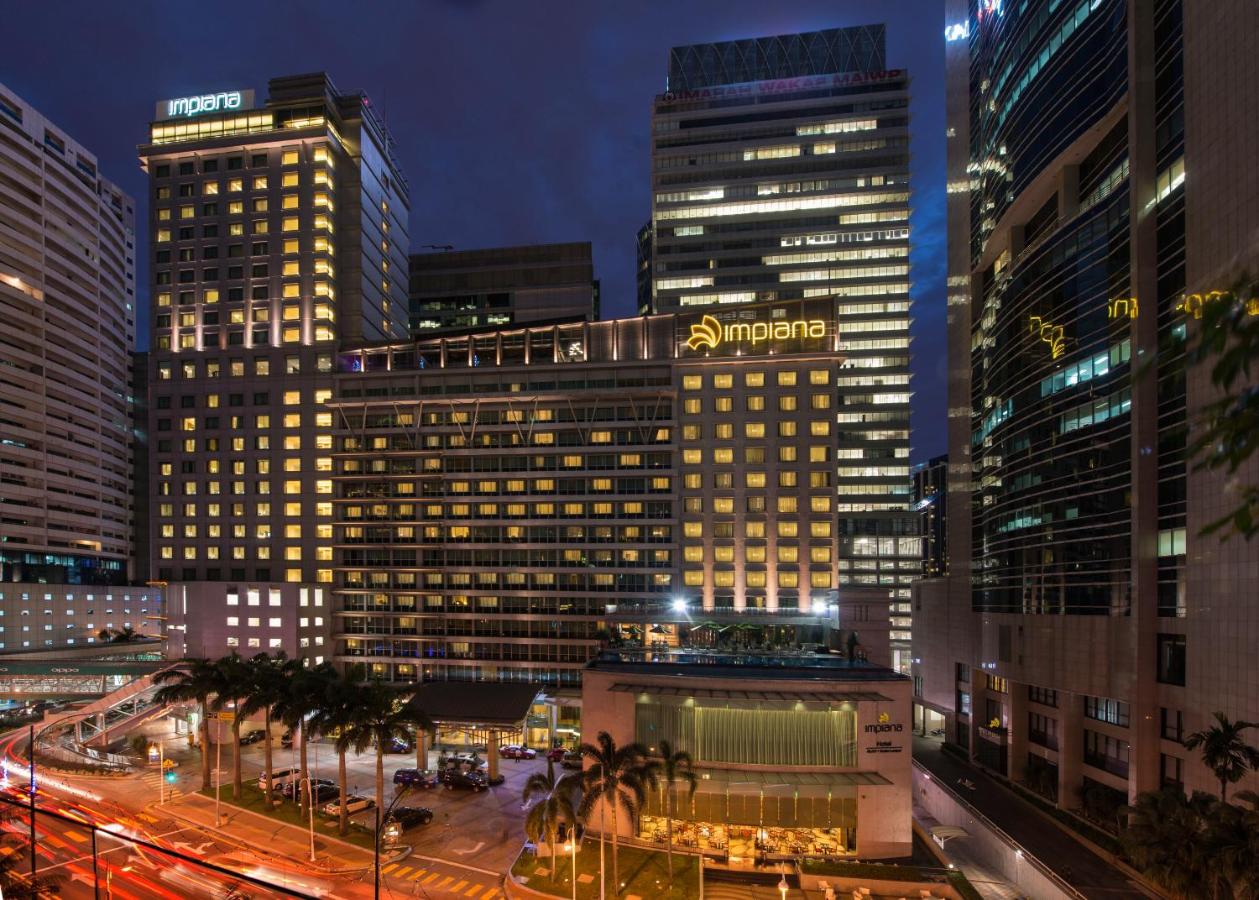 Since Kuala Lumpur is a major tourist centre in Malaysia, this city is flooded with tourists throughout the year. Therefore, there are numerous hotels and lodges located in every part of the city for easy accommodation, no matter what your budget.


1. Impiana KLCC Hotel Kuala Lumpur
is one of the best family hotels, situated in the heart of Kuala Lumpur.


2. Shangri-La Hotel Kuala Lumpur
is a well-known luxury hotel, known for its world-class amenities, services and modern facilities.


3. Mandarin Oriental
located in Kuala Lumpur is a luxury hotel and resort. They offer 5-star services including an in-house restaurant, room service, minibars in every room and much more.


4. Seri Pengantin Resort
located on Janda Baik Road is another resort with a private beach and an indoor swimming pool. With reasonable room prices and great service and facilities, this is one of the best accommodations in the city.


5. Sunway Putra Hotel in
Kuala Lumpur is known for its comfortable rooms, prompt service and warm hospitality. 

Medical Facilities in Sri Mahamariamman Temple


The city of Kuala Lumpur is well equipped with several excellent medical facilities, offering services for all types of emergencies, medical checkups and diagnosis. Here are some of the best medical facilities one can visit during a health-related crisis:


- Gombak Medical Centre.

- Gleneagles Hospital

- Tung Shin Hospital

- Klinik Komuniti Gombak Permai

- Global Doctor's Specialist Centre

Mobile Connectivity in Sri Mahamariamman Temple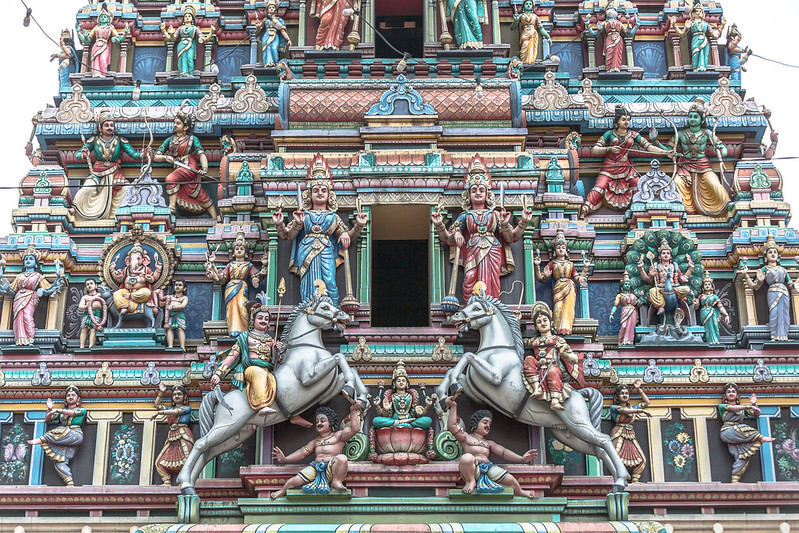 Sri Mahamariamman Temple is located in the centre of the city and is surrounded by shops, markets and residences. No matter what mobile networking service you are using, you are likely to find good connectivity and even roaming internet connections when you are there.

However, if you're facing issues with your devices, you can also check out the several mobile shops in the area where tourists can buy, replace, recharge and repair their mobile phones.

Travellers' Tips before Visiting the Sri Mahamariamman Temple


There are a few tips that can make your trip to the Sri Mahamariamman Temple easy, hassle-free and convenient:


1. Sri Mahamariamman Temple has 2-time slots- one in the morning from 6.00 am to 12.00 pm and the other half is from 4.00 pm to 9.30 pm. Therefore, it is important to remember, the temple remains closed during the afternoon hours.


2. Wearing shoes is strictly prohibited inside the temple premises. Visitors have to remove their shoes and keep them with the shoe-keeper appointed at the temple gate in exchange for a small amount of money.


3. All devotees are requested to enter the temple in formal clothing. Men are supposed to wear full sleeve shirts and pants while women are allowed only in saris.