About Menara
The Menara Kuala Lumpur is a communications tower built right in the heart of the city, very close to the famed Petronas towers. It is one of the most recognisable structures of the entire city and is also considered to be a building of cultural importance. The tower, being a part of the World Federation of Great Towers, is often used by various organisations for their broadcasting requirements.

Besides the awe-worthy spectacle of the tower being used for Falak observation, the tower has over time also become a venue for interesting and amusing events. A race is organised here annually, where participants compete in a bid to reach the top of the stairs before anyone else. It is also used to observe the moon to declare the month of Ramadan.

As the 7th tallest freestanding tower in the world, it is visible from a majority of locations around the city. It stands at the height of 421 meters and offers the most splendid of the entire city. The original design of this tower represented the human journey for achieving perfection in life.

The architecture of the tower represents Islamic architectural heritage. With amazing restaurants, interesting entertainment centres and a great view, this tower should be a must-visit on your bucket list!
How to Reach Menara


The tower is located right at the junction of Jalan Punchak. You can take any of the following routes to reach here:

By Train:
The Dang Warli LRT Station, Bukit Nanas Monorail Station and the Masjid Jamek LRT Station are the closest to the tower. However, going from any of these stations to the tower will take around 15-20 minutes.

By Car:
Tourists mostly prefer renting a cab or a car to reach the tower. There is a car parking area at the tower, so there is no additional hassle if you choose to take your own rental car.

By Bus:
Taking a bus can be a relatively cheaper option. Buses 103, 851, 780 and PJ05 take you till The Weld (a shopping complex) from where the tower is a 600m walk.
Best Time to Visit Menara


It would be wise to visit Menara Kuala Lumpur on a weekday because the lines during the weekends are very long. The timing between 11:30 AM to 2:30 PM or 7 PM to 11 PM would be the best to visit this tower.
What Not to Miss at Menara
There are various things that one can do at Menara Kuala Lumpur -
1. Enjoy the adrenaline rushing experience at The XD Motion Theater -
Experience an unusual adventure in this twelve seated 4D theatre that comes equipped with visual stimulations and effects. The visitors can choose from a selection of 8 short movies over here for a joyous ride of adventure.
2. Get up close and personal with the underwater creatures at The Blue Coral Aquarium -
It houses a number of sea creatures from oceanic habitats around the world. Constructed close to the 360o revolving restaurant, this is one of the biggest attractions of the tower.
3. Try base jump at Observation Deck -
This is the highlight of your visit to Menara Kuala Lumpur. Witness the entire city in its multiple forms, while standing up at the deck. You should also try your hand at the base-jump event that takes place at the sky deck once every year!
Places to visit near Menara Kuala Lumpur
The Menara is one of the most recognisable structures in Kuala Lumpur, and there are a number of great places nearby that you could visit.
1. KL Forest Eco Park -
It is a rainforest that frequently visited by the tourists, for a quick hike or a walk. It is also a great place to relax with your fellow travelers. The serenity and calmness that this hidden gem of the city offers is truly admirable.
Distance from Menara:
250m
2. KL Upside Down -
Built with a cottage house concept KL Upside Down is certainly different from all houses you have seen before. Nowhere else will you find furniture meticulously arranged on the ceiling of the house. This 2 storey home is a lovely retreat for the visitors.
Distance from Menara:
150m
3. Central Market Kuala Lumpur -
It is a venue of deep historical importance that has been transformed to be a center of attraction for art and craft enthusiasts. Tourists often rave about the amazing collection of souvenirs and gifts over here.
Distance from Menara:
2.3KM
Other Essential Information About Menara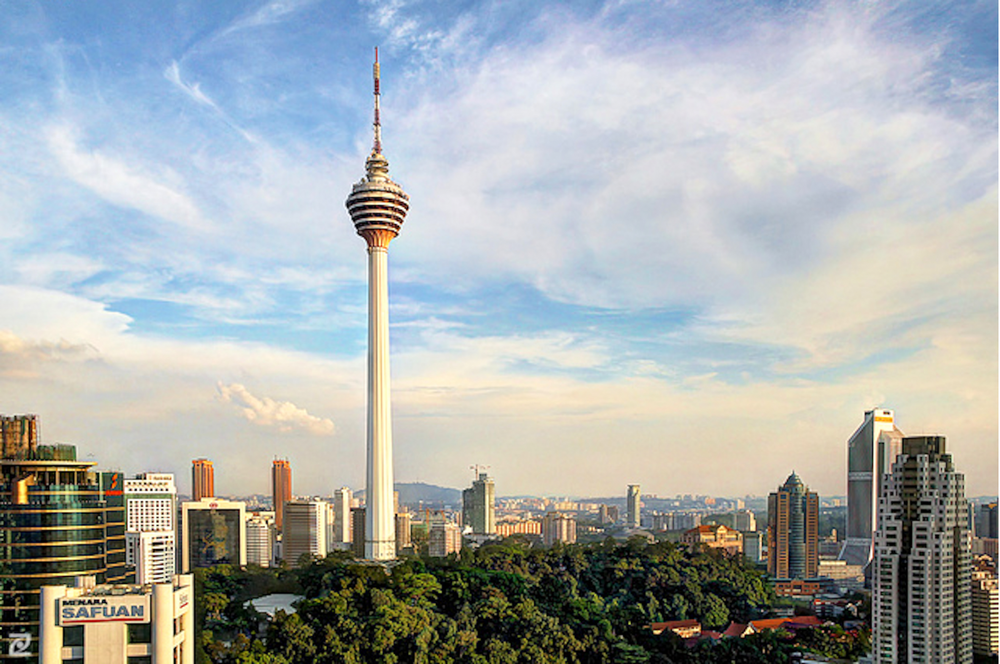 Location:
No. 2 Jalan Punchak Off, Jalan P Ramlee, 50250 Kuala Lumpur, Malaysia
Timing:
9 AM – 11 PM
Mobile Connectivity in Menara Kuala Lumpur:
There are no particular issues with mobile connectivity at the tower. All the Sims function quite well over here.

Entry Fee and Photography allowance in Menara Kuala Lumpur
The entry fee for the sky deck and the observation deck is different. The observation deck entry ticket costs 49RM for an adult and 29RM for a kid. The entry ticket for sky deck costs 99RM for adults and 52RM for kids. Commercial photography in the tower is strictly prohibited without prior consent. Tourists can, however, take advantage of the many photographers available at the tower, or can even take a snap on their own.
Places to Eat in and near Menara Kuala Lumpur
The tower is close to some extremely amazing places to grab a quick bite or enjoy a hearty meal. Some of them are:
1. Atmosphere 360o -
It is a remarkable and highly reputed restaurant located at 282m above sea level. If you're looking to have a luxurious culinary experience in this tower, then Atmosphere 360 should be your best bet. It offers a relaxing ambience, heavenly food and esteemed services.
2. Santinos Pizza -
This is an Italian food joint located right at the entrance of the tower. One can get everything from Pizzas to Pasta and Stromboli, over here. It is a great place to have a quick bite before leaving the tower.
3. Pier 12 Seafood Tavern -
If you are in the mood for a scrumptious culinary experience without compromising on food quality or portion sizes, this place is perfect for you. The presentation of food is awesome over here, and you're bound to be mesmerised by the service of their staff.
Places to Stay near Menara Kuala Lumpur
The following accommodation options are an amazing choice for a comfortable and lavish stay.
1. Crest Residencies -
If you're looking to have a leisurely stay, then this hotel should be the best choice for you. It offers top-notch services and modern amenities including geyser, coffee making machine and an internet connection.
Distance from Menara:
500m
2. The Bed KLCC -
If you want to feel like being at your home, then The Bed KLCC can be your second home. This hotel offers premium services such as Jacuzzi, fitness center, spa, parking facility and 24-hour help desk service.
Distance from Menara:
1.2KM
3. Summer Suites Apt KLCC -
This hotel is a luxurious retreat for those who're looking to have a relaxed stay. It offers free access to a pool, a fitness center as well as a garden. 
Distance from Menara:
500m

Medical Facilities in Menara Kuala Lumpur
There are a number of medical facilities available near the tower.
1. Dr Ruban's Medical Practice (1.9KM away) -
It offers top notch medical facilities and upgraded medical supervision. The doctors over here are very experienced and highly qualified offering an instant cure to all your medical complications. 
2. Twin Towers Medical Service (1.6KM away) -
It is a one-stop shop for all your medical needs and health disorders. It provides medical assistance for everything ranging from allergies to infections. It also has dedicated service providers specifically for travel related healthcare.
3. Queens Medical Clinic (1.6KM away) -
This is another place you can get a holistic check up done within campus. The level of medical assistance provided over here can help you in getting well within the shortest span of time.
Travellers' Tip before visiting Menara Kuala Lumpur
All travellers should remember the following tips before they visit Menara:
-
Please make sure that you check the weather forecasts before you leave. The sky deck is closed whenever it rains, and you will be asked to go to the observation deck instead during this situation. 
-
Opt for the combo deals if you can. Individual attractions can come off a little pricey, but the overall combo is easily a more economical option. 
-
Wear comfortable shoes while visiting this spot.
-
Don't throw garbage here and there in this tower.