About KL Forest Eco Park
The KL Forest Eco Park is the only naturally occurring rainforest in the city of Kuala Lumpur. Since 1906 when the forest was first gazetted, consecutive governments have undertaken a number of developmental projects in the forest. This forest presently covers an area of around 9 hectares, and it has several interwoven tracks meant for jogging.
The forest is placed right in the heart of the city. In addition to adding a lot of fresh air to the city centre, it has also become a natural refuge for a number of birds and small mammals. Tourists often pay a visit for a quick stroll or a hike, or even a sultry picnic over here. Conveniently, this forest is very close to a number of other important popular tourists' spots, including the famed Menara Kuala Lumpur which is actually visible from the forest.

The most recently opened canopy walk gives another great touch to this place. It is an especially great place to come in the wee hours of the day to enjoy the forest in all its expanse and serenity. It is a must-visit for anyone who wants to experience the greenery and picture-perfect beauty of nature.
How to Reach KL Forest Eco Park


Both locations are important tourist attractions. The following are the easiest ways to travel from the park to the city centre:

By car: The City Centre is a mere 2.7KM away from The KL Forest Eco Park. You can reach the park by renting a cab from City Centre via Jalan Raja Chulan. 

By bus: Buses 190, PJ05 and GOKL all operate daily from City Centre to KL Forest Eco Park. You can take any of these buses to reach the park from City Centre.
What Not to Miss at KL Forest Eco Park



1. Herbal Garden:
You can take a guided tour amongst the vast expanse of aromatic and medicinal herbs, cultivated by painstaking effort and endless love. The tour would be a great learning experience, and the fresh aromatic delights will just make your day much better. 

2. Canopy Walk:
This is the most recent addition to the forest, and has already become a highlight for most visitors. It is definitely one of the most picturesque areas of the entire forest, and one can take a walk through it while enjoying the lovely view of the city's skyline. 

3. Timber Product Gallery:
Very close to the entrance of the forest, this quaint shop sells a number of souvenirs and gifts fashioned out of timber. The prices are cheap, and you get an opportunity to support local craftspersons by purchasing the timber products.


Things to Do at KL Forest Eco Park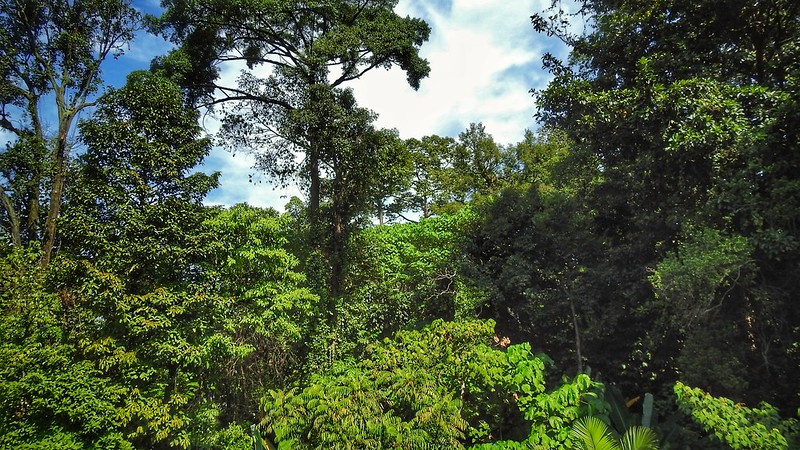 Here are some of the most interesting things to do at KL Forest Eco Park.

1. Small Hikes: Take a quick hike across the trails spread throughout the forest area of this park. Working out in the fresh forest air will surely energise and refresh you. There are a number of trails interwoven all across the forest for hiking.

2. Have an amazing picnic with your family: There are a lot of great spots across the forest, for you to settle down with your family with a picnic blanket and some tasty snacks. You can spend an entire afternoon away from the unending raucous sounds of the city, laughing and chatting with your loved ones here. 

3. Nature trail in the park: A quick stroll in the woods would be a great idea for anyone tired of moving in massive crowds. Here you can admire the verdant beauty of nature, and you can test your adventurous streak.
Other Essential Information About KL Forest Eco Park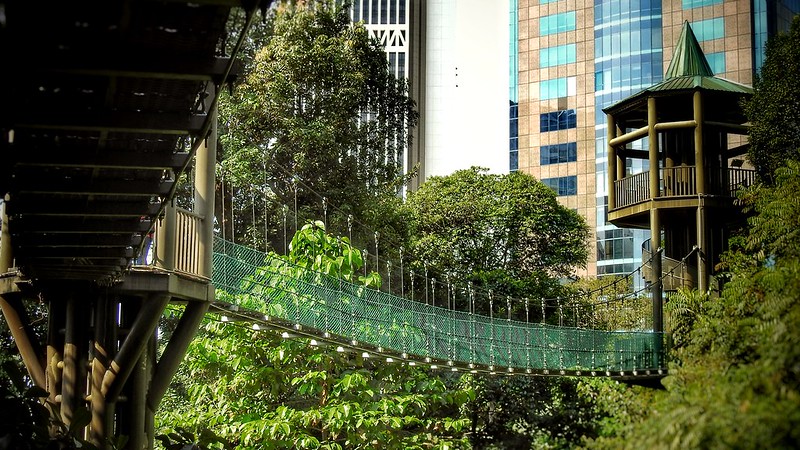 - Location: Slot 240, Jalan Raja Chulan, Kuala Lumpur, 50250 Kuala Lumpur, Wilayah Persekutuan Kuala Lumpur, Malaysia 

- Timings: 8 AM – 6 PM

- Entry Fee: 40RM

- Distance from City Centre: 2.7KM


Places to Eat near KL Forest Eco Park


There are a number of great places to eat near KL Forest Eco Park. 

1. Manja Old Malaya:
This restaurant is known for its alluring interior and picture-perfect ambience. They specialise in serving non-vegetarian food and barbeque dishes. 

Distance from Park:
1.0KM

2. Pampas:
This is one of the best places to grab quick snacks and drinks. The light-hearted vibe and scrumptious cuisines certainly attract a great crowd. This is a great place to have a scrumptious affair of Malaysian cuisines.

Distance from Park:
1.0KM

3. Water Lily Vegetarian Restaurant:
This is a great vegetarian joint where the quality of food is never compromised. The Thai and Chinese cuisines are the most loved by the people here. 

Distance from Park:
1.8KM

Places to Stay near KL Forest Eco Park


The following are great places to stay near the park:

1. Impiana KLCC:
This hotel is situated close to KL Forest Eco Park. The rooms are extremely comfortable, and the staff is equally responsive. It has a built business centre, a restaurant, fitness centre, and  spa. 

Distance from Park:
1.2KM

2. Lanson Place Bukit Ceylon Serviced Residences:
This is a great option for those who want to stay in an apartment replete with all the modern facilities like air-conditioner, internet connection, television, etc. 

Distance from Park:
0.4KM

3. Pacific Regency Hotel Suites:
This is an extremely luxurious hotel that offers amenities such as kitchenettes, iron, geyser, television and internet access. This is also a great option for longer stays because the suites come equipped with kitchenettes, crockery and cutlery. 

Distance from Park:
0.5KM

Medical Facilities in KL Forest Eco Park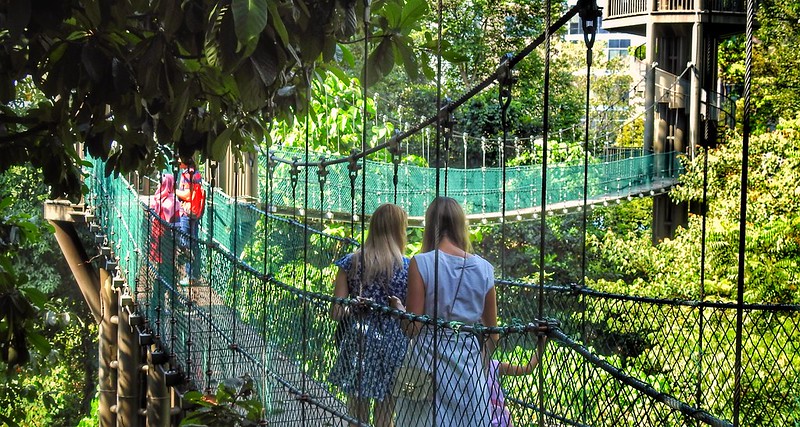 There are a number of medical facilities available near KL Forest Eco Park. 

1. Prince Court Medical Center
: It is a leading healthcare provider, with an excellent track record in providing comprehensive medical attention to its patients. The medical professionals there take particular care to make the stressful aspects of consultations and treatment as manageable as possible. 

Distance from KL Forest Eco Park:
3.1KM 

2. Twin Towers Medical Service:
It is a one-stop-shop for all medical needs that you might need even at midnight. The place provides the best first-aid facilities. It also provides medical assistance for chronic diseases, allergies and infections. It also has dedicated service providers specifically for travel-related healthcare.

Distance from KL Forest Eco Park:
1.5KM

3. HSC Medical Center:
This private hospital is one of the best options available for reliably high-quality healthcare services in the city. They have a great reputation for having understanding, sincere and responsive medical professionals.

Distance from KL Forest Eco Park:
1.5KM 

Mobile Connectivity in KL Forest Eco Park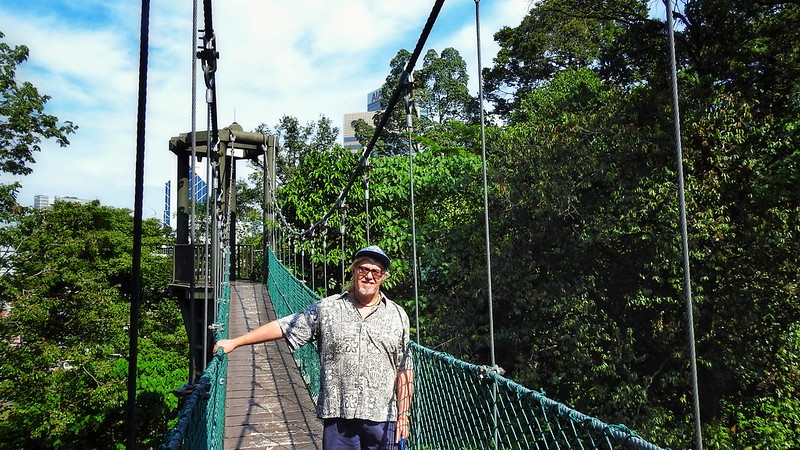 There can be some areas of the rainforest that have poor connectivity. You are advised to purchase an International SIM card at the airport when you arrive, to ensure minimal disturbances when you connect to the internet or make calls.


Travellers' Tip before Visiting KL Forest Eco Park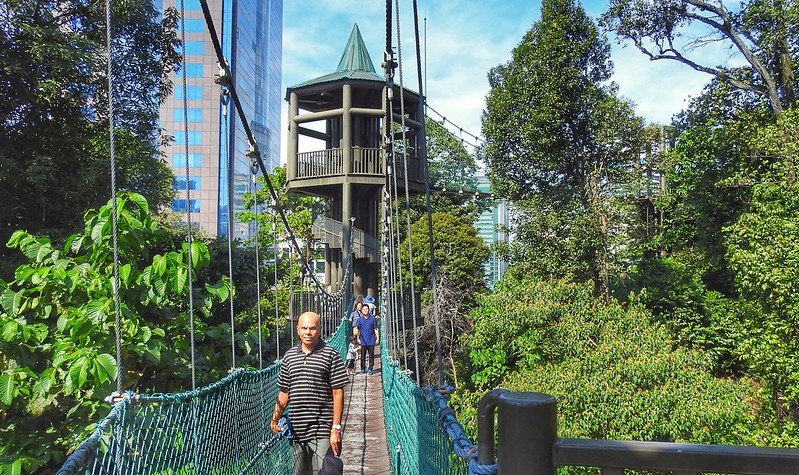 Please remember the following tips before visiting KL Forest Eco Park:


1. The canopy walk is not stroller-friendly at all. If kids accompany you for this walk take proper care of them to avoid accidents.


2. Please make sure you carry some water with you because you won't find it easily in the forest. 


3. Make sure you enquire about the taxi rates beforehand because they tend to overcharge. The taxis usually charge MYR10 to drop you at KL Forest Eco Park. 


4. Take prior permission from the forest authorities before setting up a camp-site within the forest. 


5. Please carry a garbage bag with you, and make a point not to litter anywhere.


6. Try to visit the forest within a few hours from its opening. The morning hours reportedly are the best time to enjoy the experience as the park is less crowded during this time. 


7. Carry some basic medical necessities with you when you visit the forest.