About Skytrail Jungle Trek
Skytrial Jungle Trek is a jungle as well as mountain trekking route where you have a rendezvous with nature. During this trip, trekkers will get to explore Langkawi's mystic rainforest. You will trek from the forest up to the mountain called Gunung Machinchang that is the oldest mountain range in Malaysia.

This tour attracts many trekking lovers every year due to the adventure it offers. After completing the trekking course trekkers are presented with the remarkable picture of Langkawi. An experienced nature expert guide will be with you throughout the trip to unravel all the secrets behind this incredible forest.

The basic trip for this geo forest park begins at Oriental Village with the Cable Car ride that will drop you at the middle station. During this ride you will enjoy the mesmerizing aura of the surrounding dense jungle. Further, you will trail the sky bridge, proceeding up to the top station, i.e. mountain peak. But if you want to make it more thrilling you can ditch the cable ride and start the hiking trail right from the village itself to all the way on the summit.

However, this option is apt for expert and physically fit trekkers. Verdant forest, Andaman sea landscape, and roaring cliffs surrounding all around the trekking course will act as the rewards for your rough trekking journey. The trekking at Machinchang Cambrian Geoforest Park is no doubt a dream come true for nature and trekking lovers alike.
What Not to Miss at Skytrail Jungle Trek
Here are the best things to do in skytrail jungle trek:


1. Skytrail Cable Car- The cable ride at Skytrail Jungle ride is your chance to get bestowed by the marvelous panoramic view all through the journey. The cable car ride is the steepest cable car ride on the planet and covers a distance of 1,700 m. It is also known as a gondola ride that runs daily.  This ride is an excellent choice for the beginner level trekkers.

With this, you can enjoy all the spectacles of the forest and mountain peak without putting a strenuous effort. You will take a ride up to the middle station, which is at an altitude of 650 m above sea level. After that, you can trek to the sky bridge till the top station. During your trip, you will admire the remarkable scenes of Langkawi. Also, the surrounding lush forest creates an absolutely fantastic aura. No doubt, it is a worthwhile experience for every visitor.

2. See Vibrant Flora & Fauna- The woodland boasts over 1,500 different species of flora that includes a plethora of great medicinal plants, umbrella trees, and trees that produce aromatic resins utilized in scents. The Skytrail Jungle trekking also lets visitors experience the unusual trees growing in the forest.

The trees with strange structures are the feature of this trek. For instance, trees looking like a beast with a wide open mouth and teeth like formations bulging out of it is a sight to behold. Additionally, you get to view a native Malaysian therapeutic tree called Tongkat Ali that consists of many roots around it. Moreover, during your ascend and descend on the mountain, you can also see diverse species of wildlife in the woods, such as bats, giant squirrels, birds, vipers, monitor lizards, and monkeys. 

3. Enjoy Marvelous Views- Going all through a rainforest, you will track up to the incredible mountain summit. Finally, when you reach the peak, you will get a charming display of flowering orchids, fantastic rock formations, vivid butterflies, and other natural wonders. Also, the summit is an ideal spot to admire the panoramic view of the whole encompassing area. 

4. Choose From Various Trekking Options- There are 3 trekking options available for this jungle trekking ground based on the different fitness level of the person. Skytrail Basic Package is the simplest and shortest route with 900 meters distance suitable for beginner fitness level people. You will reach the top station through cable car and trek downhill till the middle station.

Another is Skytrail Intermediate Package, for which one must have good stamina as it covers the 1.3 km of trail. In this, trekkers will hike from the base station up to the middle station. The third option is the Skytrail Extreme Package, as the name implies, it is the most challenging trail that is suitable for highly experienced and excellent fitness level people. The whole course is 2.2 km, in which you will start the trek from the base level and will trek up to the summit.
Other Essential Information About Skytrail Jungle Trek


Location: Oriental Village, 07000, 07000 Langkawi, Kedah, Malaysia

Timings: Tuesday to Sunday - 9:00 am to 4:00 pm (Monday Closed). The trek runs on two slots, i.e., first at 10:00 am and the second at 2:00 pm.

Entry Fee: Entry is free for the jungle premises. But you have to pay for the cable car ride that costs INR 88/RM 5 for adults and INR 53/RM 3 for children.

Height: 701 m above sea level

Best Time: The best time to trek this jungle is from November to March. During these months, the weather is pretty comfortable as the forest is dry with about 32 degrees Celsius temperature.

Trek Duration: It is not a long and arduous trek as you can complete the whole trail between 45 minutes to 3.5 hours, depending upon the trekking package you select. The total distance of Skytrail Jungle Trek is 2.2 km.

Distance from Langkawi: About 22 km

Transportation-
 You can reach the Skytrail Jungle trekking ground with a private car, or hire a taxi. Upon reaching the forest base, there is a cable car ride facility available from Oriental Village in the Pantai Kok area. One can choose the cable car to reach the middle station or until the top station as per your fitness level and trekking choice.
Network Connectivity on Skytrail Jungle Trek-
 The network connection is average during this jungle trekking trip. You may find weak connectivity while amid the dense forests.
Traveler's Tips for visiting Skytrail Jungle Trek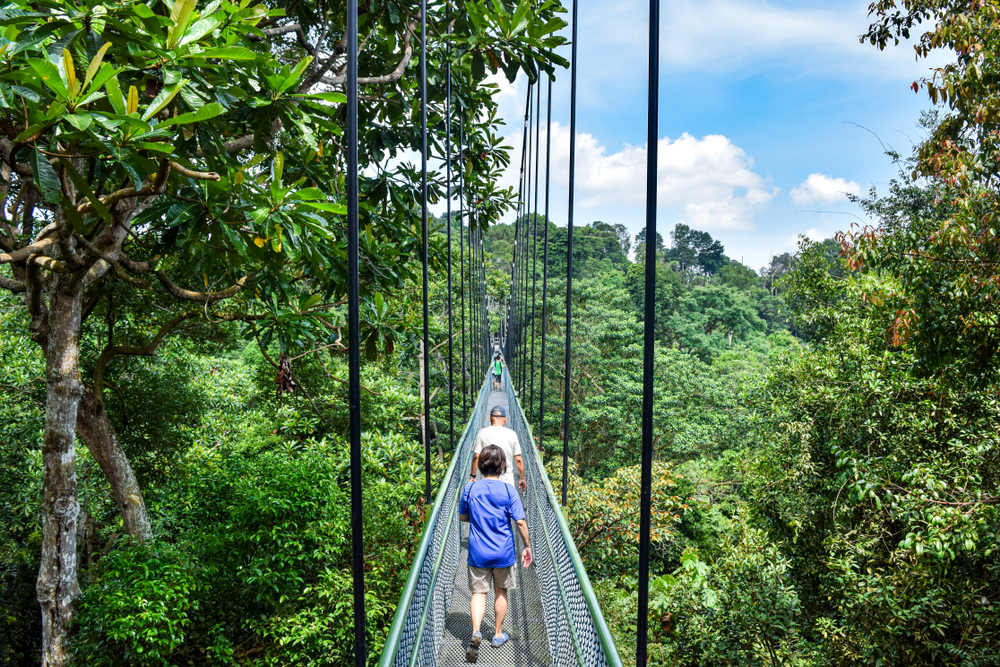 1. Travel light and pack only necessary items.


2. Avoid crunchy snacks that make noise as they can grab the attention of wild animals. Also, do not carry fruits as they can attract monkeys. 


3. Do not wear bright colored clothing and shorts. Rather wear clothes in natural hues that will blend well with the jungle background like green and brown.


4. Do not put perfumes as animals have an intense smelling sense.


5. Make sure to cover your arms as well as legs.


6. Ensure to check your body occasionally for mites, and leeches.


7. Wear cotton tee, trek pants, joggers, or pants, cap, and sunglasses for trekking.


8. Also, wear an excellent pair of trekking shoes.


9. It is advisable to avoid the Skytrail Jungle trekking from June to October. It is a wet season, and the forest will be slippery.


10. Do not litter the forest.

Things to Carry for the trek to Skytrail Jungle Trek 


1. You can carry biscuits, dry fruits, chocolates, energy bars, and water bottles to stay energetic throughout the trek.


2. Keep Swiss Knife, hand sanitizer, torch or flashlight in your backpack.


3. Carry fire starters or matchsticks to start a fire in case of emergencies.


4. Keep jackets or raincoats for unexpected weather changes.


5. You must also carry power banks, maps, and compass.


6. Pack a small first aid box that includes essential medicines, ORS, glucose sachets along with mosquito repellents.

Places to Stay near Skytrail Jungle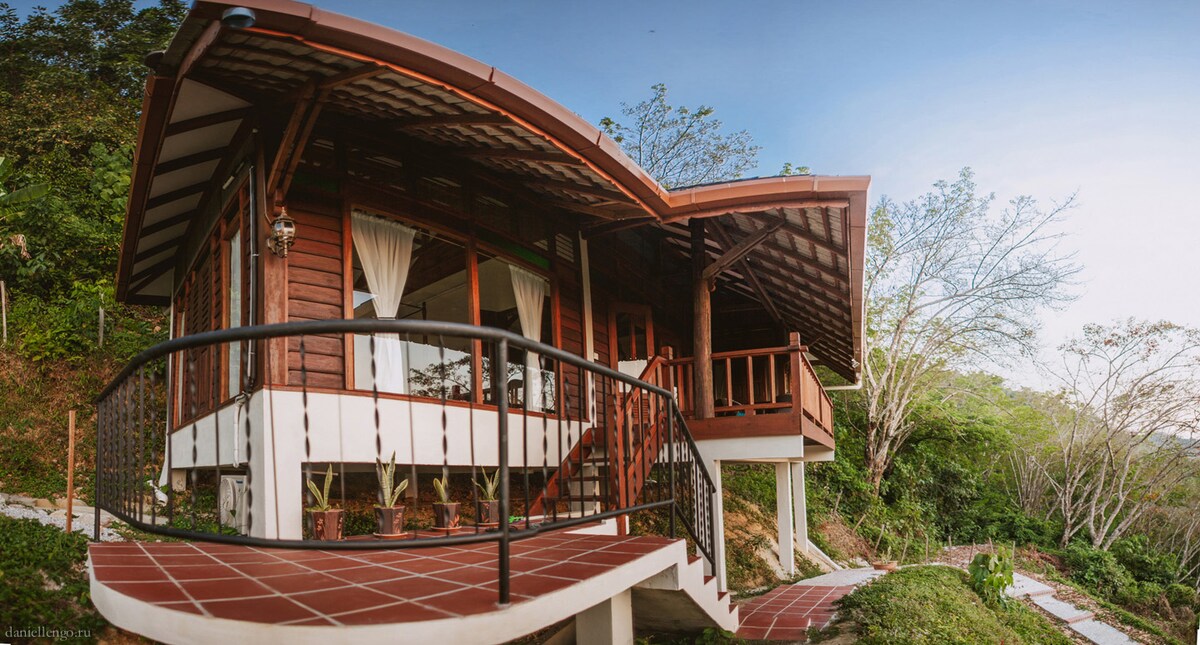 1. Alamanda Minang Villa- 
The villa is situated in the tropical regions of Langkawi Island. During your stay here, you will enjoy the enchanting view of mesmerizing mountains and paddy fields.
2. Alamanda Hilltop Villa-
 Here three guests can comfortably accommodate one bedroom that has an attached 1.5 bathroom. There is an on-site infinity pool to relax your tired muscles after trekking. Also, you will find the lounge area just 80 m away from the premise where you can relish lip-smacking meals with a blooming garden landscape.
3. Favehotel Cenang Beach Langkawi-
Favehotel is constructed on one of the fascinating beaches of Malaysia, Cenang Beach. The hotel offers furnished bedrooms with an attached bathroom. 
Places to Eat near Skytrail Jungle 
1. The Cliff Langkawi-
 This restaurant is the top-notch one in the category. Here you can relish your meals with tranquil Andaman Sea views. It serves tasty Malay and Western cuisines. The most adored dishes include Crab Cannelloni, Slow-cooked Beef, etc.
2. Kayu Puti- 
It is an Asian based elegant restaurant, situated at the St. Regis Langkawi. You can cherish the beautiful panorama of the Andaman Sea, feeling all cozy on their sunbeds in the bar department.
3. The Pavillion- 
The restaurant is known for Thai cuisine that is worth experiencing. The must-try dishes include stir-fried beef with garlic, chili, and Thai basil leaves. The lambent glow of candles on each table, white orchids, and Thai music in the background all create a perfect ambiance.