About Petaling Street
Petaling Street is a very popular landmark market place in Kuala Lumpur in Malaysia. It is known as the local Chinatown and is bustling with various activities that take place throughout the day and night. Since it is mainly a market place, it is constantly bustling with people- locals and tourists alike- as well as shopkeepers and merchants.

Apart from its cultural significance in the heart of Kuala Lumpur, Petaling Street is also known for the numerous sumptuous food stalls that serve authentic Malaysian dishes like the curry noodles, Asam laksa, barbecued fish (Ikan Bakar) and Hokkien mee. Perhaps the most striking feature of the street found here is the fresh seafood.

Since this area is less prone to floods, the wealthier sector of the population has been able to settle here with businesses, shops and merchandise. In 2003, the market place underwent a major renovation, with improved pavements and streets and well-constructed shops with bright colourful umbrellas attached to them, giving the shops the signature look they bear now.

The entire stretch of the market area is covered with a green awning covering the roof to protect the shop owners and visitors from rain and heat. Petaling Street lights up at night with bright neon lights and the whole place thrives with life, energy, happy shoppers and food lovers throughout the day.
How to Reach Petaling Street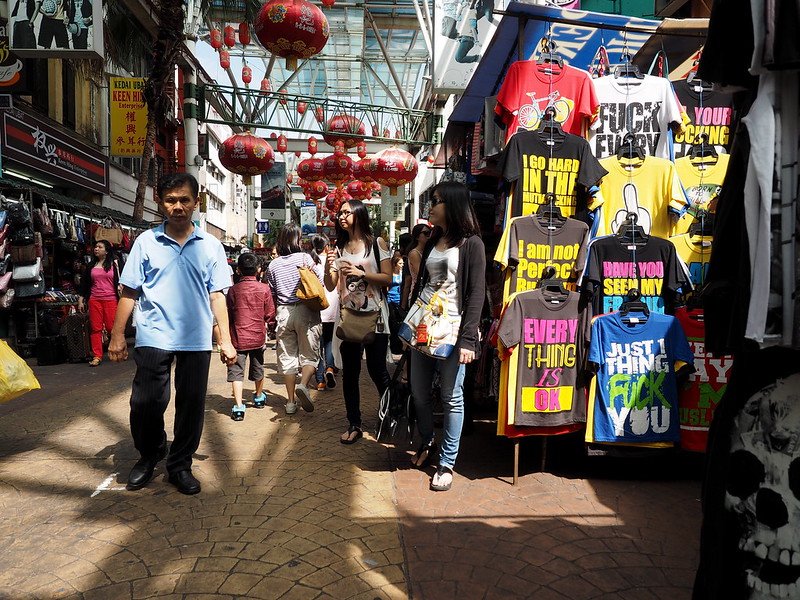 All the roads connecting to Petaling Street from the Kuala Lumpur City Centre are quite convenient as they are connected by an efficient network of public transports.

By Car: While travelling in a private car or a hired taxi, the distance from the City Centre to the Petaling Street is 900 metres if you travel down Jalan Tun Perak Road. It should take you around 9 minutes to reach.

By Bus: If you'd rather avail one of the many public buses that ply in Kuala Lumpur, then it will take around 4 minutes to reach the Petaling Street from the City Centre Bus Terminus. Any bus heading towards Kotaraya Shopping Complex and Central Market will be able to take you to Petaling Street.

By train: There are some very convenient train stations nearby as well. One can take the Light Rapid Transit or the LRT, via Masjid Jamek Station or the Pasar Seni, which is within walking distance. One can also avail the KTM Komuter or the Kuala Lumpur Station. The Monorail at the Maharajalela Station is also an easy connector to Petaling Street.

On foot: You can also reach Petaling Street from the City Centre simply by walking. You have to walk a mere distance of 290 metres via Jalan Petaling Road, which shouldn't take you more than 4 minutes.  However, if you're travelling from Lebuh Putu, Jalan Tun H S Lee and Jalan Tun Tan Cheng Lock, you need to walk 350m to reach the market.
What Not to Miss at Petaling Street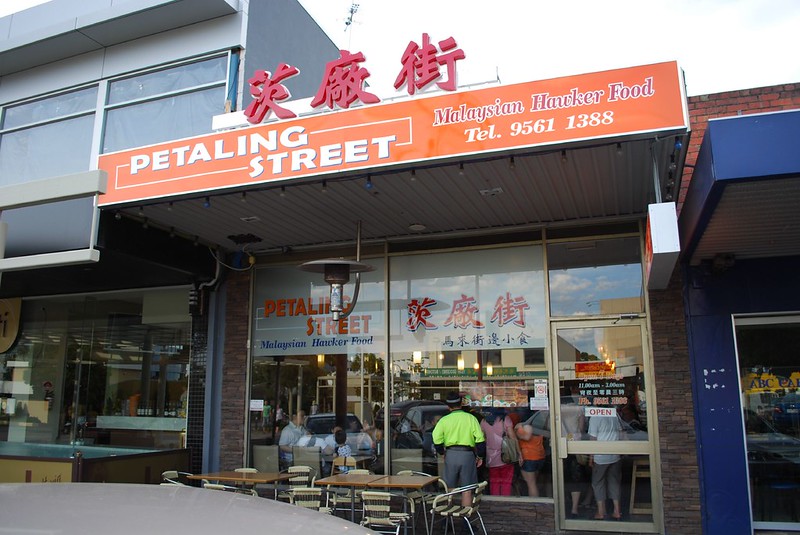 Petaling Street is the ultimate shopper's paradise. Though the market is flooded with fake and counterfeit products and materials, you can also find hidden treasures in the form of rare fashion items and great foodstuff here.
1. Clothes- 
Anyone searching for "branded" items at an affordable price should come to Petaling Street. You can get fancy labels and rare and unique dress material for your sartorial satisfaction.

2. Accessories-
Whether you are searching for a Rolex watch or a Louis Vuitton bag, chances are, you are going to get it at Petaling Street. It is an accessories' paradise.

3. Food-
Petaling Street is the ultimate hub for authentic Malaysian street food which is famous throughout the world. There are several stalls that you can sample so that you never run out of options.

Places to Visit near Petaling Street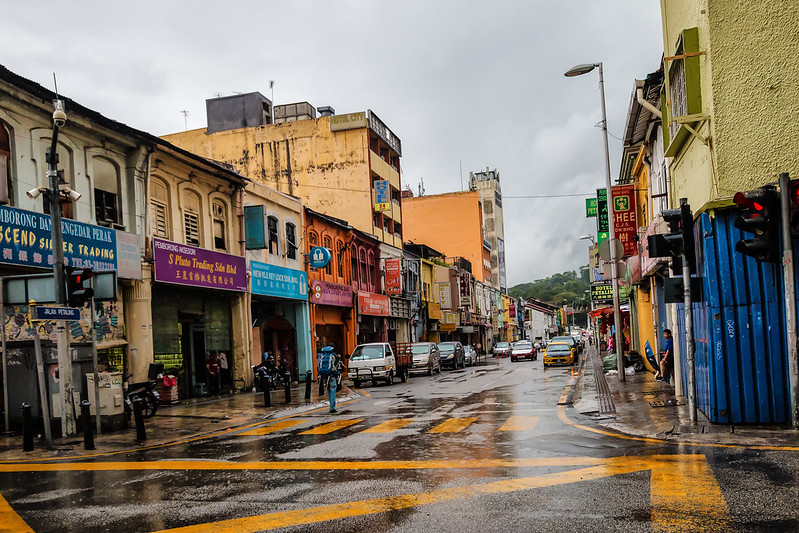 Apart from Petaling Street, there are a number of exciting places you can visit near this market which can make your trip to Kuala Lumpur truly memorable.

1. The Kuala Lumpur Central Market- The Kuala Lumpur Central Market is teeming with exciting local goods including spices, clothes, artefacts and handicraft items which you can get at very affordable rates. It is also a World Heritage Site.  

2. Sri Mahamariamman Temple- You should definitely check out the only Hindu temple in the country, dedicated to Goddess Parvati. Apart from its historical significance, it is also an architectural marvel where you can offer your prayers.

3. Chan See Shu Yuen Temple- You must also visit the oldest Buddhist temple in all of Malaysia, that is Chan See Shu Yuen Temple. It is famous for the intricate Chinese carvings on the walls and ceilings of the temple, which depicts ancient Chinese scriptures and legends.

4. Masjid Jamek Sultan Abdul Samad- This is one of the oldest and most beautiful mosques in Malaysia, located on the confluence of the famous Klang River and the Gombak River. It is one of the most important centres of Islamic worship in the entire country.
Other Essential Information About Petaling Street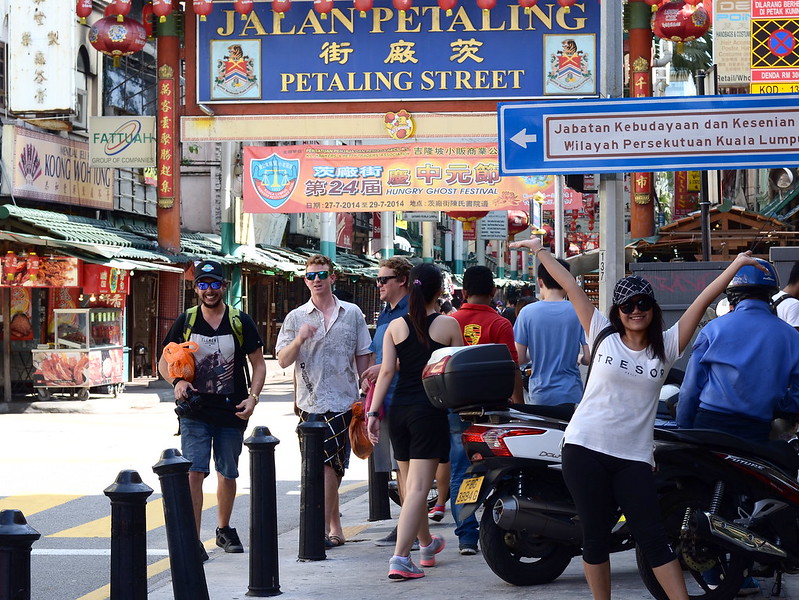 - Location: Jalan Petaling, City Centre, Kuala Lumpur 50000, Wilayah Persekutuan Kuala Lumpur, Malaysia.

- Timings: Open 24 hours, all the days of the week

- Distance from city centre: 900 metres


Places to Eat in Petaling Street


While it is the best place to taste some local street food, you can also discover some cafes, restaurants and eateries in the vicinity for a proper, sit-down meal:

1. Acme Bar & Coffee- 
This is a café known for delicious breakfast, jazz music, chic interiors and detox juices prepared from fresh fruits and vegetables. 

2. Thirty8 Restaurant- 
Situated on the 38th floor of the Grand Hyatt Hotel, this is a restaurant with a breath-taking view of the city of Kuala Lumpur. This place serves fabulous Chinese, Japanese and Western cuisine.

3. Bakeri Joy-
Bakeri Joy is a local restaurant known for its delicious nasi lemak and curry laksa. Both are very popular chicken and fish broths served with eggs and vegetables.

4. Nasi Kandar Pelita-
This local restaurant serves Indian and Middle-eastern cuisine. There are varieties of spicy curries and mouth-watering meat dishes served at very reasonable prices.

Places to Stay near Petaling Street


Petaling Street is dotted with innumerable hotels for comfortable accommodations. There are all categories of hotels to choose from, depending on the budget and specifications of the guest.

1. Majestic Hotel-
The Majestic Hotel is a five-star luxury hotel with sprawling interiors and modern amenities and exclusive services. Apart from its amenities, you also enjoy their unique art-deco aesthetics.

2. Sunway Resort Hotel & Spa- 
The Sunway Resort Hotel & Spa is the ultimate place to relax and unwind with family and friends. From a private shopping mall to an in-house fitness centre, along with a theme park and special spa treatments, this hotel has it all under one roof.

3. Swiss-Inn Kuala Lumpur-
The Swiss-Inn Kuala Lumpur is a family hotel situated in the heart of Kuala Lumpur with easy access to cheap shopping and all the fabulous local food stalls. Their remarkable amenities include a terrace bar/restaurant, private glass bathrooms, a business centre, family rooms, etc.

4. The Kuala Lumpur Journal- 
The Kuala Lumpur Journal is a budget-friendly hotel with all the basic services like dry cleaning and a prompt 24-hour front desk helpline. Its beautiful rooms have minibars, flat-screen TVs, WiFi and a seating area.

Timing to Visit Petaling Street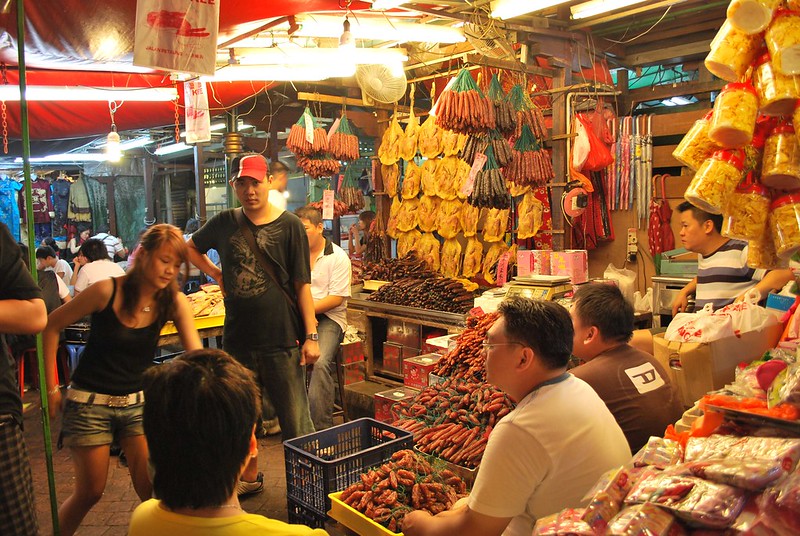 Petaling Street is open 24 hours a day, every day of the week. The peak shopping hours are usually from 10:00 am to 9:00 pm, when all the shops and food stalls are open. By 9:00 pm, some of the clothing, gadgets and accessories shops close down, but the food stalls and restaurants remain open till late in the night.

Speciality of Petaling Street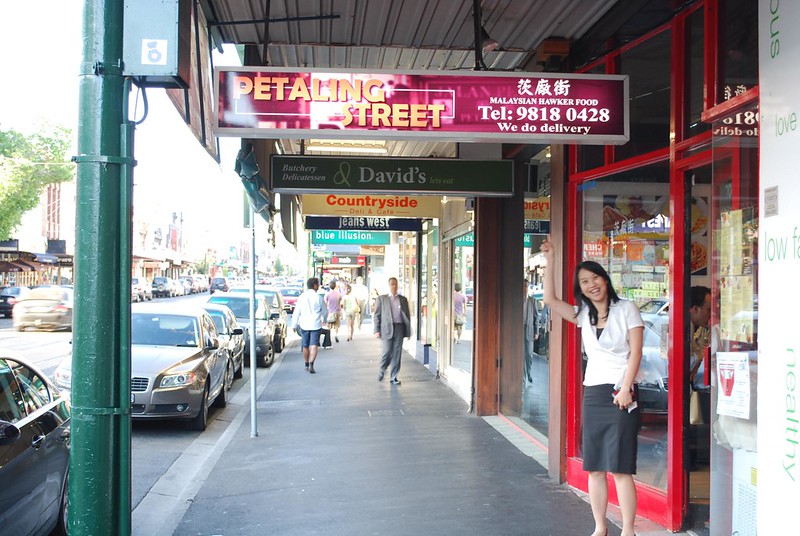 Petaling Street is a paradise for buying trendy clothing and all kinds of modern accessories at very cheap rates. Even though the source of these products is generally unverified, it is still crowded by throngs of people trying to get their hands-on designer merchandise at very low prices. Another popular feature of the market is the tendency to bargain with the vendors (which usually yields very favourable results).

Travellers' Tip before Visiting Petaling Street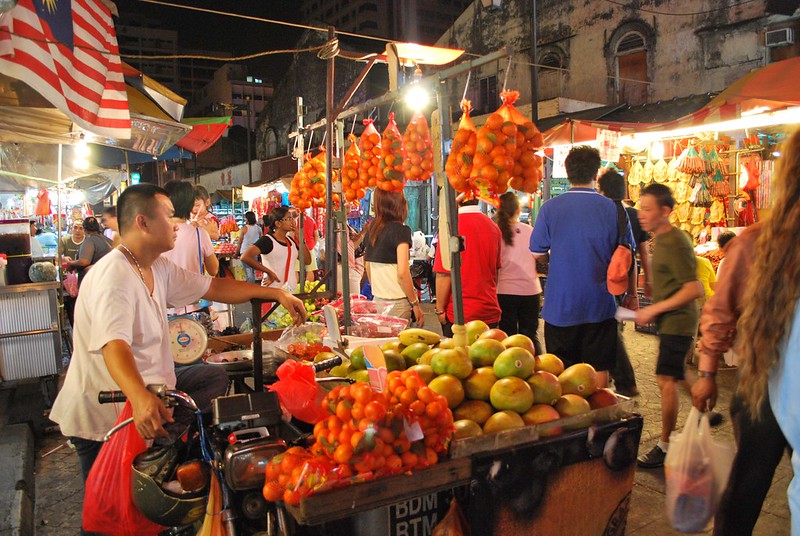 Even though Petaling Street is an open market where you can wander freely, there are a few tips you should keep in mind:


1. Most of the items sold here are counterfeits and fakes, and you cannot blame the vendor for selling you these things since that is the speciality of the market.


2. It is best to keep your belongings close to you since the market can get very crowded during peak shopping hours.


3. If you want to get a good price, it is highly recommended that you bargain with the vendors, who are always open to negotiation.


4. If you are planning to visit the market for anything other than tasting the street food, you should visit between 10:00 am and 9:00 pm, when most of the shops remain open. Everything other than the food stalls usually close shop by 9:00 pm.