About Lost World of Tambun
Lost World of Tambun is a breathtaking adventure destination set in the magnetizing scenery on the outskirts of Ipoh. This premium Malaysian theme park was restored from a tin-mining wasteland, and today it holds the most prominent mark in the world map as a popular tourist attraction.

It is cocooned by 400 years old limestone features, hot springs, and lush tropical jungle. It consists of seven adrenaline rushing adventure parks that offer a splendid eco-adventure excursion opportunity to the visitors. This theme park offers world-class roller coaster rides and land-based thrilling amusement rides that will give you a punch of heart-racing adventure and fun.

It is the only theme park in Southeast Asia having natural hot springs along with a wide array of rides and attractions. The water in these hot springs have healing properties and therefore, a huge number of visitors regularly visit these sacred healing sites.

The temperature of the water in these pools exceeds beyond forty-degree Centigrade in the afternoon, but it cools down a bit in the evening. You can, therefore, appreciate the beauty of these hot springs only in the evening. Attached to these hot springs are some of the most rejuvenating massage facilities where you can indulge in a relaxing spa experience.

There are endless spills and thrills for each one of you in this theme park. It is an ideal spot where you can indulge into a fun filled adventure with your family and friends. From the biggest wave pools to the kids Explorabay, cliff raiser and tube raider this theme park offers multiple surfs and slides to keep you entertained while you visit this theme park.
How to Reach Lost World of Tambun


If you're planning an adventurous trip to Lost World of Tambun, then here are some of the most preferred ways to reach here from the city center.

By bus:
The express buses will take you to the Ipoh city center from Kuala Lumpur. From here, Lost World of Tambun is only twenty minutes taxi ride to the park.

By Train:
First, you'll have to reach Ipoh city center by opting for Electric train service from Kuala Lumpur. Once you reach the city center, you can hire a cab or taxi that will drop you at the theme park in just twenty minutes.

By Car:
Once you reach the Ipoh city center, you need to drive for twenty minutes via Jalan Tambun road to reach Lost World of Tambun.
What Not to Miss at Lost World of Tambun
Get ready to pace up your adventurous streaks by trying out some of the most heart-racing and fun activities in Lost World of Tambun.
1. Relax in the hot springs -
The hot springs are the most unique feature of Lost World of Tambun. You can relax and unwind in the pools during the evening. The water of the hot springs is said to have numerous health benefits also. So get rid of all your skin problems by diving into its natural healing water.
2. Enjoy the fun rides at Waterpark -
The waterpark of Lost World of Tambun offers some of the most exhilarating tubes rides like Tube Raiders and Cliff Racer. It also has a section for kids named Explorabay, where your little ones can enjoy smaller rides. 
3. Kayaking and zipline at Adventure Park -
The Adventure Park of Lost World of Tambun is an ideal destination for all the adventure junkies who wish to try some of the adrenaline rushing sports activities like zip lining and kayaking. This adventure park has a one twenty meters long cable over Bonga Lake, where high rope courses and climbing activities are practiced.
Places to Visit near Lost World of Tambun
Here is a list of some of the most popular sites near Lost World of Tambun that you must visit for a beautiful experience down your memory lane.
1. Sam Poh Tong Cave Temple -
This is one of the highly revered temples near Lost World of Tambun that consists of beautiful Buddha statues and splendid figures of other deities. It also has a beautiful garden that is decorated with stone lanterns and pagodas.
2. Dr. Seenivasagam Park -
Named after the politician and social worker Dr. Seenivasagam, this park offers a tranquil environment for the visitors as it is interspersed with greenery and recreational facilities. This park consists mainly of Japanese Zen garden; children play area, bike park, and a nursery.
3. Geological Museum -
This museum has exhibits that display one fifty rock specimens and two hundred gemstones. It is divided into seven different zones that cover the geological heritage of Ipoh. You can also find exhibits that showcase mining activities over here.
Other Essential Information About Lost World of Tambun


Location:
1, Persiaran Lagun Sunway, Sunway City, 31150 Ipoh, Negeri Perak, Malaysia
Timings:
Weekdays: 11.00am – 6.00pm   /   Weekends: 10.00am – 6.00pm- Entry Fee
Crystal Spa Treatment:
12 noon - 11pm.
Lost World Hot Springs & Spa By Night:
6 pm - 11 pm, Closed every Tuesday except during Malaysian School Holidays and Public Holidays.
Entry Fees: - Adults:
RM 70 (Non-Malaysians pay RM 100)
- Children (below 12):
RM 62 (Non-Malaysians RM 93)
- Seniors (age 60+):
RM 62 (Non-Malaysians RM 93)
- Kids below 90cm:
Free
Lost World Hot Springs & Spa By Night:- Children:
RM 42 (Non-Malaysians RM 52)
- Adults:
RM 50 (Non-Malaysians RM 60)
Distance from City Centre:
20 minutes via Jalan Tambun Road
Places to eat in and near Lost World of Tambun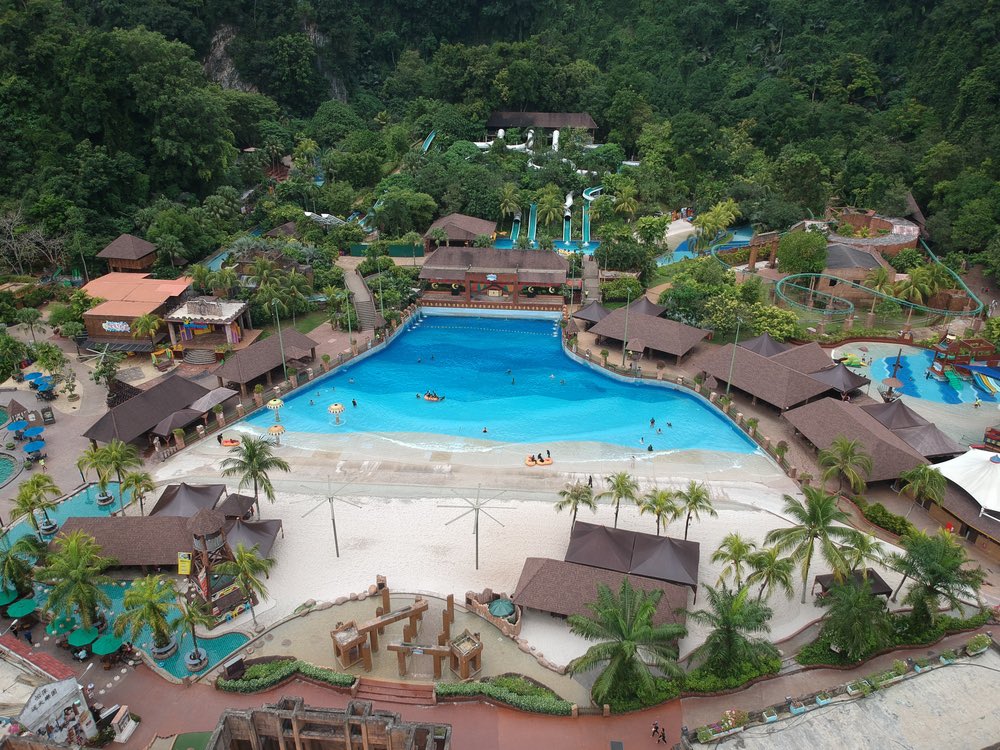 Get ready to have a scrumptious binge by relishing the flavorful treats at some of the best places to eat in and near Lost World of Tambun.
1. Skybar -
This is a cozy and alluring upper deck bar that offers a breathtaking view of the geothermal lakes located in its vicinity. It offers an exquisite range of whiskey and beer that you'll relish till the last sip. The refreshing signature cocktails and light bites over here are also a must-try.
2. Jeff's Cellar -
Located inside a huge limestone cave, Jeff's Cellar is one of the most uniquely built restaurants in Ipoh. It offers an alluring dining experience by offering the most scrumptious cuisines. There is a huge garden surrounding the restaurant where the herbs are picked to cook food.
3. Foods Project -
This is an extremely renowned café near Lost World Ipoh embellished with breathtaking interiors and warm hues. It offers a mix of Malaysian and other western dishes that taste sinfully delicious and mouth-watering. You can also enjoy the signature cocktails served over here that are packed with fresh flavors and refreshing taste.
Places to Stay near Lost World of Tambun


Have a regal stay at these luxurious hotels near Lost World of Tambun.
1. The Banjaran Hotsprings Retreat -
This is a luxurious resort located ten minutes stroll from Lost World of Tambun. Surrounded by tropical forests, this resort offers a tranquil escape from the hustle and bustle of city life. It offers all the modern facilities like an air conditioner, Wi-Fi, microwave, electric kettle, etc.
2. Travelland Hotel -
This is a 3-star hotel that offers 24-hour room and front desk service to offer the guests maximum satisfaction during their stay. It has 14 air-conditioned rooms that are replete with all the modern facilities like a flat-screen TV, Wi-Fi, and a private bathroom. 
3. Lost World Hotel Sunway -
Surrounded by lush greenery from all sides, this hotel is a heavenly retreat for the visitors who are in the lookout for tranquility and peace. It has laid back and modern rooms featuring tile or wooden flooring and some of the most splendid amenities like coffee making machines, TV, Wi-Fi, and geyser.
Medical Facilities in Lost World of Tambun

You can get the basic medical facilities at Lost World of Tambun. Those with serious medical concerns are disallowed from using some of the facilities over here. If anyhow you experience a serious condition, then Sunway medical center is located just 2 minutes from Lost World of Tambun. You can get the best medical treatments here.

Travelers' Tip before Visiting Lost World of Tambun
Here are some of the most important tips that you must keep in mind while visiting the Lost World of Tambun.
-
You get a wristband at the ticket counter that is meant for a single entry. You must wear it all the time while you remain in this park. 
-
You must not carry outside food or beverages in the park.
-
You must comply with the safety rules that are displayed at each ride.
-
You should not leave your belongings unattended as the management won't take responsibility for your misplaced items.
-
Weapons, glass objects, and pets are prohibited in the park.
-
Children below 12 years of age can only get entry into the theme park if their parents or a competent person accompanies them.
-
Carry an identity proof along with you while visiting this park.