About Batu Caves
Batu Caves, one of the most prominent heritage sites of Malaysia is a series of limestone caves that date back to about 400 million years ago. Situated 13 km north of Kuala Lumpur, the caves were used as shelters by the indigenous Temuan or Besisi people (a tribe of Orang Asli) in ancient times. Today, Batu Caves are synonymous with the grandiose Murugan Statue located at the foot of the Cave and is famous worldwide for the Sri Subramanian Swamy Temple. The Murugan Statue at the caves glistens in bright gold colour and soars up 42.7 meter and is the tallest statue in Malaysia. The cave temple is considered to be one of the ten holy abodes of Lord Murugan and hence, is revered by millions of Hindu devotees.

Thaipoosam is the most celebrated festival here and thousands of ardent devotees fulfill their vows here taking "kavadi" attracting tourists from all parts of the world. The Ramayana Cave is another marvelous attraction at Batu Caves which consists of psychedelic dioramas of the Indian epic 'Ramayana'. The giant statues of Lord Hanuman and Kumbakarna leave every visitor spellbound.

The Art Gallery Cave and Museum Cave at the base of the Batu Caves have an envious collection of Hindu statues and paintings that depict the victory of Lord Murugan over Demon Soorapadman. Apart from the religious significance of Batu Caves, the huge limestone outcrops of Batu Caves have made it the prime rock climbing destination in Malaysia and there are 170 rock climbing routes here.
How to Reach Batu Caves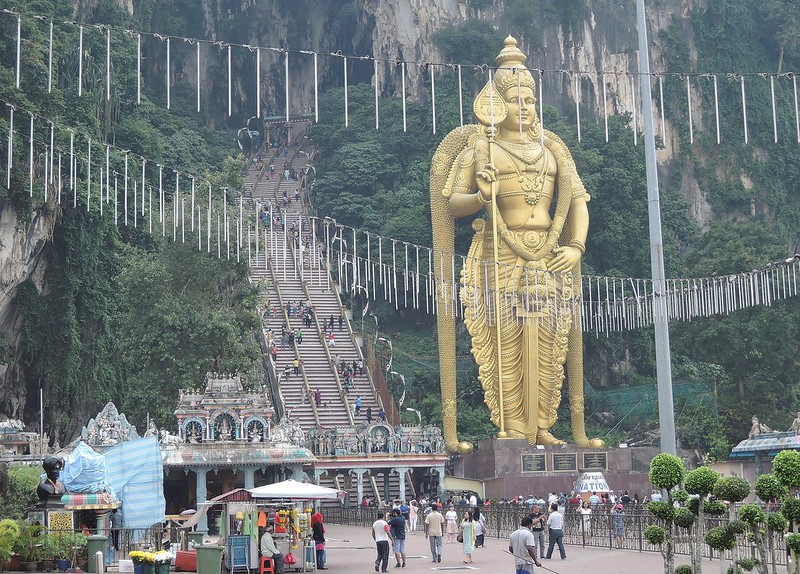 Batu Caves is located about 73.0 km away from Kuala Lumpur airport and one can reach it by the following ways -

By Train: There are no direct trains from KL airport to Batu Caves. You can take the KLIA Ekspres towards City (KL Sentral) from KL airport and reach KL Sentral. From KL Sentral, you can take the KTM Seremban Line (Blue, 1) and get to the Batu Caves.

By Taxi: The distance between KL airport and Batu Caves is 73.0 km and you can hire a taxi which will take you to the Caves in around an hour.

By Bus: There are no direct buses that ply from KL airport to Batu Caves. One needs to hop at least three buses to cover the distance and the shortest route itself could take about 3 hours.
What Not to Miss at Batu Caves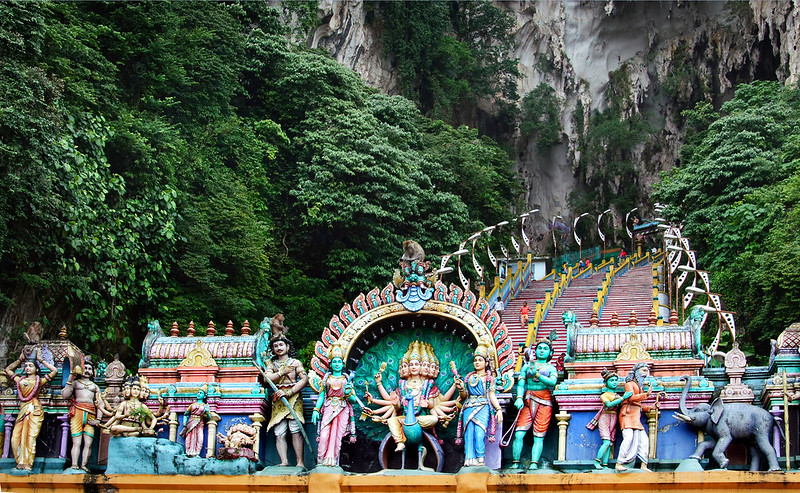 Batu Caves are one of the biggest tourist attractions in Malaysia and here is a list of things that you should not miss while visiting these iconic caves.
1. Offer prayers at the Cave Temple-
Also known as the Cathedral Cave, the Cave Temple is dedicated to Lord Murugan and is believed to be the 10th Cave or Hill for Lord Murugan. The Cave Temple sits atop the plight of 272 steps and are actually two caverns connected.
The sunlight penetrating here and there  through the extremely heigh celing of the caves creates a mystical aura to the place. There are shrines for Lord Murugan, Sri Valli, Sri Deivanai, Lord Shiva, Ganesha, and Parvati inside the Cave Temple. The biggest festival at this temple is Thaipusam that happens once a year.
2. Ramayana Cave-
Visualize the scenes from Ramayana The Ramayana Cave in Batu Caves features a huge statue of Hanuman and a self-formed shiva lingam. The caves have many real life-sized statues of Hindu Gods that depict the whole story of Ramayana. If you are travelling with kids, this place is sure to leave them spellbound.
3. Marvel at the magnanimous Lord Murugan Statue-
The golden-colored Lord Murugan Statue located in Sri Murugan Perumal Kovil at the foot of Batu Cave Temple stands a whopping 42.7 metres tall and is the tallest statue in Malaysia. A trip to Malaysia is never complete without a picture clicked here.
4. Explore the creepy Dark Cave-
Half way through the plight of 272 steps is the Dark Cave, which is known so for a reason. The Dark Cave is believed to be the home of the rarest spider species, the Trapdoor Spider.
The dense population of cockroaches and bats, weird rock formations, and narrow potholes amidst rocks add up the adventure quotient of the Dark Cave. The Dark Cave is not usually open and entry is permitted only under the supervision of a guide. Adventure tours at the Dark Cave last for about 3 hours and visitors can actually explore the cave leaving no stone unturned!
5. Witness the exhibits at Cave Villa-
At the foot of Batu Caves lies the Cave Villa which are actually two caves containing beautiful exhibits of statues and paintings of Indian poets and mythological Hindu characters with plaques to help the visitors know about the painting or statue in depth. One of the two caves, also has an exhibit of live reptiles like snakes enclosed in a glass box. The caves at the Cave Villa are brightly illuminated and offer informative sightseeing.
6. The five-legged bull-
Years back, ahe bull which had a fifth leg grow from the back near the hump was given to the Batu Caves Temples right after its birth. The bull roamed through the temple grounds all through its life until it finally rested in peace. Now, a statue raised in the temple's courtyard in the memory of the five-legged bull is worth visiting.
7. Rock Climbing-
Batu Caves are a Heaven for those who love to enjoy a game of natural rock climbing. Hosting 7 cargs and 170 routes, the most enthralling rock climbing trails at Batu Caves are Damai Wall, Nyamuk Wall, Nanyang Wall, Comic Wall, and White Wall.
Places to Visit near Batu Caves
The average time that people take to visit Batu Caves and the other cave temples is 2 hours. So, you can conveniently club Batu Caves sightseeing with the following attractions in the caves' vicinity, to make the most of your time at Kuala Lumpur.
1. Taman Eko Rimba Kanching Waterfalls-
This waterfall is a well-kept secret spot in Kuala Lumpur that looks magnificent as the waterfall flows through seven tiers over the moss-filled rocks and mountains. The green canopy that the tall trees make here and picnic facilities available at the entrance of the waterfalls promises a perfect day out amidst the lap of Nature.
2. Selayang Hot Spring-
Selayang Hot Spring is a set of four hot springs with different degrees of hot water. Well 1 is soothingly warm but not clean enough for a lounge session. Well 2 is hotter than well1 and one can get into the well after you feel comfortable with the heat. Well 3 is the hottest that one might usually have to fill a tub and let it cool before pouring it over. The thick deposits of minerals in these spring make them therapeutic.
3. Templer Park-
This botanical park is a forest reserve that looks verdant with multi-tiered waterfalls, jungle streams, and trails. Many bird species like he hawk-cuckoo, crested serpent eagle, the emerald dove, the forest wagtail, malkohas, barbet, the woodpecker, the flycatcher-shrike have made this park their home and sighting these birds in their natural habitat promises a blissful experience.
Other Essential Information About Batu Caves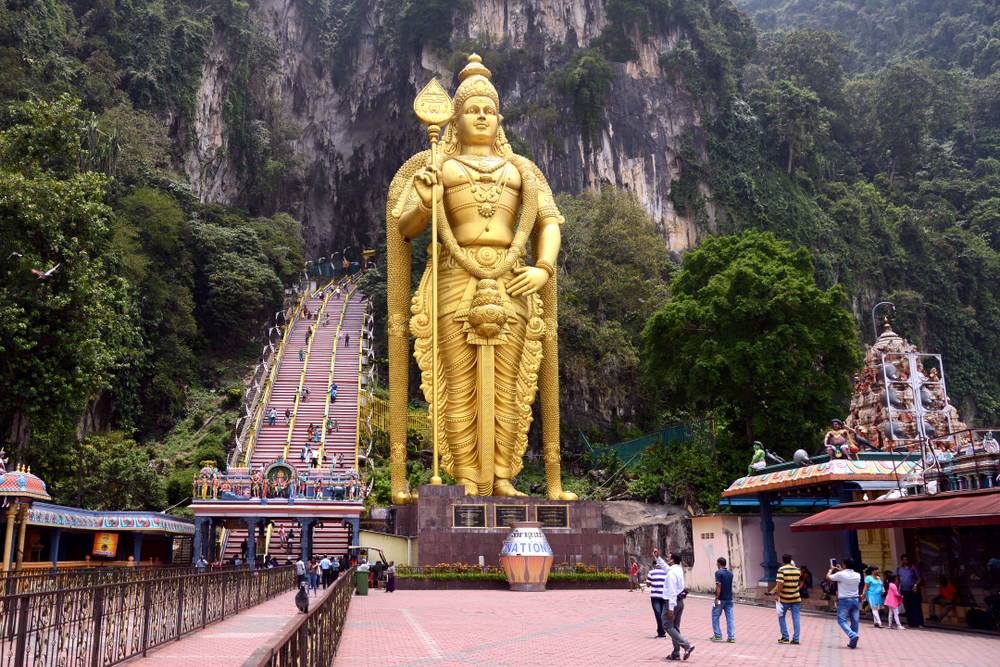 - Location: Gombak, 68100 Batu Caves, Selangor, Malaysia

- Timings: 6:00 AM - 9:00 PM Mon-Sun

- Entry Fee: Free

- Guides: Many tour operators offer guide services at Batu Caves

- Distance from city centre: 18.4 km


History of Batu Caves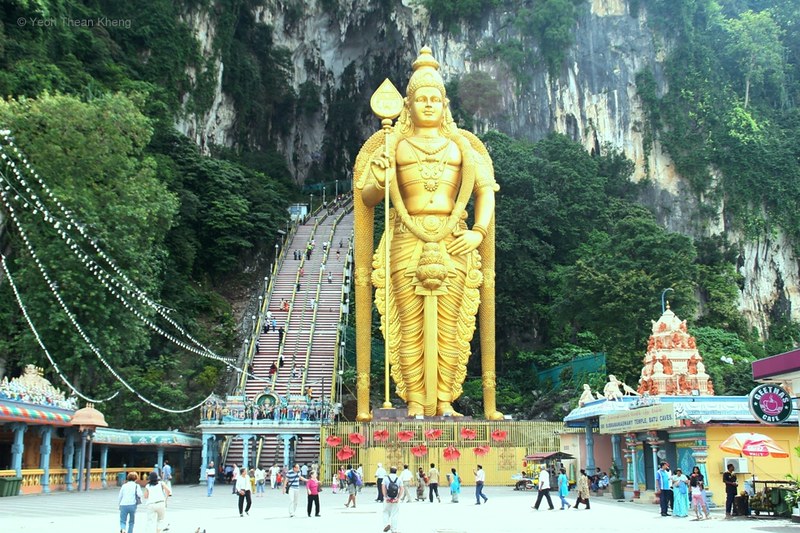 Batu Caves are massive outcrops of limestone which are believed to be around 400 million years old. The history of Batu Cave can be traced back to the year 1891. In that year, Mr. K. Thamboosamy Pillai, an Indian trader who was raised in Singapore and educated at the Raffles Institution was looking for an appropriate place to build a temple for Lord Murugan with the help of his associates his very close associates, Sri Thiruvengadam Pillai and Sri Kanthapa Thevar.

The entrance of Batu Caves looks like "vel", the weapon of Lord Murugan which inspired him to zero down the site choice of Lord Murugan temple right to the Batu caves. Mr. K. Thamboosamy Pillai consecrated the idol of Sri Subramanian Swamy in the 400 ft high Temple Cave. Thaipusam, the biggest festival dedicated to Lord Murugan which falls in the Tamil month of Thai (mid-January to mid-February) has been celebrated there as the annual festival of Batu Caves. In 1920, the wooden steps leading to the Temple Cave were built and were later replaced by concrete steps. Recently, the concrete steps got a massive makeover by getting painted in bright rainbow colors.


Places to Eat in and near Batu Caves


While Batu Caves is undeniably a landmark structure of Malaysia and one of the holiest Hindu sites, Batu Caves also turns out to be a Heaven for food lovers. Being a prime tourist destination, the restaurants and cafes in and around Batu Caves cater to the needs of international visitors with diverse menu items.

Restaurants to head to for lip-smacking Indian cuisine

1. Restoran Amutha: This restaurant is popular for South Indian Cuisine like idly, vada, and many types of dosas. The prices at this hotel are a little cheaper than at other restaurants.

2. Dhivya's Cafe: This South Indian restaurant serves 100% vegetarian food which includes idlis, vada, dosas, veg thali and outwins its competitors with delicious samosas.

3. Restoran De Maduras: With dim lighting and air conditioned seating area, the ambiance here is perfect after that long hike at Batu Caves. The veg meals and non-veg meals served here are scrumptious.

4. Restoran Rani Pure Vegetarian and Jain Food: This vegetarian Indian restaurant serves delicious food on a banana leaf. The masala tea and lemonade served here is really good.

Restaurants that serve international Non-vegetarian cuisine

1. Coca Seafood Restaurant: This restaurant is popular for its yellow noodles that is topped with fried wonton, char siew, roast pork, long beans, tofu pork, bean sprouts, and many others for just RM 12.

2. Restoran Pan Heong: This restaurant is located right in Batu Caves and the renditions served here like freshwater prawn drizzled with lemon juice and Kuey Teow (flat rice noodles) are a feast to indulge guilt-free.

3. Mel's Corner Batu Caves: Known for its  local durian tembaga and ice creams with green cendol strands, RM 20 is all you need here for a big bowl.

4. Canton Kitchen: This Chinese restaurant serving lip-smacking Chinese food with exotic items like Guangxi style braised pork (with yam) and Steamed Kampung Chicken.

5. Kim Kee Noodles: This roadside restaurant is jam packed all through the day with its guests savoring more than 10 types of noodles in their menu from pan Mee to Curry mee, Yee Mee and more.


Places to Stay near Batu Caves


There are numerous hotels within a radius of 10 km from Batu Caves to suit the budget of every traveller. Some of the top-rated hotels are -

1. KIP Hotel Kuala Lumpur- Located in the heart of Sri Utara, this modest and affordable hotel has facilities like well-equipped rooms, cafe, 24-hour Gym, an Infinity Pool, and a convenience store

Distance from Batu Caves- 3.1 km

2. Dynasty Hotel- This 3-star hotel has 364 modern rooms and is loaded with all luxurious facilities like fitness centre, business centre, beauty salon, and gift shop. The 15-metre double deck swimming pool offers arresting views of the city around.

Distance from Batu Caves- 7.3 km

3. Sunway Putra Hotel- This plush 5-star hotel is for those who cannot compromise on comfort and luxury. Free shuttle services and the hotel's proximity to major tourist spots like Batu Caves, Putra World Trade Centre, KL Twin Towers makes this a great accommodation choice of holidaymakers and those on a business sojourn.

Distance from Batu Caves- 8.0 km


Travellers' Tip before Visiting Batu Caves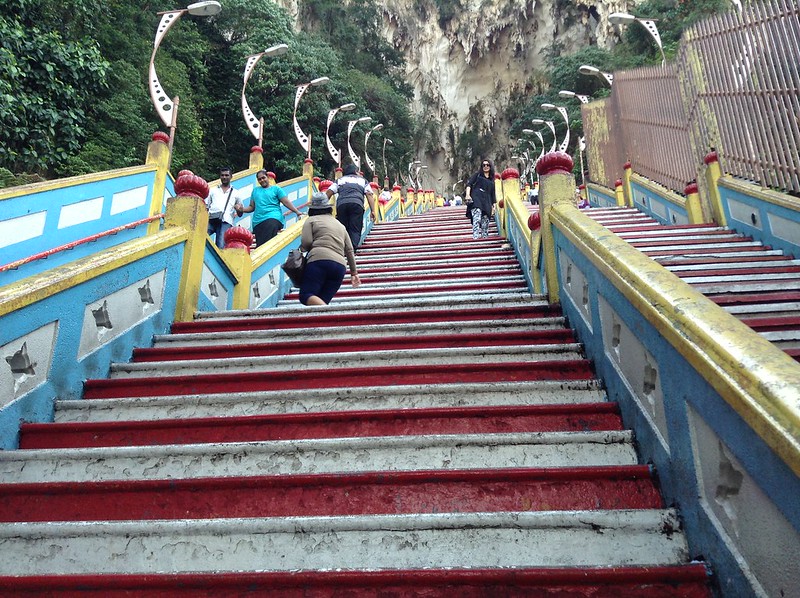 Batu Caves is a bliss to be visited and here are a few tips that will make your trip hassle-free.

1. Short pants and skirts above the knees are not allowed inside the temple. So, dress appropriately to prevent any hassles. Scarves are available for rent outside the entrance.

2. Entry to Batu Caves is free. But, there are many small caves around Batu Caves for which entrance fee ranges between MYR 5.00 to MYR 1.00.

3. The Dark Cave is open only until 10.00 AM and the entrance fee per person is 33 RM.

4. Do not carry food to Batu Caves as it could invite the monkeys.

5. Do not feed the monkeys as they might turn aggressive anytime.