About Langkawi Zipline Adventure
Take an adventure zipline ride and witness the breathtaking panoramic view of Langkawi's tropical beauty.  The place offers multiple sports which would make your holiday an extremely fun experience. A home to the bewitching rainforests sheltering more than 2000 bird species this landmark is a must for nature and animal lovers.

One can also make a difficult choice between the Langkawi Zipline ride through the jungle canopy or over the majestic waterfall. The Langkawi Zipline adventure will keep you thrilled and entertained by giving more than what you expected.

The stunning heritage of Malaysia will provide a feast to your eyes and thrilling chill to your soul. There are various options in zipline for your favorability like Jungle flight Zipline and the Big waterfall zipline adventure.  So take a while out of that megacity of work lives and try out these fun Langkawi Zipline adventures.
How to Reach Langkawi Zipline Adventure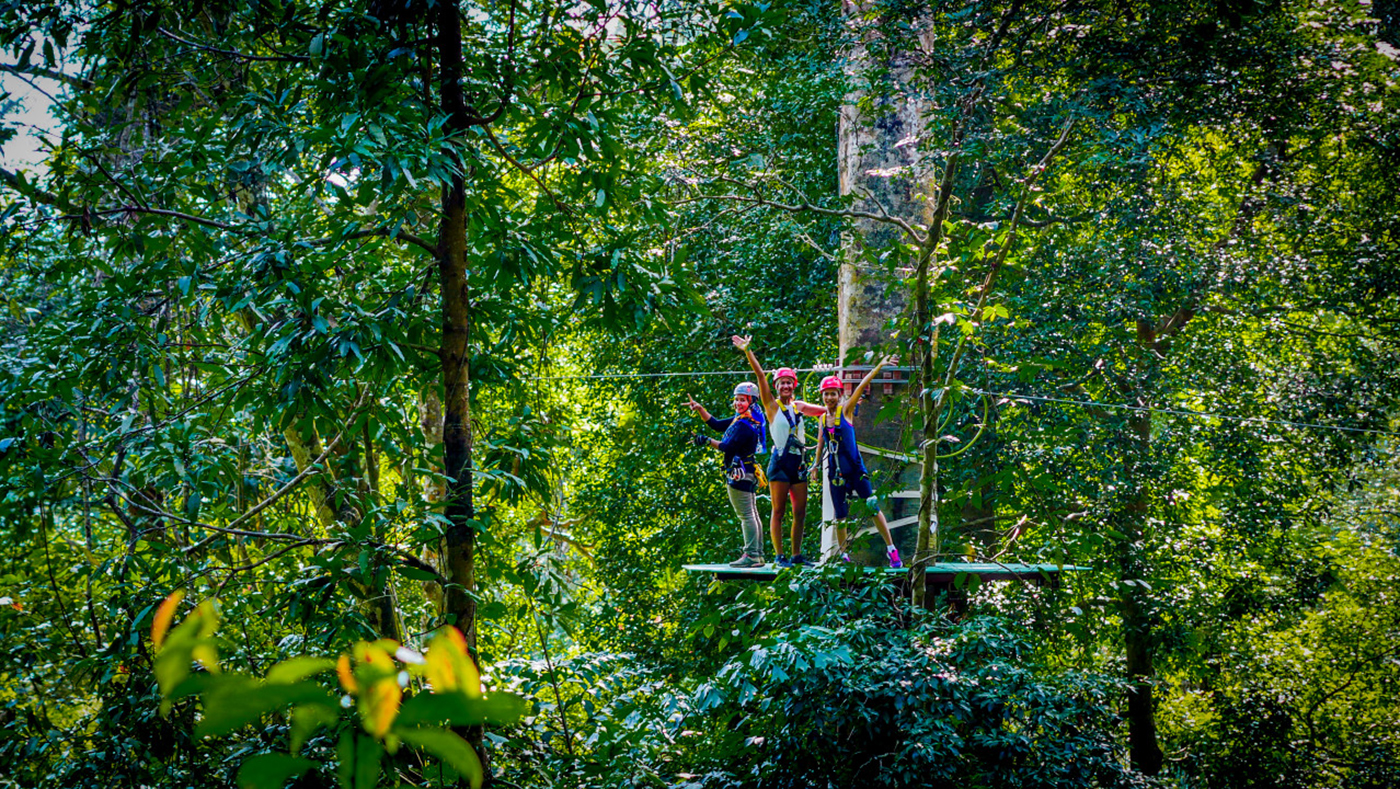 Looking out for a conveyance to reach out to the thrilling Langkawi Zipline Adventure from the Langkawi city center? Then there are a few options to choose from. Covering the distance of 16 kilometers from the City Centre to the Langkawi Zipline Adventure one can find  the local cabs, Uber, rental cars and also boat rides that make it a little bit easier for one to reach the destination.

1. The Langkawi Zipline Adventure is at a distance of 16 km from the Langkawi city center which can be reached by way of a rental car, Uber, or grab a local taxi which will easily commute you to the Langkawi zipline adventure.

2. One can also reach the destination by reaching Cenang beach, from where the meeting point is about 35 minutes away if you take a car or local taxis.

3. One can take a cab to Penang and hop on the boat from the jetty which will take around 30 minutes to reach Langkawi island.
What Not to Miss at Langkawi Zipline Adventure


1. Langkawi Sky Bridge- One who enjoys Zipline adventure would surely love to go to the Langkawi Sky bridge through the cable car. The bridge is located at a distance of 2300 meters above sea level giving you daunting views of the waterfalls and rainforests.


2. Langkawi Wildlife Park and Bird Paradise- For those who enjoy bonding around nature then this wildlife park is the spot for you. Experience the magnificent bird-watching offered by the Langkawi Wildlife park. Learn about some enchanting and different species of birds and explore the serene surroundings.


3. Skytrain Jungle Trekking- The sky trail jungle trek is an exuberant getaway to the world of flora and fauna that marks its presence since 500 years. The adventure enthusiasts of all age limits can try this amazing jungle trek.


4. Langkawi Cable car- Taking you at height of 708 meters above sea level, the Langkawi cable car will provide you an unforgettable experience. Charging you a fare of INR 610, this adventure will make you feel like you are on top of the world.

Activities to do near Langkawi Zipline Adventure


Wondering about  what all things can be explored near the Langkawi Zipline adventure spot then look out for these exciting activities around this destination:

Langkawi Archipelago Jetski along with Dayang Bunting Island- While visiting Langkawi one should surely try out this jetski spot and experience the fun at the Dayang Bunting island.

1. Watching the Mangrove forest and eagles along with eateries- One who enjoys the company of lush greenery and many other different species of eagles then one can try out visiting the refreshing Mangrove forests. One might also find many eagles wandering in the jungle and enjoy the view.

2. Safari Boat tour- Enjoy the Safari Boat tour experience that will show you place while you float and relish in the serene views.

3. Langkawi Island Hopping- One can try out the island hopping in which you can explore different types of islands at one go. Experience the calming beaches and soak in the sun while you refresh yourself with a swim.
Other Essential Information About Langkawi Zipline Adventure
1. Location- 7 Wells Waterfall – Jalan Telaga Tujuh, 07100 Langkawi, Malaysia.

2. Timings- The activities start every 30 minutes beginning from morning 8:30 to 4:30 in the evening. The tour is of 4-5 hours in which one can try various adventures along with Langkawi zipline adventure.

Some of them are, Jungle flight Zipline and the Big waterfall zipline adventure and one can also take a package of zipping, eat and swim. This package allows one to thoroughly relax and enjoy the tour time with friends and family.

3. Entry Fee- The entry fee to this adventurous Langkawi Zipline starts from INR 3800 per adult for a day's tour. It can also differ according to the different types of zip lines and sports if one wishes to try more adventure fun.

4. Photography Allowances- One cannot carry their own camera as the place does not allow for the same. However, one should not be disheartened because you can hire a photographer inside the place for capturing your memories.

5. Distance from the city center- If one is looking to travel to Langkawi island from the City Centre then the distance between the same is around 16 km which can be covered by either a train or cab.


Places to Eat near Langkawi Zipline Adventure


1. Breizh Up-
A french cafe that will satiate your hunger with amazing French cuisine and fast food. It can be enjoyed by any group of people, family, and friends.

2. Yasmin Restaurant-
This place will serve you with the cuisines  of the Middle eastern and Mediterranian culture.

3. Red Tomato Cafe-
This cafe offers you a variety of cultural meals like that of Italian and European cuisines. It serves you with a warm and welcoming ambience and will also make your mealtime a great one post the adventure activities.

Places to Stay near Langkawi Zipline Adventure

1. Berjaya Langkawi Resort
- The resort provides you a very comfortable stay and makes you feel like home. At the cost of INR 16900 one can enjoy a lavish stay and amazing itineraries that will make you feel royal and relaxed.

2. Bella Vista Waterfront Langkawi Resort-
This resort treats you with utmost royalty and comfort and provides you rooms with magnificent views. The hotel will charge you INR 3428 per adult per night and serve you with free breakfast and many more amenities.

3. Bayview Hotel-
This hotel charges you INR 5626 per adult per night and serves you with great comfort. One can also explore activities at this hotel along with the experience of an amazing location with an amazing view.

4. Best Star Resort
- It will keep you light on your wallets by charging you INR 3658 per adult per night. The staff here treats you amazingly and provides you with all the comfort and 24-hour services.


Medical facility in Langkawi Zipline Adventure


Yes, there will be a medical facility available in the Langkawi Zipline Adventure. However, one should still keep in mind to wear closed-toe shoes, carry sunscreen, a pair of sunglasses and carry a change of clothing. It is also suggested for one to carry a mini first aid kit of their own in case of small injuries.

Travellers' Tip before visiting Langkawi Zipline Adventure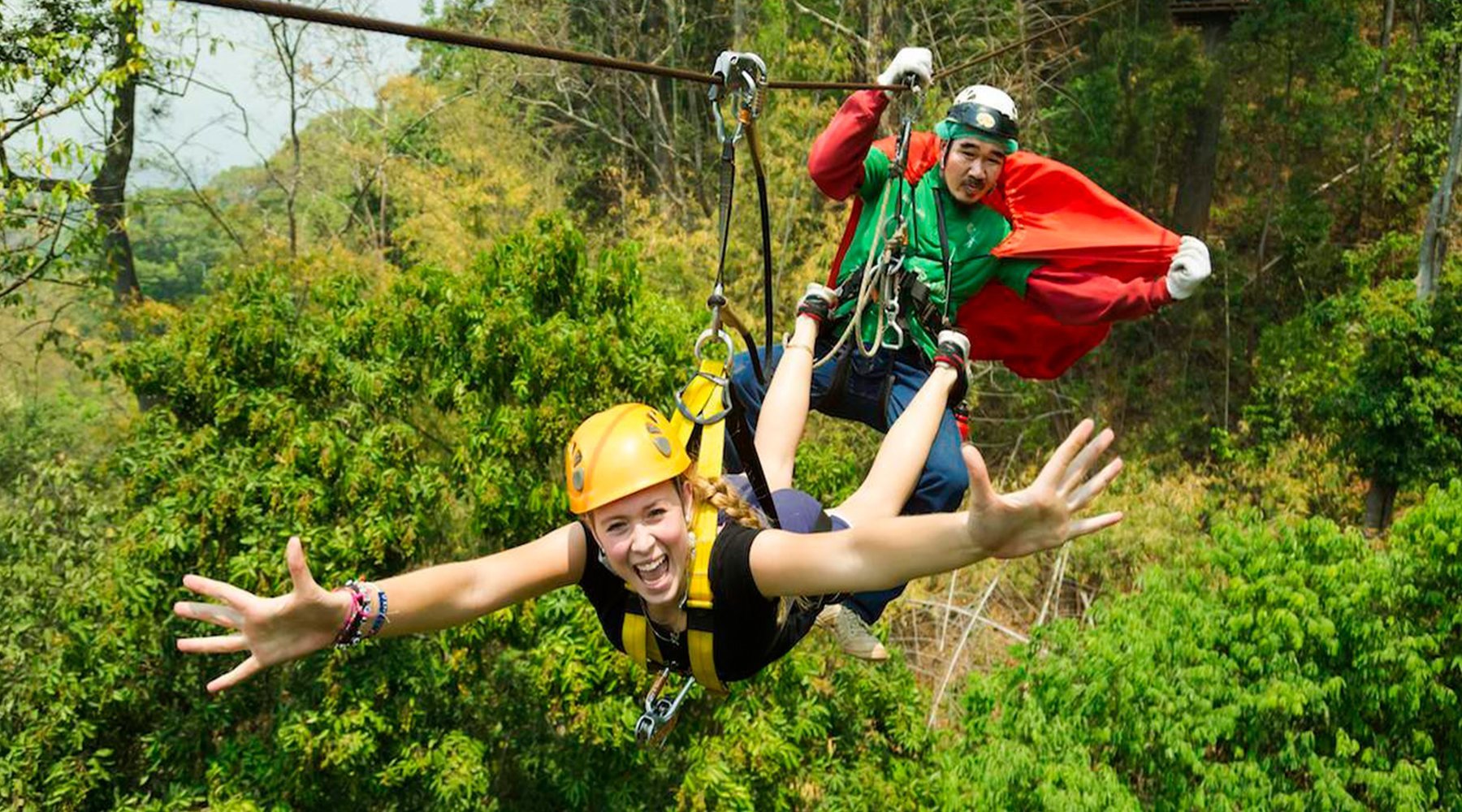 Some travellers' tip before heading on to trying this thrilling sport.


1. This adventure sport is not for pregnant women and disabled people and also for people with other medical conditions.


2. Children should attempt this sport only under the guidance of their parents and guardians.


3. The maximum weight allowed for attempting this sport is 120 kg and not more than that.


4. One should wear comfortable clothes to attempt this activity.