About Wonderla Amusement Park
Wonderla Amusement Park is not just an amusement park in Hyderabad but an amazing world of breathtaking charm. It is a place where people can come and celebrate their happy moments with family and loved ones. It has a water park, amazing rides, places to eat delicious food and much more for all to enjoy.

You can have unlimited fun in a safe and sound manner as this park takes proper steps to ensure your safety while you enjoy any rides or simply chill inside the water pool. Wonderla also has a proper dress code of a swimming costume enforced for security and hygienic reasons which the visitors must follow. And, if you don't have a swimming costume, you have the option to buy it from the shops inside the park.

The rides are divided into different sections to avoid any confusion among the visitors.The divisions are: water rides, kids rides, thrill, rides, and land rides. You also don't need to pay for each time you wish to enjoy a ride. Wonderla has a hassle free system of one-time entry ticket by which you can enjoy any ride multiple times without facing any kind of problem.

This park even offers you pick up and drop off service from different locations around the city which you can avail. Wonderla Amusement Park should be on the must-visit list of everyone because it will leave you with a lifelong amazing experience.
How to Reach Wonderla Amusement Park


The nearest airport to the Wonderla Amusement Park in Hyderabad is Rajiv Gandhi International Airport, Shamshabad and is around 17 km away from the park. It will take you approx. half an hour to reach the Wonderla Amusement Park. After you reach the airport you will get many options available there like auto-rickshaw, taxi or cabs.

You can choose any one according to your preference and budget and you will get a smooth drop to the park. Even the park has paid pick up and drop off service. All you need is to call there and know the nearest pick-up location and you will reach the park without any hassle.
Best Time to Visit Wonderla Amusement Park


It totally depends upon you when you wish to plan a trip to  Wonderla Amusement Park. There is no specific best time to visit this place as it completely depends upon your choice. If you like to enjoy with the crowd, you can visit the park at peak time which is during the weekends, public holidays and other special occasions like festivals.

And, if you wish to visit the park when it is not so crowded, then you can visit it on weekdays or on any normal days.
What Not to Miss at Wonderla Amusement Park


There are many places which are near to the Wonderla Amusement Park which are worth visiting. Some of them are:

1. Ramoji Film City:
Spread in the area of 1666 acres it is the largest film city in Telangana. It has been certified by the Guinness World Records as the largest studio complex in the world. It is a well-known tourism and recreational centre and can accomodate 20 different films sets at the same time.This film city can provide the proper space to 20 different fil facility of shooting for 20 different films at the same time You may also recall sets of famous movies like Bahubali and much more.

2. Nehru Zoological Park:
It is a well-maintained and spacious zoo featuring animals like tigers, rhinos, elephants, different species of monkeys and many more. This 380 acres zoo is one of the most visited destinations in Hyderabad. It is a good place for you and your family, especially children to enjoy and spend some quality time.

3. Chowmahalla Palace:
It is a beautiful Persian style palace and was once the home to the  Nizams of Hyderabad when they ruled here. Nizam Salabat Jung built this enchanting palace. You can witness the amazing collection of paintings, jewellery, ancient swords, and most interesting vintage cars including the Rolls Royce here.
Other Essential Information About Wonderla Amusement Park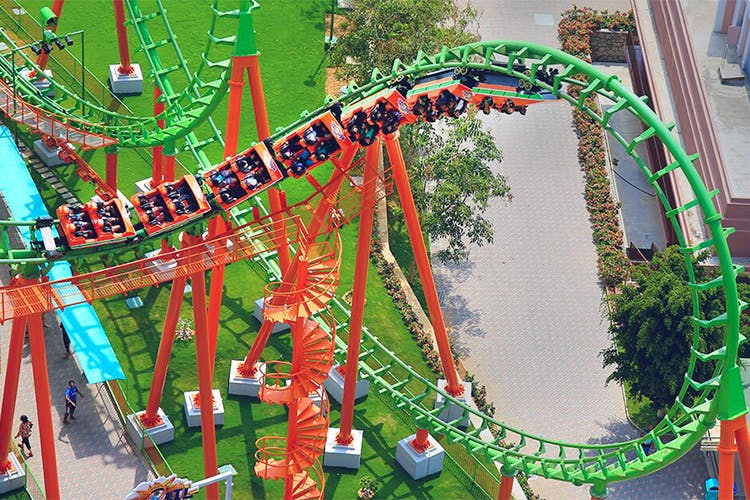 - Location:
The Wonderla Amusement Park is located at the Nehru outer ring road on exit number 13, Ravirala, Hyderabad. It is 17 km away from the  Rajiv Gandhi International Airport, Shamshabad


- Price: 
For adults: 
Rs. 1060

For children: 
Rs. 850


- Timing:

Weekdays: 
11:00 AM to 6:00 PM

Weekends and Holidays: 
11:00 AM to 7:00 PM

Rides And Activities at Wonderla Amusement Park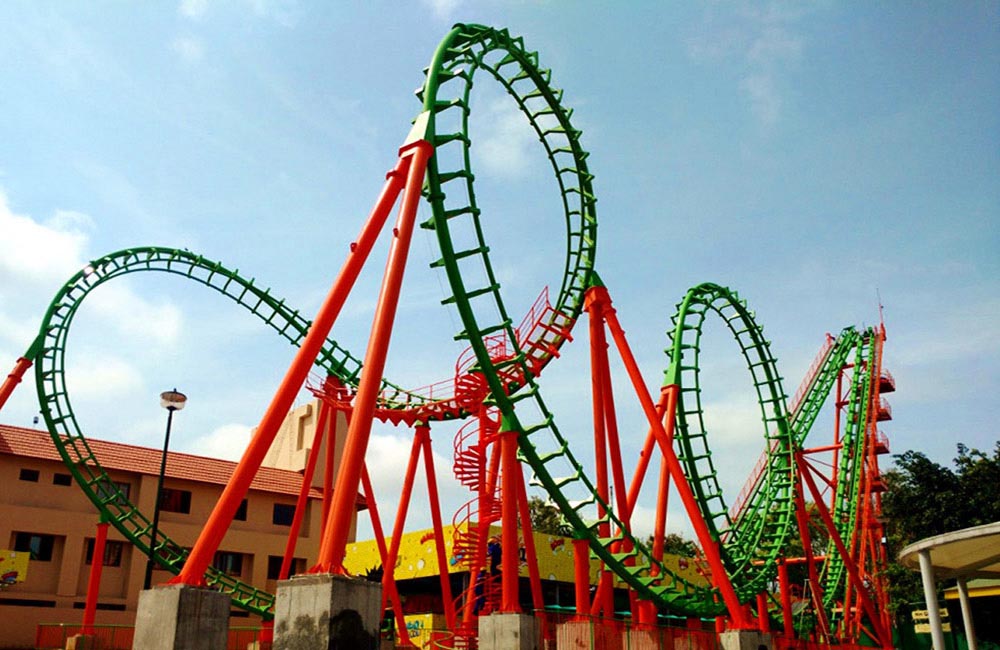 1. For Kids:
Wonderla offers many interesting rides for kids which are of bright colors and attractive characters that kids will enjoy to the fullest. Some of them are:

- Mini Pirate Ship:
It is a miniature version of Pirate ship which will give the kids the feeling of sailing in the sea.
- Kiddies Wheel:
It is a miniature version of the giant wheel which will let kids enjoy without scaring them.
- Coco Cup:
It is a ride that resembles a set of cups and saucers covering an area of 8-meter diameter. It has always been one of the favorites rides among the kids.
- Happy Kangaroo:
It is a free fall for kids that has proper safety and fills up the kids with excitement.
- Circus Train:
It is a tiny toy train that takes kids on a colorful ride moving along the circuit and giving them the experience filled with joy.
- Flying Jumbo:
It is a wavy merry go round in which kids are seated in the mahouts on flying elephants moving up and down.
2. Land Rides:
There are many land rides which will give you and your loved ones exciting fun-filled day. Some of them are:
- Mission Interstellar:
It is a ride that will give you a unique experience that feels like you are flying in space and Wonderla is India's first amusement park to provide this kind of experience.
- Sky Wheel:
It is the second tallest Ferris wheel across India. This ride is safe and spacious which will give you the feeling of being at the top of the world.
- Twist and Shout:
It is one of the most loved rides in the park. It will take you to a certain height and twist you in the air at certain angles in a way that you will be filled with excitement.
- Pirate Ship:
It is a wooden ship that swings to an arc of 180 degrees giving you the sudden adrenaline rush.
3. Water Rides:
Wonderla offers many exciting water rides. Some of them are:
- Screw:
It is a tube slider that shoots you down from a slide at a certain height into a shallow pool of water.
- Rain Disco:
It is all about getting wet in water and dancing your heart out on crazy beats and beautiful lighting. It will surely be a refreshing experience.
- Boomerang:
This ride will test your nerves as you will be sitting on a float and will be moving in a closed tunnel and suddenly will drop from a height into a large boomerang-shaped water slide.
4. Thrill Rides:
There are many thrill rides at Wonderla Amusement Park which are unpredictable at every turn and will leave you with an electrifying experience. Some of them are:
- Space Jam:
This ride will swing you up and down in both clockwise and anti-clockwise directions. And suddenly with unexpected accelerations will turn you and let you experience abrupt drops leaving you with sudden adrenaline rush.
- Equinox:
This ride won't fail to make you shout and give you goosebumps as it is the ultimate thrill ride which makes the rider travel upside down at its peak with the speed of 70kmph and 16 m above the ground.
- Recoil:
It is India's first reverse looping roller coaster ride. This ride accelerates to 80kmph in 1 second and climbs the ramps then encounters sudden rolls and loops which will give the riders an adrenaline rush along with ultimate fun experience.

Places to Eat at Wonderla Amusement Park
Wonderla Amusement Park has many amazing options that will take you to a flavorful ride as it has multi-cuisine eateries to choose from and enjoy delicious food for both vegetarians and non-vegetarians.
1. Park View Restaurants:

This place is known for serving traditional Indian breakfast. So it is a good place to start with before you get busy and excited about enjoying the rides.
2. Chillies Restaurants:
This place brings you impressive options for quick bites so you can visit here if you want to refill yourself with energy in order to enjoy the park.
3. Waves Restaurants:

This place is famous as it serves multiple cuisines and you can even enjoy combo meals with other mouth-watering dishes. You will also get to enjoy delicious Chinese along with amazing non-veg dishes.
4. Food Court:

This place offers quick bites, fast food, ice-cream, refreshments, oriental flavours, local food, and much more. Anything and everything under one roof is one of the best things at this park.

5. Buffet Lunch:
It can be arranged in the park for you and all you need to do is a prior booking so that it can be arranged accordingly.

Places to Eat near Wonderla Amusement Park
There are many good places near Wonderla Amusement Park which serves delicious food. Some of them are:

1. Food 55:

This is an amazing place that serves Indian fast food that too at reasonable prices. You will fall in love with their cozy vibes, quality service, and lip-smacking food. You must try this place while you visit the amusement park.

2. Idli Factory:

This place is famous for serving  Idli and leaves you surprised by the varieties they offer. They also have other South Indian dishes that will win your heart. If you are willing to taste good South Indian food, you must visit this place.

3. Exit 12 Sports and Leisure:

This place is famous for its unique combination of food and sports. They have well-maintained sports options like Football, Badminton, Snooker and much more which you can enjoy and the food here is delicious with great quality and quality. It is a pocket-friendly place which can be considered as a good place to hang out with friends and family.

Tips for Visiting Wonderla Amusement Park
Here are a few tips for visiting Wonderla Amusement Park that will help you enjoy and explore the place thoroughly:
-
Follow the proper dress code of the place because it is for safety and hygiene purposes.
-
Listen or read the instructions provided to you before you go to enjoy any ride.
-
Do not use any abusive language or engage yourself in any unsafe and offensive behaviour as the park has the right to cancel your entry ticket.
-
If you are going with children, please keep an eye on them and accompany them inside the park to avoid any mishappening.
-
It will be better that you buy the ticket beforehand, especially if you are visiting on weekends to avoid long queues at the counter area. It will save you time and you will be enjoying the park by utilizing that time.