About Durgam Cheruvu
Durgam Cheruvu Lake situated 15 km off Hyderabad, also called the Secret Lake as it is hidden between Madhapur and Jubilee Hills. It is a 63-acre retreat or oasis surrounded by granite from all sides and hidden by rock formations.

The lake dates back to millions of years ago and is Hyderabad's most picturesque spot, away from the noise, crowd, and concrete jungle of the city.

The lake used to provide drinking water to the Golconda Fort inhabitants during the regime of Qutub Shahi Dynasty.
The expansive lush green landscape boasts of stunning boating spots and activities like trekking and camping with your family and friends. You will find numerous boating options at Durgam Cheruvu including mechanized boats, pedal boats, and water scooters.

The lake lets you unwind and spend some quality time in the lap of nature beside a serene water body. Durgam Cheruvu also features a floating fountain and artificial waterfall, thus attracting visitors from the city and other parts of the country. 
The tourists frequent Durgam Cheruvu Lake for activities such as fishing, which is uncommon in the city of Hyderabad.
You will also find a rock garden and Amphitheater that attracts visitors from all over the city. The lake is also a popular filming location in Hyderabad because of its splendid surroundings and scenic beauty.

You will find a refreshment center and cafeteria situated here, where you can eat and hang out with your family and friends after taking a tour of the lake. 
How to Reach Durgam Cheruvu
From Airport -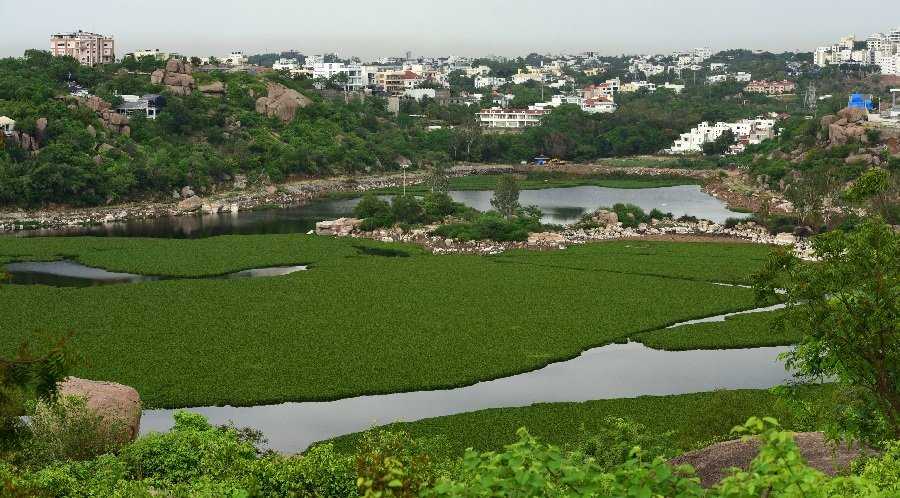 The best way to travel to Durgam Cheruvu from Hyderabad Airport is by taking a taxi that will cost you around 800 INR – 950 INR, taking not more than 25 minutes to reach the lake. The road distance is approx 33.1 km. Hiring a cab is the best option because you'll be dropped right near Durgam Cheruvu. Besides, you can also take a bus to the Hi-Tech City bus stand and take an auto to reach the lake. 

Best Time to Visit Durgam Cheruvu


Winter is the ideal time to visit Durgam Cheruvu, starting from November and lasting until February. The cool, pleasant weather is best for sightseeing and shopping. Avoid visiting during May until July because of the scorching heat and oppressive humidity. People also frequent Durgam Cheruvu from October to March. Visit during the morning or evening for a pleasant walk around the lake. 
What Not to Miss at Durgam Cheruvu
Places to visit near Durgam Cheruvu
You will find a plethora of tourist hotspots near Durgam Cheruvu. They are: 

1. Shilparamam, Telangana
It's a popular art and craft village just 3.4 km from Durgam Cheruvu, preserving traditional craft and works of art in Madhapur, Hyderabad. The place attracts tourists from all over the country for its rich traditional and cultural heritage. 

Step in the midst of a distinctive Indian rural community to visit the Rural Museum at Shilparamam. See around 15 kinds of village huts made of thatch and clay at this museum. 

The environmental aspect of this place is heightened by the famous rock museum established Subrata Basu of Shantiniketan, West Bengal.  

You will find the rock garden awe-inspiring with its natural rock designs and artificial sculptures. 

2. Hyderabad Botanical Gardens 

Just 4.6 km from Durgam Cheruvu is situated Kothaguda forest, stretching across over 120 acres of lush green land. 

Nature aficionados can visit to see and observe numerous species of plants and the overall splendor and magnificence of this garden. 

The botanical garden boasts of ornamental trees, medicinal plants, aquatic plants as well as verdant meadows, magnificent rocks, and water reservoirs. You will also find numerous species of birds and insects inhabiting here. There are nature camps organized by the garden authorities and offer beautiful picnic spots at wallet-friendly prices. 

3. Lotus Pond

Located 6.5 km from Durgam Cheruvu and seated in Jubilee Hills, Hyderabad, a tiny water body attracts visitors from all over the country. Take in the beauty of the lush greenery surrounding Lotus Pond, a treat to your sore eyes. 

You will also find a variety of flora surrounding the pond and you can see around 20 species of birds here. Take a leisurely stroll along the 1.5 km path around the beautiful pond, a scenic spot to unwind with your family away from the noise, pollution, and commotion of city life. 


Things to do at Durgam Cheruvu



There are many things to do at Durgam Cheruvu. These include: 

1. Boating
Take a boat ride on this freshwater lake to take in the beauty of the surroundings and mesmerizing view of the water body as the boat gambols in the midst of verdant trees.

You can ride on water scooters, mechanized boats, as well as pedal boats that are easily available for the tourists.

The mechanized boat ride is the most preferred one because it speeds through the water just as a strong fish.

The most exhilarating ride is the ride on a putty costing you approx 20 INR per trip and the best way to explore this picturesque lake. 
2. Hiking and picnic 

Besides boating, you can also go on a spur of the moment hike, a relaxed walk to the lake and up to the rocks to get a sweeping view of the surroundings. 
You can also gather here for family picnics with your loved ones or party with your friends.

You will find a park at the hilltop where you take delight in an exciting game of badminton with your family and friends.

No picnic is good without food and so, you can try some fishing at this freshwater lake, a rare activity in a city. Catch some trout and savor fried fish for lunch. 

3. Sunset watching 

Sunsets are splendid at Durgam Cheruvu and a treat to visitors' eyes. Watch the changing colors of the sky as a beautiful evening transforms into transcendent dusk.

Take photographs of the beautiful sunset and treasure the experience forever. 
Other Essential Information About Durgam Cheruvu



Location: Road Number 46, Masthan Nagar, CBI Colony, Jubilee Hills, Hyderabad, Telangana, 500033, India

Timing: The timings are from 10.00 am to 6.30 pm every day of the week. 

Price: There is no entry fee for Durgam Cheruvu, however, but the price for boating and water scooter rides vary. The boat rides will cost around 25 INR-100 INR for adults and 10 INR-100 INR for kids.


Places to Eat near Durgam Cheruvu 



There are ample places to eat near Durgam Cheruvu including:

1. Olive Bistro & Bar

Enjoy good food and wine here in a white-walled bungalow against the tranquil setting of a scenic lake. Savor Mediterranean flavors including salads, roast chicken Caesar, a range of soups.

The appetizers are shrimp cakes, Tandoor-roasted pepper on toast, polenta-crusted chicken tenders, BBQ pork ribs, and more. 


You can also enjoy lip-smacking pizzas and risottos, grilled tenderloin steak, roasted chicken, and bistro tenderloin burgers. 

2. Sambal 

If you want to eat authentic Indonesian food, Sambal is the place to be. The mouthwatering delicacies are fresh seafood, finger-licking prawn masala, chicken and mutton appetizers, fish, squids, thick chicken broth, spicy chicken gravy cooked in delicious Indonesian herbs, grilled chicken with sweet soy sauce, fried pomfret, a range of noodles, and mocktails and drinks. 

3. Kaficko

The restaurant near Durgam Cheruvu serves full English breakfast, eggs Benedict, crepes, Gorilla greens, breakfast sandwich,  grilled toast, tofu scramble, and range of omelets.


The appetizers are chicken wings with BBQ sauce, soups, and salads. In the main course, you can order full plates of shredded lamb with sautéed mushrooms, fried chicken breast, fish and chips, grilled salmons, risottos, plates of pasta, and burgers. 


If you have a sweet tooth, take delight in coffee cream toast, pancakes waffles, and crepes. Oreo delight, apple crumble, cheesecake, and almond caramel. You can also order hot and cold coffee. 

4. Country Oven

This eatery is known for its range of pastries including orange, mango, eggless butterscotch, eggless chocolate truffle, and pineapple cake. You will also get pastries and cakes made with eggs.


If you are looking for chili garlic cheese toast, vegetable grilled sandwich, chicken Panini, BBQ chicken Panini, grilled chicken sandwich, hot dogs, burgers, breads, and pizzas, visit Country Oven with your loved ones.