About B. M. Birla Science Museum
The B.M. Birla Science Museum is a major landmark in the city of Hyderabad. It is the ideal place to spend time with your family and friends. Comprising of a planetarium, a science centre, a museum, an art gallery and a Dinosaurium, this place has something for everyone's interest. It also has an archaeology and doll museum with displays dating back to the 2nd century A.D.


Birla Science Museum also hosts various learning activities and exhibitions for all age groups. Their one-day Astronomy Camp is a major hit with children and adults. The Cosmic Presentation at the planetarium has been rated better than any presentation around the world. Also, the observatory here is the best place to stargaze with a hi-tech telescope.


Standing at the forefront of generating awareness about science, the museum also organises free film shows, telescopic viewing sessions and workshops & seminars. If you are lucky, you may also witness one of their exclusive science exhibitions that are held in collaboration with various global government organisations.


When you have had enough of the stars, the sky and the planets, delve into the depths of the ocean in their 3D universe. Witness the many wonders of the underwater world, marvel at the sight of the coral reef, and discover the many hidden secrets, even if you can't swim.
How to Reach B. M. Birla Science Museum
The B.M. Birla Science Museum is located in the centre of the city of Hyderabad and can be easily reached from anywhere in the city. It is 23 kms from the Rajiv Gandhi International (Shamshabad) Airport, and easily accessible by road.
You can hire a pre-paid cab from the airport or avail local transport (cab or bus) from right outside to reach the museum. A 45-minute (approximately) drive will bring you to the centre of the city where the museum is surrounded by prominent tourist attractions. Birla Mandir, Ravindra Bharati, NTR Garden and State Legislative Assembly are the closest landmarks.
Best Time to Visit B. M. Birla Science Museum


It is best to visit the B.M. Birla Science Museum is on a weekday so that you can avoid the crowds and spend time studying and admiring the rare exhibits. The museum is open every day from 10.30 am to 8 pm. You can purchase a ticket only for the museum or purchase a package ticket that includes the planetarium.

It is best to check beforehand for any special programs or exhibits that you may be interested in attending. Time and right to admission are reserved by the museum administration. All exhibits are open to the public. Timings may vary on public holidays.
What Not to Miss at B. M. Birla Science Museum
Places to Visit Near B.M. Birla Science Museum


1. Birla Mandir
Dedicated to Lord Venkateshwara, this temple is on top of the Naubat Pahad. It was opened in 1976 after almost 10 years of construction. The temple is well-connected by local transport so you can easily reach here from any point of the city.
2. Golconda Fort
One of the most popular tourist attractions of Hyderabad, Golconda Fort was the capital city of the Qutb Shahi dynasty till 1590. It has also been home to the popular Koh-i-Noor and Hope Diamonds.
3. Qutb Shahi Tombs
Close to Banjara Darwaza of the Golconda Fort, this is a collection of tombs and mosques built by various rulers of the Qutb Shahi dynasty in the 16th and 17th century. The tomb of Muhammed Quli Qutb Shah is considered to be the grandest of the lot. Also, the Great Mosque here is a must-visit.
4. NTR Gardens
This is the ideal place to spend some quiet time with family and friends. NTR Gardens is dedicated to the Late N.T. Rama Rao, eminent actor and the former Chief Minister of undivided Andhra Pradesh. Maintained by the Government of Telangana, it also has a souvenir complex, a visitor's train, a scenic waterfall and restaurants.
5. Hussain Sagar Lake
This heart-shaped lake was built by Ibrahim Quli Qutb Shah in 1563. Recognised by the UNWTO as the 'Heart of the World', an 18m monolithic statue of Lord Buddha is its main attraction. You can also enjoy boating in the lake with family and friends.
6. Salar Jung Museum
Possibly one of the most famous museums in the world, the Salar Jung Museum was the private museum of the Salar Jung family until 1951 when it was handed over to the then government. Today the museum is home to collections of sculptures, paintings, textiles, manuscripts, carvings, carpets and clocks from around the globe.
Other Essential Information About B. M. Birla Science Museum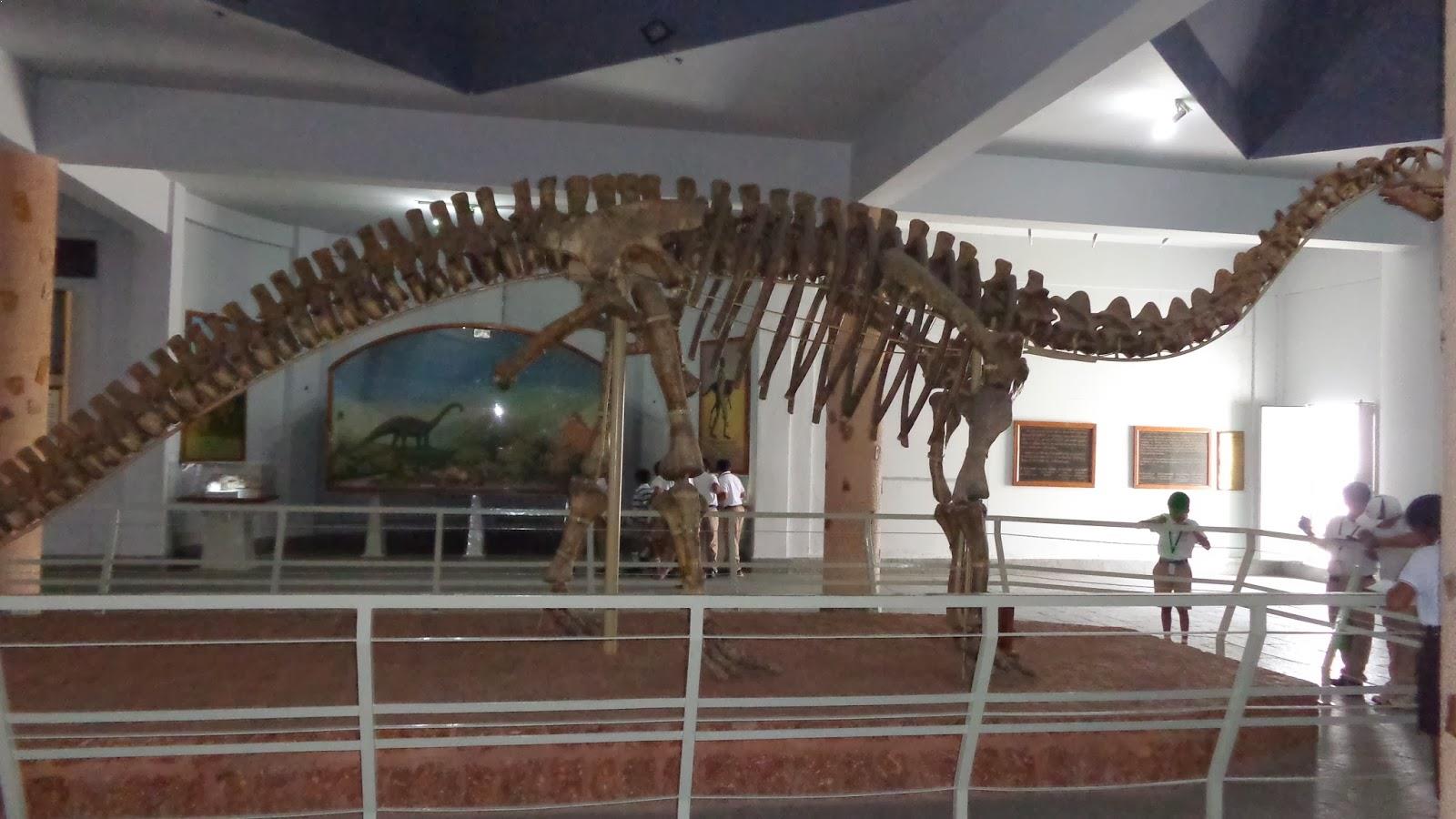 Location:
Hill Fort Road, Near Birla Mandir, Saifabad, Adarsh Nagar, Hyderabad, Telangana - 500004

Price: The entry fee for the museum is Rs.100. You can buy a package ticket for the planetarium at Rs. 160.

Timing: 10.30 am to 8 pm (All seven days). Timings may differ on public holidays.


Exhibitions at B.M. Birla Science Museum
1. Interactive Science Exhibit
If you are a science nerd then this is the best place for you to visit. Exhibits here have been designed to display various laws of Physics and fascinating concepts of optical illusion in action. Lift Yourself Up and See Sounds are their most popular tourist exhibits.
2. Archaeology and Doll Exhibit
With exhibits of excavated materials from pre, early historic and megalithic era, this place is ideal for history buffs. Thanks to the Birla Archaeological & Cultural Research Institute, here you can witness palm leaf manuscripts, carvings, and never-seen-before paintings.
3. Dinosaur Exhibit
If you are fascinated with prehistoric creatures then head to the Dinosaurium. With fossils dating back to 160 million years (approx.), here you will witness everything that is dinosaur-related.
4. Electronic Exhibit
If you have had enough of science and need something from the future, Electronic Exhibit is for you. An exhibit full of the latest scientific developments, don't miss the self-playing harp and the hologram section.
5. Nirmala Birla Art Gallery Exhibit
This gallery has a display of a large collection of crystal dolls and sculptures, and sections dedicated to the cosmos and the prehistoric era. The ivory architecture with intricate carving is their major tourist attraction.
Places to Eat Near B.M. Birla Science Museum



1. Hotel Shadab (High Court Road)
If you come to Hyderabad and leave without having your fill of Hyderabadi Biryani, then your trip is incomplete. And there is no better place than Hotel Shadab for that. Order their Haleem on the side, and you are set to start the best food experience of your life.
2. Chutneys (Banjara Hills Road No. 3)
One of the most popular restaurants in the city, Chutneys is the place to taste local delicacies and other South Indian dishes that you may have never heard of. And as the name suggests, do check out their range of chutneys.
3. Shah Ghouse Cafe & Restaurant (Shah Ali Banda Road)
A far cry from your upscale restaurants and hotels, this is a favourite of both locals and tourists. If you are looking to taste authentic Hyderabadi cuisine then head straight to Shah Ghouse. Ramadan is the best time to visit here.
4. Subhan Bakery (Nampally Market)
When looking for cakes and cookies, there is no better place than Subhan Bakery. With over 100 years of experience, they offer a range of cookies, biscuits and cakes, all baked in-house, and with their own recipes. Don't forget to pack their signature dish – Osmania biscuits.
5. Hotel Savera (Malakpet)
This is the only place in Hyderabad where you can taste Luqmi. Similar to a meat samosa, this is a local delicacy that is fast disappearing. With strong flavours of spices, this is another place to try local delicacies that can't be found anywhere else in the city.
6. Gufaa Ohri's Cuisine Court (Basheerbagh)
Cave right in the middle of the city. Yes, that's right. At Gufaa Ohri's cuisine court you can enjoy a number of vegetarian and non-vegetarian North Indian delicacies in a cave-like setting. Dim lights and spooky sound effects add to the overall experience.