About NTR Gardens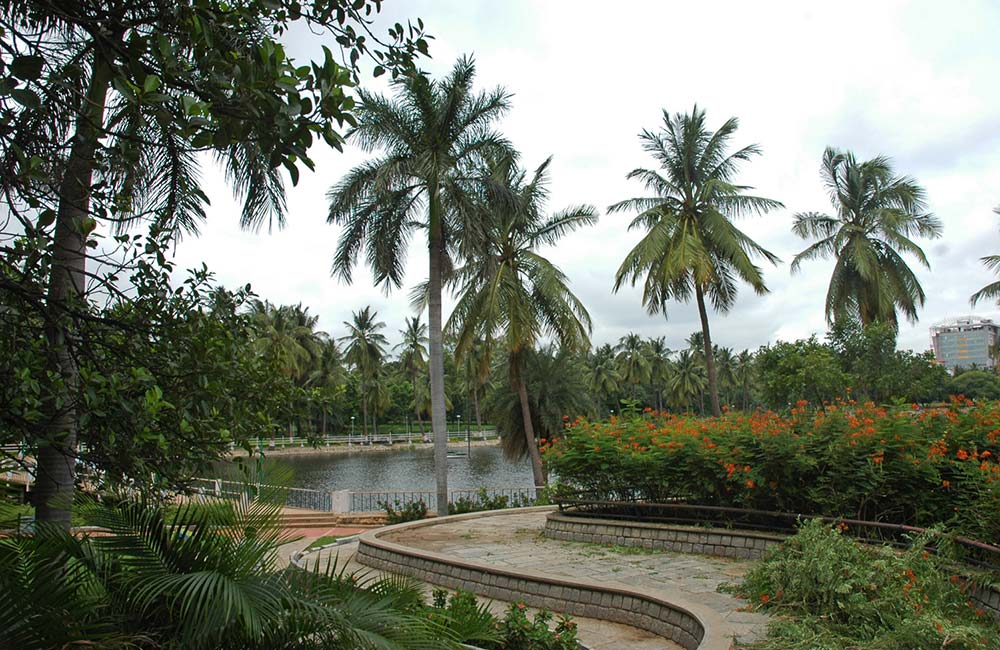 Alluring visitors for its untouched beauty and uncluttered serenity, NTR Gardens happens to be one of the major and famous attractions in Hyderabad. Spread across a huge area of around 55 acres, this garden is home to the beautiful memorial of Andhra Pradesh's former Chief Minister, Late NT Rama Rao.

This stunning garden was developed by the state government with a huge capital of around 40 crores, for honoring the commendable and legendary leader. At present, this garden is considered as an appealing entertainment and leisure destination of Hyderabad.
Situated close to the very popular Hussain Sagar Lake, NTR Gardens is an easy escape from the tiresome activities of daily life. The green trees and shrubs and the colorful flora add to the charm of the garden, which is enough to leave visitors awestruck.  In addition to the serene and tranquilizing atmosphere, the garden even offers umpteen varieties of amazing recreational activities for the entertainment of the visitors.

Some of the major attractions of NTR Gardens include Japanese Garden, Desert Garden, and Roaring Cascade. The garden also has amazing in-house souvenir shops as well as multiple food joints. One of the very interesting food outlets is the Car Café, which is a mobile café and can accommodate six people at a single time. 
The offerings of NTR Gardens are not limited to this. The garden also has a toy train facility that can take visitors on a short ride across the entire garden. Furthermore, visitors can also experience boating during which they can get a chance to access the nearby Hussain Sagar Lake.
How to Reach NTR Gardens


Located at an approximate distance of around 30.9 kilometers from Rajiv Gandhi International Airport, Hyderabad, NTR Gardens is well-connected to it. Once you catch a flight from your city and land at Hyderabad airport, you can be assured that you are just a few minutes away from your destination.

You can easily hire a local taxi or cab online to finally arrive at NTR Gardens in no more than just 50 to 60 minutes. You can also take a local bus to reach your destination in a cost-effective way.
Best Time to Visit NTR Gardens


Although NTR Gardens can be visited at any time of the year, yet the gardens look much more beautiful and appealing during the winter months of October to February. During this time, the gardens are filled with colorful flowers and lush greenery, which offers visitors an inviting sight to capture.

Furthermore, winters are also the best time to visit the city of Hyderabad as the weather of the place remains mostly pleasant during this time. 
What Not to Miss at NTR Gardens
Places to Visit near NTR Gardens


1. Birla Mandir

Situated at an approximate distance of 3.1 kilometers from NTR Gardens, Birla Mandir offers a calm and peaceful atmosphere to the devotees. Built by the Birla Foundation, this temple is a dedication to Lord Venkateshwara, which is believed to be the replica of Tirupati's Balaji idol. The temple is visited by thousands of devotees from India and abroad each day.

Birla Mandir can be visited from 7 AM to 12 PM and 3 PM to 9 PM, on all days.  

2. Lumbini Park

Located at a distance of around 1.5 kilometers from NTR Gardens, Lumbini Park happens to be a stunning urban park. Named after the famous Lumbini temple in Nepal, this park has a man-made water tank with a huge Buddha statue installed in it. This forms the major attraction of the park and can be easily reached by taking a paddle boat service.

Lumbini Park is open for visitors from 9 AM to 9 PM, throughout the week.  

3. Snow World Hyderabad

Situated at a distance of about 4.2 kilometers from NTR Gardens, Snow World Hyderabad is the only spot in the city where snowfall occurs throughout the whole year. It happens to be India's first and the world's 3rd largest snow-themed amusement park. The destination gets three tons of fresh snow each day and offers a plethora of snow activities to its visitors.

Snow World Hyderabad can be visited from 11 AM to 8 PM, throughout the week. 


Things to Do at NTR Gardens


1. Admire the Beauty of the Gardens

Take a stroll inside the beautiful gardens with your loved ones and admire the breathtaking elegance of the place. You can get to see umpteen varieties of flora and get to learn about a number of unknown flower species.

Inhale the fresh air and acquire some positive vibes during your stroll in the magical environment of NTR Gardens. Also, do not forget to capture some stunning pictures during your walk inside the breathtaking gardens.  

2. Take a Ride in the Mini Toy Train

A toy train ride helps you to catch a glimpse of the beautiful gardens without having to walk much. Furthermore, toy train rides are always exciting and thrilling for children. So, if you are visiting NTR Gardens, make sure you take a ride in the small toy train. 

3. Do Not Forget to Enjoy a Memorable Boat Ride

Who doesn't like a boat ride? NTR Gardens offer visitors the opportunity to enjoy a short boat ride and access the nearby Hussain Sagar Lake. So, make it a point to never miss out on this special experience. 

4. Relish on Mouth-Watering Snacks at the Food Stalls

There are many budget-friendly food stalls lined up inside the gardens offering delicious snacks and beverages. So, you can land up at one of the stalls and pamper your stomach.
Other Essential Information About NTR Gardens


Location: NTR Marg, Central Secretariat, Khairatabad, Hussain Sagar Lake, Hyderabad, Telangana, 500004, India
Price: The cost of the entry ticket to NTR Gardens is INR 20 for adults and INR 10 for children. An additional fee of INR 30 is chargeable for cameras. 
Timing
: NTR Gardens is open for visitors from 2.30 PM to 10 PM, throughout the week.

Places to Eat near NTR Gardens


1. Verandah

Located at a short distance of 1.3 kilometers from NTR Gardens, Verandah happens to be a splendid restaurant for a fine dining experience. This amazing restaurant is famous for its beautiful décor and personalized offerings. Specializing in Indian, Asian, Italian, and Thai cuisines, the restaurant welcomes guests for breakfast, brunch, lunch, and dinner.  

2. Jewel of Nizam

Situated at an approximate distance of 2 kilometers from NTR Gardens, Jewel of Nizam happens to be a luxury restaurant welcoming guests for fine dining. This vegetarian and vegan friendly restaurant boasts a breathtaking interior, courteous staff, delicious food, and an extensive bar menu. The specialties of Jewel of Nizam include Kebabs, Biriyani, and Kheer. 

3. Sukha Sagara

Located at a distance of around 0.7 kilometers from NTR Gardens, Sukha Sagara happens to be a pure vegetarian restaurant. Specializing in Indian and Asian cuisines, this budget-friendly restaurant invites tourists and locals for breakfast, lunch, and dinner. The restaurant also offers its guests the facility for buffet dining. 

4. Water Front

Situated at a distance of about 1 kilometer from NTR Gardens, WaterFront happens to be a beautiful waterside restaurant boasting an appealing décor. Specializing in Chinese, Indian, and Asian cuisines, the restaurant welcomes guests for lunch, dinner, and after-hours drinks. 

Tips for visiting NTR Gardens


1. 
NTR Gardens is a public property. Hence, it is the responsibility of every visitor to keep the place clean and tidy. So, be responsible and do not litter the beautiful garden. 

2.
Do not indulge in plucking flowers from the garden and teach your kids the same. Plucking flowers spoil the beauty of the place.


3.
Do not urinate in the gardens and use washrooms provided for urinary purposes. 


4.
If you are visiting the garden during summer afternoons, consider carrying sufficient water with you. Also carry a pair of sunglasses, a good sunscreen lotion, and your lip balm. 


5.
Do not forget to carry your cameras to take some stunning pictures inside the beautiful gardens.