About Escape Water Park
Waterparks offer ageless, timeless, unadulterated fun and Escape Waterpark is the perfect place to experience all of this when you are in Hyderabad. Escape Water Park, in Hyderabad, can be found the state of Telangana, near Fort Grand in Shamshabad.

It is the perfect place to unwind and enjoy quality time with your family.

It is even a great place to plan an excursion with your friends if you are short on time and want to do something exciting and memorable within the city limits.

Equipped with a number of rides and games, it attracts visitors from all over the city, and even visitors to Hyderabad find it alluring.
This water park is the first of its kind in Hyderabad which is home to such a huge variety of activities and super fun rides like the wave pool, signature water rides, float rides, rain dance floors and artificial waterfalls.

Another great feature about the park is the rides like Board Slide, where all the family members can have fun together. The kids' play pool is an exclusive area that is safe and well-equipped to keep the children occupied in a suitable environment.

Supervision and safety measures are always in place for the children's area. There are lifeguards and park officials in all the gaming and pool sections to help you navigate the park and assist you in case of emergencies.

The large wave pool replicates the waves of the ocean and creates the simulation of being on a beach.  In between your stint at the various rides in the waterpark, you can also recharge in the food court that can be found on the premises and enjoy a delicious range of food and beverages.
How to Reach Escape Water Park
 From Airport - 
The most feasible way to travel from Hyderabad Airport to Escape Waterpark is via a hired taxi that can be found outside the airport, you can also pre-book your ride if you are planning your trip from beforehand.

 The waterpark is located near the RGIA Police Station, Shamshabad. You can travel via the PVNR Express Highway the Outer Ring Road to reach the park after a short ride of around 10.7 km from the airport.
Best Time to Visit Escape Water Park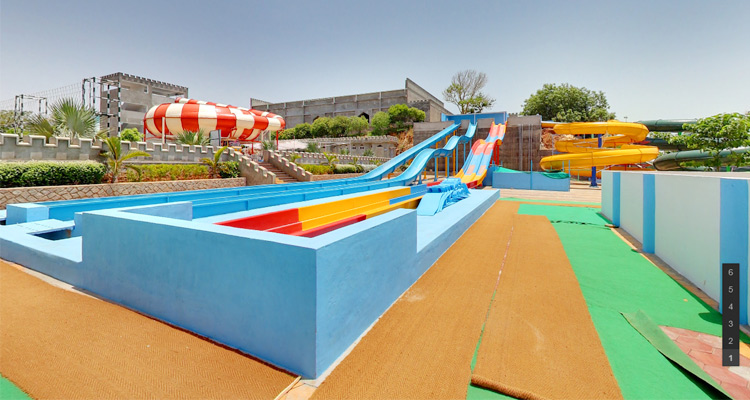 The best time to visit Escape Waterpark is between the months of April and July. Escape Waterpark is open throughout the year, every day of the week, from 11:00 am to 6:00 pm.

Unless there is a special circumstance because of which the park is closed, you can spend time here with your friends and family, whenever you are in Hyderabad.

If you are visiting during the summer, or as a resident of Hyderabad you are looking for something fun and exciting to do in the summer months, you can definitely visit the Escape Waterpark to cool off then, which is the best time to visit. 
What Not to Miss at Escape Water Park
Places to visit near Escape Water Park




Beside the Escape Water Park, there are several other interesting places to visit in Hyderabad. Listed below are some of the places a visitor can visit and enjoy.

1. Nehru Zoological Park

Located on the Mir Alam Tank Road, the Nehru Zoological Park is a must-visit while touring Hyderabad.  You can see several exotic animals and also it is also a good picnic spot.

 The park opens at 8:30 am and closes at 4:30 pm and remains closed on Mondays.

2. Golconda Fort

The famous Golconda Fort is located on the Ibrahim Bagh, Khair Complex in Hyderabad. This Fort is a heritage site, as it was once the capital of the Qutb Shahi Dynasty.

With the Kollur Diamond Mine located close by, Golconda is also known as a significant trade centre of diamonds. This Fort is open on all days of the week from 9:00 am to 5:30 pm

3. Lumbini Park

Lumbini Park is located on the Hussain Sagar Road, Khairatabad. This park is a popular place to hang out with family and friends.

One can take a boat ride to visit the Buddha Statue here. When you are there, make sure you don't miss the fascinating laser shows that take place frequently in the park.

4. Charminar

The Charminar is the most iconic historical monument in Hyderabad. This Indo-Islamic structure was built in 1591 and is located on the Charminar Road, Char Kaman, Ghansi Bazar Area.

 It is frequented by people not only because of its historical significance and iconic status but also because of the architecture that is unique to this place.


Signature attractions at Escape Water Park


Listed below are some of the most exciting and popular rides of the Escape water Park.

1. Super Combo

Super Combo – one of the most popular waterpark rides – was introduced in India for the first time in this water park. It is a semi-circular water slide with a combination of a central cylinder and a huge, artificial tornado which sways and rocks as the player slides down.

2. Tunnel Twister

The Tunnel Twisters are high-speed, enclosed slides with sharp and unexpected twists and turns.  The complete abandonment and rush of sliding down these surprising tubes is the main point of attraction of this ride.
3. Zumba Loop
The Zumba Loop is another fun ride introduced in India for the first time in Escape Waterpark. It is a double looped, high-speed ride that can be enjoyed by kids and adults alike.

4. Racer Bowl
The Racer Bowl is like a high-speed merry-go-round, built in the form of a large bowl. It spins the player around, ending with a swift landing in a pool at the bottom.

5. Water Falls
The artificial waterfall in Escape Waterpark is so authentic that it gives the impression that one is standing under a waterfall. This was one of the first indoor waterfalls of its kind in the country and is an attraction you must not miss when you are there.

6. Blue Bang
The Blue Bang is a super fun slide in Escape Waterpark, where after a steep climb, you can whiz down in sudden drop and end the ride with a small bump at the end of the slide.

7. Kids Playpen
The Kids PlayPen is a safe water slide built at low heights, specially customized for children.

8. Tiny Tots Pool
The Tiny Tots Pool is a child's paradise. With colourful waterslides and bathing rings, children can spend an exciting time in this pool.
Other Essential Information About Escape Water Park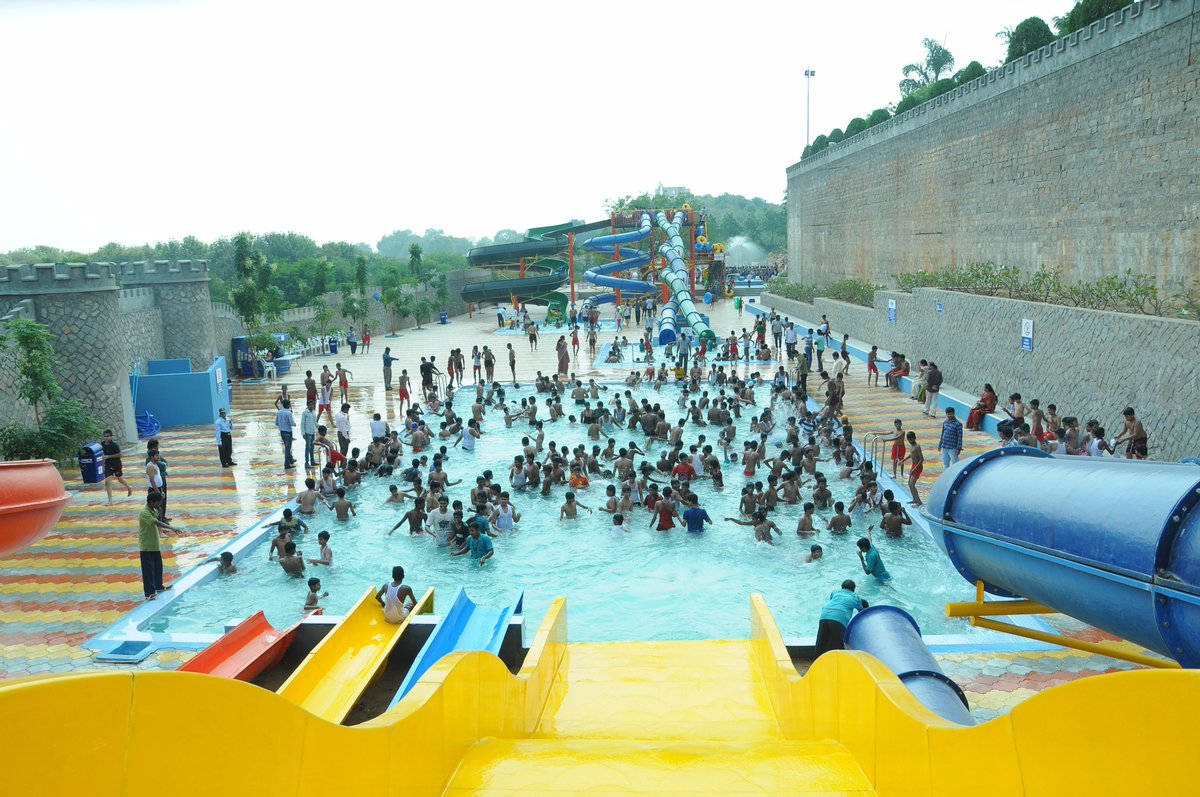 Location:
House No. 22, 7/125, Fort Grand Road, Rallaguda Rd, Near Panchvati Park, Shamshabad, Hyderabad, Telangana 501218
T
imings:
Monday to Sunday (11:00 am – 6:00 pm)
Escape Water Park Attractions Pass Types



Visitors to the Escape Waterpark have to pay an entry fee at the gate. The entry fee for adults is INR 590 and for children, it is INR 490.

These prices are inclusive of taxes but exclusive of the food court, where one has to pay separately at the stalls. If you are travelling in large groups, you can also avail one of the two customized packages offered by Escape Waterpark:

1. Corporate Package
If you are planning a corporate picnic within Hyderabad for your team, this is the perfect place to go. Escape Water Parks corporate package consists of discounted entry prices, a welcome drink, two options for non-vege
tarian or vegetarian lunches and also high tea.

2. School package

School outings are something everyone looks forward to. It is also a great break for children, and bringing them to a waterpark will create memories for a lifetime. You can get in touch with Escape Waterpark to get your own customized school package.

Water Rides at Escape Water Park



There are numerous water rides in Escape Water Park. Listed below are some of the most popular ones that you must definitely have a go at if you in the waterpark.
1. Crazy Rapids

Crazy Rapids is also a series of slides where you rush down and feel the sensation of river rapids as you do so.

2. Cracker Curves

Cracker Curves are comparatively larger and wider water slides, coming down from a greater altitude. As you slide down, your speed increases and you feel a fantastic adrenaline rush towards the end.
3. Jumbo Raft

Jumbo Raft is another fun-filled water ride that whirls down in a spiral shape and ends by splashing into the pool.

4. Kids Free Fall

The Kids Free Fall is a super exciting slide made especially for children. These are short, almost vertical slides to ensure the kids have super fun while dropping straight down in the pool.

5. Float Spiral ride
The Float Spiral ride is a wider spiral tube with water splashing out of the tubes while the rider slides down the spiral tunnel and drops into a pool waiting at the bottom.

6. Rain Dance Floor

The Rain Dance Floor is one of the most enjoyable and popular places for youngsters and adults. Fitted with artificial rain showers, this place is a perfect platform to groove and enjoy with friends and family.

7. Wave Pool

The famous Wave Pool is another place to experience the feel of the gushing ocean waves, without actually going to the beach. You can relax on the edges of the pool to have the waves gently lap against you, or wade deeper into the water for a more exciting experience.

Tips for Visiting Escape Water Park 



Here are some useful tips to make your tips to Escape Waterpark memorable and rewarding:


1. Try to visit the park during the summer season. Even though the park is open throughout the year, monsoons can be a damper and waterparks may not be as enjoyable in the winter as they are in summer.


2. Weekends are a great time to visit the park when you might also catch special performances.
3. It is advisable to take a small backpack with a separate set of dry clothing and towels and personal toiletries.

4. Applying body oil before going on the rides or into the pool is not advisable as it may pollute the pool water.

5. Use of soap and shampoo in the pool is also not allowed. It is wise to use the washrooms and changing rooms for such causes.
6. No matter how safe the pool is one needs to be very cautious and careful while allowing little children in the water.

7. Proper swimsuits and nylon clothing is the most appropriate garment, appropriate for all water games and rides.  

8. Avoid clothes like saris, jeans, cotton pants and loose shirts in the water. Ladies with long hair are advised to wear swimming caps. Or keep their hair tightly secured.