About Golconda Fort
Located in the city's western part, Golconda Fort is one of the most famous attractions in Hyderabad. Built at an approximate distance of around 9 kilometers from the popular Hussain Sagar Lake, this fortress is a beautifully preserved monument of the country.

Constructed in the sixteenth century, the fort is known to have sheltered the majestic Kohinoor diamond at some time in the past. It is believed that if one claps his hands at the fort's bottom part, its echoes can be felt even at the top of the structure.

 The classic architecture, the rich history, and the potential mysteries of the fortress adds to the charm of the monument and invite a huge number of tourists from across the globe.The breathtaking glamour of Golconda Fort can impress anyone within no time. The sturdy body of the structure coupled with the highly advanced architectural style can leave any visitor awestruck and spellbound.

Tourists visiting the fort can also catch a glimpse of the jaw-dropping sunset view from the topmost part of this fortress. Visitors can also capture the unparalleled grandeur of the fort in photographs and carry them home as beautiful souvenirs to remember their visit to the monument.

Another highlight of Golconda Fort is the amazing sound and light show held here. Presented beautifully in front of the audience in three different languages, this show is sure to provide you a truly unforgettable and magical experience.
How to Reach Golconda Fort


Located at an approximate distance of about 12.3 kilometers from Mahatma Gandhi Bus Station, Golconda Fort is well-connected to the main bus stand of Hyderabad. Once you reach the bus station, you can take a local taxi or book a cab online to arrive at Golconda Fort in no more than just 35 to 40 minutes.
Best Time to Visit Golconda Fort
Although Golconda Fort can be visited at any time of the year, yet it is advisable to tourists to plan their tour to the fort during the winter months of October to February. As the weather of the city is very pleasant during this period, tourists are likely to have a good time at the fort. Visitors are suggested to head to the fort during the evening hours so that they can enjoy the popular light and sound show.
Tourists should avoid visiting Golconda Fort during the summer afternoons as it is extremely hot and humid during this time.
What Not to Miss at Golconda Fort
Attractions near Golconda Fort 


1. Naya Qila: 
Located at an approximate distance of 1 kilometer from the fort, Naya Qila is considered as the extended part of Golconda Fort. Constructed by Qutb Shahi, this monument is counted among the important tourist destinations of Hyderabad.
Naya Qila is open for visitors from 9 AM to 5 PM. 


2. Qutb Shahi Tombs: 
Situated at a distance of around 1.6 kilometers from Golconda Fort, Qutb Shahi Tombs happen to be a collection of mausoleums and mosques built during the reign of the Qutb Shahi Dynasty. These dome shaped tombs are constructed beautifully on a slightly raised platform. 
Qutb Shahi Tombs can be visited from 9.30 AM to 4.30 pm on all days except on Friday. 


3. Taramati Baradari: 
Located at a distance of about 4 kilometers from Golconda Fort, Taramati Baradari is a cultural hub sheltering a big auditorium, an air conditioned theatre, a decent restaurant, and a spacious banquet hall. 
The auditorium and the theatre are large enough to accommodate 1600 people and 500 people respectively. 


4. Enjoy Boating at Hussain Sagar Lake: 
Located at a distance of 14.6 kilometers from Golconda Fort, Hussain Sagar Lake invites a host of visitors to enjoy boating in its clear water. Popular as the largest man-made lake in Asia, this lake also offers tourists the facilities to enjoy fishing and other water sports.


5. Seek Blessings at Birla Mandir: 
Situated at a distance of about 13.1 kilometers from Golconda Fort, Birla Mandir is visited by many devotees each day who come to seek the blessings of Lord Venkateshwara. The temple offers a serene and pleasant atmosphere for visitors to pray, meditate, and acquire positive vibes.


6. Go Shopping at Inorbit Mall: 
Located at a distance of around 9.5 kilometers from Golconda Fort, Inorbit Mall happens to be a massive shopping destination. The mall shelters stores of many reputed national and international brands, a game zone, a film theatre, and a spectrum of food joints. 
Other Essential Information About Golconda Fort


Location:
Khair Complex, Ibrahim Bagh, Hyderabad, Telangana 500008


Timings:
Golconda Fort is open for visitors from 8 AM to 5.30 PM, throughout the week. 


Entry fee:
The price of the entry ticket to Golconda fort is INR 15 for Indian nationals and INR 200 for foreign nationals. 


Visitor's Facility:
A plethora of decent and budget-friendly food joints are available near the fort where visitors to Golconda Fort can have a whole-hearted meal. In addition, there are also a host of good hotels at proximate distance to the fort where tourists can unwind and relax for the day. 


Parking Facility:
There is a dedicated, but small parking space at Golconda Fort.


Distance from Hyderabad bus stand:
Golconda Fort is located at an approximate distance of around 12.3 kilometers from Mahatma Gandhi Bus Station, Hyderabad.

Architecture of Golconda Fort 
Golconda Fort is constructed on a 400 feet high hill and boasts the mesmerizing blend of Islamic and Hindu architecture style. The walls of the fort have 87 bastions and 8 gates each measuring up to a height of 60 feet. The fort houses the beautiful and spacious resting chambers of the princesses and queens. 

Golconda Fort has gained a lot of popularity for its parade grounds, royal apartments, mosques, and halls. Out of the 8 magnificent gates, Fateh Darwaza happens to be the primary one as Aurangzeb's victorious march had passed through it.

Designed using steel spikes, this gate measures around 25 feet in length and about 13 feet in breadth. Another gate that is of prime importance is Balahisar Darwaza that manifests the Nawabi architectural style. At present, only the gate on the eastern side is open for visiting purpose. 

Sound and Light Show at Golconda Fort
The sound and light show is counted among the primary attractions of Golconda Fort. The show is presented in 3 different languages – English, Hindi, and Telugu. The English version of the show can be experienced throughout the week while the Hindi version can be enjoyed on Tuesday, Thursday, Saturday, and Sunday. The local visitors can experience the show in Telugu language on Monday, Wednesday, and Friday.

The sound and light show is held at the beautiful area around and within Rani Mahal. The show is presented twice daily in two different languages and the timing of each show may vary on the basis of the month in which you are planning to go and experience it. During November to February, the first show takes place at 6.30 PM while the second one takes place at 7.45 PM. During March to October, the first show is presented at 7 PM, whereas the second is presented at 8.15 PM.


Places to Eat near Golconda Fort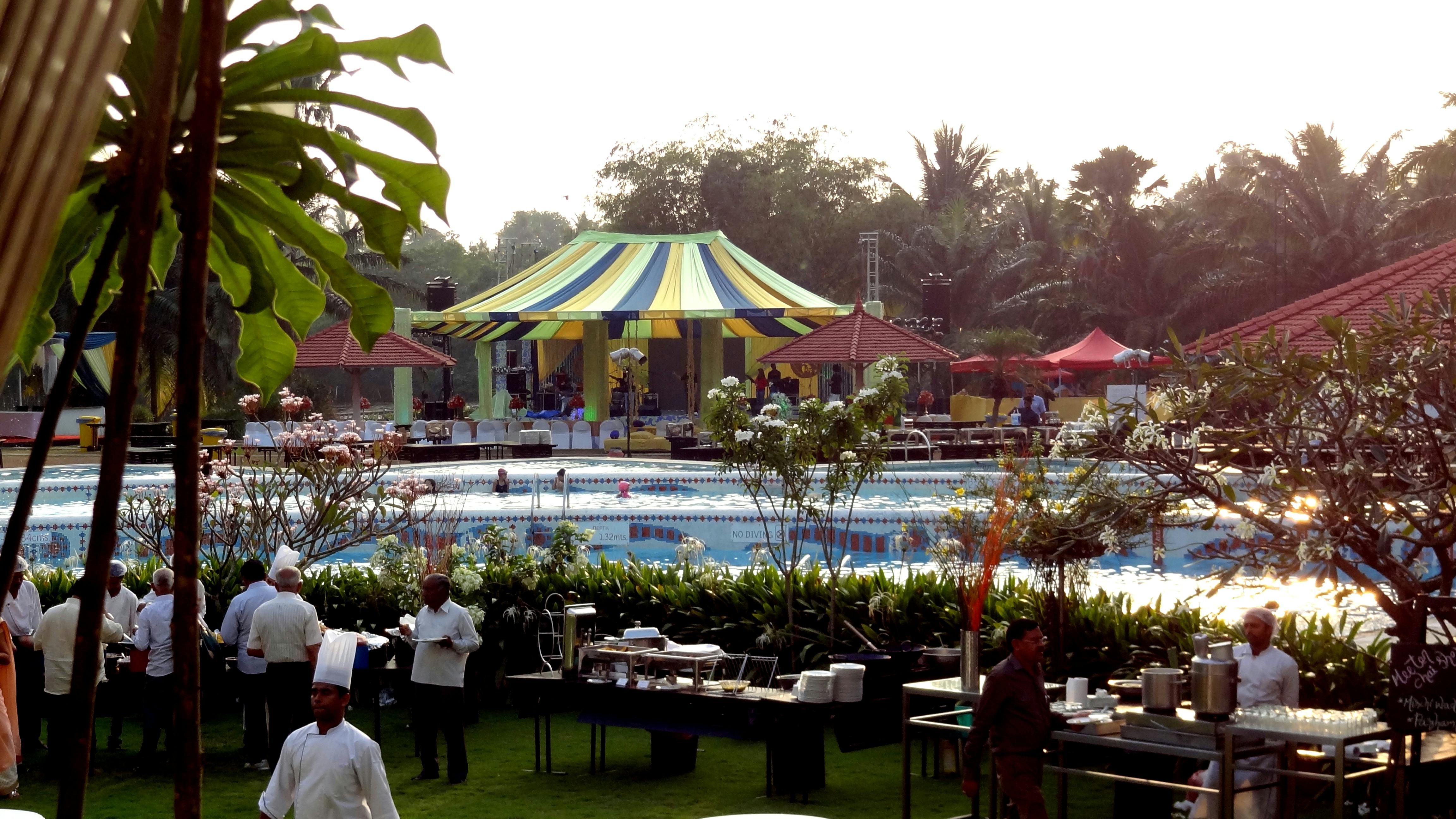 1. Green Bawarchi Restaurant: Located at a short distance of around 0.3 kilometers from Golconda Fort, Green Bawarchi Restaurant is a budget-friendly restaurant serving delicious Hyderabadi delicacies. Specializing in tandoor and grill items, chicken dum biryani, mutton biryani, and pastries, this amazing food joint invites guests mainly for lunch and dinner. 

2. Surya Restaurant: Situated at an approximate distance of about 0.9 kilometers from Golconda Fort, Surya Restaurant is a decent food joint specializing in Chinese and Indian cuisines. Known popularly for its delicious and aromatic chicken and mutton biriyani, this restaurant invites locals and tourists for brunch, lunch, and dinner. 

3. Spice Junxion: Located at a distance of around 1.3 kilometers from Golconda Fort, Spice Junxion is a moderately-priced food joint serving Indian and International cuisines. This vegan and vegetarian friendly restaurant is known for its amazing interior, delicious Hyderabadi biryani, and unique tiffin box style lunch serving menu.

4. Almond House: Situated at a distance of about 1.4 kilometers from Golconda Fort, Almond House is famous across the city of Hyderabad for its delicious desserts, bakery products, and snacks. This vegetarian-friendly food joint is known among the locals and travelers for its super creamy and rich ice-creams.

One of the signature and must-try delicacies of Almond House is their Almond Barfi.


History of Golconda Fort 

According to popular historical beliefs, a shepherd had discovered an idol in the place where Golconda Fort rests today. Soon after this unique discovery, the matter was conveyed to Kakatiyan King, who ordered a fort of mud to be constructed around this idol.
After the construction of the structure was complete, people started recognizing it by the name "Golla Konda", meaning Shepherd's Hill. 
The fort became popular in the sixteenth century during the reign of Qutb Shahi Dynasty. Eventually the mud fortress expanded and took the shape of a huge structure manifesting an outer wall of around 10 kilometers.

Later in the year 1687, Mughal emperor Aurangzeb conquered the fort. 
As of now, Golconda Fort is home to a spectrum of mosques and palaces, many of which are unfortunately in ruins. The beauty and elegance of the fort is famous all over the globe.
Tips before visiting Golconda Fort 


1.
Make sure you wear comfortable and breezy attire and footwear as you would need to cover a lot of distance on foot.


2. 
Golconda Fort is public property and hence it is the responsibility of everyone to keep the place clean and tidy. So, avoid littering the premises of the fort.


3. 
The sound and light show is one of the major attractions of the fort. So, keep in mind never to miss out on it.


4. 
Carry sufficient drinking water when heading to the fort.


5.
 Tourists may consider hiring a local guide who can explain them the historical significance and uniqueness of the iconic structure.