About Sriracha Tiger Zoo
Take some time out of your busy schedule and plan a wildlife-rich trip to the Sriracha Tiger Zoo! Settled amidst the exotic beaches of Thailand, the zoo is situated in Sriracha district of Chon Buri province in Thailand. It is a 30-minute drive away from the south direction of Pattaya. 
The beauty of the Sriracha Tiger Zoo is exceptionally elegant. The entrance of the zoo is built with realistic structures of tigers. These enormous structures are accompanied by rocks and lush green plants beside it. After entering, you will get an insight into the plethora of activities present for the visitors. 
Here you will witness shows like elephant shows, tiger shows, crocodile shows, and pig shows. From watching the tigers leap into the ring of fire to the bubbly dance of elephants, these shows won't disappoint you. You can also meet and feed the ostriches, kangaroos, exotic birds, and single hump camels.

Moreover, witness the motherly bond between tigers and its cubs, pigs and its piglets. You will also get a chance to play with the tiger cubs and piglets. With so much to see and do, Sriracha Tiger Zoo is a perfect family getaway.
How to Reach Sriracha Tiger Zoo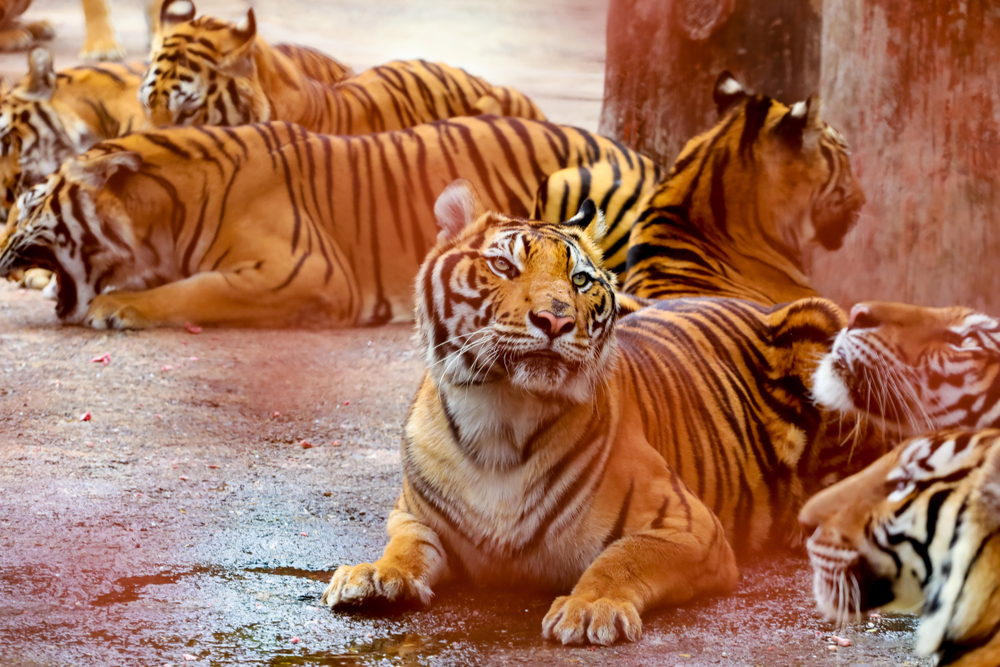 - By Bus:
For visiting Sriracha Tiger Zoo from Pattaya, you can take the Pattaya to Sriracha Tiger Zoo bus or minibus to reach the destination. Alternatively, the zoo also provides a shuttle service for visitors.
Or, take the bus to Ban Ao Udom then take a taxi to the zoo. While travelling by bus, make sure you have enough time, as it will take around 45 minutes to reach.

- By Taxi:
Take Sriracha Taxi or Grab Taxi from Ban Ao Udom for visiting Sriracha Tiger Zoo. It is the fastest way to reach the zoo from Pattaya. The ride will take approximately 26 minutes.
Best Time to Visit Sriracha Tiger Zoo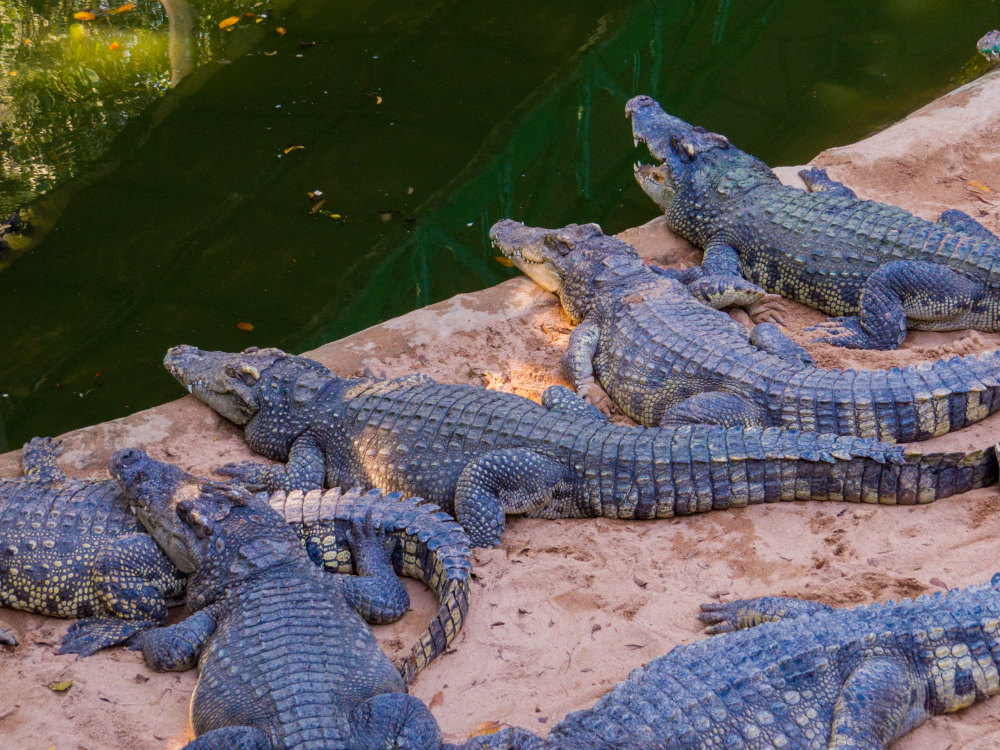 November to February –
These months are favourable for visiting Sriracha Tiger Zoo. In this peak tourist season, the weather is mild and convenient for spending time at the zoo. 

March to May –
If you are okay with scorching heat, these months will also be convenient for you. Undoubtedly, the zoo won't be deserted and the influx of tourists will be on peak.

June to October –
Sriracha witnesses heavy downpour from June to October. Accommodation and other amenities will be cheaper and you can easily book these. Although, some of the shows would be running but crosscheck before visiting the tiger zoo.
What Not to Miss at Sriracha Tiger Zoo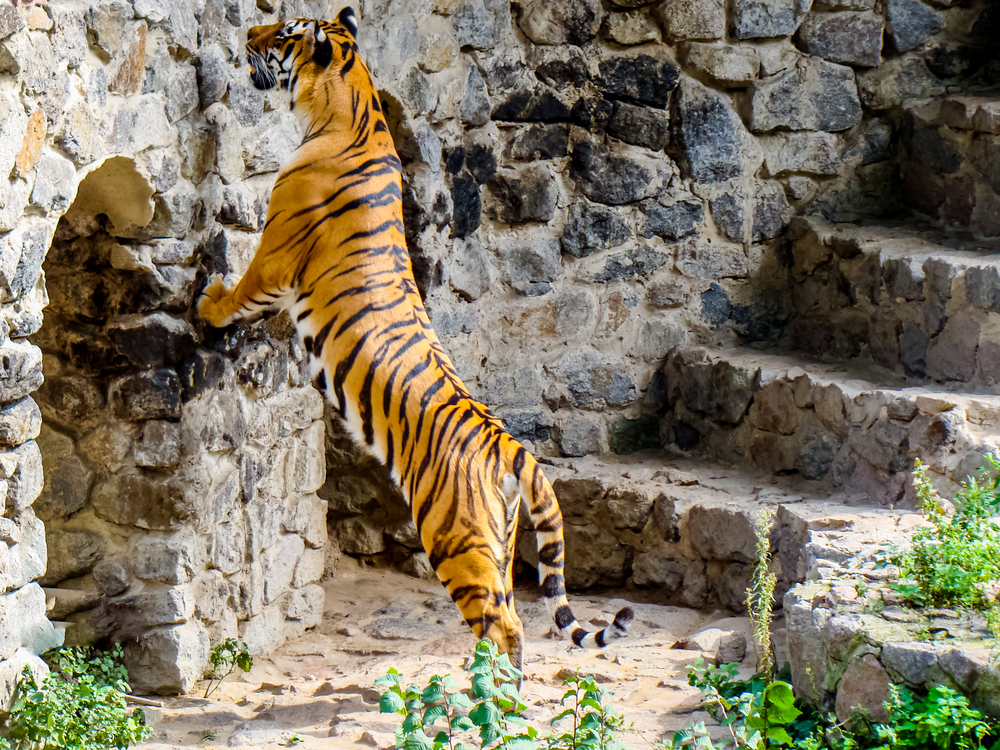 Sriracha Tiger Zoo is known for the various activities performed by the trainers and animals. These activities are done under supervision and no harm is done to the animals.

1. Tiger Shows
In the Tiger Show, you will witness various activities performed by the tigers. For instance, you will witness tigers leaping through a ring of fire, walking on tight double ropes, and many thrilling performances. Apart from these shows, you can also feed the tiger cubs for an hour, it is known as Hug of Love.

2. Elephant Shows
Activities presented by the elephants at this show is something very cute and fun to watch. The elephants will perform some activities like dropping balls into the basket, dancing or bowing in front of the visitors. 

3. Crocodile Shows
A crocodile might seem like one of the dangerous animals but during this show, you will come across the fun side of this animal. In the Crocodile Show, the handlers will stick their heads inside the gigantic jaws of the main performers, i.e,  crocodiles. The show is completely performed by professionals.

4. Pig Shows
At Sriracha Tiger Zoo, a separate space is provided for watching and playing with the piglets. Here, you will witness the bond between the adult pigs and piglets.


Things to Do in Sriracha Tiger Zoo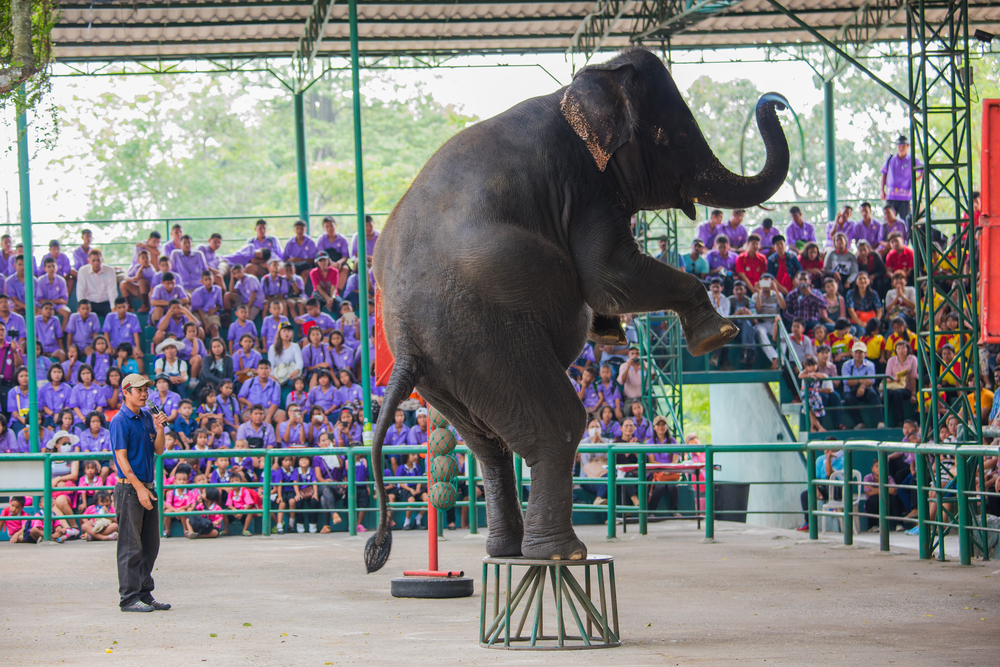 1. Watch various animal shows
The zoo is famed for the variety of animal shows conducted in their space. These shows consist of tiger shows, elephant shows, crocodile shows, and pig shows. Here you will witness these mighty animals perform some safe and fun activities.

2. Ride on an elephant
Sriracha Tiger Zoo provides a fun ride with elephants. Sit down with ease on the elephants and take a tour of the area defined to roam. These rides are completely safe and an instructor will accompany you throughout the ride.

3. Feed the animals
This place provides you the opportunity of feeding the ostriches, single hump camels, kangaroos, and exotic birds. You can head to this area inside Sriracha Tiger Zoo and notice these animals in their natural habitat.

4. Visit the Elephant museum
If you are a fan of ancient figures, the Elephant Museum is the best option for you. At the museum, you will come across a collection of life-sized elephant figures, extinct species like mammoths, ancient war elephants of Thailand, and present-day Asia and African elephants.

5. Play with tiger cubs
At Sriracha Tiger Zoo, you will get the opportunity to play and feed the tiger cubs and piglets. This activity is known as Hug of Love. You will get an hour to play with them and click photographs too.
Other Essential Information About Sriracha Tiger Zoo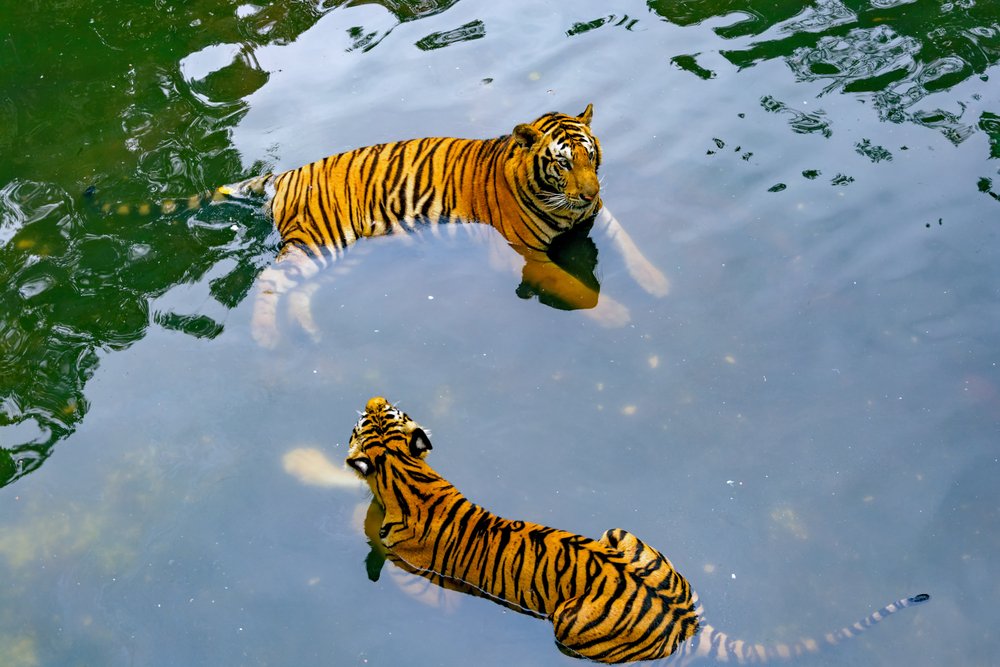 - Location:
Situated on the outskirts of Pattaya, Sriracha Tiger Zoo resides in Sri Racha District of Chon Buri in Thailand.
- Price:
The ticket price for adults is THB 450 and for children is THB 250 (height between 100 to 140 cm).   
- Timings:
The tiger zoo opens at 8 am and closes by 6 pm.
Travelers' Tip before visiting Sriracha Tiger Zoo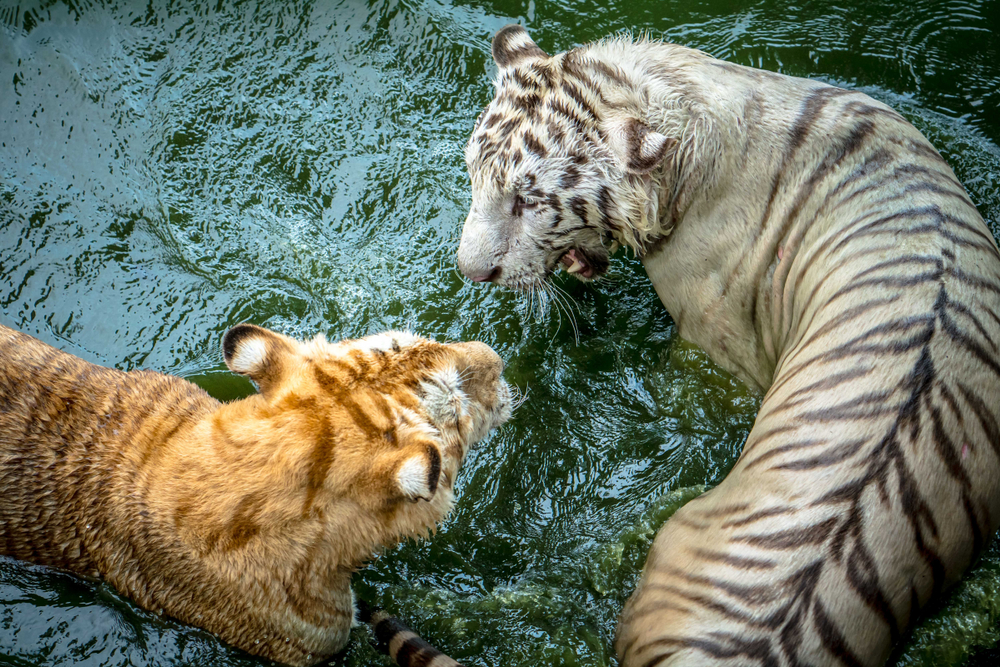 - Don't forget to wear comfortable shoes. For exploring the zoo, you might have to walk a lot. 

- Prepare a predetermined plan for giving time to watching animal shows, shopping at souvenir shops, and learning about animals. 

- Carry sunscreen lotions while visiting Sriracha Tiger Zoo. Your skin can be exposed to direct sunlight for quite some time. 

- Don't forget to carry a valid ID proof before visiting the tiger zoo.

- Do some research about the animals present at Sriracha before reaching the zoo. 

- Book your tickets 2 days before the day of the visit. Plan to avoid any confusion.

- If you are planning to visit Sriracha with your kids then discuss maintaining a safe distance from the animals.