About Art in Paradise Museum
Art in Paradise is a perfect place to enjoy the 'Optical illusion art,' which enables the human eye with the ability to trick the human brain. It is a beautiful place that not only impresses, but is fun-filled, lively, and leaves you with memories to cherish forever. It is Thailand's first 3-D art museum and has an astounding collection of interactive artwork and sculptures which make it one of its kind museums. It is located in Chon Buri Province, Pattaya and started its operation on May 2, 2012.

The art gallery is spread in about 5,800 square meters, making it the largest in the world. Renowned South Korean artist, Mr. Shin Jae Yeoul, was the inspiration behind this museum, who is now the Managing Director of this wonderful art gallery. He along with eleven other talented Korean artists showcased their skills in an old building. They modified that building into an impressive display of over 140 marvelous paintings. These paintings were made in a way that they provide an interactive 3-D illusion. The aesthetic style used in making these paintings makes every picture clicked with them, realistic, stylish, and interactive.

This gallery is divided into 10 different zones, all covering different aspects of art. The 10 zones include Mirage, Aqua, Zoo, Classic Art, Ayutthaya, Egyptian, Thai, Surrealism, Dinosaur, and Exhibition Room. Art in Paradise is the ideal destination to spend time with your family, friends, and even lovers. Here you can get involved with the artworks and get snapped with them. This place lets the inner kid in you to rise and enjoy the mind-blowing experiences like never before. It attracts a multitude of tourists from all over the world to enjoy the superb and almost real experiences and capture the moments.
How to Reach Art in Paradise Museum
Art in Paradise is centrally located and is easily accessible through public or private transport services. There are frequent Baht buses available from all prominent points to this gallery. The Grab taxi or motorcycle taxis are other cost-effective options to reach the gallery.
Best Time to Visit Art in Paradise Museum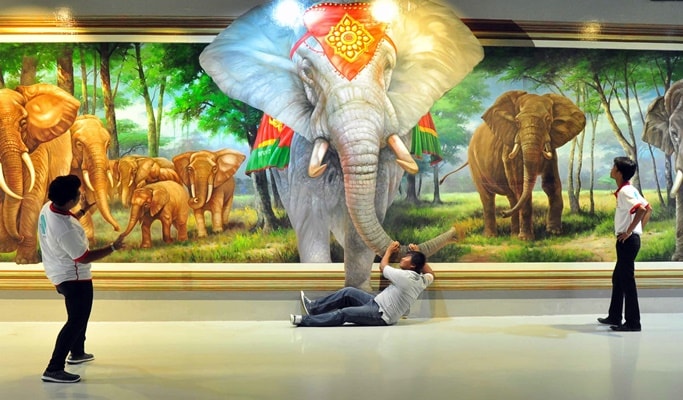 You can visit this amazing place at any time of year, as this 3-D illusion museum is entirely indoors and you will not get affected by the climate outside. Thousands of visitors come to this place to enjoy the exceptional display of art, and the museum gets packed with tourists during weekends.

Hence, weekdays are preferred over the weekends. And, if you want to get clicked with the interactive art without waiting for too long, visit the place during weekdays, and reach the place as early as possible in the morning.
What Not to Miss at Art in Paradise Museum
Places to Visit near Art in Paradise

1. Tuxedo Illusion Hall-
An interesting place where Mr. Tuxedo and his team present a show packed of illusions, magic, and trickery. It is a beautiful theatre with a seating capacity of 350 and the perfect place to enjoy the art of magic loaded with humor and tricks.

Location:
Pattayasaisong Rd, Muang Pattaya, Bang Lamung District, Chon Buri 20150, Thailand.

Timings:
Daily 6 shows of 45 minutes duration at 14:00, 15:00, 16:00, 17:00, 19:00 and   20:00.

Ticket Price: 
Deluxe seat: 500 Baht

VIP seat: 700 Baht

2. Central Marina- 
Popularly known as the Central Center Pattaya, the Central Marina is a one-stop shopping destination near Art in Paradise. It is also near to Pattaya Beach and consists of 3 floors with several retail stores, eating joints, a six-screen SFC Cinema and a kids play area.

Location:
Pattayasaisong Rd, Bang Lamung District, Chon Buri 20260, Thailand.

Timings:
11 AM to 11 PM (all days)

Ticket Price:
Free entry.

3. Teddy Bear Museum- 
It is a unique 'Teddy Island' with over 1000 stuffed toys collection and is a wonderful place to spend time with family and friends. It is divided into 12 distinct zones displaying different stuffed animals from history and fantasy. These zones include 


Inca Zone

Dinosaur Zone

Fossil Zone

Teddy Bear Museum Pattaya's Africa Zone

Thailand Zone

Under-the-Sea Zone

Eskimo Zone

Santa Town

Space Zone 

Fantasy Zone

China Zone

The Europe Zone


All these zones present an amazing display of art through stuffed toys and house a toy shop too to buy a souvenir or gift at affordable prices.

Location:
436/49 Moo 9, Beach Road Soi 1, North Pattaya, Thailand.

Timings:
09:00 – 22:00

Ticket Price:
500 baht for adults, 300 baht for children.

3. Parody art museum- 
It is the perfect place to spend the night time enjoying secure and fun-filled activities. It is a night museum based on the aspect of PARODY and is one of its kind in the world. It houses artistic pieces which were restored using a unique style based on drawings, sculptures, as well as video clips. 

Location:
159/119 Moo5 Naklua Bang Lamung Chonburi Thailand.

Timings:
9:00 AM to 6:00 PM Everyday

Ticket Price:
400 baht for adults, 200 baht for children (100~130 cm).

Different Zones in Art in Paradise


This picturesque and interactive gallery is divided into 10 different zones which are:

1. Diorama- This section houses several dolls and figurines which depict delicate details of Thai life. Korean sculptures used special techniques to make them appear lively and beautiful.

2. Aqua- This section lets you experience the underwater world. You can feel being with the blue whale or fight with giant fish or enjoy treasure hunt or even look like a beautiful mermaid.

3. Safari- This section is perfect for all jungle life admirers. You can find yourself walking with a large group of elephants, a zebra herd, and a long neck giraffe through the paintings. Click pictures with primeval tribes in the Amazon jungle or wild animals.

4. Classic art- It is a fun and interactive way to explore classic art. Here you can be Leanardo Da Vinci and act like you are creating the famous Mona Lisa painting or appreciate the pieces of classic art in an engaging manner.

5. Ayutthaya- This is the largest and one of the most spectacular zones in the museum and Here you can click life-like pictures with a huge Buddha statue or involve yourself in the marvelous classical civilization of the Incas. Another attraction here is a painting that will make you feel like you are crossing a dangerous valley on a rope and wooden blocks bridge.

6. Egypt- This section lets you be part of the journey of Pharaoh's Tomb to the vast desert. You will be disillusioned to be in Egypt and exploring the different heritage structures there. 

7. Thai- This section represents the stunning display of Thai culture and tradition. You will get the chance to be part of the Songkran festival or get clicked with the floating lanterns of Yi Peng while relaxing on the giant hands of Tosakan.

8. Fantasy- A section completely dedicated to surreal images. Here you can unleash your imagination and capture those marvelous experiences. 

9. Dinosaur- This section will take you back to the dinosaur era and lets you click pictures with them.

10. Exhibition Room- Here you will get to see the art structures depicting the current situation in the world or the paintings displaying modern art and styles.
Other Essential Information About Art in Paradise Museum
- Location: 78/34 Moo 9, Pattaya 2nd Road, North Pattaya, Thailand.

- Timings: 09:00 - 21:00 (Everyday)

- Ticket Price: 500 Baht for Foreign Adults, 300 Baht for Foreign Children, and 150 Baht for Thai Citizens. But, any foreigner lives in Thailand and has a work permit or driver's license, he can get entry at the Thai price irrespective of their nationality.


History of Art in Paradise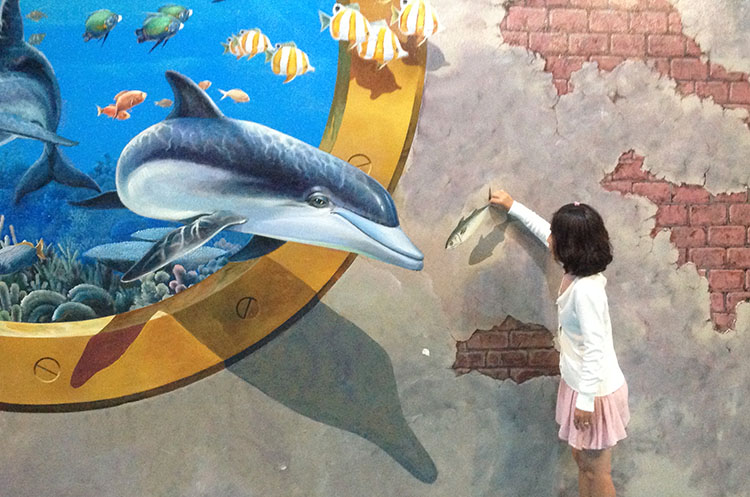 Art in Paradise was the dream project of Mr. Chin Jae Yeo, one of the renowned artists of Korea, who wanted to make art more interactive and full of life. He along with 12 other skilled Korean artists designed this unparalleled masterpiece, which displays their creativity in combination with 3-D illusions. This museum was earlier an old building which was first converted into white walls and floors and then used as the canvas to make stunning 2-D paintings.

The painters used special aesthetic techniques of painting to make this first 3D-shaped museum. They painted over 140 individual art pieces in ten different themed sections, which covered wild animals, serene nature, earlier civilizations, and classic art, etc. A huge amount of over 50 million baht was invested to make this dream come into reality.

It began operating on May 2, 2012, and was spread over an area of ​​5,800 square meters. Since its opening, the museum is continuously getting new additions and improvements to make it more modern and interesting. The latest feature that is added to this museum is Art in Paradise AR Application. This application automatically adds AR effects to your photos and videos making them more interactive, stylish, and creative. It is indeed a fun place to enjoy excellent 3-D art and get clicked.

Travelers' Tips for visiting Art in Paradise


1. It is centrally located and it is convenient and cheap to reach there through Baht bus, GrabTaxi or motorcycle taxi.


2. Visit the museum on a weekday to avoid a long waiting period.


3. To get entry at Thai prices, do not forget to keep your driving license or work permit with you.


4. Take a shoulder bag to carry your shoes as they do not allow shoes inside the museum.


5. To get the perfect clicks, make sure to capture from the appropriate angle and try to click from a low angle to capture the excellent background.