About Pattaya Beach
Whether you're on the lookout for a splendid weekend getaway, heart-pumping excursion or the ultimate surf the Pattaya Beach is the perfect secluded spot for insta worthy travel diary. This crescent-shaped beach is known for its serene blue sapphire water and pristine white sand that is perfect for a relaxing escapade from the hustle and bustle of the city life. Adventure seekers flock over here for an action-packed adventure and ultimate dose of rejuvenation and relaxation.

It is home to a wide number of jet skis, parasails, speedboats, floating restaurants and diving boats. It is also known for being the hotspot of the hippest parties during the night that will definitely lure you to visit this beach. At nighttime, the entire action on this beach shifts to the crazy revellers who gather here to enjoy its lively nightlife where partying and drinking continues non stop until dawn. 

You can find luxurious beachside shacks at the one end and traditional tail boats at the other end that offer you a delightful excursion of the beach. There are many beachside resorts over here where pulsating live music wafts through the air, and you're also served here the best catch of seafood. This beach is also flanked with some famous flea markets and shops where you can stock up on your souvenirs.

So soak in the sun and find your own groove at the beachside shacks that beam to pulsating music. You can also enjoy the glorious sunset and indulge into a wealth of enthralling experiences by hitting the secluded shoreline of Pattaya beach
How to Reach Pattaya Beach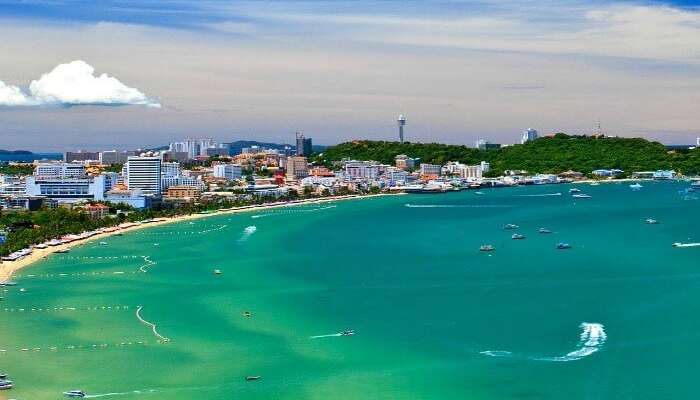 - By bus: The cheapest way to reach Pattaya from Bangkok is by bus. A frequent bus plies between Bangkok and Pattaya. From Pattaya bus stand you can hire a cab or taxi to reach Pattaya Beach. 

- By air: U-Tapao Airport is the closest airport to Pattaya. Outside the airport, you can hire a cab or taxi to reach Pattaya Beach directly. 

- By rail: Pattaya is quite well connected by rail to Bangkok. A daily train operates between Hualamphong Station of Bangkok and main train stations of Pattaya. From Pattaya railway station you can board a taxi or cab to reach Pattaya Beach.
Best Time to Visit Pattaya Beach


The best time to visit Pattaya Beach is between November to February, which is considered as the peak tourist season as the weather is quite pleasant over here. 

During Winters: Pattaya Beach experiences an extremely pleasant and dry weather during winters. This is considered as the peak season for tourists to visit this beach and the temperature during the day ranges around 30 degrees Celsius, and at night, it stays around 20 degrees Celsius.

During Summer: During Summer Pattaya beach experiences considerably hot and humid weather. The temperature usually ranges around 33 degrees Celsius between March to May. But since Pattaya International Music Festival is organized over here in March and Pattaya Songkran Festival in April, it is worth visiting Pattaya Beach during the Summer season.
During Monsoon: Monsoon in Pattaya extends from June to October and during this period the temperature around 32 degrees Celsius. Pattaya also experiences heavy rainfall during monsoon, which makes it isolated due to low visit by the travellers. However, if you're someone who wishes to visit Pattaya Beach during a less crowded time, then monsoon can be your best bet.
What Not to Miss at Pattaya Beach
Attractions at Pattaya Beach


Pattaya beach offers a wide range of attractions that appeal to the diverse interest of the visitors. Here are a few of the most popular attractions at Pattaya Beach that will offer the visitors an experience of a lifetime.

1. Alcazar Cabaret Show- If you're someone who wishes to enjoy world-class cabaret shows, then enjoy hundreds of entertaining performances by acclaimed dancers near Pattaya beach. These cabaret shows give you a true glimpse of the Thai history and culture with the enthralling performance of the stunning ladyboy entertainers. 

Location: 78/14 Pattaya 2nd Road, North Pattaya

Timing: 17:00, 18:30, 20:00 and 21:30

2. Art in Paradise- This is a unique art gallery having around a hundred individual art pieces in different themed sections. Through clever use of tricks and perspectives, the artists have directly painted stunning images on the walls to create a unique optical illusion that brings the art to life. So be ready to swim with the dolphins, soar with the eagles and stay as a disembodied head in the centre of the table with the optical illusion technology at Art in Paradise.

Location: 78/34 Moo 9, Pattaya Second Road Soi 1, North Pattaya

Timing: 09:00 AM – 21:00 PM

3. Ripley's Believe It Or Not- This is a popular American Franchise that was founded by Robert Ripley, who deals with bizarre events and weird stories. It includes around three hundred unique exhibits that will stretch the power of your imagination to an extreme level. This museum shows you people and objects which proves that the real truth can be stranger and bizarre than fiction. 

Location: 3rd floor, Royal Garden Plaza, Beach Road, South Pattaya

Timing: 06:00 – 23:00


Places to Visit around Pattaya Beach
Here are a few mesmerising spots around Pattaya Beach that appeal to the diverse interest of the visitors.

1. Teddy Bear Museum-
Housed in the teddy bear themed extravagant building this museum houses around one thousand stuffed animals ranging from extremely small Christmas helpers to the three-meter long panda. The cuddly toys welcome the visitors and offers them an extremely fun experience.

This museum is divided into twelve interesting picture zones such as Eskimo zone, Fossils zone, Fairytale Zone, Dinosaur Zone and many more. You can also take pictures with your favourite teddy, visit the souvenir shop or have a brewing a cup of coffee at the coffee shop located over here. 


Location: 436/49 Moo 9, Beach Road Soi 1, North Pattaya


Price: Adult price 250THB/Person


Timing: 09:00 – 22:00

2. Wat Chaimongkol- 
This is a beautiful Buddhist temple located at South Pattaya road and is known to be the hub of all the religious and cultural events that are held in Pattaya. It has a huge reclining Buddha statue that is found amongst the three fifty-year-old ancient ruins in Ayutthaya. The temple consists of a complex, few other colourful buildings and a beautiful pond where visitors sit back and relax. The architecture of this temple dates back to the Ayutthaya period.


Location: South Pattaya Road


Timing: 08:30 – 16:30

3. Pattaya Park- 
This is an iconic landmark located on Jomtien Beach. It has three revolving restaurants that serve international buffet, and you can also have a 360 degree view of Pattaya from these restaurants. Pattaya Park is extremely renowned for its observation tower that is around 240-metre tall and offers a birds-eye view of the surrounding areas. It also has a separate amusement park and water park.


Location: Thappraya Road Soi 12, Pratumnak


Timing: 10:00 – 19:00

Things to Do in Pattaya Beach


Pattaya beach offers visitors an opportunity to indulge in a wide range of activities according to their interest. Here are a few things that you must try at Pattaya Beach.

1. Banana Boat rides- This is a fun water sports activity that you must try at Pattaya beach. This enthralling sports activity gives you a chance to get flung into the vast sea and then haul yourself back to your banana boat. If you're trying this sport for the first time then a guide will accompany you to offer you ultimate assistance while enjoying the ride. So get your life jacket and enjoy the waves of the Pattaya beach by opting for the banana boat ride.

2. Stock up your beach souvenirs- There are various flea markets at Pattaya beach that sell bohemian outfits, flowing dresses and beach accessories. You can even buy interior decoration materials from the local shops here to give your home décor a facelift. 

3. Try drool-worthy dishes at the beachside shacks- Pattaya beach is lined with some of the best beachside shacks where you can enjoy lip-smacking seafood and drinks. The ambience of these shacks is so alluring that the visitors come driven over here to relax and to have a fair share of their favourite delicacies. 

4. Enjoy the buzzing nightlife- Dance the night away with your gang at Pattaya beach that transforms into a happening party spot during the night. You can spot here the crazy revellers flocking in droves to drink, and dance and party non stop until dawn.
Other Essential Information About Pattaya Beach


- Location: Pattaya City, Bang Lamung District, Chon Buri 20150, Thailand


Places to Stay in Pattaya Beach


Pattaya beach is flanked with some of the best hotels that will fit a broad range of style and budget. 

1. Royal Cliff Beach Hotel- 
This is an expansive five-star hotel that offers all the modern facilities to its guests like Wi-Fi, microwave, geyser, air conditioner, mini-bar and refrigerator. The guest rooms offer a view of the sea and have extremely stunning interiors. Each room has a full-length window or private balcony to offer the visitors an enthralling view. It has five outdoor swimming pools, eleven separate dining rooms, a fitness studio, a ballroom and a private beach with sun loungers and huge space for privacy.


Location: Phra Tamnuk Road, Pattaya

2. The Monttra Pattaya-
This is a four-star luxury resort with palm roofed buildings amidst the dense forest. This resort has a barbeque, an outdoor pool and an exotic restaurant. Each room has a Nespresso machine, flat-screen LED, private bathroom and complimentary mini-bar. It also has a 24-hour assistance desk to assist the needs of the guests during their stay. Free private parking is also available in this lavish resort.


Location: 98 Moo 12, Rajchawaroon Road, Nongprue, Banglamung, Chonburi

3. Centara Nova Hotel & Spa- 
This is a grand hotel where you can experience premium facilities and extremely pleasing vibes. It has seventy-nine rooms and one clean and stylish one-bedroom suite. The rooms are quite spacious and well-lit with open plan and cream-coloured walls. This hotel also has a fitness centre, a large swimming pool and a Spa where you can relieve your tired body. 


Location: Central Pattaya Rd, Bang Lamung District, Chon Buri

4. Amari Nova Suites-
This is a four-star property that offers all the luxurious amenities such as kitchen, full-sized bathroom, DVD player, television, air-conditioner and a minibar. It also has a rooftop swimming pool, spa, fitness centre and an exotic restaurant where you can enjoy some of the best dishes. The multilingual staff takes care of all your needs and offers you pretentious services. 


Location: Bang Lamung District, Chon Buri 20260, Thailand

Shopping malls and markets near Pattaya Beach
You can find a great selection of shopping malls and markets near Pattaya Beach that have a fantastic collection of international brands as well as local items. 
1. Central Festival Pattaya- 
This is an extremely popular place near Pattaya beach to eat, shop and relax. The mall comprises of around 313 stores scattered across seven floors. The standard outlets over here like North Face, Calvin Klein and Zara are the favourite stopovers of the shopping enthusiasts. You can also find over here a wide selection of jewellery and electronic stores. On the topmost floor of this building, a 16-lane bowling alley and movie theatre can be found. 


Location: 333/99 Moo 9, Pattaya Beach Road, South Pattaya


Timing: 11:00 - 23:00

2. Royal Garden Plaza Pattaya-
Considered as the originator of the concept of 'entertainment mall' this shopping joint brings together family attractions, exquisite restaurants, and international shopping brands all under one roof. This is an upmarket shopping joint that houses an impressive lineup of high street stores, like Levi's, Von Dutch Converse, and more. It is also dotted with some of the most popular fast-food restaurants and other dining options where you can have a wide array of delicacies. 


Location: 218 Pattaya Beach Road, South Pattaya


Timing: 10:30 – 23:00

3. Mike Shopping Mall-
Unlike the other shopping malls in Pattaya, this shopping mall houses only a handful of high-street stores inside it. This is a huge chain of multi-story shopping malls where you can buy budget beachwear, shoes, bags, printed Tees, and other accessories. Tourists especially flank to this mall due to its budget-friendly shops that sell everything at a great price. The rooftop has a small café and a public swimming pool. 


Location: 399/9 Moo 10, Pattaya Second Road, South Pattaya


Timing: 10:00 - 23:00

Nightlife in Pattaya Beach


Pattaya beach is flanked with some of the most bustling nightclubs, and go-go bars to match the mood and taste of all sorts of travellers. 

1. Horizon Bar- Whether you wish to enjoy the most premium cocktail or some mouthwatering fusion cuisine, Horizon Bar should be the topmost priority in your list. Located in the central part of Pattaya beach this bar offers a relaxed atmosphere to the visitors with comfortable sofas and mood uplifting vibes. The background music over here is quite soothing and helps the visitors have an incredible experience. 

Location: 34th Floor, Hilton Pattaya, 333/101 Beach Road, South Pattaya

Timing: 17:00 – 01:00

2. Mixx Discotheque Pattaya- This is one of the most lively and biggest dance clubs in Pattaya that spreads across 900 square meters. It is divided into two separate night clubs named as the Crystal Palace and the Rouge Club. The first has a funky design and is known for playing trance tunes and the second one has a 16th-century decor and is extremely renowned for playing RnB music. The best thing is that entrance is absolutely free, and this discotheque attracts a huge number of fun-loving crowd. 

Location: 331 Bali Hai Plaza, Walking Street, South Pattaya

Timing: 21:00 pm – late night

3. The Pier Disco Club Pattaya- This club is extremely renowned amongst the high society people of Pattaya as it draws some of the biggest names such as DJs from the US, Ibiza, and all across Asia. The parties that happen over here are larger than life and the best in the entire town. It has a multi-level interior, disco balls, laser lights, huge LED screen and smoke machines.

Location: 190 Walking Street, South Pattaya

Timing: 19:30 – late night


Places to Eat in Pattaya Beach


There are ample dining options to satiate your cravings near Pattaya Beach. Try out the mouth-watering dishes at these exquisite dining spots in Pattaya Beach.

1. L'italiano Italian Restaurant & Pub-
If you're craving for the best Italian cuisine in Pattaya, then L'italiano Italian Restaurant & Pub should be your topmost choice. It has a very upbeat and lively vibe, and it serves an array of contemporary Italian bistro food for lunch, brunch and dinner. You can also try out over here an exciting cocktail and bottled beer list that will leave you wanting for more with each sip.


Location: Pattaya beach road corner soi, Beach Rd, Pattaya City, Chon Buri 20150, Thailand


Timing: 11 AM- 12 AM

2. The Bistro-
This is yet another upbeat restaurant in Pattaya where you can indulge in a huge array of diverse cuisines. It also offers an exciting selection of drinks to elevate your mood. This restaurant has a very soothing ambience with a plush setting and extremely lavish interiors. 


Location: 219/69 Soi Yamato 13/1 Pattaya Sai Song, Pattaya, Bang Lamung District, Chon Buri


Timing: 10 AM-12 AM

3. Casa Pascal Restaurant- 
It has an unbeatable beachfront location, and it offers an enthralling range of seafood on the menu. The best thing is that all the delicacies served here are quite reasonably priced. You should definitely try stir-fried crab with Thai orange curry and curry powder over here.


Location: Bang Lamung District, Chon Buri 20150


Timing: 8 AM- 11 PM

Travellers' Tip before visiting Pattaya Beach


Here are a few important tips that you must keep in mind before visiting Pattaya Beach.


1. You should definitely carry sunscreen to stay away from tanning while visiting Pattaya Beach.


2. Wear only crocs or flip flops in water.


3. Don't wear gold ornaments or carry a huge amount of cash while you're going to the beach.


4. Always carry a waterproof bag to keep your beach essentials safely


5. Learn to identify the dangerous rip currents