About Jomtien Beach
In the list of Thailand's exotic beaches, Jomtien Beach is the island of leisure. An important part of the eastern coastline of the Gulf of Thailand, the beach falls under the province of Chon Buri. Jomtien Beach is stretched almost 6 km long and is set parallel to the Jomteinsaineung Road. 
Jomtien Beach was once an area of paddy fields and now it has developed into a tourist spot. Tourists generally prefer this beach for its quietness and adventurous activities.

It provides the facilities of windsurfers and water sports. Moreover, you will find quirky shacks and elegant beachfront resorts. These places offer exotic dishes and a pristine stay with beach view. 
Apart from the beauty of the beach, Jomtien also showcases the cultural side of Thailand. From Thai cuisine restaurants to elegant cabaret shows, you will find a plethora of activities near Jomtien beach.

You can visit the Floating Market Pattaya and shop for some souvenirs or you can plan a romantic dinner at The Glass House, and end your day by enjoying the cabaret show at the Colosseum Show.
How to Reach Jomtien Beach
- By Air – The nearest airport to Jomtien Beach is Utapao International Airport (UTP). It is almost 40 km away from the beach. Airport Pattaya Bus operates a bus from Suvarnabhumi (BKK) to Jomtien Beach hourly.

- By Bus – Frequent bus services are provided from Bangkok's Northern Bus Terminal – Mo Chit and the Eastern Bus Terminal – Ekamai. These buses from Pattaya ensure to reach the nearby provincial town and long-distance routes. Jomtien is usually covered in this route.

- By Local Transport – City and suburban services are mainly provided by blue songthaews. Or, you can also hail metered taxis and air-conditioned vans for private hire to reach Jomtien Beach.
Best Time to Visit Jomtien Beach


- November to February –
This is the peak tourist season of Jomtien Beach. The weather is quite pleasant and not hot or cold which helps in exploring the beach conveniently.  

- March to May – You will experience hot and humid weather during this time. Nevertheless, the influx of tourists will remain high. You might have to carry extra sunscreen lotion but this weather is still favourable.

- June to October – During these months Jomtien experiences heavy rainfall. The surroundings blossom up and beaches are at their best during this weather. Also, accommodation and other facilities become cheap.
What Not to Miss at Jomtien Beach
Here are some best things to do near Jomtien Beach:

1. Explore Nong Nooch Tropical Botanical Garden –
Explore the exotic botanical garden near Jomtien Beach, named Nong Nooch. The garden is spread over an area of 2.4 sq. km and consists of a variety of vegetation. You will come across cacti, bonsai, topiary, tropical palms, and over 670 species of orchid.

2. Visit Pattaya Floating Market –
One of the most unique things of Jomtien, Pattaya Floating Market is a traditional Thai floating market. This market boasts of boat-borne vendors, stilted shops, and alongside a large number of restaurants. There are almost 114 vendors who travel by boat in this area. Moreover, it also has live shows and cultural art shows.

3. Witness Khao Chi Chan –
The largest carved stone of Budda, Khao Chi Chan or the Buddha Mountain is the pride of Jomtien. The structure is 130 m high and consists of a carved image of Buddha on a limestone hill inlaid with gold. The name, "Khao Chi Chan"refers to "the Buddha with brightness and sublimity".

4. Enjoy Cabaret Shows –
The cabaret shows are world famous in Jomtien. Witness the extravagance of these shows with their glittery outfits, swoon-worthy choreography, and upbeat music. You can find the Thai Alagkam Show and the Colosseum Show for enjoying the cabaret performances. 

5. Experience Underwater World Pattaya –
If you want to explore the amazing marine life then Underwater World Pattaya is the best place for that. This place consists of a 100-metre acrylic tunnel which takes you into the life of more than 200 species of sharks, stingrays, sea otters, and turtles.

Underwater World is also famous for the live feeding shows and you can also participate in the activities for the touch pool. The pool is developed around rocks of coal areas where you can interact with the aquatic animals and touch them. 

6. Have fun at Pattaya Park –
Pattaya Park is one of the largest amusement parks near Jomtien Beach. The park has been constructed around five-star restaurants, hotels, and water park. Holler around Pattaya Park with your family and loved ones by participating in the rollercoaster and Viking rides, watersports, and gigantic waterslides.


Nightlife at Jomtien Beach
1. Planet Earth Beach Club –
Opened especially during the tourist season, Planet Earth Beach Club is known for showcasing the extravagant nightlife of Jomtien Beach. The theme of the club revolves around the beach.

This place is usually visited by tourists and Thai high-society locals. Visit this place for enjoying the live performances, authentic Italian ice cream, and chilled beverages. 

2. DIB –
Known as D Varee Inspiration Bar, this place has an amazing collection of wines, cocktails, and imported beers. Situated at the top of the D Varee Jomtien Beach Hotel, this bar provides an amazing view of the beach and the city.

The place has indoor and outdoor seating both for catering to every kind of visitor. This place opens around 6 pm and closes at 2 am.

3. Cabaret Shows –
Jomtien Beach is known for its amazing cabaret shows. You can find the Colosseum Show on Thepprasit Road and the Alangkarn Show on Sukhumvit Road for enjoying the cabaret shows.

These performances are famed for their clothes, choreography, music, extravagant aura, and much more. These shows are highly entertaining for friends or family outing both.

4. Shenanigans Irish Pub –
One of the Jomtien's best British and Irish-themed pubs, Shenanigans Irish Pub is famous for its exquisite collection of beers, pub meals, and chic atmosphere.

This place daily hosts food and drink specials, events, and a popular pub quiz on Monday nights. You will also find pool tables, flat-screen televisions for enjoying some sports matches. 

5. Fraser's –
Based on the idea of American-style bars, Fraser's attempts to be an authentic sports bar. The bar has created booths and it ensures that every booth can always watch the sports match. Frasers' also have special deals on bottled beers and cocktails. The menu is completely westernized and adheres to American-style taste.
Other Essential Information About Jomtien Beach


- Location –
Located on the east seashore of the Gulf of Thailand, Jomtien Beach is spread over 6 km and resides in Jomtien Town, south to Pattaya of Chon Buri in Thailand.
-Timing –
The beach is 24x7 open to the public. Usually, watersports open around 9.30 am and some tourists prefer this time.
Places to Stay at Jomtien Beach
1. Dor-Shada Resort –
Cherish your trip to Jomtien by choosing to stay at Dor-Shada Resort. This beachfront paradise is designed in the contemporary Thai style and boasts stunning views of the sea.

Every room consists of free Wi-Fi, balconies, luxurious ambience, and whatnot. Moreover, you will come across two swimming pools, a golf course, on-site spas, and many other niceties.

2. Botany Beach Resort –
If you are looking for space with nature's touch to it, then Botany Beach Resort is the one. The resort is tucked amidst a beautiful tropical forest. The architecture has  developed around the idea of beaches. The hotel includes two large outdoor pools, free kids club, two restaurants, and many such facilities catering to the tourists' needs.

3. Ravindra Beach Resort –
Ravindra Beach Resort is a five-star hotel situated at the southern end of Jomtien Beach. The resort features traditional Thai décor and intricately carved structures.

The most attractive thing about the resort is the pool area and the swim-up bar.  Other amenities include a spa, three restaurants, free kids club, fitness centre, artificial beach, and landscaped gardens.

4. Ocean Marina Yacht Club –
If you are a sports enthusiast, Ocean Marina Yacht Club is the best place to stay near Jomtien Beach. The club provides an astounding scenery of boat racing and expo events throughout the year.

The guestrooms are developed with the appearance of a cruise ship cabin. Moreover, there is an indoor and rooftop pool in Ocean Marina Yacht Club. Tourists usually prefer this place due to its proximity to the beach.

5. Pinnacle Grand Jomtien Resort –
Set amidst the tropical trees and pools, Pinnacle Grand Jomtien Resort is the perfect Jomtien Beach stay. The rooms are surrounded by a tropical garden with orchids, palm trees and have a view of the beach.


Shopping Sites at Jomtien Beach
1. Pattaya Floating Market –
Floating market sounds like a crazy idea but it exists right in Pattaya. With over 114 vendors spread across Pattaya Floating Market, you will notice a remarkable collection of clothing, handicrafts, art, jewellery, food, fruits, and souvenirs.

2. Outlet Mall Pattaya –
The Outlet Shopping Mall is an exquisite amalgamation of local and international high street brands present at one place. The mall is developed in a Mediterranean-style structure and consists of restaurants, shops, etc. You can come around 10 am and enjoy shopping.

3. Mimosa –
An exact replica of the French city of Colmar, Mimosa boasts of Renaissance-era building houses. You will find more than 300 shops, restaurants, cabaret shows around the musical water fountain, street performances, and whatnot.

4. Thepprasit Road Night Market –
Opened till 11.30 pm, Thepprasit Road Night Market is a heaven for shopaholics. At this market, you will find great bargains on clothing, jewellery, mobile phone accessories, make-up, toys, gadgets, and much more.

5. The Village Pattaya –
Situated on Sukhumvit Road, The Village is a unique market near Jomtien Beach. Spread over an area of 27,200 sq. m, you will come across clothing shops, souvenir shops, and whatnot. Moreover, don't forget to taste Thai and other international cuisines at some amazing restaurants.


Places to Eat at Jomtien Beach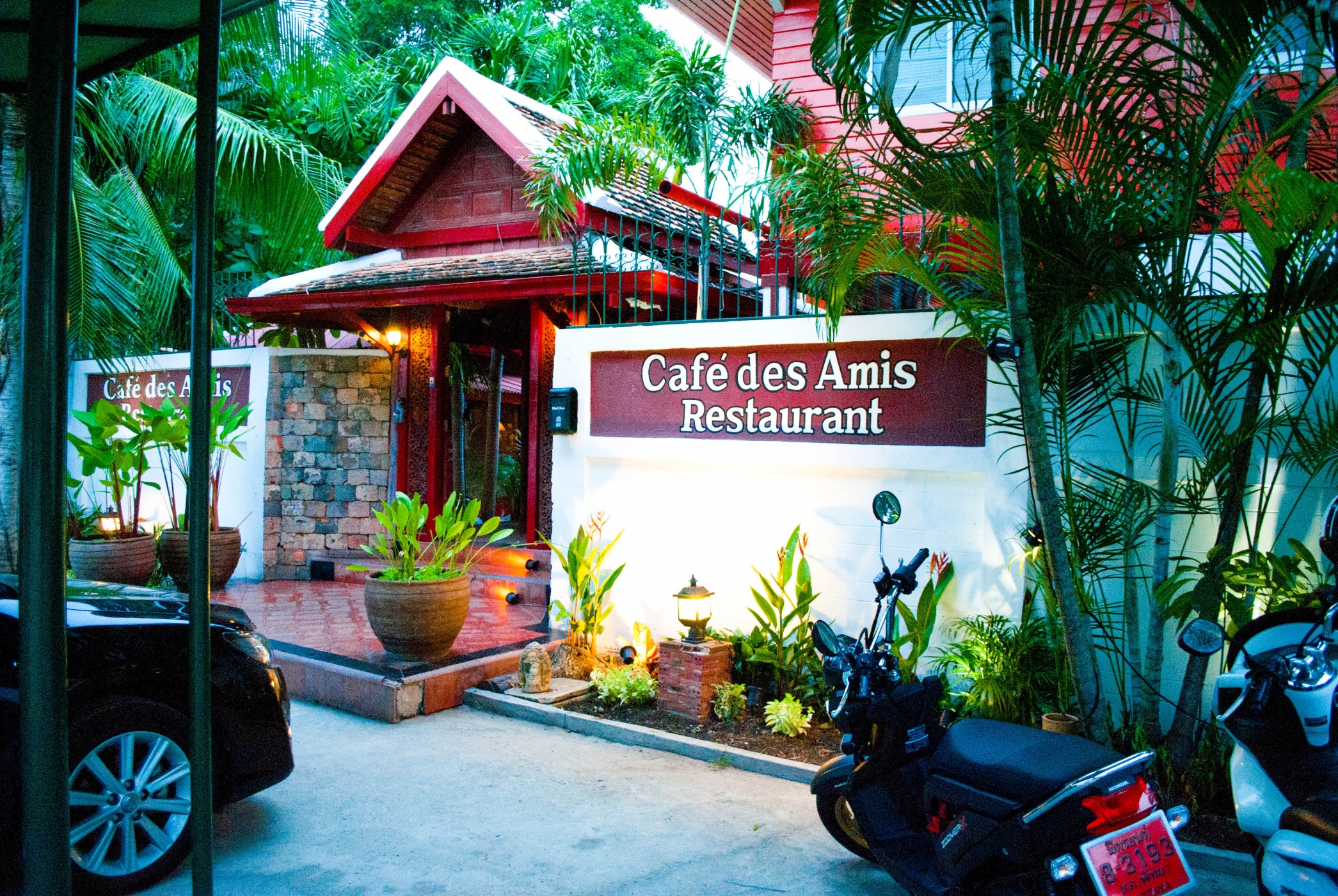 1. The Glass House –
If you want to taste the authentic Thai seafood, you should definitely visit The Glass House. This place is situated opposite the Alangkarn Theatre and ensures a peaceful getaway from the hustle of the city.

The restaurant highlights beige-coloured  interior and warm ambience. The special dish of The Glass House is the blue crab stir-fried with yellow curry and crisp-fried sea bass with soybean sauce.


2. Mata Hari –
Situated on Thappraya Road, Mata Hari is the most refined boutique restaurant in Jomtien. Majority of the dishes come from Dutch origins like green pea soup, beef stew, and milk-fed veal.

You can also find Italian and French cuisine. The place has a warm ambience and elegant setting of furniture. Mata Hari is closed on Mondays and works from Tuesday to Sunday.


3. Café des Amis –
Explore the classy settings of Jomtien at Café des Amis. Taste the mouthwatering dishes like chicken with creamed mushroom and asparagus, braise pork belly with scallops, and orange Schnapps cheesecake. Also, the café has a Thai-Balinese-style house and garden with an amazing view of the city.

4. Sugar Hut Restaurant –
Located on one of the busiest roads of Jomtien, Sugar Hut Restaurant is a traditional Thai restaurant. It is set in the middle of a small forest and has an open teak structure which looks like a traditional Thai village.

You can taste the Thai cuisine which has some exceptional dishes like bean salad, North Thailand-style Penang curry and exotic Bou Loy dessert.

5. Bruno's Restaurant and Lounge Bar –
If you wish to have a lavish dinner on your trip to Jomtien beach, Bruno's is the place. This place consists of an impressive range of seafood, high standard drinks, and a special walk-in wine cellar. Don't forget to taste the Chilean snow fish in saffron sauce.


Travellers' Tip before visiting Jomtien Beach
- Carry sunscreen lotion in an excessive amount. Tourists are likely to get tanned and sunburn. 

- Keep an umbrella handy in case of extreme heat or sudden downpour.

- English is quite common in Jomtien. Especially those who work in tour activities or shacks etc. But you might have to learn a few basic Thai phrases and words that are useful during travelling. 

- Bring a good pair of beach sandals for exploring Jomtien Beach.

- Avoid going to the beach during deserted hours.

- Learn social gestures and etiquettes before visiting Jomtien Beach. The warm hospitality by the people should be reciprocated in the same way.