About Necklace Road
Necklace Road of Hyderabad is one of the most prominent tourist spots for spending some relaxed moments. The structure of this Necklace Road, more or less resembles the one found along the shores of Mumbai – Queen's Necklace of Mumbai. Admeasuring around 3 kilometers, Necklace Road acts as a connecting link between three significant parks of Hyderabad – The Lumbini Park, NTR Gardens, and the Sanjeevaiah Park.

So, basically, you can see it stretching between the NTR Gardens and Lumbini Park in Hyderabad; and later extending to the Sanjeevaiah Park of Secunderabad. From Sanjeevaiah Park, it further passes through the Tank Bund Road, which also connects with the NTR Gardens. This is how the 3 km long road acquires its shape of a necklace. This famous tourist road in Hyderabad is bejeweled with a plethora of recreational activities. Besides, it has got a good number of restaurants and eateries to satiate your stomach cravings. Your children will love the different flavored ice-creams, and other quick bites available at the various stalls lining up the entire stretch of the Necklace Road. 

The lush green stretch marks the tranquil beauty of this road. Go for an evening walk here, and you will see a massive crowd with their kids and families. Out of all the exciting things to do here, boating at the adjacent lake is one of the greatest pleasures of visiting Necklace Road. It is good to enjoy boating in the evening to witness the light transformations at the Lighted Buddha Statue. Also, there's a famous amusement cum water park here where you can spend some quality time with your family, kids, and relatives.
How to Reach Necklace Road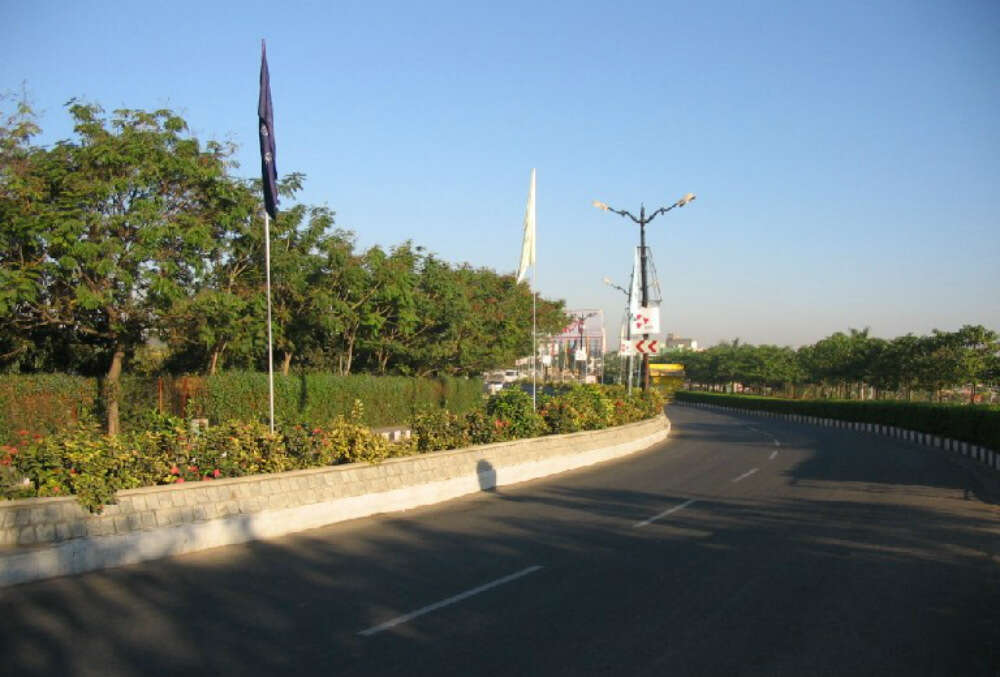 Option 1 – You can go for a bus and a subway ride to get yourself transferred from the Rajiv Gandhi International Airport and Necklace Road. First of all, search for a bus to drop you at the Shilparamam (Hitech City). From Hitech City, you will get subways after every 20 to 25 minutes to drop you at the Rasoolpura. Once you alight at Rasoolpura, you need to walk for approximately 1.5 km to reach your final destination. 

Option 2 –  You can alternatively take a bus to Secunderabad first from Rajiv Gandhi International Airport. From there, you have trains to drop you to Sanjeevaiah Park, which is situated at approximately 256 meters from the Necklace Road. 

Option 3 – You can hire a taxi for a direct transfer from Rajiv Gandhi International Airport to Necklace Road. It will only take 30 to 40 minutes for you to reach your final destination.
Best Time to Visit Necklace Road


Hyderabad is known for both dry and wet seasons, where summer temperatures rise as high as 44 degrees. Likewise, the winter temperature here falls down as low as 8 degrees. Thus, the best time to plan your visit to Hyderabad and, more specifically, to the Necklace Road is anytime between October to March.

During this period, you can expect the temperature to range between 14 and 32 degrees, accompanied by a pleasing climate. This creates an ideal environment to enjoy outdoor recreational and sightseeing activities.
What Not to Miss at Necklace Road
Places to Visit in Necklace Road


Apart from boating and sightseeing, here's what all Necklace Road has got to offer you – 

1. Hussain Sagar Lake –
This is one of the largest lakes in Hyderabad created by human interference. There's a monolith of Buddhism preacher – Lord Buddha right in the center of the lake. The region featuring the monolith is well-known as the Tank Bund, which is again famous for its tourist movement. 

2. NTR Gardens –
Situated in the close vicinity of the Hussain Sagar Lake of Hyderabad, NTR Gardens is a gorgeous tiny recreational park for people of all age groups. The tall and beautiful colored trees add on to the glory of the gardens. To add a list of things to see here in the NTR Gardens, you have – water fountains, ornate lamp posts, well-groomed landscapes, toy train, freefall, and a souvenir shop. 

3. Lumbini Park – 
This is a stunning urban park of Hyderabad, which has got its identity from the Lumbini of Nepal. Featuring an artificial water tank as its prime attraction, the Lumbini Park stands close to the Hussain Sagar. The presence of the monolith of Lord Buddha imparts a sense of tranquillity to the surroundings. 

4. Birla Mandir –
This is a famous old temple located atop Kalapahad hillock. To get to the temple, you need to walk a bit more as the path is steep. The uniqueness of the temple lies in its magnificence carved out from the marble imported from Rajasthan. 

5. Jala Vihar –
Situated close to the Hussain Lake, the Jala Vihar sprawls across 12.5 acres and crowns itself as Hyderabad's most significant water amusement park. There are conventional slides and swings here which are suitable for visitors of all age groups. Besides, the complex is known for featuring three different partying zones where you can schedule an important event lined up on your way to Necklace Road visit. 

6. Sanjeevaiah Park –
This park sprawls over 92 acres along the shore of Hussain Sagar Lake. It is built in the memory of Neelam Sanjeeva Reddy – the former President of India. The presence of flowering shrubs, lush green tree cover, glossy green lawns, and fountains embraces the overall tranquillity of the park. 

Things to Do at Necklace Road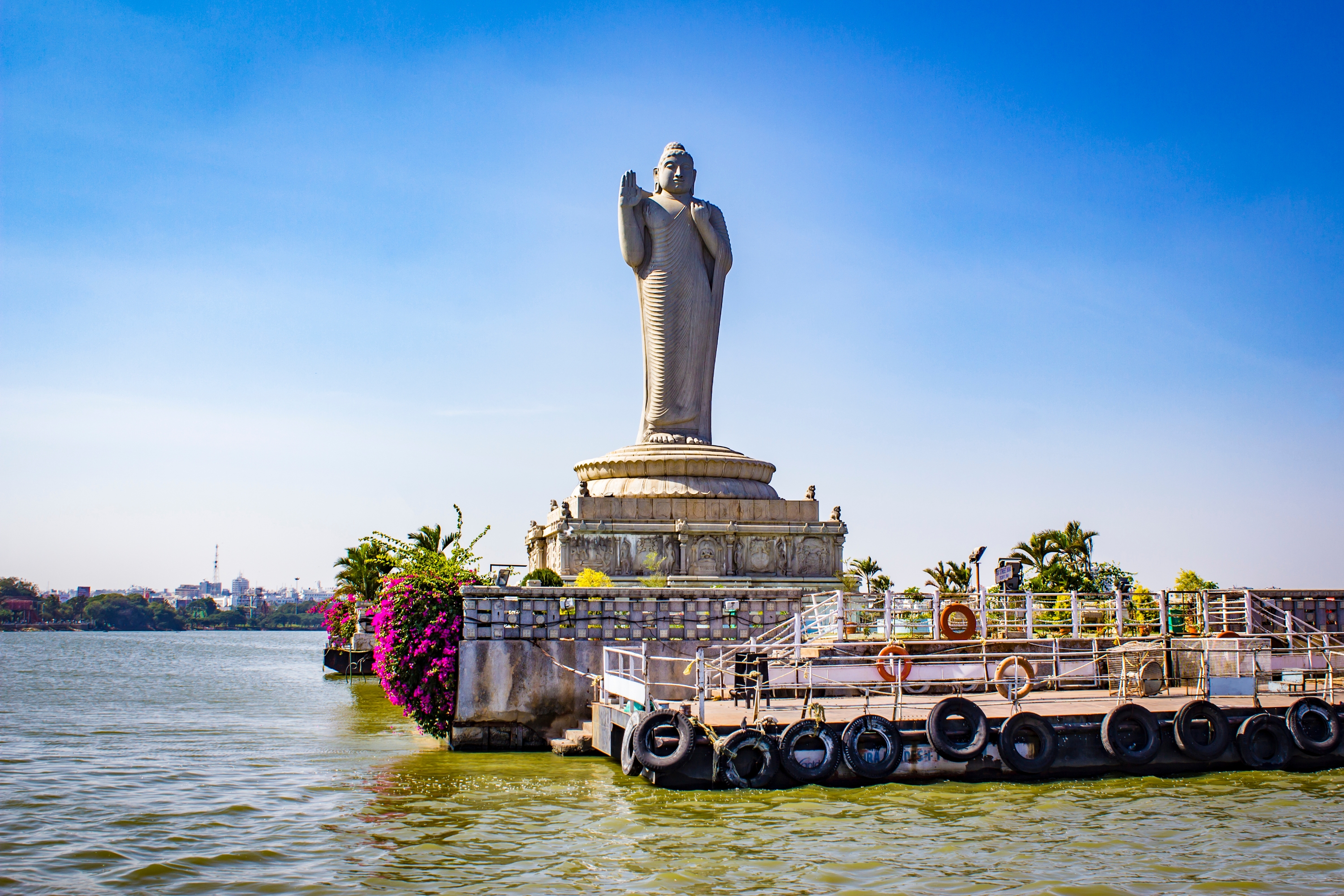 Here's how you can seek the best out of your visit to the Necklace Road – 

1. Relax yourself to the fullest – The Necklace Road of Hyderabad is a blessing for the locals to relax after witnessing a long and tiring day. There are lush green lawns where you can take your kids in the evening and just sit and do nothing!

It is the best place to reserve your family time. If you reach early in the morning or late evening, you might even witness some people strolling along with the green lawn with bare feet. This activity gives transfers a relaxing vibe from your feet to your central nervous system. It immediately drives you out of your stress and anxiety. 

2. A day at the People's Plaza – There is a point named People's Plaza at the Necklace Road, which is often labeled as the busiest part of the entire road. Round the year, the spot is known to feature numerous musical shows, sports events, exhibitions, games, and live performances. Sometimes, the cultural activities organized here can last for a day or maybe extended to months. 

3. Find some peace with boating at the Hussain Sagar Lake – With no wonders, boating has been acknowledged as one of the best activities to spend some quality time at the Necklace Road. The lake adjacent to the Necklace Road offers exciting boating opportunities at affordable pricing.

To enjoy this fun-filled adventure with your family, you need to make your way either to the Necklace Road or Lumbini Park. These two are the boarding points to enjoy your boat ride. The place is highly crowded in the evening, so you might have to face time lags to enjoy your boat riding adventure. 

4. Enjoy eating on the Necklace Road – There's a place called Eat Street where you will find a plethora of delicious and mouth-watering delicacies. From scrumptious snacks to quick munchies to different local and national cuisines, you will find everything here. For all those who are looking to enjoy a nice sumptuous dinner with their family, can head towards the Waterfront Restaurant located nearby. It serves almost every single Hyderabadi style cuisine to satisfy your hunger. 
Other Essential Information About Necklace Road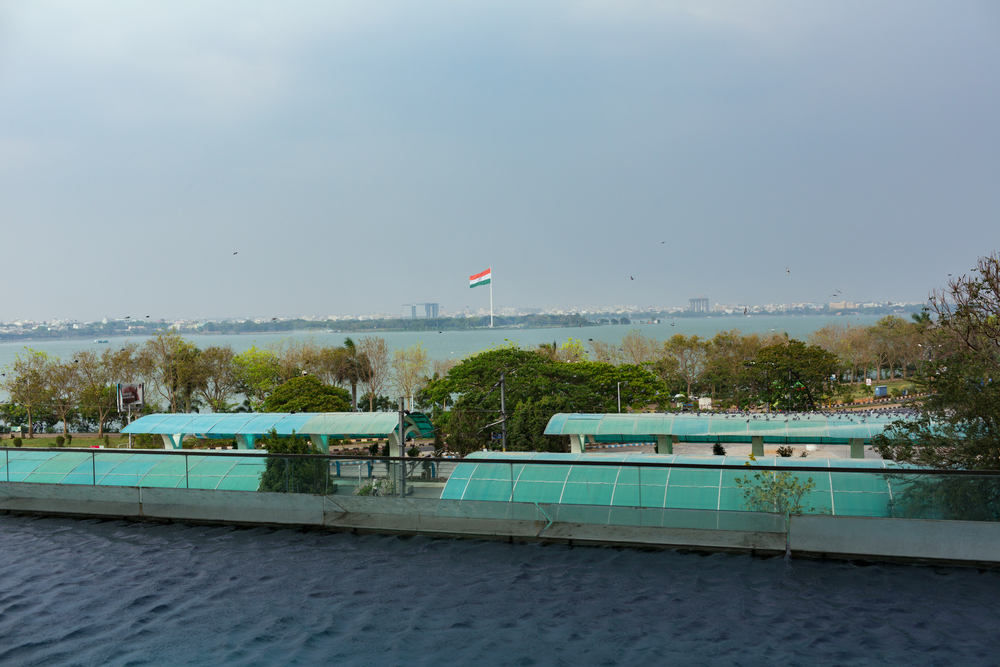 - Location:
Necklace Road, Telangana, Hyderabad 

- Price: 
You do not need to pay any price to visit the Necklace Road of Hyderabad. 

- Timing: 
There are no restrictions on timings to visit the Necklace Road. However, the number of eateries and food availability there may vary according to their availability. 

Places to Eat in and near Necklace Road


Necklace Road has got its own Eat Street, where you will find numerous shops selling delicious munchies, quick bites, and Hyderabad cuisines. Still, if you are looking for a heavy meal to be served in your platter, here's a list of the best nearby restaurants – 

1. The Waterfront – 
Listed amongst the '50s must-visit places in Hyderabad, The Waterfront treats with a luxurious and elegant dining option. It has got a blend of all three – great ambiance, delectable food, and an unparalleled view. The cuisines served here can be clubbed with a wide range of beverages and soft drinks – both alcoholic and non-alcoholic. 


Distance from the Necklace Road – 0.5 km 

2. Ohri's –
Ohri is a luxurious culinary fine dining chain in Hyderabad with numerous outlets. 100 degrees, 1857, 70 MM, Café Loop, and De Thali are some of them. You get some of the best sizzlers, desserts, pizzas at 100 degrees, while 1857 is an open-air bar and a rooftop restaurant with a classy ambiance. 70 MM offers you the best of buffet-style dining facility in Hyderabad.


Distance from the Necklace Road – 0.5 km 

3. Paradise Restaurant – 
Paradise Restaurant serves the best Hyderabadi style biryani and is a popular eatery amongst the tourists visiting the Necklace Place. They have a wide array of options to choose from their biryani menu and club it with excellent side serves. You will unquestionably lick  your fingers after trying their authentic, fresh, and satisfying flavors.


Distance from the Necklace Road – 0.5 km 

4. Bikanerwala –
This place offers you variety of Indian food and cuisines and fast food variants. Aloo tikki chaat and samosa ragda chaat are their signature offerings. They have their own validated and valet parking, and the place is wheelchair accessible. 


Distance from the Necklace Road – 1.8 km 

5. Hard Rock Café –
If you want to witness the craze of American style drinks, food, and pub fun, Hard Rock Café is a place meant for you. They have a great ambiance where you can easily unwind with your friends. 


Distance from the Necklace Road – 1.8 km