About Candolim Beach
The finesse of Goa lies in beaches flanked with shacks, pubs and interspersed shopping places. Candolim Beach is one of the best places to explore if you want to have an immersive Goan experience. It is a part of the Goan trio of Baga, Calangute and Candolim beaches where all the happening parties take place. 
Located in North Goa along the stretch of Aguada Fort, Candolim beach is about 12.5 km from Panaji. Many foreigners visit the place because it is less crowded than its fellow beaches. The nightlife at Candolim attracts locals and tourists alike. In fact, it is one of the most sought after beaches when it comes to experiencing water sports or other activities like parasailing, bumpy banana ride, snorkeling, boat ride, jet skiing and even scuba diving!
If you are planning your next visit to Candolim, then here is a detailed guide to help you have the best times of your life. 
How to Reach Candolim Beach


Candolim Beach is around 12.6 km from Panji, and it takes around 35-40 minutes to reach Candolim Beach from Panji. 
How to reach Candolim Beach from Panji:

Bus- The bus takes half an hour to reach Candolim Beach, and the bus fare is minimal that ranges from 30-40 INR.

Car/ Taxi- The other traveling option can be your car, or you can even hire a taxi. It takes around 15-20 minutes by taxi to reach Candolim Beach from Panji. 
Also, you can search for a cruise from Panji (if available) 
How to reach Candolim Beach from Goa International Airport
It takes around half an hour to reach from International Airport to Candolim Beach which can be covered by:

Taxi: You can hire a taxi from the Goa International airport and reach Panji around half an hour. From here, you can straightaway head for Candolim.

Bus: You can take a cab from Goa International Airport and reach the Vasco Bus stand. From the Vasco Bus stand, you can take a bus that will drop you to Panjim, and from Panjim, you'll have to change your bus to reach Candolim.
Best Time to Visit Candolim Beach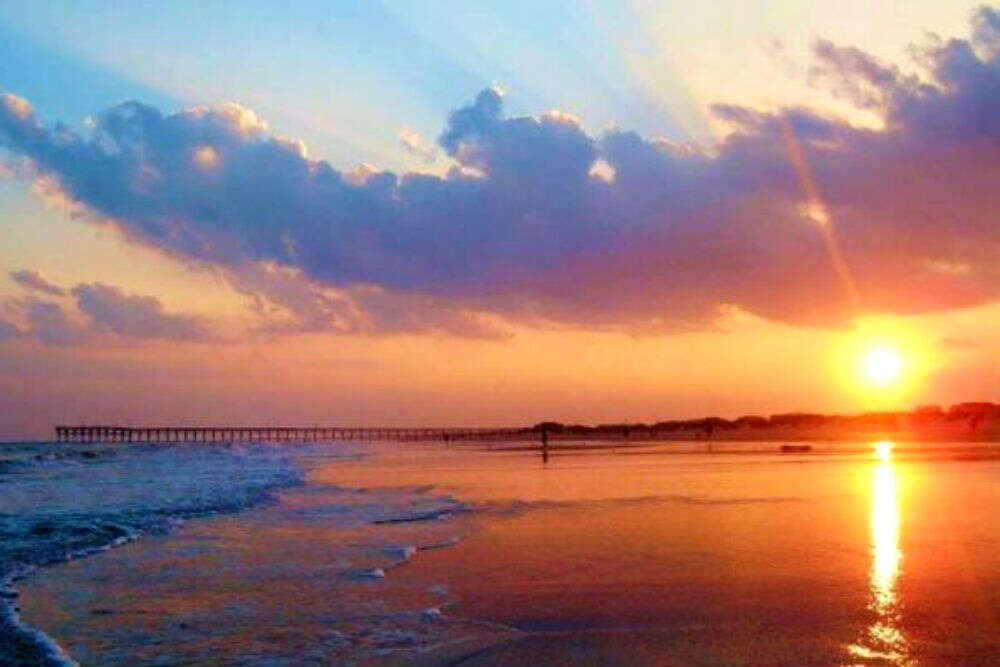 You can visit Candolim beach at any time of the year for an enthralling experience, but the month between April to November is the best time to visit this beach. The best time to visit this beach is between 6 am to 6 pm, which is the ideal time for sunset and sunrise. Otherwise, you can visit this beach at any time as it is always open to visitors.

What Not to Miss at Candolim Beach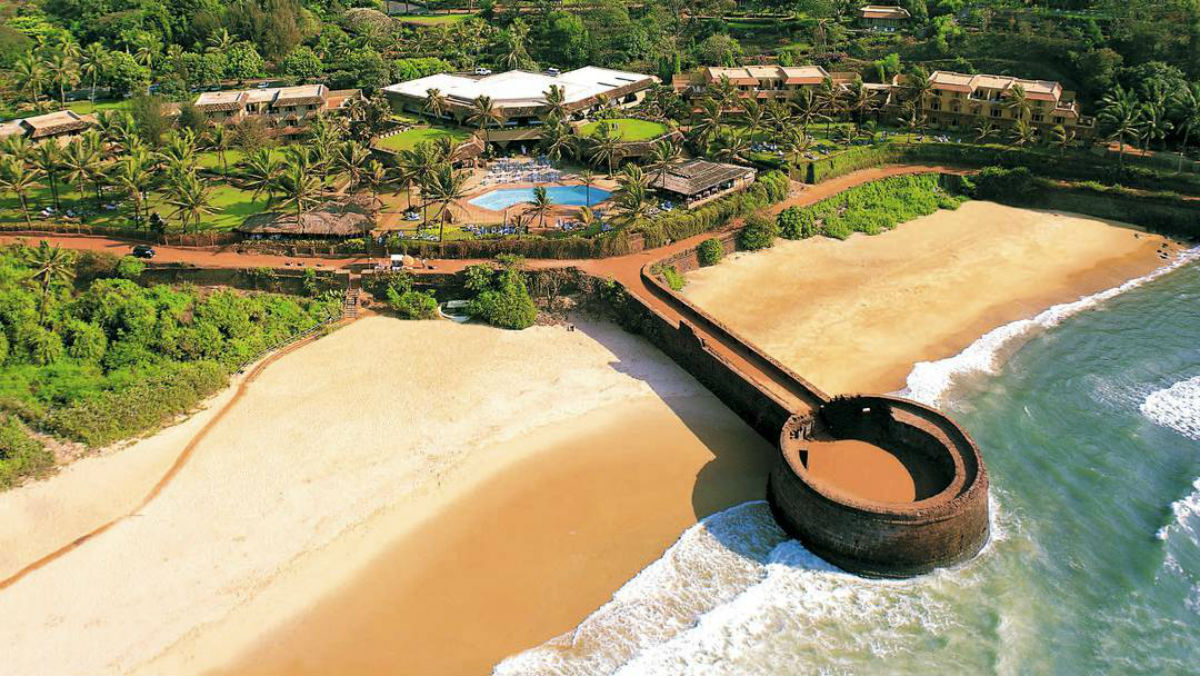 Aguada Fort-This is a well preserved Portuguese Fort located near river Mandodari. This four-storeyed lighthouse is one of the oldest of its kind across Asia. It contains many secret passageways, a formidable citadel, and has the capacity for around two hundred canons.
Calangute Beach-This is one of the longest beaches in North Goa, stretching from Baga to Candolim. It's a popular tourist spot for people all across the world due to its sheer size, thrilling water sports activities, and sumptuous culinary fare as it swarms with eating joints. The days here are known for beach fun, and the night calls for rocking parties.
Sinquerim Fort- Built-in the year 1612, this fort is an extension of the upper Aguada Fort. It was built initially to guard Goa against the Marathas and Dutch. The fort stands facing the Sinquerim beach, and it bisects the shoreline into two distinct parts. The lower part of the fort consists of a fortified wall and bastion on both sides. 
Mandovi River - Mandovi river is often touted as the lifeline of Goa as the riverfront bustles with cruises, and you can spot diverse species of birds near the river estuary. This river originates in Karnataka and is called Mahadayi over there, and 2/3 rd of its part transverses in Goa. The ferry services are available across the river by Goa's River Navigation Department. 
Chapel of St. Lawrence- This is located at the proximity of around 5 km from Candolim Beach and is touted as the most important one among all the Goan chapels. The façade of this church is hidden behind a porch, and two huge towers stand behind it. The pillars of the church are decorated with inscriptions from the life incidents of holy St. Lawrence.
Other Essential Information About Candolim Beach
Water Sports in Candolim Beach
Apart from being a place with a happening nightlife, Candolim has a venturesome day life too. You can engage in several water sport activities to get your adrenaline pumping over here. Here are a few of the must-try water sports activities here.
Parasailing: If you want to get a birds-eye view of the Goan coastline, then parasailing can be the best option for you. A strong feet rope is attached to the speedboat at one end, and a parachute is securely harnessed to the other end to suspend you in the vast sky. 
Bumpy banana ride: Get ready for a thrilling ride of bumps and falls by opting for a bumpy banana ride at Candolim Beach. The trained guides and world-class instructors take you bumping across the waves on a banana boat at Candolim Beach. 
Snorkeling: Get ready to plunge deep into the crystal clear water and go for dolphin sighting by snorkeling at Candolim Beach.  
Boat Ride: Feel the rush of adrenaline in your veins while Boat riding in the open sea at Candolim Beach. 
Jet Ski Ride: Jet ski ride is one of the most thrilling water sports activities at Candolim Beach. It gives you a chance to skid through the water at high speed. 
Nightlife at Candolim Beach


Candolim Beach is known for its energetic beach-side parties and boisterous clubs where the wild music and double dose of fun crosses all levels. Here are few places near Candolim Beach where you can experience the night life at its best. 
SinQ Beach Club: This nightclub cum bar is the hit venue in Goa bustling with party frenzy crowd. It has a dance floor and an indoor night club where you can chill out with your friends. This beach club also houses a billiard area and an outdoor bar that looks even more mesmerizing with the waterfront in the center. 
Bar Eclipse: If you love crazy parties and over the top drinks, then Bar Eclipse should be your ideal spot. It serves scrumptious food and unique cocktails that can instantly elevate your mood. It also has an exclusive private space with a view of the dance floor.
Bar-Square Goa: This open-air retro bar is extremely popular in Goa for organizing some of the craziest and wild themed parties. They serve a wide range of alcoholic and nonalcoholic beverages to make you feel elated with joy from every sip. 
Bar 1: This is one of the most lively and happening nightclubs in Goa with a multi-level dance floor and an open-air bar. It has a posh seating arrangement, great vibes, and a reserved area only for the ladies. 
Latino: This is one of the most popular bars of Goa with innovative cocktails, shooters, and a lip-smacking spread of bar snacks. People especially come over here to listen to the rocking beats of the DJs and to have the craziest parties. 
Places to eat at Candolim Beach
Haute cuisine of candolim will leave your taste buds satisfies, and lingering for more. Here is a list of places that serve sumptuous curries, prawns, crabs and you name it
Claudina's Shack: Located close to the golden sands of Candolim Beach, this restaurant satiates the cravings of the people by offering them delicious food. The seafood and Goan cuisines served over here will amaze your tastebuds with ultimate thrill.
Teama: This is an exquisite restaurant and pub just a mile away from Candolim Beach. This restaurant comes alive especially at night with famed karaoke performances and other entertaining activities that are organized in the pub here. 
Inferno: This is one of the most popular restaurants cum bar in Candolim. It has specially created a hype among the people due to its delicious food and luscious mocktails. It lifts up the spirit of its guests with foot-tapping music and lively night parties.
Sunny Side Up: This is a quaint restaurant located in the idyllic streets of Candolim with a bohemian setting and pulsating vibes. You can have a view of the sunset from here, and you can jazz up your self with the fulfilling food and drinks. 
Angaara: This is a top-notch restaurant located within 50 meters from Candolim Beach. It has an outdoor swimming pool, a plush bar area, and a private seating area where you can spend some quality time with your partner.
Shopping at Candolim Beach 



If you want to get souvenirs and trinkets, then Candolim is the place for you. They aren't only of good quality, but also available at rock bottom prices.

Newtons Supermarket: This is a gigantic supermarket located in Candolim. You can find here everything ranging from fresh fruits to swiss cheese and from local wine to green tea. Many branded stores are also located here from where you can get the designer stuff. 

Delfinos Supermarket: This is the most popular supermarket in Candolim. It is a one-stop retail market that offers a wide range of personal products and basic home amenities to the customers. For a world-class shopping experience, you must visit this top-notch supermarket. 

Places to Stay near Candolim Beach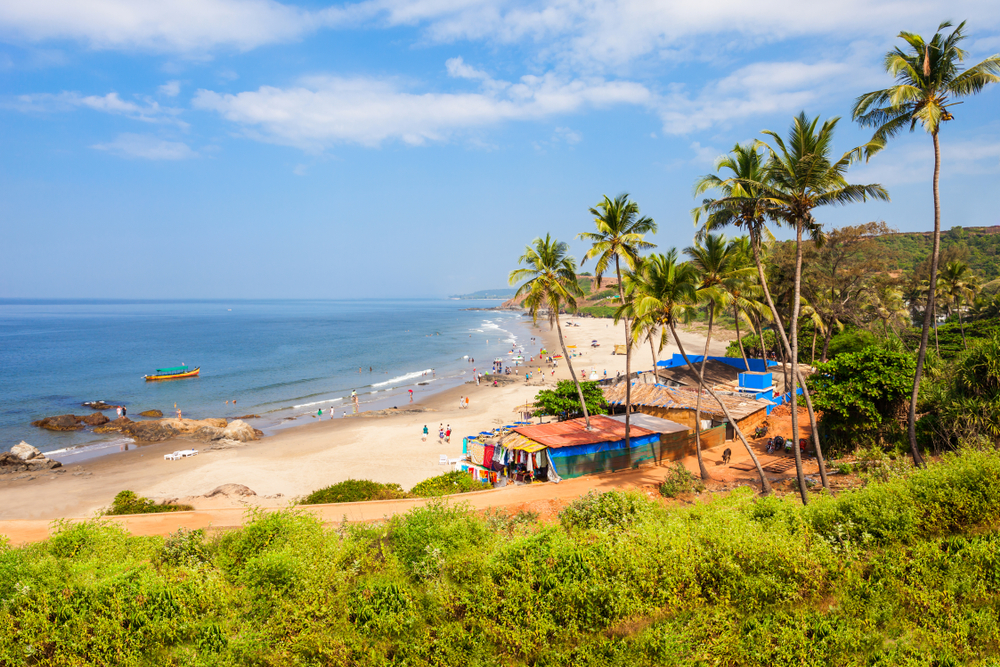 Candolim Beach is surrounded with luxury hotels and resorts with outlandish decor and state of the art facilities. Here is a list of some of the best stays near the beach.

De Alturas Resort: This is a four-star deluxe resort located at a distance of 500 meters from Candolim Beach. It has ninety-five guest rooms and deluxe sea-facing rooms. An all-day dining restaurant operates from 7:30 am to midnight serving all kinds of delicacies.

Casablanca: This is a three-star exquisite beach resort designed in an elegant Portuguese and Spanish style. This resort is ideal for a relaxed holiday in Goa, and the rooms are quite spacious, offering an ethereal view of the surrounding. Interiors have a unique blend of bright upholstery, contemporary art, and vibrant hues. 

Ginger Tree Village Resort: This is one of the best resorts that you can find in Candolim for an ideal stay. It has fifteen aesthetically pleasing guest rooms and a multi-cuisine restaurant. The rooms have been equipped with all the basic facilities and hospitality is also excellent. 

360 Degree Beach Retreat: With immaculate sand beaches and lush landscaping, this is a retreat like none other. It has spacious rooms, a beachfront spa, the dining area at the rooftop, and a swimming pool. It maintains the strong cultural roots and ethos of Goan culture in its entire setting.

Holiday Beach Resort: This is a four-star resort located close to Candolim Beach. It offers very spacious and comfortable rooms with lavish interiors and all the necessary amenities. The swimming pool invites you to take a dip in the crystal clear water.
Shacks at Candolim Beach 
The beachfront shacks of Candolim Beach are the most famous attraction for the visitors. These shacks serve lip-smacking food amidst a crazy environment where you can relax and unwind chugging down the drinks. Each beach shack offers a wide range of traditional Goan fare blaring out the lively beats on thumping bass. 

Sanatana Beach Hotel- One of the best beach shacks in Candolim Beach is run by Santana Beach Hotel. Here you can get a wide variety of Goan cuisines and delicious seafood. In the evening this shack becomes the perfect spot for relaxed dining with your feet in the sand. 

Bobby Shack- Bobby shack is another favorite of people, and the best thing is that all kinds of food are prepared over here by using the handpicked ingredients. It is ideal for a happening beach vacation as it provides facilities like pool table, shisha, soundproof nightclub and free wifi for an unforgettable experience. The happening vibes of this place lure you to spend some quality time over here. It is one of the best shacks to wine and dine in a crazy environment by the seaside with your friends and family.
Things to Carry at Candolim Beach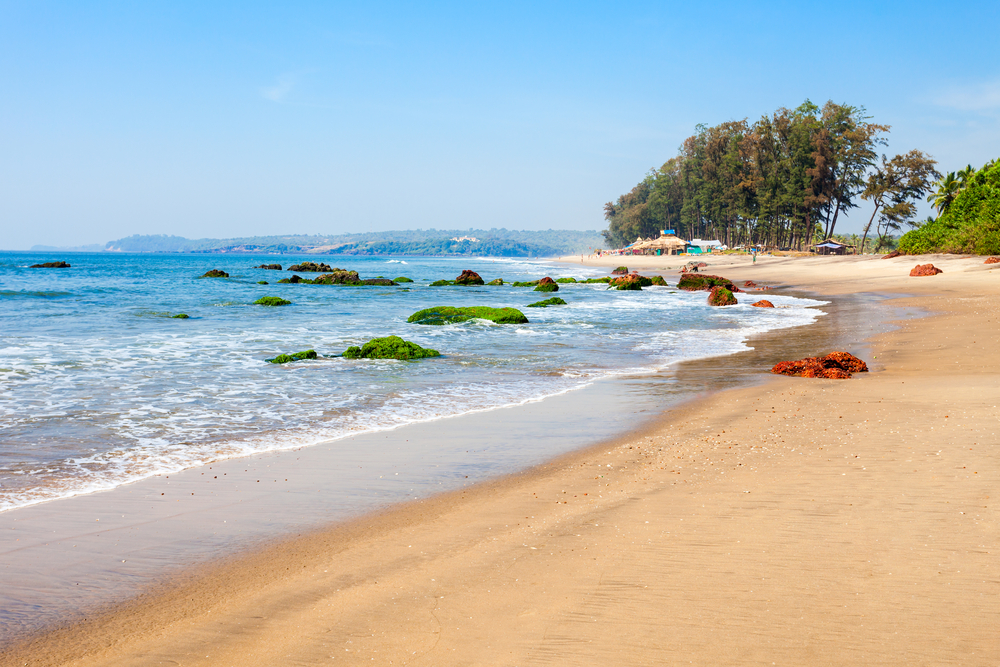 If you want to have ultimate fun at Candolim Beach, then you should never forget to carry these essentials that will turn your entire trip into a breeze. 
Carry mirrored sunglasses to protect your eyes from harmful UV rays while enjoying the beach.
Sunscreen is a must if you want to stay away from sunburn and other adverse effects of UV rays on your skin.
Always carry crocs as they are comfortable to walk on the sandy area of Candolim beach.
If you really want to soak up the sun, then a swimwear should be a must-have before hitting the beach.
Travelers' Tip before visiting Candolim Beach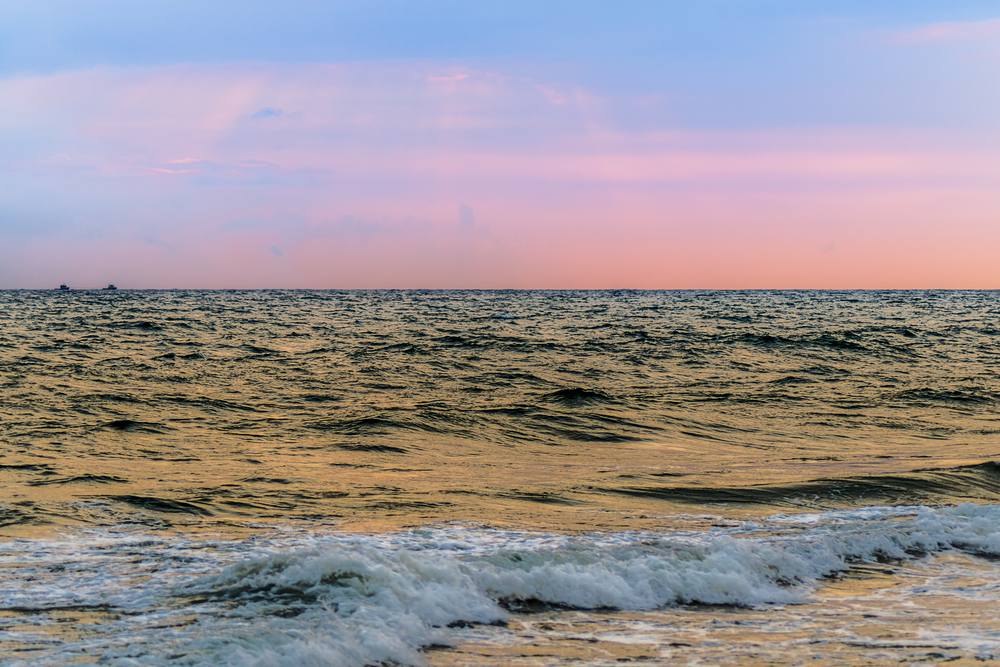 Avoid visiting Candolim Beach during peak season because you'll not be able to enjoy to the fullest when the beach is overcrowded with people and the accommodations will also be very costly.
While the Candolim Beach is the greatest attraction of Goa, it might also pose a few risks like sunstroke and sunburn. So it's important to apply a high SPF before heading into this beach.
There might be cases of a strong rip current in the monsoon season at Candolim Beach. In such a case, red flags are marked at the beach, which means you should restrict from swimming and trying other water sports activities.
Medical Facilities near Candolim Beach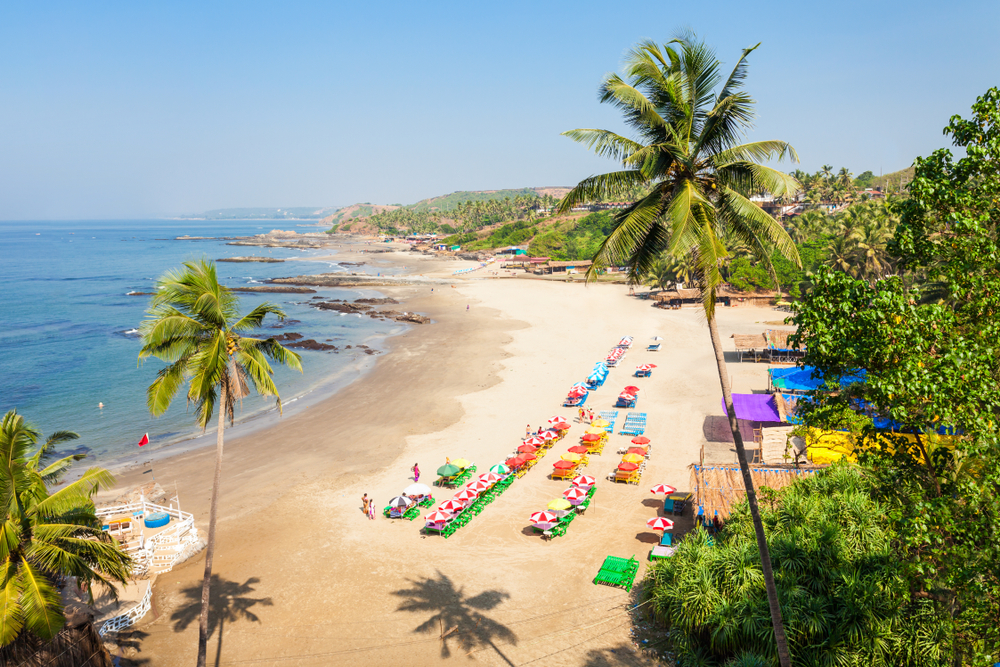 There are many hospitals and primary health care centers near Candolim Beach, where you can always seek medical advice. In case of any complication while trying the water sports activities or rejoicing near the beach the doctors are always ready to provide you the best treatment.
Apart from this, various operators also offer basic medical facilities and first aid kit in case of any health-related complexities while enjoying at Candolim beach.