About Patong Beach
Patong is Phuket's busiest coastline town and Patong beach is one of the most visited tourist attractions here. The 2.5 kilometers long sandy beach holds an endless number of hotels, resorts, bars and various other tourist attractions that make it a favourite pick amongst visitors. Furthermore, as the beach is easily accessible, it remains crowded on most days visited by locals and tourists alike. This can be a fly in the ointment for visitors who do not like crowded places but Patong's nightlife has only fascinated everyone ever!

Patong's bustling lifestyle is apt for youngsters who are sure to never find a reason for boredom. The beach town, known for its nightlife owing to the many clubs, bars, lounges, remains open all through the night. Patong is also popular for its shopping lanes where shopaholics are certain to find something fancy to take back home. From night markets to fresh markets to malls, shopping lovers have quite a few options for their fun pass time.

Tourists interested in watersports can find a number of water activities to indulge in, such as surfing and swimming. They can also find beach umbrellas and sun loungers to relax and chill at! If nothing else, beach lovers can sip a mug of beer and watch the sun set in the beautiful sea of Patong. Undoubtedly, Patong is the ultimate go to for party animals but not for people wanting some time in solitude.
How to Reach Patong Beach


Phuket airport is the nearest airport located in Patong town. There are no buses that run from the airport to the beach, thus hiring a private cab till Phuket city centre and thereafter taking a bus journey until Patong beach is the best idea. Phuket airport minibus is also an option for tourists. The distance between Phuket city and Patong beach is approximately 40 kilometers and takes about an hour.
Best Time to Visit Patong Beach


The best time to visit Patong Beach is during the months of November to April. During these months, the weather conditions in Patong are apt for beach activities such as swimming, snorkeling, boating, etc. The rest of the six months offer cheap stay, reasonable transportation facilities as they are the monsoon months. However, monsoon months are not ideal for beach visits as water levels fluctuate on dangerous levels and one cannot indulge in any of the watersports.
What Not to Miss at Patong Beach


1. Bangla Boxing Stadium: This stadium features regular Thai boxing matches and is run by a team of Thai boxing professionals. It can be a new and fun experience for tourists who haven't attended live boxing matches before as the matches get pretty intense. However, these boxers - locals as well as foreigners are well trained and practiced for long months before they get into the boxing ring. The fights are held thrice a week on Wednesday, Friday and Sunday.

2. Football Crazy Golf: Located next to Phuket Go-kart circuit, the football crazy golf is yet another interesting spot for tourists to visit. This activity, which is a mix of football and golf, as the name suggests, is relatively new to the people of Thailand itself. However, it is immensely popular amongst tourists coming from Scandinavian countries. This sport does not require any specific skills and is apt for all age groups.


3. Freedom Beach: Another one for beach lovers to visit, Freedom beach is a 300 meters long strip of white sand. The beach has granite rocks that add a tint of dark hues in the subtle white looking landscapes here. In the surroundings are dense trees that make the location look isolated and exotic. Moreover, as the beach is not very accessible, it remains less crowded as compared to Patong beach.


4. Kathu Shrine: Living in the long history of Phuket, Kathu Shrine is known as the original home of the Vegetarian Festival. As per rumours, it is said that a Chinese opera had come to town from Mainland China. And without any definite reasons, the members of the clan started to fall sick. They later realised that they had forgotten to follow the traditional vegetarian diet. The vegetarian diet was held and with time, all the members were healed of their sickness.

Ever since then, Kathu shrine is considered to be the holiest shrine in the whole of Phuket. Kathu Shrine is about two kilometers from the Kathu and Patong junction on Samkong and Kathu Road and is open on all days for tourists to visit.


Things to Do in Patong Beach


Indulge in the relaxing Breeze Spa in Amari Phuket: Located within the premises of Amari resort, Breeze spa is popular to deliver its relaxing services. The services are open to all and can be enjoyed by non residents as well. The spa treatment is provided amidst a tropical forest setting and is carried out by professional masseuses only.


1. Enjoy Bangla Road Nightlife: Your trip to Patong will be incomplete if you miss experiencing Patong's liveliest area - Bangla Road. With an uncountable number of bars, clubs, beer bars, go gos, dining places, market stalls, live music, performances and so much more that runs all night long, Bangla Road is where you must come to experience the nightlife of Patong town. This area is unthreatening and absolutely safe for all kinds of travellers. It a must visit when in Patong.


2. Attend the Simon Cabaret Show: Phuket is popular for conducting many big shows - arts, culture, drama, dancing and singing shows. However, Simon Cabaret Show is hands down the most popular one. Home to nightly 70 minutes long performances that feature unique styles of dance and song routines, Simon show marks a remarkably extravagant entertainment show. It is a family friendly show where kids, as well as the elders, can enjoy and spend a memorable night.


3. Swim at Paradise Beach: Truly a paradise in itself, this beach of just 150 meters in length is sure to leave you surprised with its beauty. Situated right across Patong Bay, the beach has great views though it is compact in size. It is an ideal choice for swimming lovers as the beach allows favourable swimming conditions all round the year and is pretty safe even for kids.

The beach has palm trees and almond trees that offer shade to tourists wanting to skip the sun tanning. There are granite rocks at both ends of the beach that seem to be protecting it and there is also a coral reef that remains some 100 meters offshore.
Other Essential Information About Patong Beach


- Location: Patong beach is located on the west coast of Thailand. Spreading across a coastline of 2.5 kilometers, the sandy beach merges with the waters of the Arabian sea.

- Timing: Patong beach is open twenty four hours, every day. Being a popular tourist attraction, the coastline has a number of restaurants, clubs, bars, malls and other attractions that remain open all the time. As Patong beach is famous for its nightlife, many attractions here serve only during the night time and remain closed during the day.


Places to Stay in Patong Beach


1. Amari Phuket: Located south of Patong, this hotel has 345 rooms and luxurious suites that offer views and vistas over Patong Bay. The hillside, multi tiered hotel has two swimming pools, a scuba diving centre, a fitness centre, a tailor shop, a spa and massage centre and many quality serving restaurants.

The hotel straddles a slope running down to a private beach which remains exclusive for the guests of this hotel. Moreover, Amari Phuket is at a walkable distance from most attractions in Patong, from the bustling nightlife streets of the town where best of the bars, clubs are located and entertaining shows take place.


2. Phuket Marriott Resort and Spa: Perched in the hills of Patong Beach, Phuket Marriott Resort and Spa opens doorways to an exclusive beach on its western end, not compromising on the views of Patong. The resort has a baby pool, children's pool and three large swimming pools along with a water slide. It features an international set standard spa, a fitness centre, four meeting or function rooms for corporate groups, a kids club, a tennis court, a beauty salon, gift shop.

It also offers guests the opportunity to indulge in many other things to do such as scuba diving, and Thai food learning classes. From Thai food to Italian food, from seafood to snacks, restaurants here serve a delightful range of cuisines and are considered amongst the best in Phuket.


3. Burasari Resort: Located just a few steps away from Patong Beach, this boutique resort is the gateway to luxury with absolute comfort. With its impeccable style, the resort offers super amenities that meet every mood and need of the guests. The resort is a short walk away from Bangla Road, the nightlife hub of the city as well as from the many restaurants and bars of Patong's Beach Road. It is also located nearby Jungceylon Shopping Mall.

Shopping Sites in Patong Beach


1. Jungceylon Shopping Mall: With over 200 stores selling sunglasses, cosmetics and perfumes, shoes, DVDs, computer games, clothes, bags and practically everything required by a consumer, Jungceylon Shopping Mall is a heaven for shopping lovers. There are also tons of entertainment options for visitors who would like to skip the outdoor heat and rather, enjoy some time in an air conditioned setting.

From five-room SF Cinema to 16-lane bowling alley, this mall has many such entertainment and shopping experiences available. Here, Robinson and Big C supermarket are two main stores in the complex. The mall is located diagonally opposite to Bangla Road, the popular nightlife street and is believed to have changed the face of shopping in Patong.


2. Malin Plaza Patong: For tourists who want to indulge in affordable-budget shopping spree, Malin Plaza Patong is the place to go to. Shopping lovers can find an impressive range of t-shirts, denim, mobile phone accessories and beachwear, bags, luggage, spa products, with a great range of cheap food available all along the lanes here. This is also a good market to pick souvenirs for friends and family back home. Thankfully, this market does not remain as busy and noisy as the other markets of Phuket which makes it on the list of best shopping places in Patong.


3. OTOP: The 'One Tambon One Product' aka OTOP is an idea that originated in Japan. Here, tourists can shop local, authentic traditional handicrafts, fashion accessories, household items, silk garments, cotton products, pottery, and food. This market encourages village communities to improve the quality and marketing of their products in order to showcase the best in the world. This shopping area, hand downs, is the best market for shopping lovers who want to buy the best of the local!


Nightlife Places in Patong Beach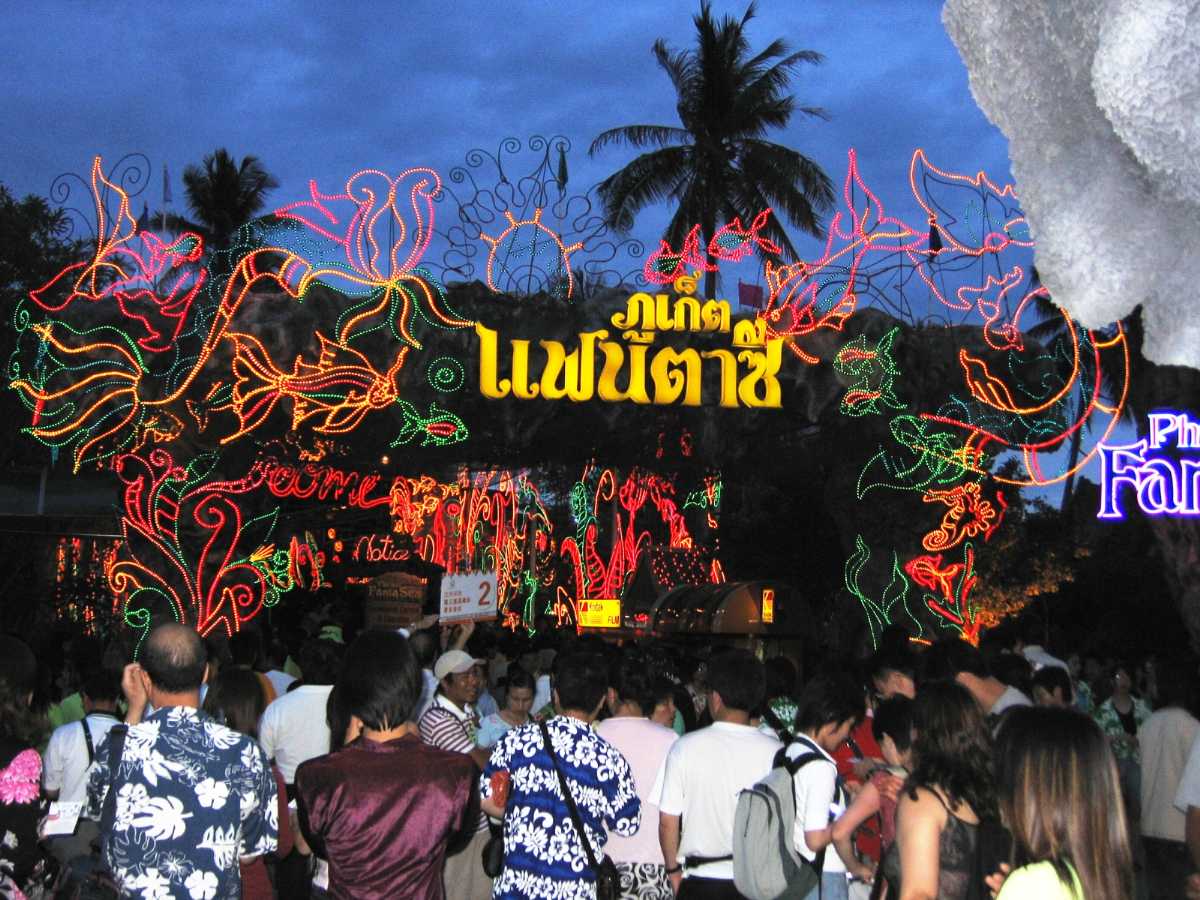 1. Bangla Road: Bangla Road is perhaps one of the liveliest areas that tourists come across in the whole of Phuket as it really comes to life when the sun sets down. The road is closed for vehicles to pass by, thus it is accessible only on foot. The street gets transformed into a flee area, nothing less than a festival ground decorated with trippy neon lights; where bars selling cheap beers is an assured prize! The road is quite a friendly one and remains safe with a lively atmosphere that comes from the uncountable number of international-standard nightclubs, beer bars, live performances.


2. Illuzion Show and Discotheque:
Highly recommended to be on the list of hardcore party lovers, Illuzion Show and Discotheque features three main areas in the club - the dance-floor, the VIP lounge, and a large balcony. The club has a central T-shaped stage back-dropped with a 100 square meters LED wall screen. The LED showcases graphic images that go perfectly well with the beats of the music. This club is considered to be one of the most popular nightclubs in Phuket where one must go to groove to the beats of EDM and hip-hop music.


3. Tiger Disco: Spread across 500 square meters and 3 floors, this disco bar has nothing less than 60 beer counters. The first floor of the club is well lit and has an impressive sound setup where the dancers in the house can let loose! Techno music blasts at the loudest volume on speakers that are installed in the ceiling. The Tiger Pool Club, bar and restaurant is located behind the building's first floor. This is where you can dine and play pool in a much quieter atmosphere.
Places to Eat at Patong Beach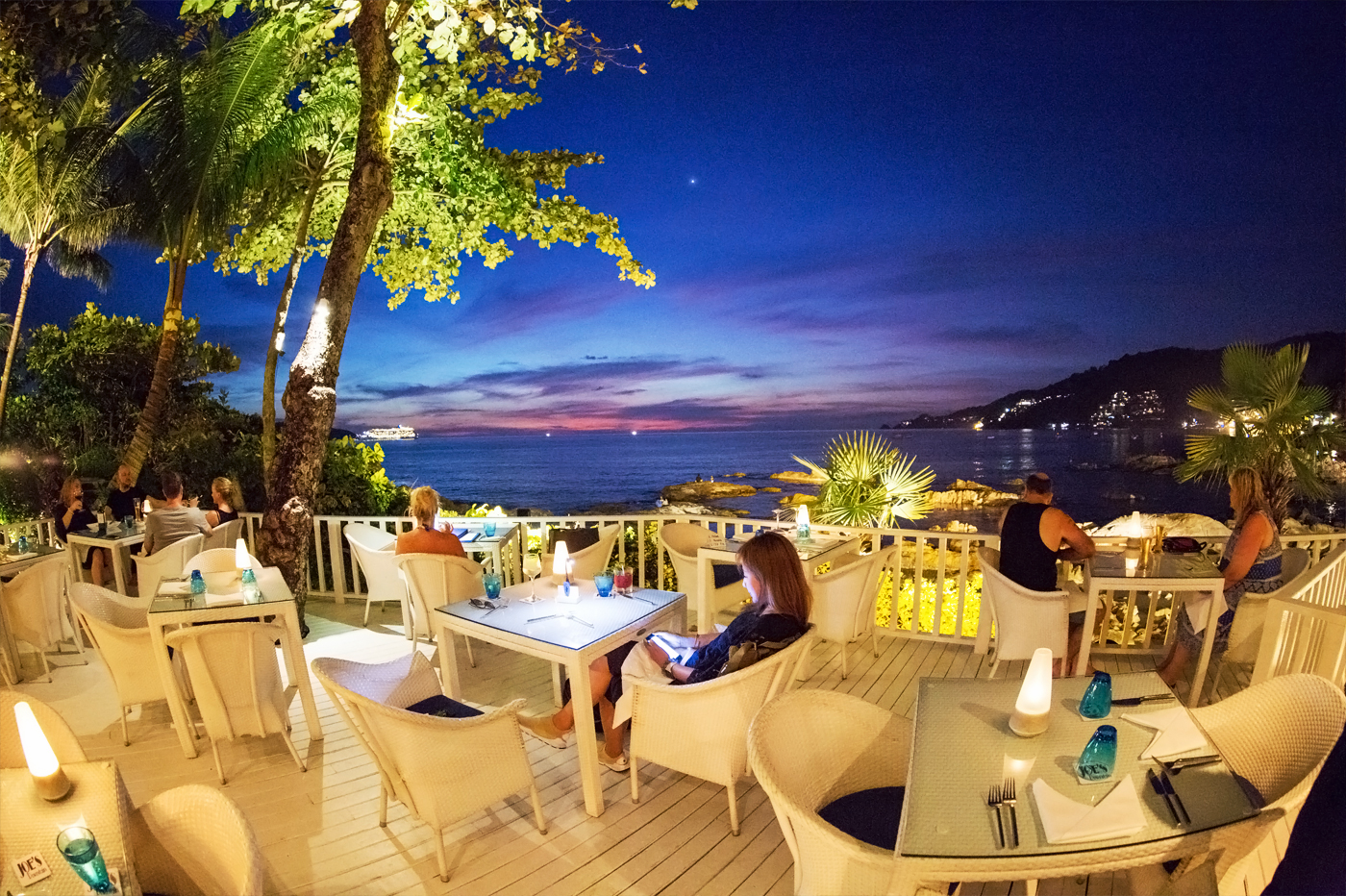 1. Joe's Downstairs: As of Patong's most prominent and popular restaurants, Joe's downstairs serves modern and contemporary international cuisine. The restaurant pays great emphasis on the quality of the food and accentuate it with its stunning outdoor seating arrangements and location. The downstairs lead to a white coloured restaurant situated on granite boulders; which overlooks the beautiful Patong Bay. This place is apt for young crowds to enjoy their sundowners whilst enjoying the cool breeze from the sea. And indulge in some conversations taking a break from Patong's noisy and crowded places!


2. Home Kitchen, Bar, and Bed: Home Kitchen, Bar, and Bed is a restaurant, a boutique hotel, and a lounge bar. It is a project by the multi talented, hyper-creative and popular chef, Chef Daniel Isberg. The restaurant has an artsy setting which is beautifully pervaded in the two - storey building. The second floor of the building is shaped like an upside down boat's hull which is opened to the sea, justifying the location. The restaurant is yet another perfect place for some fancy cocktails before one rushes into fine dining.


3. Pan Yaah: Hotel Pan Yaah in Kalim, Patong is a restaurant that offers impeccable views of Patong Bay. The restaurant serves traditional Thai dishes and excels at finger licking Thai seafood. The decor of the places matches the taste of its food and is all that a foodie and an admirer of nature can ask for. This place is highly recommended for a romantic evening date which can certainly be enjoyed by couples who would also get to enjoy an intimate sunset. Moreover, here, visitors can also adore nature's melody in the form of the granite rocks hitting the surface which sounds absolutely soothing and meditative.


Travelers' Tip for visiting Patong Beach

1.
Tourists can book scooters for convenient travelling, in and around the beach area, and for travelling in the whole of Patong town. It is advisable to make this arrangement through hotels or a reputable company.

2.
Avoid getting scammed at the bars; especially at Bangla Road. Don't fall for the games the bartenders challenge you with.


3.
There are many tattoo shops in Patong town. Make sure to check the quality and credibility of these stores if you decide to get yourself a tattoo.


4.
Indulge in street food. It is worth kicking a fine dine experience.