About Bangla Road
Bangla road is known for its extravagant nightlife with several bars and pubs offering almost everything like live music, famed DJ'S, and great drinks. This road is truly defined as the heart of the nightlife of Phuket and also renowned among the people as the Patong Walking Street,

The main attractions of this road are its rooftop bar, live music bar, ping pong shows, markets, beer bars, and others. This road allows traffic during the day and turns into a pedestrian street after 6 PM.
Phuket which is known as the party capital of Asia has most of its visitors for its Bangla Road. This road gets packed with party enthusiasts once the sunsets. The charm of the road is enhanced by the shimmering lights and soft music sounds from the bars lined up across this road. 

Street food is the other major attraction to indulge in while strolling on this road. One can feast on the mouth-watering dishes like grilled meat, fresh fruit juices, and other famous Thai food.
Bangla Road is located in the coastal hub of Patong and is considered as Phuket's most lively place. The road attracts a major crowd on big occasions like Songkran festivities, New Year's Eve for a grand celebration. You can see many touts advertising their menu and special offers on this road.

This place turns into a party place arising as a major spot during the evening for the tourists. Visit this most happening place on the pristine island of Phuket on your vacation.
How to Reach Bangla Road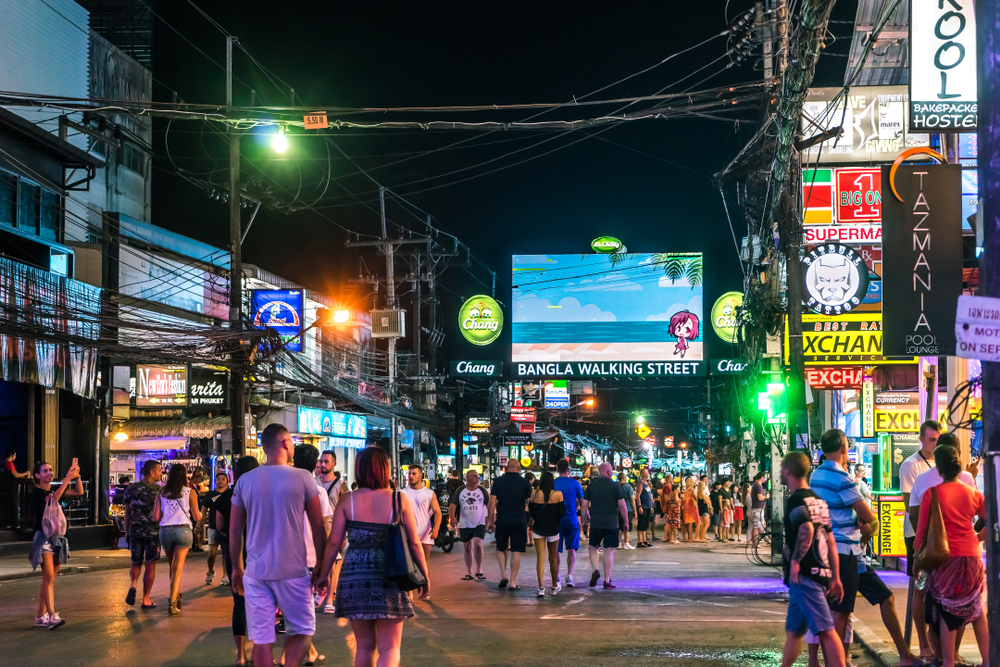 Bangla Road is located in the vicinity of Patong Beach. No traffic is allowed on the road after 6 PM, so you would have to walk down the street which is an adventure in itself. You can choose various options of commuting like cab or public transport to reach Bangla Road.
If you have accommodation close to Bangla road, you can just take a walk here. In another case, you can opt for motorbike taxis, tuk-tuks, songthaews, taxis and others.
Best Time to Visit Bangla Road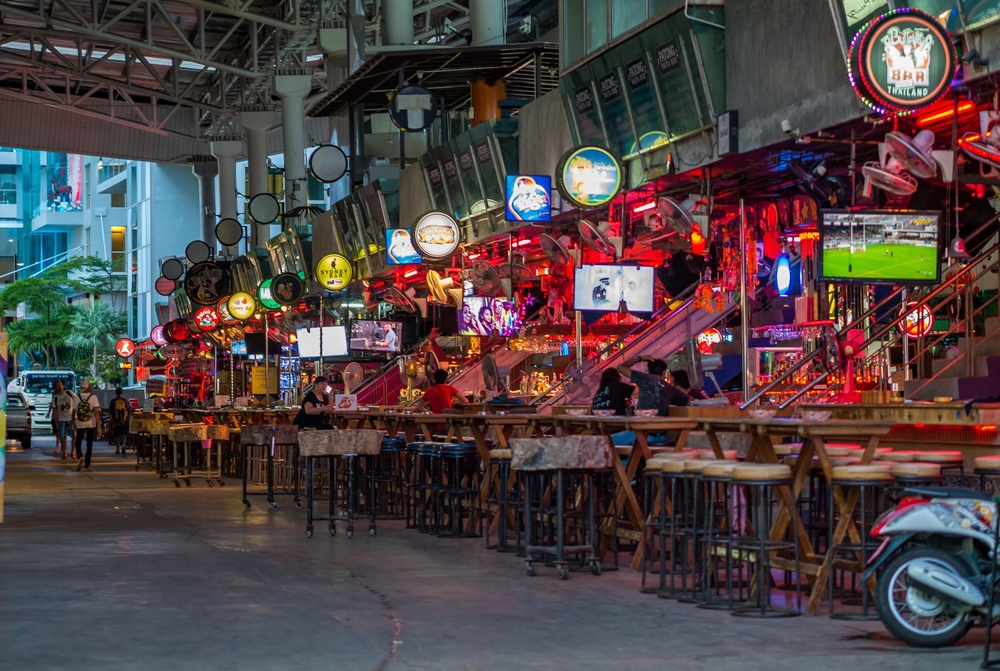 To enjoy your vacation in the spectacular location of Phuket, plan your trip in the middle of November and April. The weather is apt for exploring distinct parts of the Bangla road during these months. Also, you can catch and be a part of the festivities celebrated with full enthusiasm like New Year's Eve and others.

Apart from these peak tourist months, the other season that remains as an option is the monsoon season which is not a very good time to plan a vacation here. The frequent showers of rain can interrupt in one's utmost exploration of Bangla road. 
What Not to Miss at Bangla Road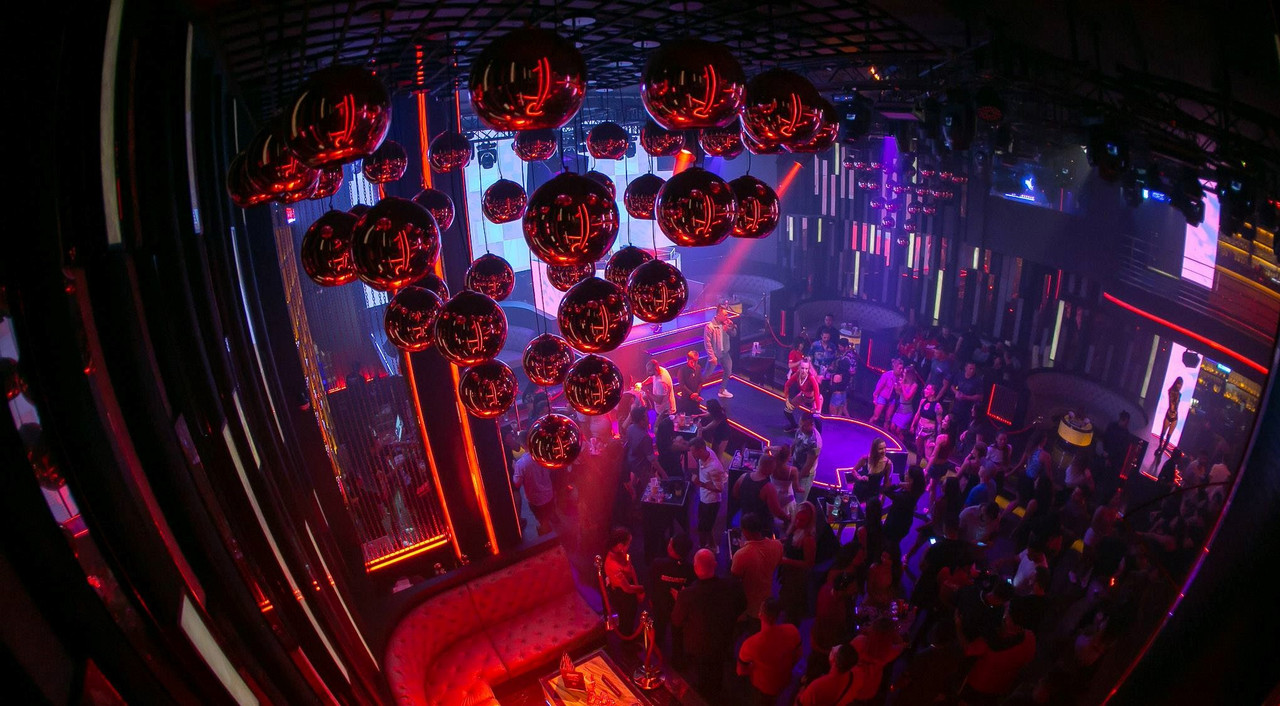 Credits: Sugar Club Phuket

1. Sugar club Phuket:
Sugar Club is the only international hip-hop club in Phuket. This newly opened club does justice with their motto "we own hip hop" as it has the best of artists performing at its place each day.
It includes performance of the biggest international artists and best local talents that bestow the best party vibes to its people. This place also offers VIP options at its place.
2. Top to Toes: This spa, wellness and beauty store is located primarily on Bangla Road. The famous products at this store are their organic spa products that one can buy at wholesale and retail prices. You can book an appointment in advance at their place as per your convenience.

Free pick up service from Patong Beach is also offered at this store. For an enhanced experience with your partner, you can opt for a couple's room to get relaxed together with the soothing wellness treatments.
3. Danze Fantasy Theatre: This place is an abode to the best international shows in Phuket. Check out with the dates of your trip if this place is having an event on the days of your vacation to be a part of the most enthralling partying experience. It's a must visit location for the people who have a taste for distinct types of shows.
4. Gossip Nightclub: 
Nestling in the heart of Bangla Road, this place is a hip-hop nightclub with a talented DJ Resident. Feel free to converse with the manager here who is well aware of French and English language. The courteous staff and vibrant music will offer you a great time on your vacation.
Street Activities and Shows at Bangla Road


1. Shopping: Opening the shops at 9 PM, the market on this street remains open till 3-4 AM. You can shop for various interesting things from here at very reasonable prices. Be it the décor items or clothing, you can find something that would match your taste. Do remember to bargain for anything you buy irrespective of how cheap they are.
2. Street Food: Many hygienic food stalls are located in an array at the Bangla Road. Enjoy the best of delicacies at these stalls that also offer a seating place to their guests. Enjoy your meal in the open air as you sight the lively location of Bangla Road. Dishes like curries, grilled meat, noodles, and other local dishes are perfect to lure any food lover.
3. Bars and Nightclubs: Grab cheap booze in the famous nightclubs and bars located at the Bangla Road. The live music and other treats at these places are perfect to match with the craziness of your party. Do check out the best bars before visiting any on the Bangla Road for an exceptional and safe experience.
4. Soak in the vibe of the Bangla Road: Not everyone is looking for a party mode during their vacation. So, for the people who are out on Bangla road with a distinct taste can explore this most visited place for an experience. As this road nests close to patong beach, one can dine at the famous thai cuisine in one of the restaurants here and stroll on the beach under the moonlight.
Other Essential Information About Bangla Road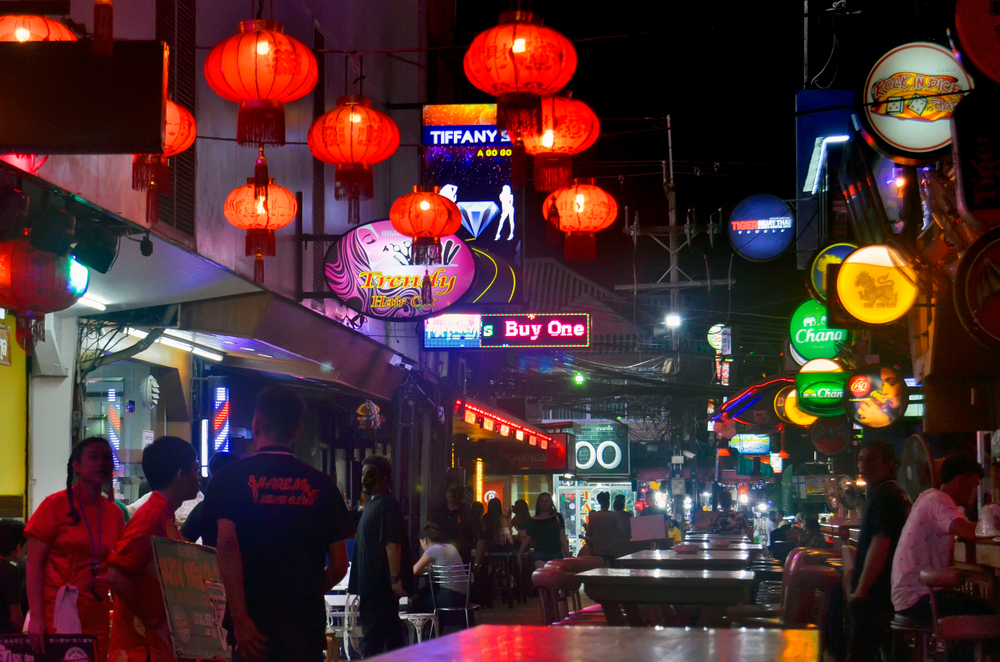 Location:
Bangla Road is located in the proximity of the Patong beach. For a perfect address for your google maps, go with Thanon Bangla, Tambon Patong, Amphoe Kathu, Chang Wat Phuket (83150), Thailand
Timing:
one can visit from 12 noon to midnight on this road. The nightclubs and bars remain open till 4-5 AM.
Night Clubs at Bangla Road 


1. Illusion club & Discotheque: For an ultimate clubbing experience, this is one of the best nightclubs that offers one a true experience of the thrilling nightlife of Phuket. The live music and band show from the talented and famous artists at this place boost the enthusiasm among its crowd and take the party mood to another level.

Famous international heavyweight DJs like Tiesto, Martin Garrix, Nicky Romero are frequent performers at this place. Check out their website to know about the upcoming events that are going to be held at this nightclub while you are on vacation in Phuket.
2. White Room: With space to accommodate 600 clubbers, the classy white designs and superior sound system at this nightclub is one of the charms of this nightclub. The friendly hostesses help you get your beverages that include every variety be it the local Thai beer or a bottle of Cristal champagne.
3. Tiger disco:
This extravagant nightclub plays the music of international DJ mix Arabic, hip-hop and Hindi music to offer its guests an unforgettable experience. This club is truly an all time party place that is also safe to celebrate occasions on your trips with your people.
Night Market at Bangla Road 



Bangla road is an all in one tourist location that has everything for everyone. For the shopaholics, this place has multiple markets selling clothes, souvenirs, and decoration items. One can stay clear of the thought of burning a hole in their pockets while shopping from this road as everything is quite cheap.

Unlike the other markets in Thailand, this market on the Bangla Road remains open till 3-4 AM. Do remember to bargain even though you find the prices to be cheap. You can also avail yourself with great offers if you buy in bulk.
Places to Eat at Bangla Road

Check out the list of best places to dine out on the Bangla Road from extravagant restaurants to reasonable places to eat.
1. K & K Restaurant: The main cuisines served at this restaurant are seafood, Chinese, Asian and Thai The luscious food here won't make you regret your visit to this place. The prices of the dishes on the menu are quite reasonable. So, rest assured of any hefty bills and satisfy your cravings as you dine here.

2. Eurasian Restaurant: Located in the center of the bustling Bangla road, this restaurant has been a favorite among tourists due to its food, service and worth the value portions. You can find the utmost quality in their food that is incredible for the price corresponding to each.

3. Climax Restaurant: This stunning venue is located on the fifth floor of the Absolute Bangla Suites. It is Patong's only rooftop poolside restaurant and offers gorgeous views of the nightlife in Phuket with some lip-smacking food. You can also visit this place in their happy hours to feast on your favorite drinks to save yourself from burning a hole in your pocket.

4. Burger King: Yes, you read it right. This extensive burger chain outlet is also located on the famous Bangla Road. So, if you are craving for some type of fast food, visit this location located primarily on this road.
Traveler's Tip for Visiting Bangla Road 

The following tips are a check on a safe vacation in Phuket if you are visiting Bangla Road.


1. Buy your drink yourself and don't leave it unattended.

2. Don't carry too much cash than necessary. Pay as you drink and don't wait to call for the bill at the end of the night to avoid getting surprised by a hefty one.

3. Avoid getting into any type of fight with the drunk and belligerent people as things can get very nasty eventually.

4. Avoid using the tuk-tuk drivers that are infamous for their over the top prices.

5. In case you get drunk, stay close to Bangla Road, it would be helpful for you to reach the accommodation.

6. The Patong Tourist Police is always there to keep its visitors safe. Save their number 1155 on your phones in case of any emergency.