About Tanjung Rhu Beach
As pellucid as the blue sky above, Tanjung Rhu beach has crystal clear and clean water with powdered sand that runs along its coastline. A corridor of dense trees marks the path to the beach and proves to be an interesting gateway to the shores. Hidden from the world and the claws of commercialisation, Tanjung Rhu beach maintains its serenity for travellers looking for some time in peace.

The beach remains quiet, non-polluted and restful throughout the year with pleasant winds blowing from the sea. It does house a few local stalls that serve Langkawi's favourite - mee gulung but nothing more that may obstruct its warm ambience. Adding to the exclusivity are luxury hotels that surround this beach in huge numbers.

The high-end properties contribute in keeping the beach secluded, thus preserving its beauty. Rows of fragmentary limestone crags border the beach, further adding to its mesmerising beauty. The beach is easy to reach and has gained popularity because of its inhabitants like Four Seasons Resorts and Tanjung Rhu Resort. On a visit here, travellers are sure to understand why Tanjung Rhu beach is known as one of the best shorelines in Langkawi.
How to Reach Tanjung Rhu Beach


Tanjung Rhu beach can be accessed from a road named Jalan Tanjung Rhu which is near the village Padang Lalan. Once on the coastal road, a diversion leads visitors all the way to the entrance of the beach. The coastal road runs along with famous hotels situated on both sides such as Tanjung Rhu resort.

Soon comes a point where the coastal road meets the sand that marks the public area of Tanjung Rhu beach. The beach is at a distance of about 22 kilometres from Kuah Town and can be reached by a hired taxi. The fare of the taxi ride costs approximately RM40 from Kuah. Similarly, tourists may also rent cars for self-driving.
Best Time to Visit Tanjung Rhu Beach
The months of January to March are considered to be the peak tourist season in Tanjung Rhu. During these months, the region experiences no rainfall and the temperature rises as high as 35 degrees, marking a dry spell in Tanjung Rhu.

The following months of April to August, also known as the midseason witness occasional rainfalls with cloudy skies and short-lived thunderstorms. The temperature remains below 30 degrees post afternoon. The low season of September to October is the rainy season which brings about 2 hours of rainfall on average each day; but enough dry time in the rest of the hours.

Thus, for tourists who do not mind peak crowds, January to March is the best time to visit Tanjung Rhu Beach. During this season, the beach hosts several festivals and celebrations; plus the weather is suitable for beach activities like boating and snorkelling. Whereas, for tourists who would like to spend time in solitude, September to October is a good time to visit Tanjung Rhu beach as the region meets less number of tourists from around the world.
What Not to Miss at Tanjung Rhu Beach
1. Geo Spa at Four Seasons Resort -
For tourists with no budget constraints, a refreshing spa treatment at Four Seasons Resort is highly recommended. The resort is located right at Tanjung Rhu beach and feels nothing less than walking through paradise. Recommended by tourists who have indulged in this activity before, the splurging is going to be worth it!

2. Swimming at Tanjung Rhu Beach -
Soft sandy beach and crystal clear water here is sure to make water babies want to take a dip every now and then. The favourable climatic conditions of the region only add to the safety of all.

3. Geopark and Mangrove Tour -
It is unlikely for anybody to visit Tanjung Rhu and not indulge in the motor tour to Geopark - where the sea meets the river. Floating fish farm, caves, island hopping-the ride covers it all.
Places to Visit near Tanjung Rhu Beach
1. Black Sand Beach -
A few kilometres to the west on Jalan Teluk Yu road is the black sand beach where tourists can come up with their own theories as to why the sand is black. The beach is not suitable for swimming but is worth a visit.

2. Shark Bay Beach -
Further west to Black Sand Beach, Bay beach that has beautiful sand seating arrangements for tourists. These overlook the beach from a greater height and offer amazing views of the shore.

3. Langkawi Craft Complex -
A large complex having several sections, this craft attraction puts on display the culturally rich heritage of Malaysia. Through a wide range of art and handicraft items, this complex is where tourists can buy silver jewellery, handmade batik, paper & forest-based products, ceramics and many other items made by local artisans.
Other Essential Information About Tanjung Rhu Beach
Places to Eat in and near Tanjung Rhu Beach

1. Ikan-Ikan -
Ikan-Ikan meaning 'fish fish' is a popular restaurant that is known to serve exceptional Thai, Chinese, and Malay-style seafood. It is built in the style of a traditional Malaysian home and offers stunning views of the garden along with the ocean. The eatery also has a cocktail bar that makes it a perfect place for sundowners.
2. Kelapa Grill -
Kelapa Grill is where foodies can head to, to savour Asian stir-fries, wood-fired pizzas, and other Western delights. Along the Tanjung Rhu stretch, it is one of the finest restaurants; ideal for a happy lunch date.
3. Scarborough Fish and Chips Restaurant -
Ambience is so beautiful, this restaurant offers some of the best Western and seafood items. It is renowned not just in Tanjung Rhu but in the whole of Langkawi. It is an ideal go-to eatery for foodies looking for quick bites.
Places to Stay near Tanjung Rhu Beach
1. Tanjung Rhu Resort -
Keeping a part of the beach exclusively for its guests, this resort is undoubtedly the most famous resort in the region. It overlooks the beach and is surrounded by trees which make the atmosphere here very pleasant. The resort provides all high - end amenities and is one of the best choices for luxury seekers.
2. De Balqis Chalet -
With easy access to the beach, restaurants and the airport, De Balqis Chalet can be considered as a good option for budget travellers.
3. Four Seasons Resort -
Popular for its Geo Spa more than anything, this hotel is yet another option luxury divers will not regret choosing.


Medical Facilities at Tanjung Rhu Beach


Tanjung Rhu beach is surrounded by several clinics that can be reached for medical needs. The beach has a lifeguard who overlooks tourists who come to dive in its crystal clear waters and keeps handy a medical kit at all times. Moreover, Langkawi hospital is located at a distance of just 23 kilometres from the beach and can be reached in less than 30 minutes in case of emergencies.


Things to Carry while going to Tanjung Rhu Beach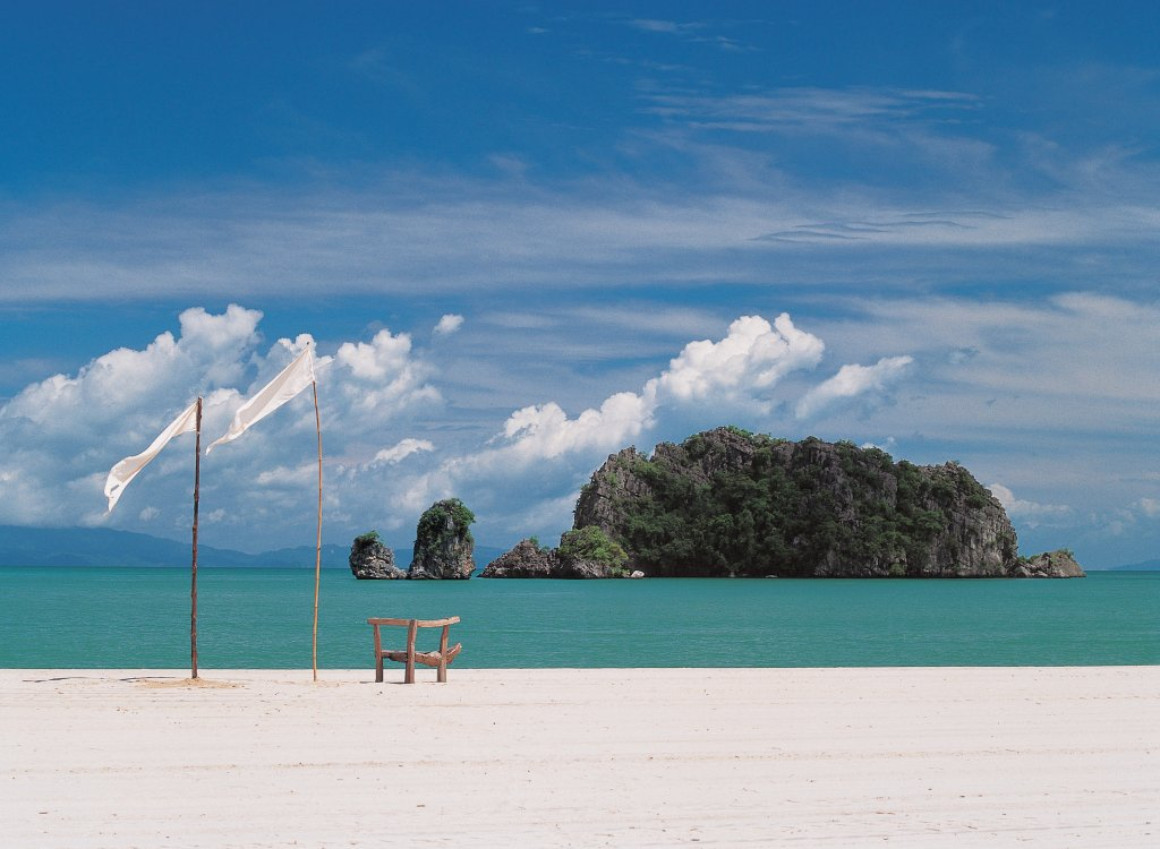 Like at any other beach, there are a few things that tourists must carry while going to Tanjung Rhu Beach. Some of these items are-
-
Sunglasses
-
Sunscreen
-
Swimming costume
-
Slippers
-
Mats or Sunbeds
Travellers' Tip before Visiting Tanjung Rhu Beach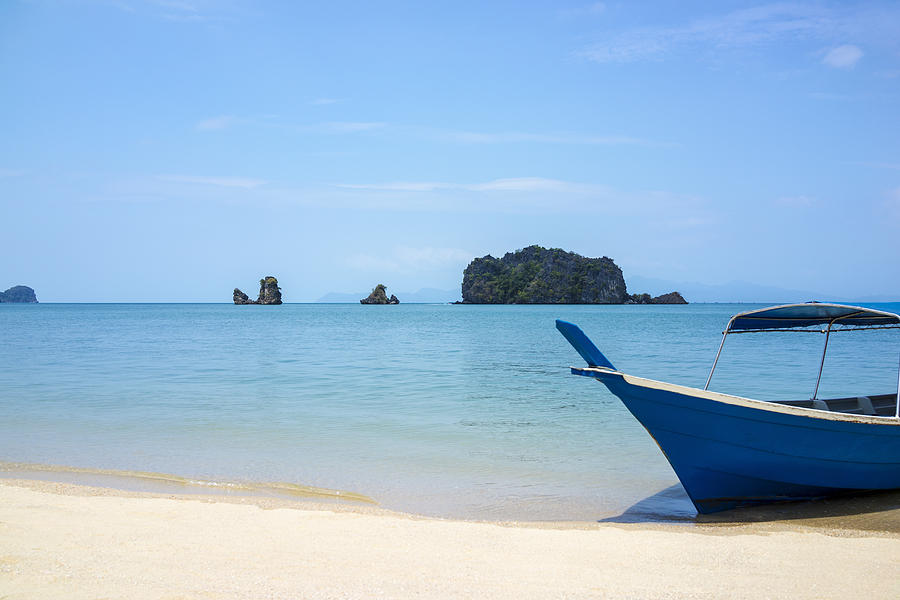 -
Tanjung Rhu beach is a soft sand beach. During the high season, the sand can get really hot. Thus make sure to wear suitable footwear.
-
The harsh sun can be dangerous to the skin. Thus, application of sunscreen is highly recommended.
-
The beach has favourable swimming conditions, so don't forget to carry your swimming costumes!