About Adlabs Imagica
Imagica Theme Park is a world-class park launched in 2013 by Adlabs to provide a premier amusement haven for the work-haggard millennial of India. The theme park spread over 130 acres, is the largest park with many rides.

The Imagica theme park is segregated into 6 zones covering the geographic locations of the world namely; India, Viva Europa (Europe), Arabia (Middle East), Asiana (Futuristic World), Americana (USA), Jambo Africa (Africa). The park located on the Mumbai – Pune Expressway (NH4) is almost equidistant from Mumbai (70 km) and Pune (85 km).




Adlabs Imagica, the ideal destination for the weekend, is a conglomeration of 3 large parks – The standard theme park, Water Park, and the Snow Park. The high-octane rides, gravity challenging slides, real snowfall, and icy temperatures, Dj music, family & kids' attractions, multiple restaurants and bars with eclectic menus provide unlimited enjoyment and gratification to the visitors.

The stories by Tubby- the elephant, songs by Neera – the mermaid at the lagoon, and electrifying laser show entertain kids and adults alike.Street entertainments such as magic by Floating Baba at the Arabia zone, brilliant stunts by Flippers at the Asiana section, BoomBoxers performance at Americana, and Jugglers, clowns, cartoon characters, etc amuse and amaze the visitors.

The Novotel Imagica, the on-premise hotel with unmatched amenities and peerless comforts present a memorable staycation to the guests.
How to Reach Adlabs Imagica
By Train: 

From Mumbai: The train is the cheapest mode of transport. Visitors can reach Khopoli from Mumbai via direct local trains. Local train services run by Mumbai Suburban Railways operate every day with an hourly frequency. The travel time is 2 hrs 29 minutes. 

The fare is in the range of Rs. 22 – Rs. 140. Share auto-rickshaws can take the visitors from Khopoli railway station to Adlabs Imagica by charging Rs. 50 per person in 15 minutes. Auto-rickshaws are available on a first-come-first-serve basis and no advance booking is required.

From Lonavala: Local trains connect Lonavala station to Khopoli station. One can reach Imagica theme Park from Khopoli by share auto-rickshaw in 15 minutes @ Rs. 50 per person for one-way travel. 

From Pune: The travel distance between Pune to Khopoli railway stations is 86 km. Around 84 trains run from Pune to Khopoli. 

By Bus: MSRTC buses and Khopoli buses run between Mumbai and Khopoli. The bus fare for the MSRTC bus per person is Rs. 145. The time taken to reach from Mumbai to Khopoli is 2hr 55 minutes. Adlabs Imagica runs its own A/C bus services from Mumbai, Pune, and Thane from popular bus stops at approx per 600 per person. 

By Car: The road distance between Mumbai to Khopoli is 75 km. One can reach Khopoli by car in 1-1:30 hrs. Visitors can also avail Car Add-ons or Ghar se Ghar Tak packages, which include pick-up and drop-in chauffeur-driven A/C cars for 4 or 6 passengers and Expressway Toll charges @ Rs. 2999 and Rs. 3499 resp.

By Air: The nearest airport to Khopoli is the Chhatrapati Shivaji airport in Mumbai, which is at a distance of 70 km. Pune airport is 90 km from Khopoli.
Best Time to Visit Adlabs Imagica
All three seasons is a good time to visit Adlabs Imagica Theme Park. But the best time to visit the Park is during winter.

Summer: The scorching heat in summer leave seats of the rides burning, making it uncomfortable to enjoy the rides. The sultry weather may cause undue sweating and loss of body water resulting in dehydration.

Monsoon: The rain during monsoon springs back flora and fauna to life and beautifies the verdant landscape amidst which the Imagica Theme Park is situated.

It presents an awesome setting for sightseeing, but the catch is that most of the rides, which are the prime attractions for entertainment, may remain non-functional due to rains. 

Winter: Winter is the best time to visit the Adlabs Imagica, as the outdoors dazzle with the greenery acquired during monsoon minus the downpour. The climate remains cool and ideal to enjoy. All the rides are functional and secure and guarantee an unforgettable experience.
What Not to Miss at Adlabs Imagica
Places to visit near Adlabs Imagica Theme park
1. Theme Park:
The standard theme park consists of 15 Family rides, 6 kids' rides, 5 pulsating thrill rides, and in-house characters like Tubby- the elephant, Roberto- the star chef, the lost astronaut, etc. for adventurists, kids and families. It contains outdoor and indoor thrills, performers, magicians and street entertainers that attract guests of all ages and inclinations.

Indian, Mexican, Italian, American, and Pan Asian cuisines across different settings take guests on a tour of exquisite tastes and flavours. 
 

2. Water Park:
The Water Park at Imagica is modelled on Mykonos, the beautiful city of Greece, which fulfilled the zeal of aquaphiles. The 14 engaging slides and attractions like a ride in the lazy river or relaxing in the Splash with near & dear or a challenging dive down the Loopy-Woopy's throat amuse the visitors. Lip-smacking food, spirited drinks and cool desserts at several themed restaurants satiate the hunger after an absorbing activity.


3. Snow Park:
It is one of India's largest indoor Snow Parks, spread over 15,000 sq. ft. The snow, produced by pouring RO water in a gigantic condenser, is devoid of chemicals and preservatives and totally is edible. Sub-zero temperatures are maintained inside the park and visitors are provided with a warm and thick overall, a pair of gloves and shoes to protect them from freezing.
The activities like hiking rocky ice terrains, rafting the slides, riding Toboggans, snowball fighting, sipping hot cocoa at -5o
c, etc will drench guests in unforgettable delight.  



4. Glowmagica:
Glow Magica is the latest entrant in the list of attractions at Adlabs Imagica. It houses the prominent monuments and figurines ever made by man in the world. Visitors get to see them glow in psychedelic colours and snap photographs.


5. Eyelusion:
Eyelusion, India's first 3D and Augmented Reality Park mesmerizes the old and the young with its unbelievable visual illusions and AR experiences that let you scream with fright and squeal with joy. It allows you to let your creativity run riot and snap photos in zany poses.


6. House of Stars:
It is India's first Bollywood Park, where visitors can meet their favourite Stars in replica and click adorable selfies. Apart from the stars, it also houses authentic prominent sets and scenes with real props all captured using the latest 3D scanning and printing.

Things to do in and around Adlabs Imagica Theme park: 

1. Dare 2 Drop:
A ride for hard-core adventurists that lets their adrenalin pumping as the wild ride skyrockets up at 73 km/s into the sky and free falls to the ground from a height of 132 ft in a jiffy.


2. Deep Space: A roller coaster ride that tests the mental strength of the able-bodied from freaking out, as they are launched into deep space at higher speeds to explore the galaxies and black holes inside a gigantic dome.

3. Gold Rush Express: It is a rip-roaring ride that sets the guests' pulse racing as it takes them on a journey of America's Wild Wild West, dropping from the 66 ft high ravines to the ranches below and shooting through the tunnels and abandoned gold mines at a whopping speed of 65 km/hr.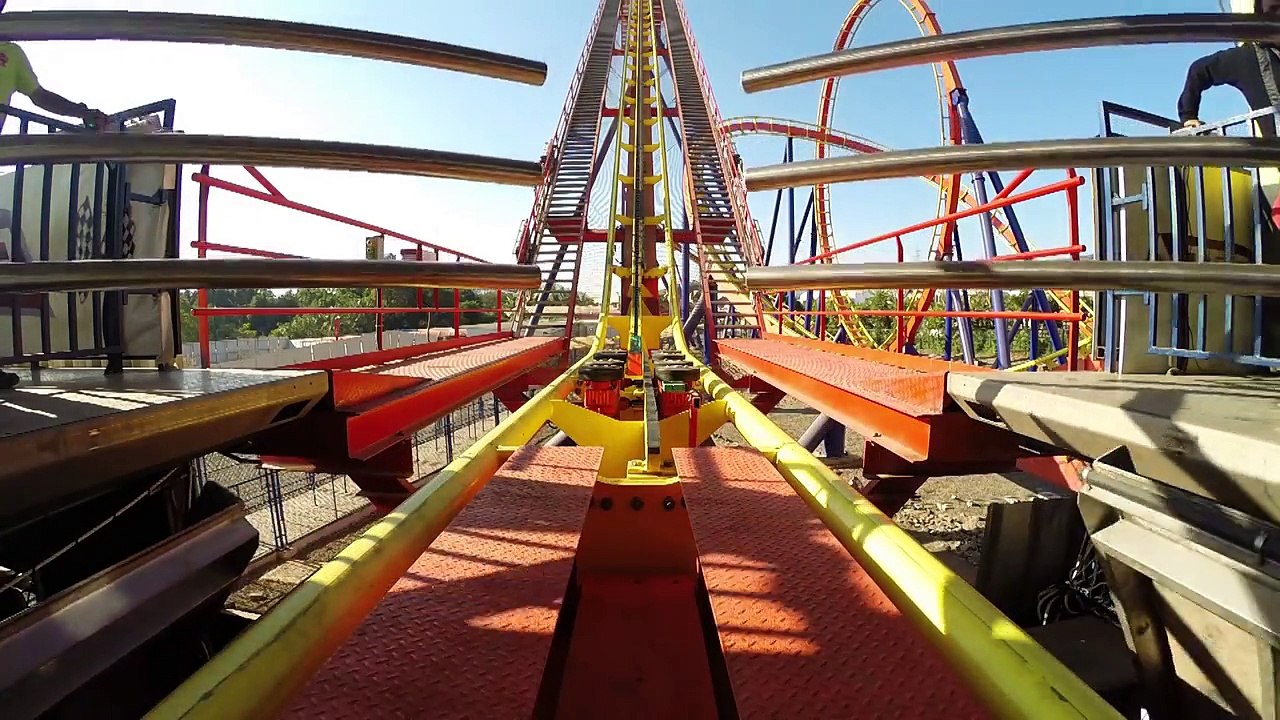 4. Nitro: Brace yourself for a lifetime experience of fright and joy at the same at Nitro, India's gargantuan and wildest roller coaster ride. The 132 ft high roller coaster covering a track length of 2800 ft with 5 exhilarating inversions and loops takes visitors through emotions never experienced and leave them breathless.

5. Scream Machine: A ride that tests your lung power. It is a rotating pendulum that spins, swings, and suspends you in mid-air that leaves you screaming literally. 




6. Rajasaurus River Adventure: An adventure sport that transports visitors to the land of dinosaurs and tests their survival skills as they navigate their water boat through the marshy terrain that is home to Rajasaurus, the deadly dinosaur.

7. Happy Wheelss: This attraction lets children learn the art of safe driving and traffic rules by allowing them to drive the real miniature double-seater car with seat belts, brakes, and accelerator on specially laid tracks.

8. The Magic Carousel: Visitors, old and young, like to ride the horses and chariots in this magical carousel that brings back the child in them. 


Other Essential Information About Adlabs Imagica
Location:
30/31, Sangdewadi, Near Khopoli, Pali-Khopoli Road (State Highway 92), Near Lonavala, Taluka Khalapur, District Raigad, Maharashtra - 410206, India.

Timings:

Theme Park: 10:30 a.m. – 8:00 p.m. (Rides, Glowmagic, House of Stars, and Eyelusion, all start one hour after park timings and close 1 hour before park closure.

Water Park: 10:30 a.m. – 7:00 p.m. (Rides open 1 hr after park timings and closes 90 minutes before the Park closes.)

Snow Park: 10:00 a.m. – 7:00 p.m. (Sessions start every 1 hr)


Price:

Three grades of tickets are available for Adlabs Imagica Theme Park.

Regular Ticket: Child in the age group of 3 – 5 yrs – Rs. 599

Senior Citizens above the age of 60 yr – Rs. 699

Adults       - Rs. 999

The entry is limited 1-time regular access for 1 day and includes 1-time entry to all 26 rides and attractions.

Unlimited Ticket: Rs. 1299 for unlimited access to Theme Park for 1 day along with unlimited entry to 26 rides and attractions in Theme Park, plus a chance to enjoy Grand Imagica Parade.

Unlimited Combo: Rs. 1999 for unlimited access for 1 day + direct access to all 26 rides & attractions without waiting + unlimited lunch, and dinner.

No ticket for children under the age of 3.