About Khadakwasla Dam


An eminent tourist attraction, Khadakwasla Dam is a pleasant sight to behold. Built with state-of-the-art engineering, it is located on the outskirts of Pune. The dam is constructed on River Mutha which is the source of water supply in Pune and its suburban regions. Khadakwasla forms a reservoir, called Khadakwasla Lake which is a perfect spot for a pleasant getaway. The reservoir occupies around 22,000 square kilometres area and runs 35 metres deep. As the stream runs down the cliff, it resembles a heavy rush of water flowing effortlessly down the dam.

In the nearby region, the well-known National Defence Academy and Central Water and Power Research Station (CWPRS) are situated. You'll find Sinhagad Fort and Karla Caves which are known as one of the ancient places to explore artefacts from a thousand years ago.

The dam remains crowded with nature lovers and adventure enthusiasts for pleasant weekends and getaways. It is also a featured spot for photography to capture the vividness of nature. There, you can observe nesting birds near the mighty cascade.
How to Reach Khadakwasla Dam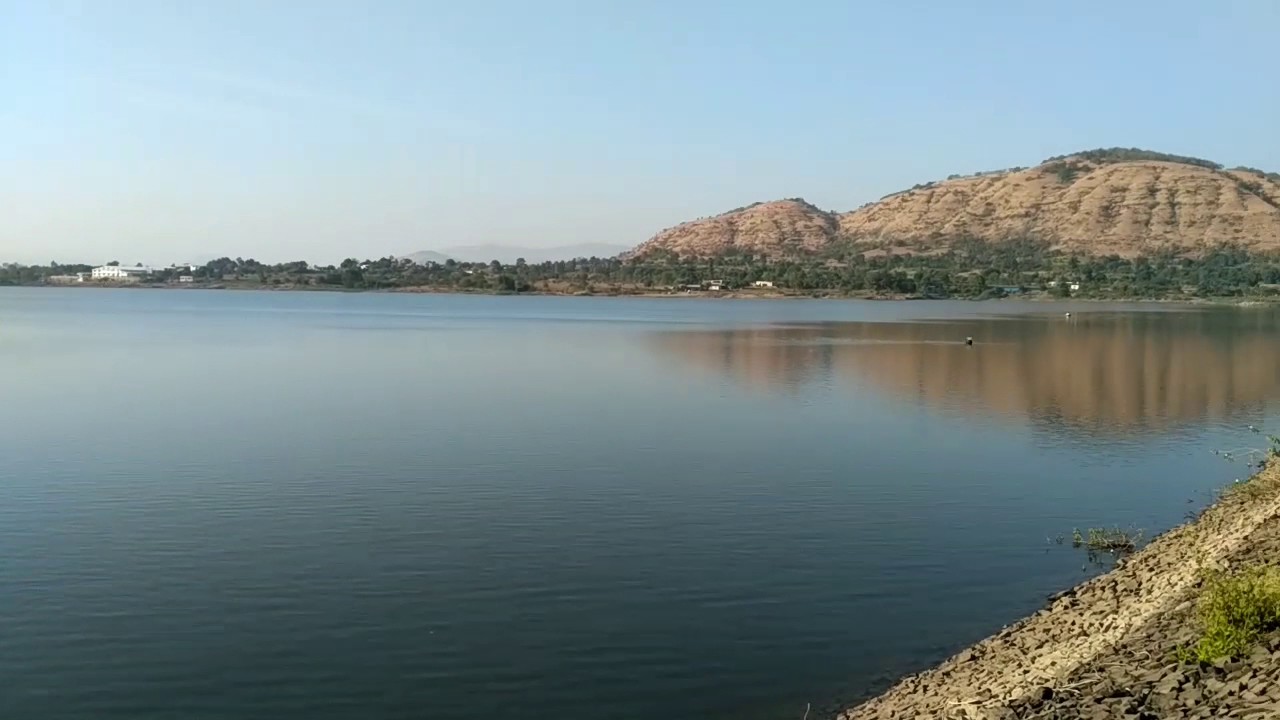 By road – 
Khadakwasla dam is around 20 kilometres away from the centre of Pune. The road connectivity is in a better position and it's quite convenient for tourists to visit Khadakwasla Dam. Ola and Uber cabs can be a decent option in comparison with self-owned vehicles. You can easily book a day trip.
By rail –
 If one wishes to take a train for Pune, that's also a perfect option. Pune is connected to every major city of India – Delhi, Mumbai, Jaipur, Kolkata, Chennai etc. After reaching Pune, you would have to cover a distance of approximately 18.5 kilometres to reach Khadakwasla dam by bus or cab. Most of the tourists hail a cab and travel to Khadakwasla Kudje Road to reach the dam or take a bus to Khadakwasla bus stands.
By bus – 
To reach Khadakwasla Dam by bus, you can take a bus from anywhere in the city. The closest bus station would be Khadakwasla Dharan bus stop and Khadakwasla Gaon bus stop. Amidst the canopy trees, the bus route ensures a majestic ride.
Best Time to Visit Khadakwasla Dam
The best time to visit Khadakwasla Dam is during the monsoon season. Monsoon here is the peak season, and with good reason: mists and breezes from the falls can make the area feel cooler. It will allow tourists to take full advantage of the weather and attractions.
Spring and fall welcome fewer tourists because of the variation in temperature. Winter sees freezing temperatures which may make this area cooler than Pune. However, summers are usually avoided, due to the increased temperature of Maharashtra.
What Not to Miss at Khadakwasla Dam
Things to do at Khadakwasla Dam:
1. Exploring Khadakwasla Dam – 
The ambience of Khadakwasla dam is a huge attraction for tourists. Although, there isn't a proper place to hang out but the location is usually preferred to spend some time over there.
2. Photography – 
The spellbound beauty of the water ripples in the lake attracts the photographers the most. The thunderous cascading water streams are usually featured in photographs. The majestic water streams across the lush green bushes in a rhythmic motion is a perfect fit for photography.
3. Local eateries –
 Other than the hypnotizing view of Khadakwasla dam, tourists also prefer to enjoy the local snacks. You can easily spot local vendors selling a variety of delicious snacks like corns, roasted groundnuts, bhel, etc. People tend to gather around these local eateries for refreshments.
4. Enjoy nature –
 If you're planning to spend your weekend under the canopy of trees away from the hustles of the city, Khadakwasla is the best place to visit. Developed amidst the dense greens, Khadakwasla dam is the perfect place to relax and enjoy the best of nature.
Nearby Attractions:



1. Sinhagad fort – 
Approximately 17 kilometres away from Khadakwasla dam, Sinhagad fort is one of the most famous forts in Pune. Earlier known as Kondana fort, meaning, Lion fort. Many battles and wars have been fought to own this pride of Pune. With an extravagant history, tourists also visit here for trekking and enjoying the views.
2. Taljai Hills –
 A lesser-known quiet hilltop, Taljai hills are a phenomenal spot to experience the breathtaking view of the city's skyline. Situated at a height of 2,000 ft, these hills are around 17 kilometres away from Khadakwasla dam. After strolling through the dam, one can drive till here and enjoy the greenery of the place.
3. Karla Caves –
 Located on the Pune-Mumbai highway, Karla caves were carved almost 2000 years ago. This place constitutes an extensive combination of beautiful Chaityas (halls) and Viharas (Monasteries) which narrate the amusing stories of the Buddhist period. Karla caves are almost 80 kilometres away from Khadakwasla Dam.
4. Visit Lonavala or Lavasa – 
If you are planning to turn your day trip of Khadakwasla dam into a full weekend trip, visiting Lonavala and Lavasa is the best option. Situated on the Pune-Mumbai highway, Lonavala is known for its spellbound scenic beauty and trekking. While Lavasa is 51 km away from the dam, Lonavala is farther from Khadakwasla.
Places to stay near Khadakwasla Dam – 



To enjoy a night stay near Khadakwasla Dam, there are plenty of hotels available at feasible rates. 
-Deccan Winds Resort - 
To watch the blue sky in peace, one should definitely visit Deccan Winds Resort. Situated at Lavasa Road, the resort provides stay at cottages with  facilities like, WiFi, TV, patio, etc.  
-Aquarius Resort -
 Situated at Sinhagad Road, Aquarius Resort is known for its homely aura. The resort has the option of lakeside dining while a children's play area, catering to the needs of every age group. 
-Wildernest HillTop Resort -
 Looking for a quick rendezvous?  Wildernest Hilltop Resort is the perfect place to stay. It offers the facilities of lavish rooms, suites, villas, and dormitories for a tranquil getaway. Built at Sinhagad Road, it's convenient for tourists to find it.
-SaffronStay Meadow - 
If you're planning a family getaway, you can plan to stay at SaffronStays Meadow. The hotel is located on the outskirts of Pune, off the Mumbai-Bangalore highway, and provides a view of Khadakwasla lake.
Places to eat near Khadakwasla Dam – 



Along with Khadakwasla's scenic beauty, its famous for delicious eateries as well. There are many family restaurants to enjoy a healthy meal away from home. 
-Hotel Mejewani -
 It is situated at Sinhagad Road and ensures pure vegetarian food items. The restaurant is pocket-friendly and ensures a good quality time. 
-Cafe Durga -
 If you crave good coffee then you should visit Cafe Durga for one of the best hot and cold coffee. You can find it at Mohite Twin Tower at Sinhagad Road.
-Kata Kirr - 
Taste the mouth-watering street food of Kata Kirr at Sinhagad Road. Known for its spicy Misal Paav, this place is usually visited and recommended by tourists. 
Additionally, you can also explore various cuisines – North Indian, Chinese, and Bakeries etc. for a different taste. Khadakwasla is a perfect weekend getaway with delicious food varieties. 
Other Essential Information About Khadakwasla Dam


Timings – 
Khadakwasla dam opens around 10:00 AM and closes around 6:00 PM. Also, many tourists would suggest visiting during sunrise or sunset.
Entry Fee – 
No entry fee.
Height –
 Khadakwasla Dam is an undoubtedly impressive dam with an astounding width of 250 m (820.2 ft) and a drop of 31.71 m (around 104 ft). The water plunges deeper than that, as the Khadakwasla River's depth is another 36 m (around 118 ft) on average.
Location –
 The dam is almost 20 kilometres away from the centre of the city of Pune in Maharashtra. A few kilometres away the twin dams of Panshet and Varasgaon are situated. In the southern direction, the mighty Sinhagad Fort is located.
Traveller tips for visiting Khadakwasla Dam:
-Stroll around the dam for a mesmerizing experience. But take care of your surroundings and move safely.
-Wear comfortable shoes because the surface can be slippery and you might hurt yourself. If you're visiting during monsoon season, take care of the places you're stepping on. The surface can get slippery or worse, water can clog and you would have to walk into that.
-Prepare an itinerary for visiting Khadakwasla dam. Most likely you can get stuck in a traffic jam, so if you don't want to ruin your day, plan accordingly.
-Stay within the limits of Khadakwasla dam. If you try to go through another route then it might turn hazardous.
-Keep a medical kit with yourself to treat the injuries.
-Keep an extra pair of clothes with you for backup.
Transportation:

The transportation services to reach Khadakwasla is at its best. Pune's connectivity with almost every major city makes it convenient and feasible for tourists to visit these places. You can take a car or bus to reach Khadakwasla. From the city, you can hail a cab and book it for a day trip. Or, you can take a bus to reach the Khadakwasla Gaon bus station and then travel further to reach the Khadakwasla dam. Also, many places like Sinhagad fort, Taljai hills, Lonavala, Lavasa, are a few tourist attractions to spend some more time with nature. The commute to these places is easy and convenient.
Medical facilities:
There are medical stores available near Khadakwasla dam to save you. These medical stores have almost every essential medicine available and can help you with the basic safety kits. Moreover, Khadakwasla has many government hospitals and nursing homes for proper and quick treatment. The doctors and staff are well aware of the knowledge and skills to treat people.
Network connectivity:
The network connectivity is in a favourable condition. You can easily connect and contact people without any disturbances. Although, the internet might work slowly but normal calls are possible.