About Sinhagad Fort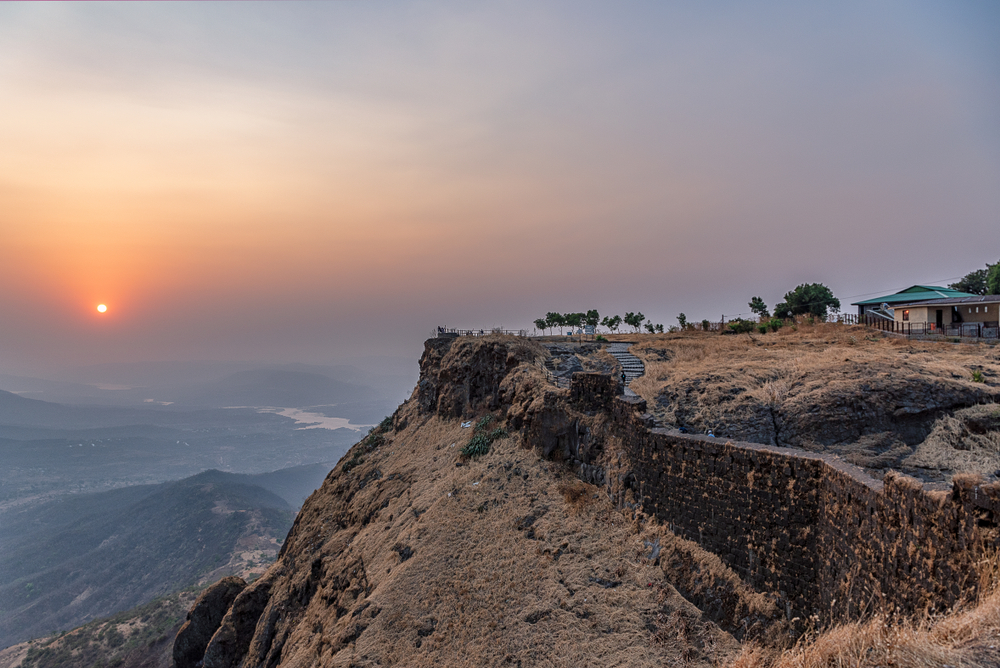 Sinhagad or Kondana is a pride of the southwestern region of Pune. This fort was the one to support Maharashtra during the ancient battles. Sinhagad battle of 1671 is the significant one. Bhuleshwar range of the great Sahyadris is the home to this historical monument.
 The fortress has an elevation of around 1312 m above the sea level. Sinhagad has got its own breakneck slopes to protect it from all sides. 

There are two entrances to this fort – one in the north-eastern region (Pune Darwaza) and another one towards the southeastern part (Kalyan Darwaza). The authenticity and the richness of Sinhagad fortress date back to around 1000 years.

This is evident from the carvings present on the walls of Kaundinya Eshwar temple there. 
Sinhagad is valued as a true sightseeing heritage.

To begin your sightseeing adventure, you have Rajaram's tomb which is worth a visit. The fortress displays some of the adorable monoliths of Tanaji Malusare – one of the efficient safe-keepers of the fort from Shivaji Maharaj's era.

Besides these crucial displays, the fortress has got its own military depot, a Kali temple, breweries, and a Hanuman effigy. 


Pune Darwaza, Kalyan Darwaza, Tilak Bungalow, Hawa Point, Kade Lot, Amruteshwar Temple, Tanaji Samadhi and Memorial raises the elegance of this fortress even today.

 Summiting the fortress offers some stunning views of the Khadakwasla Dam from one end; while from its other side, you can see glimpses of Torna Fort.

History of Sinhagad Fort: 



Initially known as Kondana, the fortress of Sinhagad, this place has contributed a lot to the Battle of Marathas. Carving on the Kondeshwar temple walls indicates that the fort has been built around 1000 years ago.

Until the 14th century, the region was under the rule of a Koli king, Nag Naik. In 1328 A.D., this region was seized by Muhammad Bin Tughlaq. Later on, the responsibility of the administration of Pune came to Shahaji Raje Bhosale. 


It was during the same period when Shivaji (son of Shahaji) came ahead with the oath of establishing swarajya. He convinced the Adil Shahi Sardar, Siddhi Ambar that he wants to manage the Sinhagad fortress and safeguard it. Instead, the fort was taken over by him.

Meanwhile, Adil Shah imprisoned both Shahaji Raje and Siddh Amber.

Unfortunately, Shivaji had to hand over the fort in return for the release of his father. Within the next seven years, Shivaji Maharaj succeeded in capturing the fortress back again with pride.

Later, the fort even faced many attacks by the Mughals between the period from 1662 to 1665. 


Treaty of Purandar signed in the year 1665 forced Shivaji Maharaj to handover the fortress to Jai Singh. Immediately, Shivaji Maharaj conquered the fort and succeeded in managing it until 1689.

With Sambhaji Maharaj's passing away, Mughals got a hold of the fortress.

It was back in the year 1693 that it was conquered by the Marathas. However, in 1703, Mughals once again succeeded in establishing their supremacy here. From 1706 to 1818, the fortress was under the management and supervision of the Maratha rulers. Later, Britishers succeeded in conquering it. 


The architecture of Sinhagad Fort: 
Sinhagad fortress is set atop a plateau of Sahyadri mountains with steep slopes. These steep slopes were meant to defend the fortress against the intruders.

This historic landmark has an elevation of 1300 meters above the sea level and rises high at 750 meters from the mountain's base.

The ancient stone stairways of this fortress mark their presence even today. These stone stairways lead you towards the strategically located bastions, two entrances, and the walls that enclose this magnificent structure. 


There are two prime entrances to this fortress – one towards the northeastern region (Pune Darwaza) and the second one towards the south-eastern region (Kalyan Darwaza). There's a famous Kali temple, some military sheds, breweries, the tomb of Rajaram Raje, and the tomb of Tanaji Malusare within.

 Besides, the fort also features a 350-year old memorial of Shivaji Maharaj's brave military leader – Tanaji Malusare. 

Trek Route to Sinhagad Fort, Pune: 
Night trekking from Katraj to Sinhagad Fort is one of the critical adventurous activities to enjoy here at Sinhagad. Your adventure will begin from Old Katraj Tunnel Top and lead you through a mountain chain stretching along 16 kilometres distance.

The trekking route is blessed with ample sightseeing adventures such as hills and mountain ranges. Owing to its moderate difficulty, this adventure activity is ideal for both beginners and professional trekkers.
How to Reach Sinhagad Fort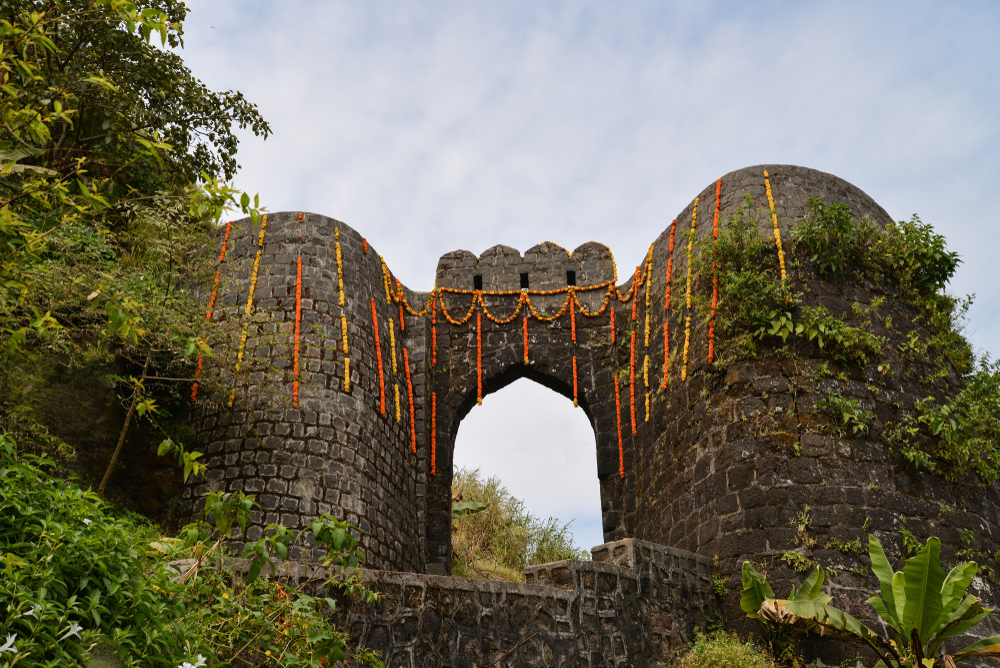 Pune Airport is the nearest airport to the Sinhagad fortress. Once you get down, you can either travel via state-run or private buses or opt for private cab service to drive you to the Sinhagad fortress. Here are some other alternatives before you.

1. By rail: Pune Railway Station is the nearest of all the stations to get to the Sinhagad Fort. From here, you can either opt for a private cab service or choose for local bus transport to take you to the fort. 

2. By road: Your journey from Pune to Sinhagad will be for an hour and 15 minutes. You can opt for a private cab service or Uber cab service or Ola to drive you between the two points. 

3. By bus: Plenty of bus services are there to drive you between these two points. You need to visit the Pune Bus Stand to find the buses to prefer.

Alternatively, MSRTC also provides deluxe bus services from Pune Bus Stand to Sinhagad fortress. Besides, Sinhagad is also connected to Mumbai, other regions of Pune and Nagpur via state-run buses from MSRTC. 

What Not to Miss at Sinhagad Fort
Places to visit Near Sinhagad Fort- 


Here are some places to visit around the Sinhagad Fort:

1. Late P.L. Deshpande Garden:

This garden represents the significance of Indo-Japanese friendship. It sprawls over an area of 10 acres and displays the importance of the intricate cultural heritage of the city of Pune. Lawns, ponds, artificial forests and hills form its central attractions. 

2. ISKCON Temple, Pune:

If you are highly spiritual, ISKON is the place meant for you to visit. If you have enough time to spare, here are some key activities of this temple – Lotus Voice, youth training, food for life, home Satsang, women empowerment, and Bhagavad Gita classes. 

3. Wind point: 

Wind point is a famous tourist attraction in Sinhagad to enjoy a pleasing sightseeing adventure.

Locals of the surrounding regions prefer to plan their solo trails to this point and to capture the magnificence of this region. Kalavantin Buruj, Tanaji's cliff, Tanaji's smruti mandap, sunrise point are some nearby attractions here. 

4. Krushnai Water Park:

Krushnai Waterpark lies amidst picturesque hilly regions. It has a wide array of slide selection available for people of all age groups. Turnpikes, Pirate Island, Aqua Trail, Black Holes, and Wave Pool are a few key places to explore within. 

5. Rajiv Gandhi Zoological Park: 

This is a wildlife research centre meant for all the wildlife lovers to stroll. Royal Bengal tiger, primates, sloth bears, and Asian Elephants are the key species to locate here.

They have their regular zoo educational activities coupled with a free guided tour. Besides, they schedule for free orientation programs for their visitors as well. 

Apart from those mentioned above, Katraj Lake, Torna Fort, Raigad Fort, Raja Dinkar Kelkar Museum, and Joshi's Museum of Miniature Railways are other key attractions to visit. 


Things to do in/near Sinhagad Fort: 


Start your day with trekking to the Sinhagad Fort: Trekking is the first adventurous activity to try here at the Sinhagad Fort. Night trekking from old Katraj's Tunnel Top is the most popular activity amongst the locals of Sinhagad.

Your trekking route is a 16 km long route blessed with abundant hilltops and mountain chains. Sinhagad trekking adventure can be enjoyed either in group, or couple or solo. 

Sightseeing at the fort: Sinhagad is amongst those few historical monuments which are blessed with ample of sightseeing spots. Kalyan Darwaza, Pune Darwaza, Statue of Tanaji Malusare, Khadakwasla Dam, Hanuman Temple, and Chatrapati Rajaram Memorial are key attractions of this place. 

Explore the Kade Lot: Kade Lot is the chief attraction of this beautiful fortress. It is believed that in the old days, this was the place of punishment for all the prisoners. It was from here that the prisoners were thrown down from the edge of the cliff. 

Try the delicious food items at the local food stalls on your way: Berries, corn, crispy Kanda bhaji, raw mangoes, pitla, bhakri, thecha, and vangyache bharit, are amongst the essential delicacies being served here.

 After having your Maharashtrian style food, do head towards a nearby kulfiwala, and enjoy its rich and authentic flavor. 
Other Essential Information About Sinhagad Fort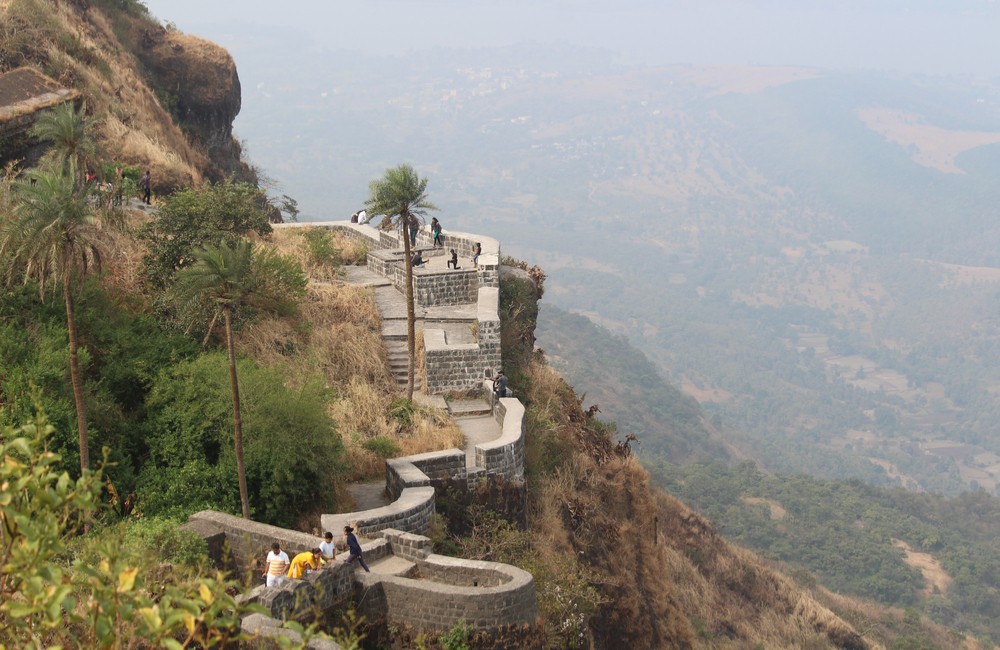 Location: 
Sinhagad fort is located at Sinhagad Ghat Road, in the Thoptewadi region of Maharashtra (411025). 

Opening Hours: 
Sinhagad fortress is open for a visit for all 365 days of the year. You can step in anytime between 05:00 am in the morning and get down by 06:00 pm in the evening. 

Entry Fee:
There are no entry fees if you are planning to climb your way up to the Sinhagad summit. However, if you are planning to bring in your private vehicle, you need to pay a sum of 20 INR per two-wheeler and 50 INR per four-wheeler to reach the topmost position of this Sinhagad fortress. 

Best Time: 
It is good to plan your visit to the Sinhagad fortress either during monsoons or in winters. 

Average Temperature: 
Sinhagad region experiences an average annual temperature of 24 degrees. 

Distance from Pune:
The fortress of Sinhagad is located at a distance of 37.7 kilometres from the mainland of Pune. It will require approximately 1 hour and 15 minutes of a road journey to reach there.


Transportation facility: 
The mainland of Sinhagad is well-connected with other regions of Pune both by road and rail routes.
For travelers from other cities of India, you first need to reach either Pune Airport or Pune Railway Station and take the local transportation modes to arrive at the foothills of Sinhagad fort. 
Medical Facilities: 
There are no medical facilities on the Sinhagad fort itself. For any immediate medical assistance, you need to make your way to the mainland of Sinhagad.
You may seek help from your trekking guide to direct you appropriately to the hospitals in Sinhagad. 
Network Connectivity: 
You may face network connectivity disturbances at the topmost position of Sinhagad Fort. 
Things to keep in mind for a trek to Sinhagad Fort, Pune:


- Sinhagad fort of Pune presents a magnificent trekking and sightseeing adventure. You just need to have physical and mental endurance to get to the top. 

- You won't find water reserves along your trekking route. Make sure to carry plenty of water as this trekking adventure might turn to be an exhaustive one. 

- Participants of this trekking adventure are requested to fill in a form circulated by the Adventure Club of Pune. 

- In case you are planning your Sinhagad trekking during monsoons, ensure that you double pack all your belongings. 

- It is advisable to put on right trekking clothes and shoes at the start of your Sinhagad trekking. 

- Other adventurous activities such as rock climbing, trekking, and rappelling are not recommended here as the destination is quite risky. 

 Places to Stay near Sinhagad Fort, Pune:


Here are some stay options near Pune's Sinhagad Fort -  

Crowne Plaza Pune City Centre: Here you have family rooms, non-smoking rooms, and suites for your luxurious stay. All rooms are air-conditioned and well-equipped with all essential amenities to make it a perfect stay for you.

The premise offers free Wi-Fi connectivity, free car parking service, a pool, a fitness center, a bar or a lounge, and conference facilities. There's a regular airport transportation facility available to drive you to and fro the airport. 

Hotel Karan International: Hotel Karan International offers rooms with cable TV connections, kitchenette, and complimentary breakfast service.

You can even bring in your private car as there are free car parking facilities available here. The staff here is quite co-operative and offers regular room servicing. 

Hotel Kunal Dardan: Hotel Kunal Dardan features affordable rooms, a bar, restaurant, and a parking lot. You have 24 hours front desk assistance and room service option available here. The moment you check-in, you are entitled to their free Wi-Fi service. 

Heritage View Resort: Heritage View Resort offers suites, smoking rooms, and family rooms. All the rooms here are air-conditioned and receive 24/7 room service. Free parking, free high-speed internet connectivity, complimentary breakfast, a pool, a golf course, and a kitchenette are some other facilities available here.

They do offer airport shuttle services for all their guests residing at their place. 

Krushnai Resort, Mango Forest Agro Tourism Stay Place, Mantra Resort, Centurion Spring Hills Holiday Resort are some other stay places available here. 

Places to Eat near Sinhagad Fort, Pune: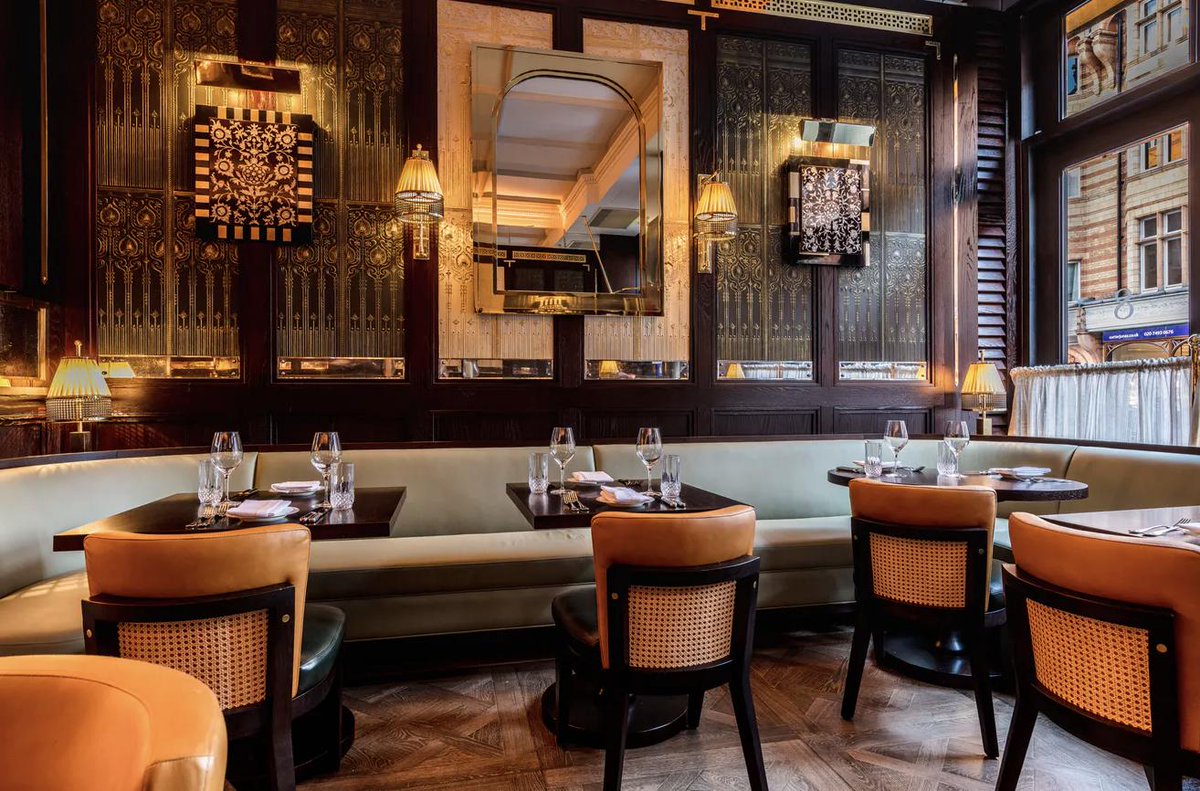 Here are some eateries where you can head for your meal during your Sinhagad's visit - 

Shrinivas Veg: Here you have Indian, Chinese, and Italian options to try. This place opens sharp at 07:30 am in the morning and functions until 11:15 pm. The ambiance is excellent, and the site serves some really delicious food to eat. 

Menchie's Frozen Yoghurt Pune: This is an ice-cream lover's paradise. Frozen yogurt is a refreshing option to have after a heavy satiating meal. Not so fancy, yet their ambiance is quite pleasing to eyes. 

Mahlzeit: Mahlzeit offers both German and European style cuisines and delicacies. Chicken Schnitzel is one of their signature delicacies to try. 

Indulgence: This place is meant for delicious desserts. Fresh mango cheesecake, blueberry cheesecake, and lemon cheesecake are their signature preparations. 

Samruddhi: Fast food with real Chinese flavors is worthy of trying here at Samruddhi. 

The Earth Cafe: This place is known for their Indian, fusion, sushi, and European style offerings. You can also try their gluten-free, vegetarian options at extremely affordable pricing.