About Nusa Dua Beach
Nusa Dua Beach is often described as one of the all-inclusive beaches that has got everything one can ever think of. It is a wonderful assortment of luxurious hotels, exhibition halls, golf courses, water sports complexes and what not. This pristine beach makes available for a great place for families and couples watching out to have fun in a far  off place. The best part of the beach is its white sands and azure blue waters.

The surroundings of this place provide an environment that will be a treat for your senses. There are a lot of things to do in Nusa Dua Beach starting from indulging in water sports to spending a laid back day under umbrellas soaking all the energy of the sun.

Honeymoon couples who are on their maiden trip together as well as families who have come out to spend some time in tranquillity mainly visit Nusa Dua Beach. Tourists love to spend time in the water exploring the marine species underwater. Fishes of different colours and coral ridges are yet another centre of attraction at the Nusa Dua Beach.

If you are fond of adventure activities, you can get into the clear water and explore the marine life by snorkelling. The waves at the Nusa Dua Beach are not as harsh and this makes boating possible in the ocean and tourists love to spend time paddling in the clean waters exploring the scenic picturesque beauty of the place.

How to Reach Nusa Dua Beach
The distance between Nusa Dua Beach and Denpasar Airport is about 25 Km. It takes about 25-30 minutes to reach the beach from the airport. You can take a rental car or a town taxi to reach the beach after landing at Denpasar Airport.
Best Time to Visit Nusa Dua Beach
The best time to visit Nusa Dua Beach is in the months of April, May, June, and September. It is at all times advisable to come to Nusa Dua just before and after the rush season of the Easter holidays. This is for the reason that the weather stays pleasant and prices of accommodation remain low as compared to any other time of the year.
What Not to Miss at Nusa Dua Beach
Things to do in Nusa Dua Beach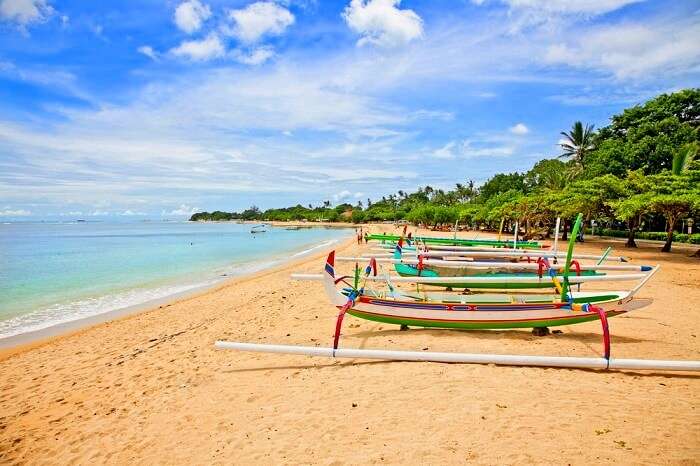 1. Swimming: Swimming is a bliss in the Nusa Dua Beach and it is one of the perfect places for plunging into the azure blue waters and spend some time relaxing. Swimming in this beach is completely safe and you will feel relaxed and rejuvenated for a swimming session. The water here is very shallow which makes swimming easy for kids as well. 

2. Water Parasailing:
Water parasailing is for those who want to make the most of the water as well as air. This is one of the most thrilling activities in the Nusa Dua Beach and people love to be a part of it and relish this once in a lifetime experience. 

3. Boating: 
If you are someone who longs to spend some time in tranquillity, then you come down to this place and indulge in boating. You can explore some of the nearby picturesque beauty of the water bodies and blue sky. Most of the tourists prefer to go boating as the tides remain and it becomes easy to paddle around the coastline.

4. Scuba Diving: 
Scuba diving is yet another activity in Nusa Dua Beach that you can think of indulging yourself. This activity not only gives you a fun-filled experience but also lets you explore the diverse underwater world. You will surely be awestruck by the wide range of fishes and corals under the water. Give it a try and you will be fascinated.

5. Snorkelling
: norkelling is one more activity that you can take part in to explore the colourful and vibrant world under the sea. It allows you to get yourself into the water and have a glimpse of the mesmerizing sights of the fish and coral ridges. 

6. Jet Ski: 
If
you want some more thrills at the Nusa Dua Beach apart from swimming and snorkelling in the azure blue waters, you can go for jet skiing. This will be a once in a lifetime experience when you move at higher speeds touching the water. It is also one of the most value for money activity in Nusa Dua Beach.

7. Sunbathing: 
Nusa Dua makes available for a great ambience for sunbathing above the white sands and in front of the azure blue water. You can spend a considerable amount of time soaking in all the Vitamin D from the sun and rejuvenating your soul under thatched umbrellas and sunbeds. This is the best activity to take part in when you made a trip to Nusa Dua for spending some laid back days.

Places to visit near Nusa Dua Beach 

1. Water Blow:
This place is located at Jl. Pantai Mengiat, Peninsula Island. This massive blowhole is not located far from the Nusa Dua Beach. It is one of the most visited places of tourist interest in Bali because of its amazing natural creation. The waterhole is very powerful and it is recommended to stay at a safe distance from it.

2. Pasifika Museum:
The Pasifika Museum is located at the Complex Bali Tourism Development Corporation (BTDC) Area. The museum is home to a wide range of collection from all over the world. You can find works of many European artists who had once settled in Bali. The works of many famous artists like Emilio Ambron, Paul Gauguin, and Rudolf Bonnet are on display here. The exhibition hall is considered to be one of the most important places for artists and art lovers. You should on no occasion miss out on this famous place.

3. Puja Mandala: 
Puja Mandala refers to a hill of worship. This is one of the widely held places for cultural and religious complex near Nusa Dua. This place serves as a token of equality between all religious. It has a Hindu temple, an Islamic mosque, a Buddhist temple, and a Church as well. The puja mandala also happens to be one of the most important places for various religious commemoration in Bali. It is located at Jalan Nusa Dua in Kuta Selatan.
Other Essential Information About Nusa Dua Beach


-Location: 
Nusa Dua is located at the southern part of Bali, Indonesia


-Timings:
There is no as such opening and closing timings of the Nusa Dua Beach. You can over to this place at the time of the day. It takes about 2-3 hours to move around in and around the beach.

Best Restaurants to Eat at Nusa Dua Beach


1. The Pirates Bay Bali:
 If you want to enjoy the famous Balinese cuisine in the Jack Sparrow way, then this is the place. You will not only have amazing food at this place, but you will also have a great sight of the spectacular ocean. The restaurant is known for its amazing recipe of the sea food that is crispy on the exterior and juicy in the interior. The food is traditionally served on a banana leaf.
2. Bebek Bengil: 
This is the place for people who want to enjoy a quackilicous meal. The Bebek Bengil is one of the most renowned places in Bali to offer amazing duck recipes. The quality of the food has been impeccable and the ambience of the restaurant is just wow. The best part of this place is its amazing beachfront view that extends your vision in the direction of the endless ocean. The service and quality of food at this place is just heartwarming.

3. Bumbu Bali 1: 
The Bumbu Bali 1 is known for its traditional offerings. It is one of the vintage-styled eateries in Nusa Dua. This place has nothing fancy but has everything traditional. The entire expanse is crafted alike the traditional village setting with a bit of cosy atmosphere and mismatched ornaments. The best part of this place is having food outdoors and things turn out to be more magical once the sun goes down.

Best Hotels to Stay at Nusa Dua Beach 

1. The Westin Resort Nusa Dua: 
The Westin Resort in Nusa Dua is located at Kawasan Pariwisata Nusa Dua BTDC, Jl. Nusa Dua No.3, Bali. It happens to be one of the most luxurious places to stay in Bali. The property has got a lavish beachfront view and has almost five whopping restaurants that offer all kinds of native and international cuisines to the visitors. The price for a night is INR 9000. 

2. Awarta Nusa Dua Resort & Villas:
Situated right across the Bali collection, this resort is something every single tourist would fall in love with. The place offers a very serene and tranquil atmosphere with no compromise in luxury. You will get all modern-day luxury and amenities starting from a gym centre to a spa centre and from swimming pools to sun decks. This resort has everything for tourists for INR 8500 per night

3. Hilton Bali Resort: 
If you are in search of five-star accommodation in Bali, then there is no better place than this resort. You will get all the bells and whistles at this place concerned with making your stay better and memorable. The resort is well equipped with the modern-day amenities like swimming pools, spas, sun decks, bars and clubs, fine dining options and much more. Your stay would be so comfortable in this place, that you would never make a second decision to leave this place and go anywhere. The price for a night at this place is close to INR 22000.

Best clubs and bars at Nusa Dua Beach

1. King Cole Bar:
The King Cole bar is the place that reminisces of the St. Regis bar in New York. The King Cole bar happens to be one of the best nightclubs in Nusa Dua. This is because of its amazing ambience and offerings. The club is decorated with many chandeliers and oak furniture that makes available for an antique look and feel. It has provisions for both interior and exterior seating. The bar offers some amazing light bites as well as wonderful martinis and cocktails. The average cost for two in this place is 3836. 

2. Luna Bonita:
The Luna Bonita is one of the amazing places to have mouthwatering Balinese delicacies and some rejuvenating drinks. You will and authentic cuisine of Bali in this place, which you can relish in the background of live music and acoustic guitar performances. This is one of the most affordable places to hangout in Nusa Dua. The average cost for two is INR 1000. 

3. Pasar Senggol:
This is of the testimony for the ever-changing clubbing scene of Bali. this place offers open buffet styled space in Bali that offers a unique selection of food. The tourists love this place for its amazing ambience and service. It would be no less than a feast in this place. You can relish varieties of Asian wok dishes, Indonesian dishes and local seafood dishes as well. This is located at the Grand Hyatt Bali Nusa Dua and the range of average cost for two starts from INR 2500.


There is no entry fee for entering into the beach.


Tips for Visiting Nusa Dua Beach 
1. You should not litter on the beach.
2. You should take care of your belongings when at the beach.
3. You should take care of your kids when there are indulged in some water-based activities.
4. If you are not aware of the techniques of water sports, you should first learn it from the experts at the beach and then try out on your own.
5. Wear all the essential safety gears and spend some time practising with the experts before getting into the ocean.
6. You should follow all rules and regulations as specified by the administration.
7. You should at all times carry enough cash with you when you are heading out to have fun on the beach, as the local vendors may not accept card payments.