About Trafalgar Square
Resting at the heart of London, amidst the bustling town of Westminster, lies the country's most notable landmark, Trafalgar Square. Constructed in 1840, the Square is not only a popular tourist attraction but is also an iconic landmark glorifying the city's rich heritage, history and culture.

From Buckingham Palace and the London Eye to the verdant gardens of St. James's Park, the city's most renowned monuments and destinations are located just a stroll away from the Square. Pearly white fountains are flowing with turquoise water form a decent spot for resting quietly as you admire the intricate sculptures of gorgeous mermaids and fishes carved at the outline.

Bronze statues of four majestic lions glistening in the bright sun form the periphery around the tall facade of Nelson Column. Commemorating the valor displayed by British troops in the Battle of Trafalgar, it celebrates the victory of Britain over Spanish and French forces. With the National Gallery in its north and Northumberland Avenue in its south, Trafalgar Square is the best spot to witness the lively and boisterous city life of London.
How to Reach Trafalgar Square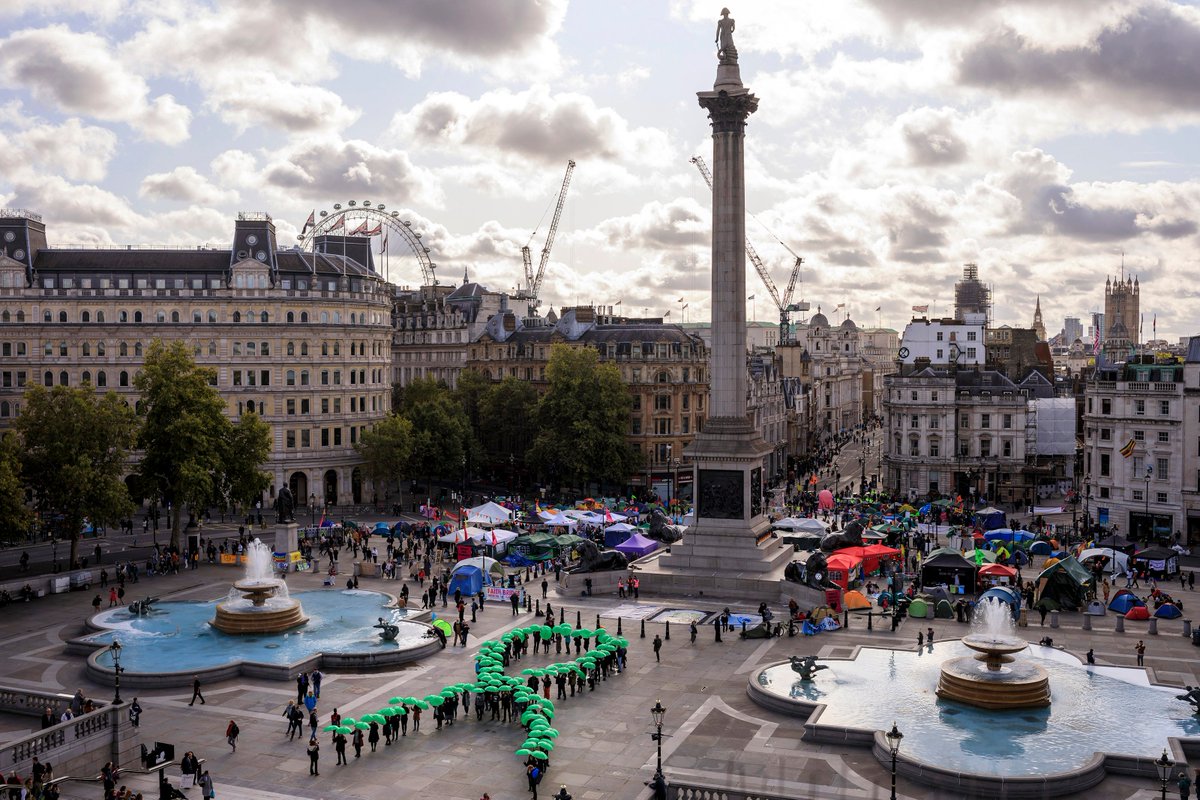 You can reach Trafalgar Square in less than 30 minutes from the City Centre by cab or taxi. You can reach Trafalgar Square in 30 minutes even with public transport which makes it just as good of an alternative. The time taken in all 4 routes is 30-35 minutes so one can choose whichever route they want.

1. A walk to Bethnal Green station and a ride on Central sub from there would land you at Oxford Circus Underground station. From there, Charing Cross station is just a ride on Bakerloo sub away from Oxford Circus Underground Station. A minute walk from there would get you to renowned Trafalgar Square.

2. This route goes through Holborn station which can be reached by taking a Central sub from Bethnal Green station. You can board the Piccadilly sub from there to reach Leicester Square station, which is a 5-minute walk away from Trafalgar Square.

3. Yet another route consisting of Central sub goes through Tottenham Court station from Bethnal Green station. A short ride on the Northern sub would get you to Charing Cross station. A hop, skip, and a jump, and you'll find yourself in front of Trafalgar Square.

4. You can also walk straight from Tottenham Court station to Trafalgar square if you want to absorb the city of central London. It might be more than just a short stroll for some people, so you should be prepared to walk for more than 10 minutes.
What Not to Miss at Trafalgar Square
Some activities handpicked amongst the best things you can indulge in at Trafalgar Square are mentioned below.
1. Covent Garden Market -
This is the most famous market in London and a very famous tourist attraction. The different parts of the market are filled with jewellery, antiques, fine prints, beautiful crafts, clothes and even general household items. It is open all week and the type of merchandise change daily.
2. Horse Guards Parade -
The Household Cavalry Museum at Horse Guard Parade is a wonderful example of the rich military history. The museum is the living demonstration of the hardships that came hand in hand with holding a position in this honoured regiment for Her Majesty's forces.
3. St Martin-in-the-Fields Church -
Meander into the spectacular St Martin-in-the-Fields Church which hosts daily church services, free music every day and even paid concerts around the weekends. Discover and enjoy a meal or a jazz night in London's hidden cafe – Café in the Crypt.
Places to Visit near Trafalgar Square
Located at walking distances of Trafalgar Square, are these must-visit marvels of the city.
1. Somerset House -
Located between the Strands and the Thames, in the heart of London, is situated the spectacular Somerset House. It is a world-renowned attraction and should be on the must-visit list of anyone visiting London. It has a spectacular dancing fountain in its courtyard and hosts various exhibitions, art and cultural events throughout the year.
2. Big Ben and the London Eye -
Situated along the banks of the River Thames, are the two most famous London tourist attractions. Atop the Big Ben, you can catch the bird-eyes view of the breathtaking panorama of London city. The ride on the London Eye lasts for 30 minutes and offers a peaceful escape up in the sky from where you can view the entire city at a glance. 
3. The National Gallery -
For tourists with cultural inclination, The National Gallery, situated just a stone's throw from Trafalgar Square, is the perfect paradise to satisfy their desire. Open almost throughout the year and free to enter, this place hosts a wealth of fine art with paintings dating as far back as the 13th century. It also conducts various special events throughout, and all are invited to join in.
Other Essential Information About Trafalgar Square
History of Trafalgar Square
Formerly the King's Mews, Trafalgar Square has an incomparably rich history. It became a noted site in the 13th century, during Edward I's reign where it was commonly known as Royal Mews. It stayed that way for many other rulers who came into power but an unfortunate fire assisted in the reconstruction of the mews and this time it was given the formation of stables.
In 1826 plans for clearing and redevelopment of a major part of the site came forward headed by John Nash. But John Nash's untimely death left the construction of this iconic site incomplete for a while. The construction again started post his demise and the square was decided to be named after the victory in the Battle of Trafalgar.
After John Nash's death William Wilkins was brought on board for the construction of Trafalgar Square. William designed the national gallery built on the northern side of the square but he too, unfortunately, passed away before his plans could be officially accepted. A few weeks later, Charles Barry was called upon and his plans were accepted with immediate effect.
The square officially opened in 1844, after considerable changes were made in the national gallery. Although part of the design wasn't completed until 1867, a statue named Nelson's Column was erected in 1843 which was planned independently from the square. Some major changes took place in an eighteen-month redevelopment which wrapped up in 2003. The construction led by W.S. Atkins incorporated public toilets, café, and 2 lifts.
Places to Eat in Trafalgar Square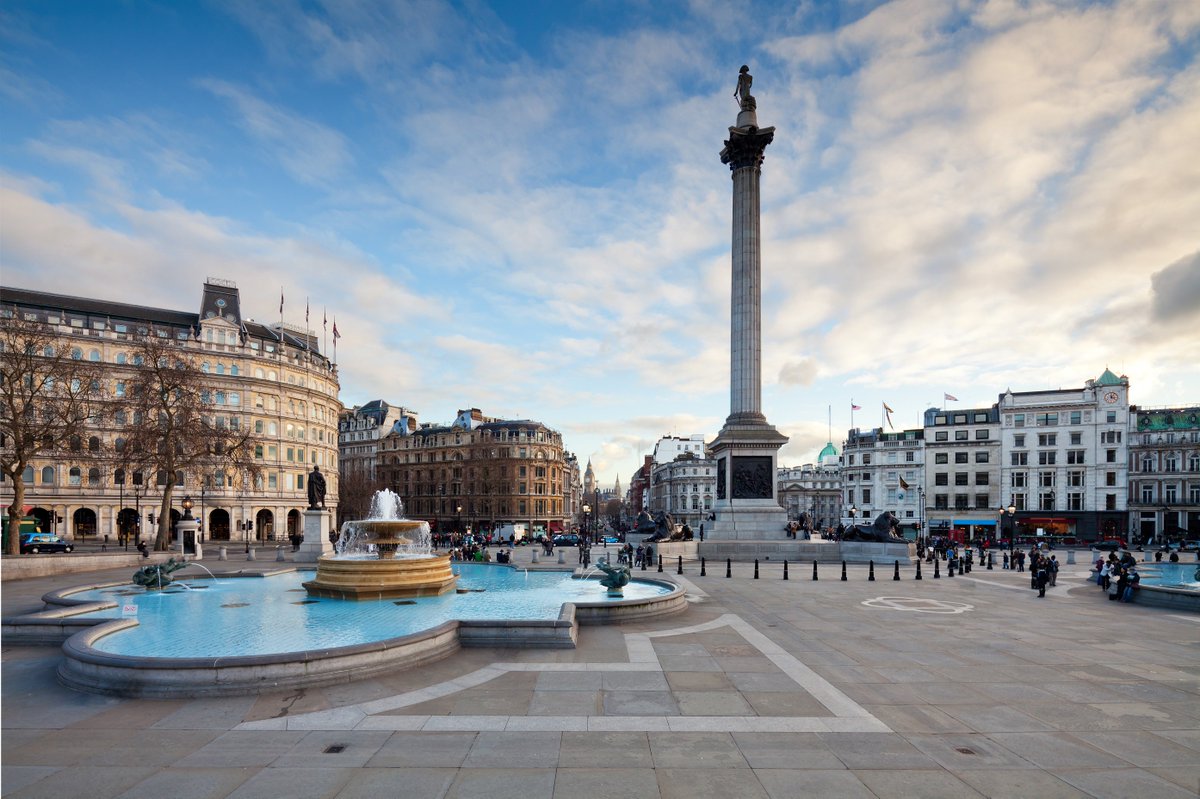 Serving the finest tastes from exquisite gourmet are the following restaurants near Trafalgar Square.
1. Café on the Square -
This is a beautiful café with outside chairs and tables, providing a beautiful view along with delicious food. Serving home-made sandwiches and cakes, the menu offers traditional café fares.
Location:
Charing Cross
Timings:
9:00 AM – 6:00 PM
2. Café in the Crypt -
This is an exquisite hidden café inside the crypt of St Martin-in-the-Field Church serving food buffet style. The food here is great in taste and light on the pocket.
Location:
Trafalgar Square
Timings: - Monday – Tuesday:
10:00 AM – 8:00 PM
- Wednesday:
10:00 AM – 8:30 PM
- Thursday – Saturday:
10:00 AM – 9:00 PM
- Sunday:
11:00 AM – 6:00 PM
3. Tandoor Chop House -
This part British – part north Indian restaurant serves mouthwatering meat dishes made with Indian spices in traditional tandoor ovens. Sit back, relax and enjoy the ambience and delicious food with friends and family.
Location:
8 Adelaide St
Timing:
Noon – 11:30 PM

Places to Stay near Trafalgar Square
Numerous star rated as well as affordable luxurious accommodations are easily available around Trafalgar Square. Here are some of the best picks. 
1. Strand Palace Hotel -
The closest hotel to some of the best sightseeing spots in London, Strand Palace Hotel has numerous rooms with an opulent modern decor. The hotel has its fitness centre, bar, snacks bar and a coffee shop. 
Location:
372 Strand
Distance:
0.3 km
2. Club Quarters Hotel -
This Victorian-style property was originally the Northumberland House and was later renovated into a contemporary hotel. It has classic rooms and luxurious suites. 
Location:
8 Northumberland Avenue, Westminster
Distance:
0.4 km
3. Thistle Piccadilly Hotel -
Located just a stone's throw from top restaurants in the city, Thistle Piccadilly Hotel is a popular pick to stay near the Square. It has spacious suites equipped with fully stocked minibars and coffee machines. It also has a workout room and sauna.  
Location:
Coventry Street
Distance:
0.4 km
Statues and Foundations at Trafalgar Square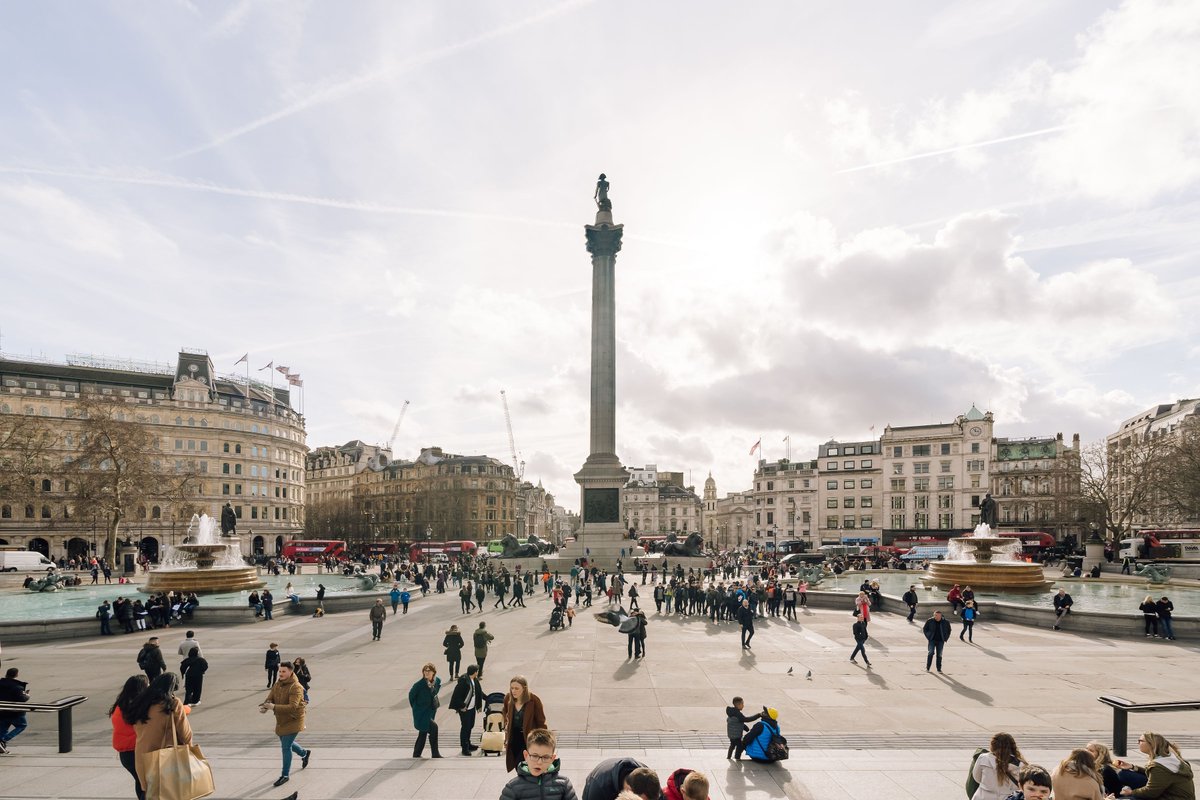 When visiting Trafalgar Square, keep your eyes open for the following statues and landmarks.
1. Nelson's Column -
Built atop a bronze platform, this historic memorial was constructed in 1843 to honour the valor displayed by Admiral Lord Horatio Nelson during the Battle of Trafalgar. Hence, this 52 m column has a stone figure of Lord Nelson on its top.  
2. Landseer Lions -
Named after their sculpture Edwin Landseer, the four majestic bronze lions symbolize power and strength of Lord Nelson. 
3. Fountains -
With intricate sculptures of mermaids and dolphins outlining the periphery, the beautiful fountains of this Square are filled with crystal clear water. 
4. Bronze Statues -
There are three notable statues on plinths located in Trafalgar Square. In the northeast corner is a statue of King George IV sculpted by Sir Francis Chantrey. In the southwest corner, there is the statue of General Sir Charles James Napier while in the southeastern corner, there is Major General Henry Havelock.
Travellers' Tip before Visiting Trafalgar Square
A heads-up about some important tips to keep in mind before visiting London's most notable Square. 
-
Though pigeons used to rest here in thousands, there are close to no pigeons in the Square now. But even if you spot any, do not feed them as it has been banned and is heavily fined.
-
Respect the historical importance of the lions and click pictures only from a distance. Avoid climbing on these statues as it can cause irreversible damage to the sculptures.
-
Though there is no entry fee for the Square, the public restrooms in the area have some charges and are open for a limited time only.