About Tanglang La
Tanglang La is a beautiful pass in northern India which is home to several specimens of immaculate beauty that every adventurer should traverse once in their life. Located in the beautiful province of Ladakh, Tanglang La stands at the height of about 17,480 ft. which makes it one of the highest motorable mountain passes in the world. While nature enthusiasts will find eye pleasure at every turn, adventurers will enjoy the thrill. The twists and turns and the increasing altitude, feed an adventurer's spirit.

The pass is wrapped in an uninterrupted show of rocky mountains that gradually bury themselves in layers of white glistening snow. At some places, you will find the company of sparkling streams and rivers gently flowing through the crevices and valleys. The soft icy breeze will hit you like a breath of fresh air far away from the city bustle. The vegetation here is sparse, but the landscape varies from groups of ashen mountains to scenic plains.

You will frequently find the roadside adorned by plenty of Buddhist prayer flags. They add a speck of colour to the otherwise colourless vista. The journey becomes even more exciting when hundreds of goats run alongside the road and cheer you up.
Best Time to Visit Tanglang La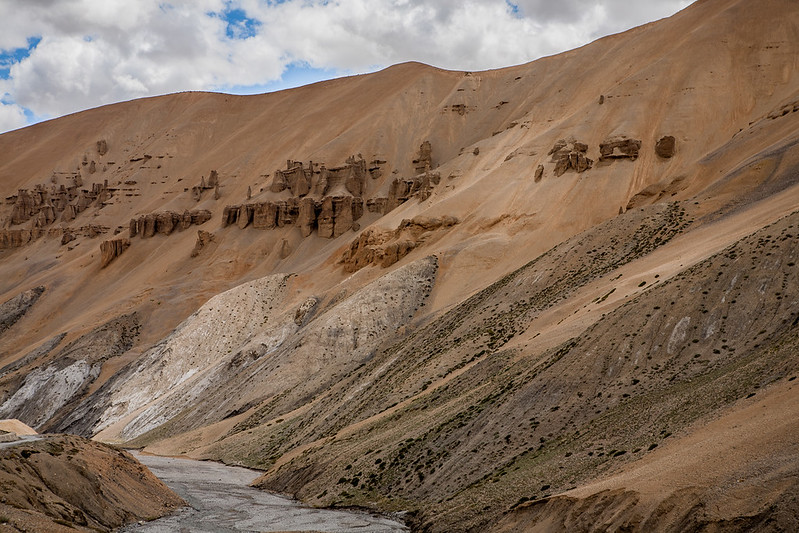 Tanglang La owes its super-low temperatures to its high altitude. April and May are the best months for a Tanglang La pass trip as the days are warm and roads are in perfect conditions.

Summers: From the month of June till September, the weather in Tanglang La is mildly cold. The temperatures can be anywhere from 10 °C to 25 °C. It is perfect for a road trip to Tanglang La pass and its nearby locations.

Winters: From the month of November till February, Tanglang La gets extremely cold. You can still plan a trip until the beginning of November, but after that, temperatures may drop to a negative and snowfall will lead to road blockage.
What Not to Miss at Tanglang La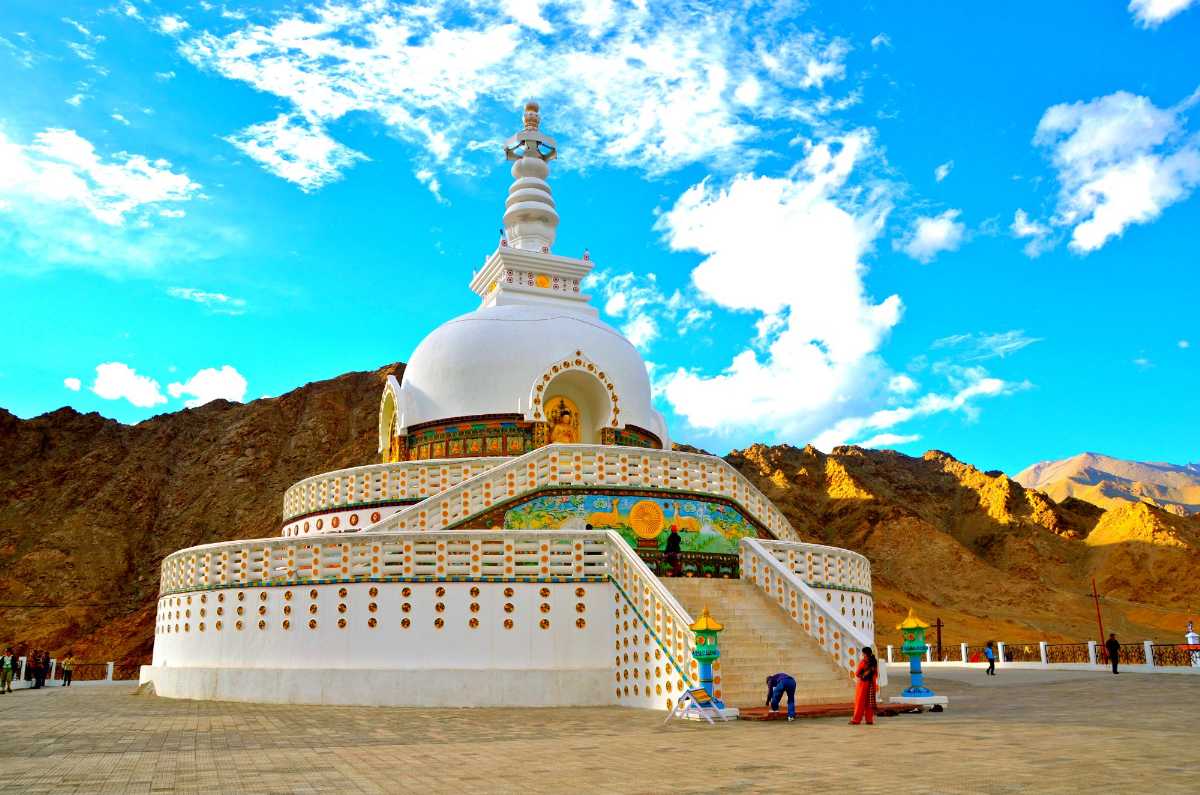 While you have a spectacular view to accompany you at the pass, make sure to visit the nearby destinations to add more special memories to your trip. Some of them are:

1. Shanti Stupa: Visit this architectural marvel that dominates the landscape with its white-domed beauty. It sits on a hilltop and is surrounded by a panoramic view of Leh. You can admire the structural style and also find some Buddhist relics here.

2. Hall of Fame: Hall of Fame is a museum built to honour the soldiers of Indo-Pak wars and displays photos, letters and weapons used by the Indian Army. There is also a projection room where you can watch documentaries related to army operations.

3. Namgyal Tsemo Gompa: If you want to experience a traditional vibe, visit the Namgyal Tsemo Gompa. It shines with a striking red facade and hosts an interior of immensely decorated Buddha images and walls.

4. Thiksey Monastery: One of the most popular monasteries of Ladakh, Thiksey Monastery is a beauteous structure amidst a scenic landscape. It houses a tall statue of Maitreya Buddha and has more than ten temples within its complex.

5. Upshi: A small village on the Manali-Leh Highway, Upshi is a perfect stop for a break. Enjoy some food, drinks and the warm hospitality of the people here.

6. Hemis National Park: One of Ladakh's prideful possessions, the Hemis National Park encloses a wide array of flora and fauna. You can tour the Park and witness Snow leopards, blue sheep and other exquisite species.
Other Essential Information About Tanglang La


Road Conditions 
You must take the Manali-Leh Highway to reach Tanglang La pass. The roads here curve like a snake and increase in elevation with distance. Most visitors come for the adventure and fun of traversing the roads, which are the main attraction of the pass.
The thrilling part of the journey to Tanglang La is the crossing of 21 Gala loops, which are the risky hairpin bends that appear at small intervals, all the way to the pass. You will find well maintained and mettled roads for most of the journey, especially from Upshi to Tanglang La.
But, be prepared to face some bumpy moments as certain areas may be stoned. You may even find some wet and slippery parts on the road. If you are a beginner at driving, it is better to pass the driving wheel to an experienced person as driving can be risky here.
Climatic Conditions
You can always expect a cold climate in Tanglang La. Even during summers, while the days are warm, the nights start getting chilly. You would have to keep warm clothing with you for a visit to Tanglang La pass, irrespective of the season. The climate is usually clear during winters and ideal for sightseeing. With high altitude comes extreme winters. You can expect heavy snowfall and extreme temperature drops during winters. They can get as low as -35 °C.
Travellers Tips before Visiting Tanglang La Pass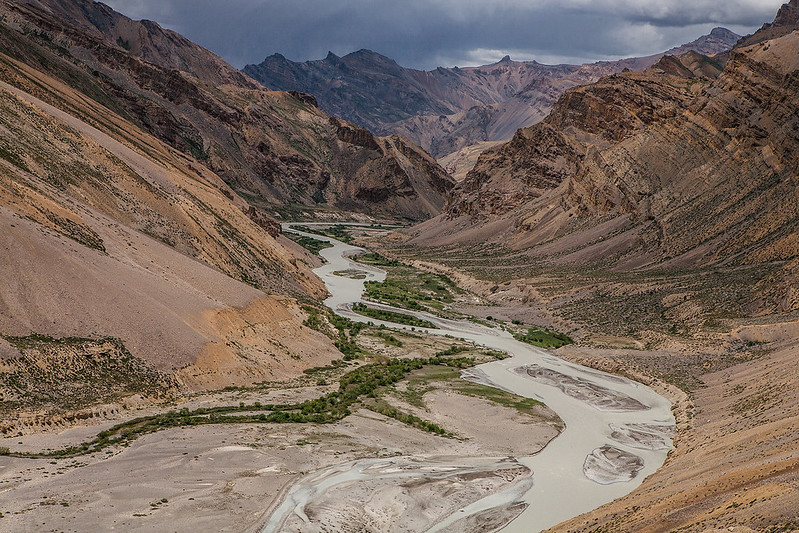 A journey to Tanglang La may prove to be a hefty job because of the terrain and the weather. Read these tips before starting your trip to have a safe and smooth journey.
1.
Remember to carry warm clothes for your trip as the climate will be considerably low at Tanglang La.
2.
The pass is located at a high altitude which can raise some concerns for people with health issues. Be prepared for altitude sickness, which is common since the oxygen levels are relatively low here.
3.
Make sure you are travelling with an experienced driver as the steep roads and sharp turns can make driving a laborious task.
4.
Pack some sturdy shoes that will help with walking on the rocky and icy roads.
5.
Gather information well in advance regarding any permissions required during the trip.