About Pykara Lake
Emerging from the Mukurthi Peak, the beautiful Pykara River transforms into gorgeous waterfalls, which ultimately forms a Pykara Lake. Guarded by a lush green cover of the Shola forests, Pykara Lake is believed to be an outcome of the dam constructed across the Mukurti River. 

The tranquillity of the green surroundings, a thick forest cover at the shores of the Pykara Lake and the tall pine trees in its backdrop gives rise to a pleasing atmosphere. In fact, you can say that the

Pykara Lake is blessed with everything that you need to make your family outing an endearing one. Irrespective of whether you are a solo traveler or a couple in love, you probably shouldn't miss on this tourist hotspot on your Ooty tour. 

If you feel like adding some adventurous flavor to your weekend celebrations, you can simply hop at the Pykara Lake Boat House. Here, you have various motorboats and speed boats to give you a perfect boating experience.

As the captain is busy maneuvering your boat around, you can simply get candid moments of your fellow tour mates. 
Besides boating adventure, you can also hike up to the rumbling Pykara Falls. As you proceed from the Lake to the Pykara Falls, be ready to treat yourself with the melodious bird sounds and a cool breeze of air blowing in here and there.

There are paid battery car services for those who want to embrace the cascading illustration of the Pykara Falls without a hiking adventure
How to Reach Pykara Lake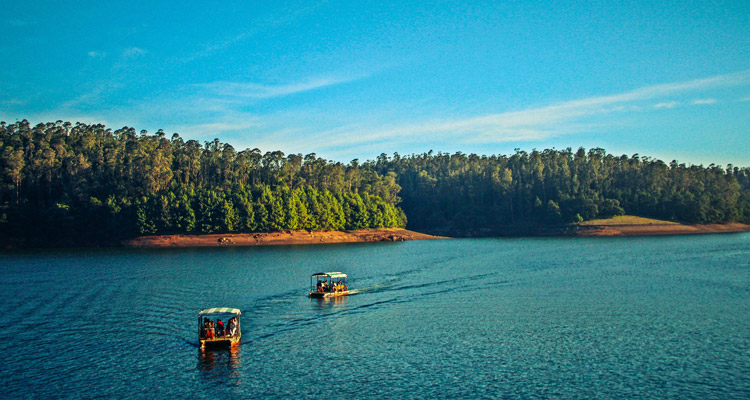 Pykara Lake is located at a distance of 24.1 km from the city center of Ooty. You can quickly get there within an hour via the road transfer. You can either opt for a hired taxi or get into a state-run bus to get transferred to the Pykara Lake. As the roads are well-maintained, you can self-drive in your own car to reach the Pykara Lake from any location of Ooty. 
What Not to Miss at Pykara Lake
Attractions near Pykara Lake –
In case you are planning for a longer stay in Ooty, here are some other worthy of visiting tourist destinations to explore around the Pykara Lake – 

1. 6th Mile Ooty –
  As the name itself suggests, this spot is located at a distance of 6 miles from Ooty on the way to Pykara. 
The place is well-known for its gorgeous backdrop, accounting it as a perfect destination for the movie makers. On your way to the place, you can even stop and communicate with the ethnic Toda tribes that reside here. 

2. 9th Mile Ooty –  9th Mile Ooty is better known as Wenlock Downs and is situated 9 miles from Ooty to Pykara. This is a vast stretch of lush green grasslands with a scenic mountain view in its backdrop. 

3. Ooty Botanical Garden –  Ooty Botanical Garden is a beautiful garden along the slopes of the Doddabetta and located at a distance of 24 km from the Pykara Lake.

Stretched over a land cover of 55 acres, Ooty Botanical Garden is bifurcated into different sections blooming exotic species of perennial flowering plants. 

4. Tea Estate View Point –  Tea Estate View Point of Ooty is located on your way to the Doddabetta. It is at a distance of 30 km drive from the location of Pykara Lake.

So, while you are travelling to Doddabetta from Ooty, never miss on adoring flourishing lush green tea plantations.

If you are a tea person, you can stop your car nearby and get some lighting knowledge about the process of preparing crude and refined tea extracts.

Besides, there are small shops in its close vicinity where you can find a wide range of household products. Spices, tea powders, essential and aromatic oils, and handmade chocolates are some of the items to pick here. 

5. Ooty Toy Train –  Ooty Toy Train, otherwise known as the Nilgiri Mountain Railway, is ever-ready to give you an unparalleled 46 km long railway journey experience. 
There are numerous sightseeing adventures for you to capture as you travel between Ooty and Mettupalayam.

Be ready to treat your eyes with a picturesque delight of the tunnels, bridges, curves, and of course, the spectacular valleys on your way. 


Activities to do at Pykara Lake – 
Here's a list of things how to enjoy on your Pykara Lake visit – 

1. Enjoy boat riding –  The boathouse at the Pykara Lake is well-maintained by the State Government authorities. It is here where you can hire motor boats or speed boats for your boating experience. With the large motorboats, you can enjoy a boating adventure for 20 to 30 minutes.

This is the perfect way to admire the beauty of the surroundings. If you want, you can spend some time with the captain to know the place more before he maneuvers the boat around.

Alternatively, you can try the speed boats for a shorter boating experience of 10 minutes. 
2. Get adventurous with hiking – 
The Pykara Falls are located at a distance of 1.5 to 2 km from the Pykara Lake. Instead of falling down straight from a great height, the water of Pykara falls rumbles and tumbles through the rocks.

This gives rise to a cascading illustration. This place has got two high waterfalls – one with a height of 55 meters and the other one with 61 meters. It is, therefore, useful to carry a pair of sporting shoes to walk up close to the stairs of the waterfalls and have a close look.

Don't worry about the distance to cover as the melodious chirping and the relaxed atmosphere will soothe you enough on your way. 

3. Relax at the Boat Club –
If you are not up for an adventurous boat ride or getting into the waters, you may seek some relaxing time at the Boat Club. You can simply stroll or capture some splendid photographs or sip in your favorite cup of coffee at a small cafeteria there. 

Pykara Lake Boating and Boat House – 

1. Pykara Lake Boating –  Since it has been opened for the visitors, Pykara Lake has been serving as a popular tourist destination for all the boating lovers. There are motorboats and speed boats available here for your boating experience.

 For 8 seater pedal boating experience, you need to pay a sum of between 60 INR to 400 INR. A large motorboat ride here will last for a duration of around 20 to 30 minutes; while the speed boating experience for 10 minutes.

 If you are travelling in a group, the new car boat with a capacity of 10 people is the best option to try here. There's no better adventurous activity other than boating to embrace the surrounding backdrop of the Pykara Lake. 

2. Pykara Boat House –  Pykara Boat House is yet another hotspot for the tourists visiting the Pykara Lake. There's a small cafeteria cum restaurant located nearby the boathouse.

Both the boathouse and the cafeteria are under the maintenance of Tamil Nadu Tourism Development Corporation. You can enjoy a few quick munchies and the famous Ooty style coffee here at the BoatHouse restaurant.

After enjoying your meal, you can go for a stroll along the bridge located nearby where you have plenty of moments to capture with your DSLR. 
Other Essential Information About Pykara Lake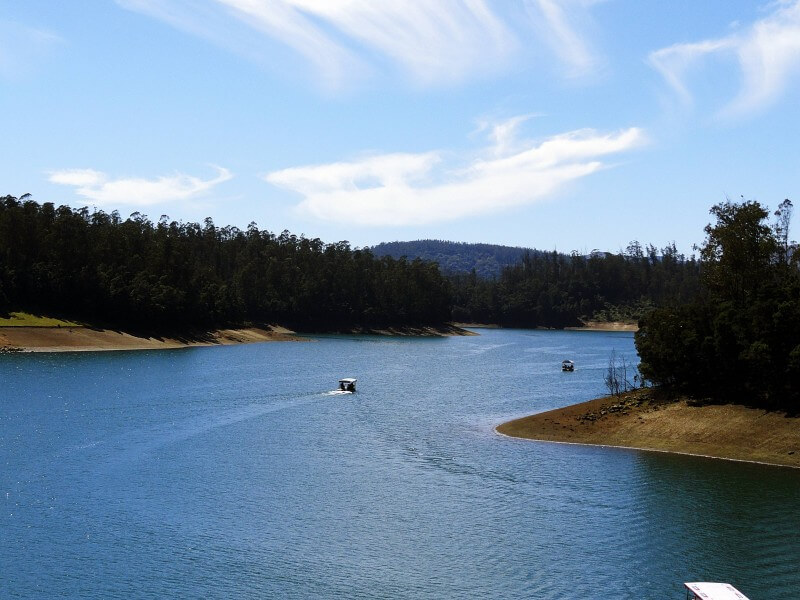 Location –  Pykara, Ooty, Tamil Nadu, 643237, India

Timings –  You can visit the Pykara Lake anytime between 08:30 am to 05:00 pm. It hardly takes around 1 to 2 hours for you to explore the Pykara Lake entirely. 

Entry Fee -  The fees charged for visiting the Pykara Lake are as follows –

1. Van Tour through the surroundings of the Pykara Lake - 150 INR per head

2. Student Charges (On Permission) - 75 INR per head

3. Jeep Tour - 1200 INR per round

4. Still Camera - 20 INR per unit

5. Video Camera - 50 INR per unit

Distance from City Centre -  Pykara Lake is located at a distance of 24.1 km from the city center of Ooty. It will just take 42 minutes for you to cover this distance via NH181.

Places to Eat in and near Pykara Lake – 



1. Pykara Boat Club –
 If you do not want to walk for miles, there's a small cafeteria adjacent to the Pykara Boat House. Here, you can buy some quick munchies or sip in your favorite cup of coffee. 

Apart from this Boat Club, you can head in the direction of following restaurants to enjoy a nice sumptuous meal – 

2. Cliff Top –
Treat yourself with some of the rich flavors of the soils of Ooty at the Cliff Top. Right from regional cuisines to delectable signature dishes to the authentic international cuisines, you have it all here at the Cliff Top.


Besides, they have an open-air rooftop barbecue where you can grab on some barbecue and grills. 


Distance from Pykara Lake – 11.9 km 


3. Ponmari Multicuisine Restaurant – 
This restaurant is situated within the premises of the Ponmari Residency. Here, you have a chance to try various North and South Indian dishes amidst a luxurious ambiance. 


Distance from Pykara Lake – 14.8 km 


4. Earl's Secret – 
This restaurant is located at the King's Cliff and is the best option to dine in the finest quality food. Earl's Secret is the first thing to pop in mind when it comes to preferring dining within a lazy and luxurious ambiance. 


Continental, Chinese, and Mughlai delicacies are their signature preparations. 


Distance from Pykara Lake – 11.7 km 
Travellers' 

Tip before visiting Pykara Lake -
Here are some essential tips to keep in mind while visiting the Pykara Lake – 

1. A visit to Pykara Lake involves a lot of walking. Hence, it is advisable to put on some comfortable clothing and footwear while visiting here.

2. If you are travelling alone or as a couple, it is better to group up with others to reduce your overall boating expense. 

3. Make sure to take sufficient care of your belongings and, if possible, lock all your expensive items well within your room itself. 

4. If you are travelling to the lake spot in the afternoon, make sure that you lather your skin with a good amount of sunscreen lotion. This will ensure your protection from the wrath of the sweltering solar radiation. 

5. Be extremely careful about the monkeys wandering here and there.