About Catherine Falls
The scenic beauty of Catherine Falls is the ideal summer getaway for tourists looking for a peaceful rejuvenation in nature's lap. The fall, all engulfed by extensive and verdant tea plantations, is a sight-to-behold. With the lullaby of soothing mountain air at the background of the Nilgiris and seated within pure, unspoiled natural bounty, the picturesque Catherine Falls is definitely worth your visit. A hidden gem though not much reckoned is the perfect place to relax and unwind.  

Catherine Falls bear a resemblance to a thin stream of water plummeting from an elevation of 250 feet. What makes the fall more breathtaking is due to its magnificent pool formation at the base.  The hiking trails in the middle of the Shola forest attract adventure-seekers and trekkers throughout the year. You can climb up to the Dolphin's Nose, a vantage point to soak in the splendid view of the double-cascaded waterfall rushing down the undulating slope.

You can visit this waterfall for a day's outing, pack a picnic basket, and take delight in some old- fashioned fun. If you have a penchant for photography, Catherine Falls has awesome scenic views to take pictures and capture some of the spectacular views. Visit Catherine falls if you want to break the humdrum of daily life, want some fresh air, and love to hear the sound of gushing water hitting the ground.
How to Reach Catherine Falls
You can reach Catherine Falls taking the Moon Road, which is off the chief Kotagiri-Mettupalayam Road, from Aravenu, a small town in Tamil Nadu. Since Kotagiri is smoothly connected with the important cities of Coonoor and Ooty, you will get buses and cars to reach the fall. However, you need to take a small walk through the verdant tea estates to visit Catherine Falls, where your car would be parked. 
Drive very carefully if you are driving on your own because the way to the fall is extremely narrow. Moreover, the directions to Catherine Falls are not marked appropriately and might need to ask the locals to get accurate directions. 
Alternatively, you can choose to walk from Kotagiri or Aravenu to reach the fall. On the contrary, if you are traveling by car, you can take the vehicle inside, but with the prior authorization of the District Forest Officer.
Best Time to Visit Catherine Falls


The best time to visit Catherine Falls is post monsoons, from October until May when the fall is in full flow. That is because most of the streams in South India, including those of Tamil Nadu, are non-perennial, thus heavily dependent on the monsoons of India. Avoid the monsoon months because of heavy downpours, rendering the fall and its surrounding areas unsafe due to inclement weather. 

Avoid visiting Catherine Falls in the month of March-April when the heat is oppressive and the place experiences little to no rainfall. The fall will eventually dry out with the water level reduced.
What Not to Miss at Catherine Falls
Places to visit near Catherine Falls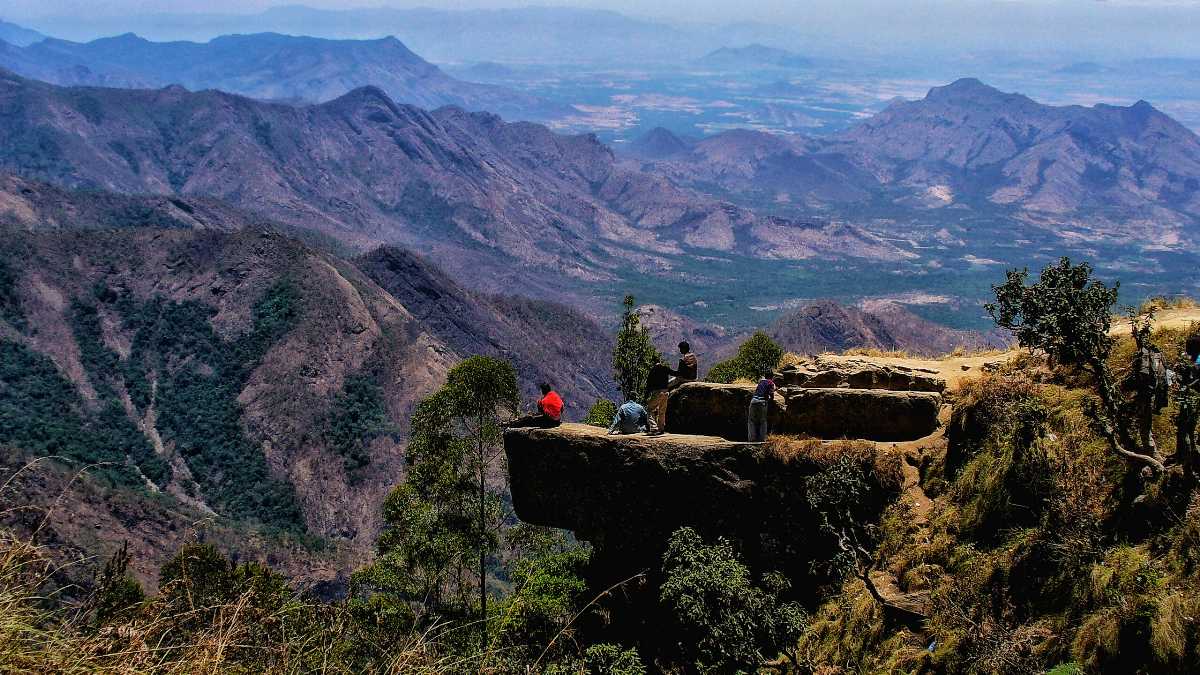 1. Dolphin's Nose- Visit Dolphin's Nose near Catherine Falls for adventure and photography, giving you a 180-degree view of the scenic beauty just in front of you. The way to Dolphin's Nose, meandering across the verdant tea estates is a sight to behold and dreamy experience for nature aficionados. Hire a telescope at just 10 INR to take in the beauty of the mountains as well as take some exclusive photographs with picturesque views of the Nilgiris in the background. 

2. Sim's Park- Include Sim's Park, Coonoor in your bucket list when visiting Catherine Falls because the park is home to more than a thousand species of vibrant, colorful flowers. Get the best of nature in Botanical Park together with jaw-dropping landscapes.

The key attractions of the park are a little lily pond, a boating area, a flowering blossoms area, a rose garden, a handsome ornamental tree, Rudraksha Tree, and Queensland Karry Pine. Take a leisurely stroll in the rose garden, study the flowers, take photos, and carry a picnic basket to spend some wonderful moments with your family and kids. 


3. Lamb's Rock-
Do not miss Lamb's Rock that is just an hour's drive from Catherine Falls, popular for adventure trekking, scenic landscapes, and photography. You can ascend Lamb's Rock after an exhilarating trek of approx 500-950 meters.


Once you reach the Vantage Point, get sweeping views of verdant tea and coffee plantations, deep forests, and the plains in a sole frame. Carry your binoculars to get clear views of the Catherine Falls and Dolphin's Nose from here.
Other Essential Information About Catherine Falls


- Location:
Mettupalayam Road, 8 km from Kotagiri, Coonoor, Tamil Nadu, 643217, India

- Timings: The visiting time is from 6 am to 6 pm Monday to Sunday.


- Entry Fee: There is no entry fee to see Catherine Falls.


- Height: The fall flows in double steps from an elevation of 250 feet. 

Places to Eat near Catherine Falls

1. Silvertip Café-
What is a vacation without some food at Silvertip Café serving scrumptious baked delights with an array of coffee and tea? Savor your taste buds with lip-smacking snacks and meals including veg, egg, or chicken sandwiches, chicken nuggets, cutlets, pakodas, bondas, veg or egg noodles- fried rice, brownies, teacakes, muffins, fresh fruit juice, shakes, and ice creams. 

2. The Tandoor Hut- 
You will love this eatery tucked away in a quiet, hidden corner, opening after 4 pm and shuts by 8.30 pm. The must-eat delicacies are double egg and chicken rolls, mutton seekh, chicken tikka achari, chicken tikka reshmi, and chicken tikka hariyali. Savor succulent tandoori food sans the red coloring, which is hard to find these days. 

3. Tea County Restaurant- 
This place is popular among tourists visiting Catherine Falls. Some of the mouth watering options are French fries, chicken nuggets, veg nuggets, soup of the day – veg and chicken, butter popcorn, cold coffee with ice cream, milkshakes, hot chocolate, and a variety of tea and coffee.  


Places to Stay near Catherine Falls

1. De Rock- 
When you're at De Rock Jungle Living Resort, you enjoy your stay at a plush accommodation in Coonoor, amidst nature. Seated at Lamb's Rock, going round an overhanging cliff at one side and the lush green rain forests on the other. Stay in a cliff view or forest view resort, taking in scenic beauty right in front of you.


All rooms feature comfortable rooms with a TV and a desk and free Wi-Fi. The property also has a kid's play zone. The key is the Asian breakfast each morning for the guests. 

2. The Wooden Homes-
Enjoy a comfortable stay here with your loved ones with grocery delivery and housekeeping services. The villa offers luxurious rooms with LCD TV, cable connection with on-demand movies, free Wi-Fi, room heating, bathroom with bidet and shower. The property also features a play area for kids, a garden, a terrace, a sitting area, in-room breakfast, and dining facilities. 

3. MySpace Holiday Inn- 
The property features rooms offering a comfortable and idyllic stay, in the lap of nature for its guests. All rooms are inspired by Coonoor's scenic beauty and splendid picture-perfect natural views.
All rooms feature a kettle, private bathroom, and modern amenities such as heating, washer, TV, free parking, bonfire area, free Wi-Fi, and pet-friendly. 
Enjoy self-cooking at the on-site villa kitchen. It is a perfect getaway for couples, who candlelight dinners, barbeques, and wild music. 

Travelers' Tips for visiting Catherine Falls


1. When planning to visit Catherine Falls, avoid the summers because the waterfall dries due to the oppressive heat. Monsoon isn't the best time because the roads are not safe and inconvenient due to the rain. 


2. Wear durable shoes for trekking purpose. 


3. Make sure you carry some food, water, and beverages because there are  no food stalls near the fall. 


4. You can trek in the forests only after prior approval of the local forest officer. 


5. Spend some lovely moments at Catherine Falls with your loved ones, a picturesque spot and full of serenity.