About Ooty Lake
Also known as the Ooty Boat House, Ooty Lake is one of the major attractions of Ooty, the queen of Nilgiris. Spread over a vast area of 65 acres, this lake was first constructed by John Sullivan way back in 1824. Made with the water flowing down from the mountain streams in Ooty, the lake was initially made solely for fishing. However, gradually it became more of a tourist attraction, and when it was taken over by Tamil Nadu Tourism Development Corporation in 1973, the lake was transformed into a tourist park and more attractions were built around it. 

Surrounded by groves of Eucalyptus and the Nilgiri ranges in the background, the Ooty Lake is one of the most serene and peaceful tourist attractions in Ooty. If you are lucky, you can also spot some rare birds near the lake. But it is not just the beauty of the lake that makes this place so popular - the fun activities for kids and adults alike are also a major crowd puller.

Boating is a popular tourist activity at Ooty Lake. One can hire paddle boats, motorboats, and rowing boats from the boathouse in Ooty Lake and take a ride across the pretty lake. Kids can enjoy a joyful ride on the mini train and take a tour of the lake and the park. The amusement park that houses a haunted house, mirror house, and other fun activities like horse riding, is also loved by tourists that visit Ooty Lake.
How to Reach Ooty Lake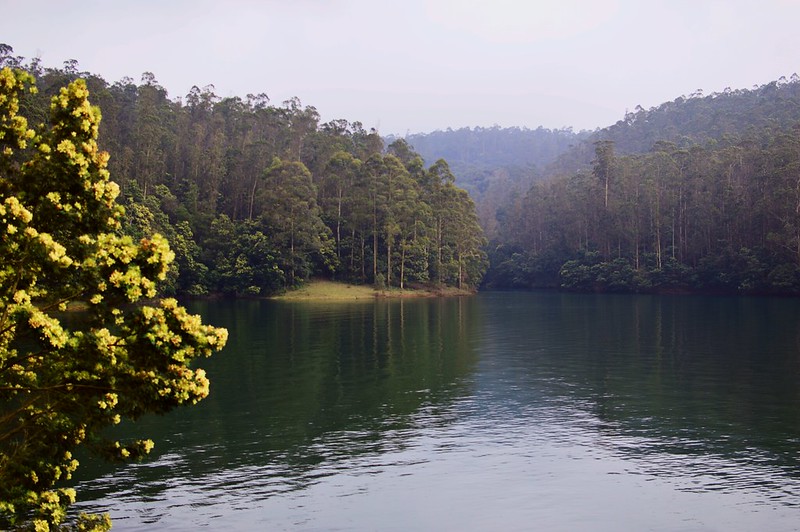 It is fairly easy to reach Ooty Lake from the city center since the lake is pretty close to it. The Ooty Lake is around 2 km away and can be reached within 10 to 15 minutes. You can take local transport like auto or reach Ooty Lake in a private taxi.
Best Time to Visit Ooty Lake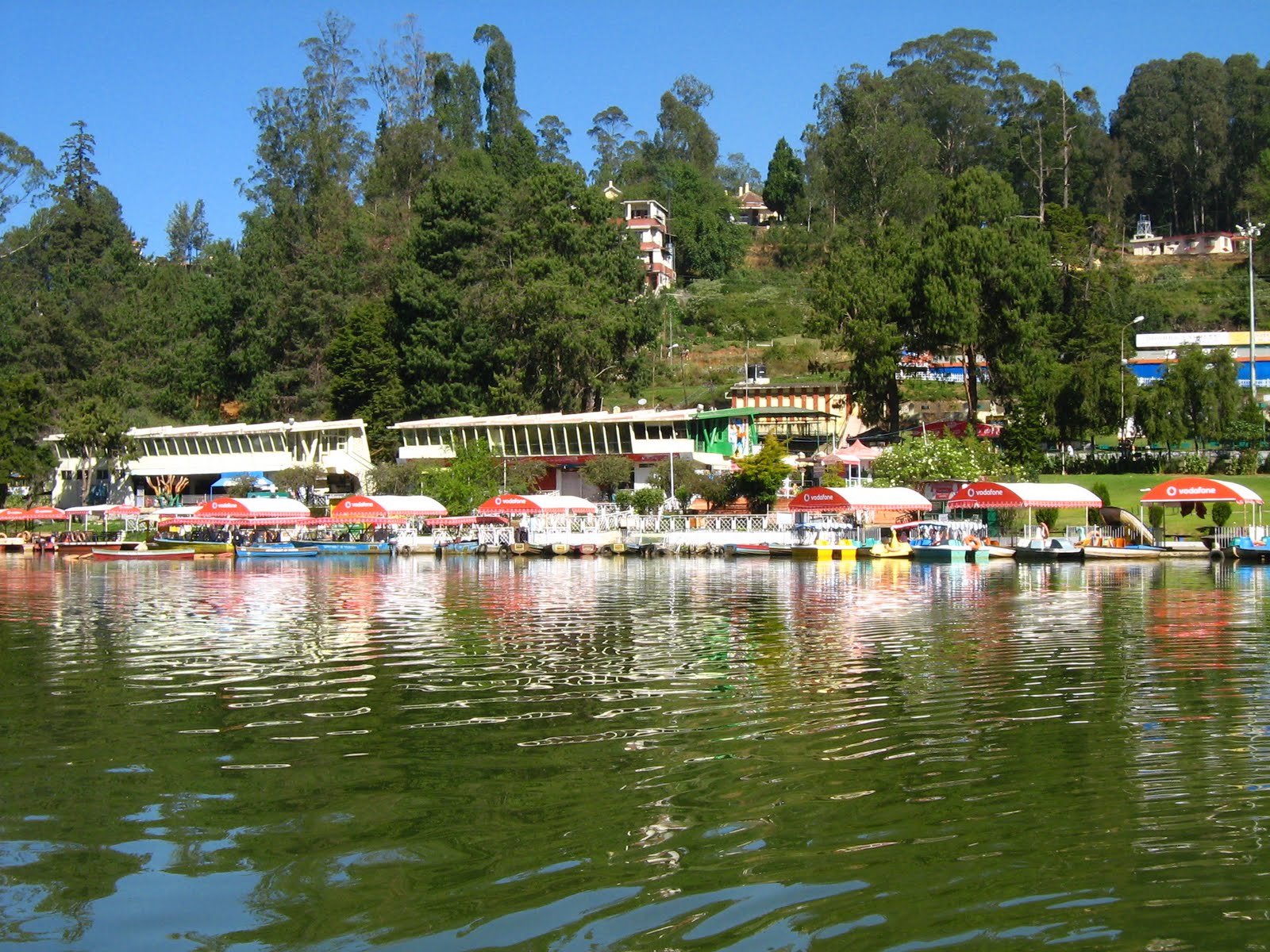 The best time to visit Ooty Lake is during May. There are two reasons for it – One, the weather is pleasant, unlike most other parts of India. And two, you can watch boat races and boat pageantry at the Ooty Lake in May, which is an important part of the Summer Festival in May.

And last but not least,a beautiful flower show is held at the Ooty Botanical Garden in the third week of May when about 150 varieties of flowers are put on display. It is a festival that is one of a kind and must not be missed.
What Not to Miss at Ooty Lake
Attractions near Ooty Lake


While the Ooty Lake is a popular tourist attraction itself, there are quite a few nice places around it that deserve a visit too. Here are some of them.


1. Thread Garden – This is a one of a kind tourist spot in Ooty and we doubt you will find anything like this in any other part of the country. The thread garden is a unique concept by Antony Joseph, who along with 50 talented workers created this marvel after working really hard for 12 years.

One can find more than 150 varieties of flowers in this garden that have been made from various types of colorful threads but without using a needle or any other machinery. 


2. Nilgiri Mountain Railway – We all love joyful toy train rides, don't we? So why not take one when you have the opportunity! Started in the year 1899, the Ooty toy train covers a distance of 46 km in five hours and takes you on a picturesque journey amid the mountains. The steepest rail system in Asia, the toy train ride starts from Mettupalayam and ends in Ooty. It is one of the best ways to witness the hidden beautiful treasures of the Nilgiris.


3. Rose Garden – The Rose garden is one of the most popular tourist spots in Ooty and very close to Ooty Lake too. Also known as Centenary Rose Park, the garden was established in 1995. One can find a wide variety of roses in this vast garden that includes local roses, non-local roses, and hybrid varieties of roses too.


4. Halasana Waterfalls – Ooty is a nature's paradise so one can find numerous lakes and waterfalls in the city. One of the prettiest and popular waterfalls is the Halasana Waterfalls. With a height of 150 feet, this waterfall makes for a spectacular view. 
Other Essential Information About Ooty Lake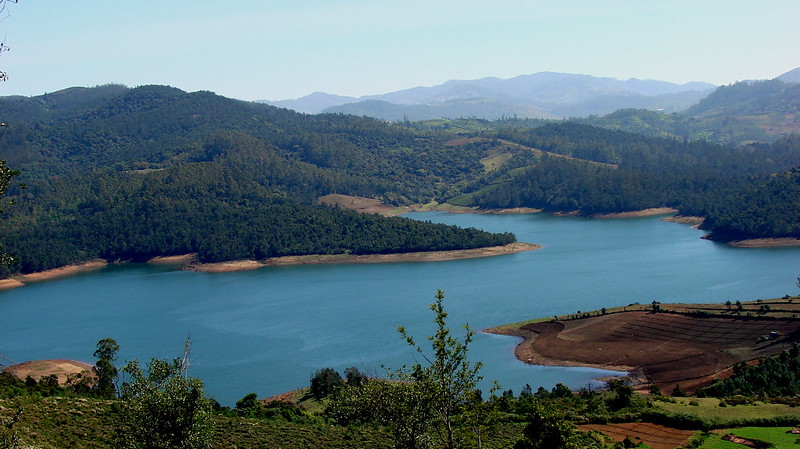 - Location:
Ooty Lake is located in the city of Ooty, Tamilnadu. The exact location is No. 2, North Lake Road, Udagamandalam, Ooty, Tamil Nadu, 643001.

- Timings:
Ooty Lake is open to the public on all days of the week. You can visit the lake anytime from 9 AM to 6 PM. 

- Entry Fee: 
The entry fee for Ooty Lake is INR 10 per person. If you are carrying a still camera, you need to pay INR 30 and if you are carrying a video camera, you need to pay INR 125. Charges for boating, mini train and horror house, etc. are to be paid at the respective counters.

- Distance from City Center: 
Ooty Lake is about 2 km away from the city center in Ooty.

History of Ooty Lake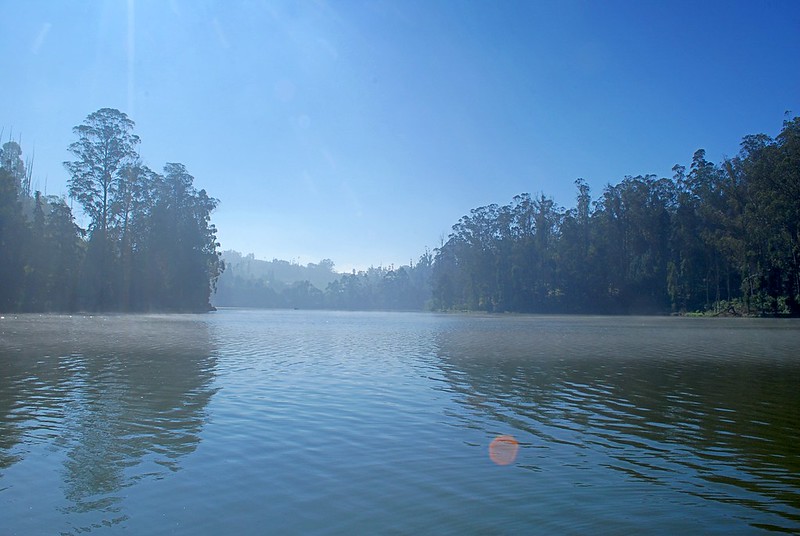 The Queen of Nilgiris, Ooty is a popular travel destination for people who like mountains. And one of the spots that make Ooty a popular tourist destination is the Ooty Lake. The beautiful vast lake with clear azure water has an interesting history. While many of us might not believe it, but the Ooty Lake is actually an artificial lake. It was built by the then collector of Coimbatore, John Sullivan in 1824 for the purpose of fishing.

Back then, Ooty had a lot of water streams coming down from the mountains. So, the collector decided to block them up to form a lake that was spread over a vast area of 65 acres. However, with the progression of time, the lake shrunk in size making way for new developments around it. The possession of the lake was taken over by the Tamil Nadu Tourism Development Corporation in 1973. They made a lot of new developments like a boathouse that provides boats on hire to tourists. They also developed an amusement park and other activities for the entertainment of the tourists. Today, Ooty Lake is a major tourist spot in the lovely city of Ooty. 

Places to Eat in and Near Ooty Lake
There are small eateries in Ooty Lake where you can eat when hungry. There are small vendors that sell snacks, tea, and other goodies. However, if you are really hungry, and looking for a good restaurant to gulp down some yummy food for lunch or brunch, here are a few options. 


1. Ascot Multi-Cuisine Restaurant – Situated near the Ooty Railway Station, this is one of the best places to eat in Ooty. The restaurant serves both vegetarian and non-vegetarian dishes. The kebabs and north Indian food is what most customers at Ascot enjoys. 


2. Jade Garden Chinese Restaurant – If you like Chinese food, you can drop in at Jade Garden situated in Sheddon Road, Ooty. This is a place with a wonderful ambiance and a spectacular view too (especially if you sitting outside). The food is good too, according to tourists who have dined in this place. 


3. Yummy Restaurant – If you are looking to grab a quick but yummy meal in the heart of the city, head over to Yummy Restaurant. The place serves Indian, Chinese, and Asian cuisine. The food is good and not very expensive too. 


4. Adyar Ananda Bhavan A2B Veg Restaurant – If you are looking for vegetarian options in Ooty, the Adyar Ananda Bhavan A2B Veg Restaurant is where you should go. You can find a lot of vegetarian food options and juices at reasonable rates in this restaurant. 

About Ooty Lake Boating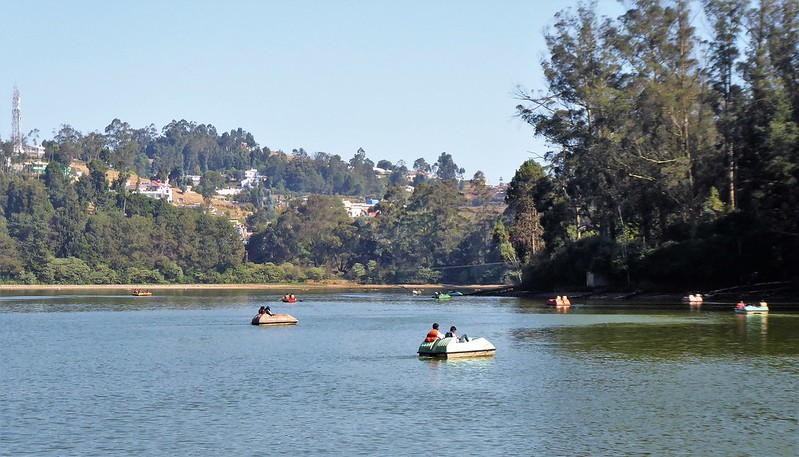 Ooty Lake is an artificial lake that was initially created for fishing. However, once it was taken over by the Tamil Nadu Tourism Development Corporation in 1973, they made a lot of changes and one of them was creating the boathouse and linking it with the lake. Today, one of the main attractions of the lake is boating, and every day, plenty of visitors, locals and tourists alike, visit the Ooty Lake to enjoy boating across the lake.

Various types of boats are available for visitors which include motorboats, paddle boats, and rowboats. All of them are available at the boathouse for hire at nominal charges. Besides the boathouse, visitors can also take a tour of the garden, enjoy a mini-train ride, take pony rides across the park, and visit the amusement park for different fun activities. And if you get hungry after indulging in all these activities, you can visit the boathouse canteen, which is run by the Tamil Nadu Tourism Development Corporation.

The Boating Charges at The Park

- For a 2-seater rowboat for 30 minutes: INR 180

- For a 4-seater pedal boat for 30 minutes: INR 200

- For an 8-seater motorboat for 20 minutes: INR 450

- For a 2-seater pedal boat for 30 minutes: INR 160

Travelers' Tip before visiting Ooty Lake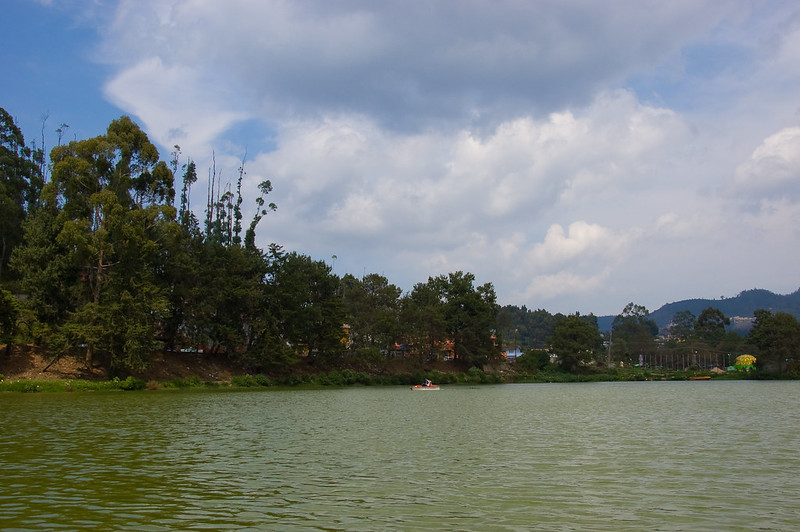 Before you visit the ooty Lake, there are a few things that you must absolutely know about the place so that there are no interruptions in your enjoyment. 


1. Wear comfortable clothes so that you can enjoy all the activities available at the Ooty lake Park like pony riding, boating, cycling, etc.


2. There are a lot of things that you can do at the park so it might take quite some time. Plan your itinerary accordingly.


3. Ooty Lake Park is usually crowded on the weekends. So, plan accordingly.


4. There is usually a long queue at the Boathouse. So be prepared to wait unless you arrive really early. 


5. Eateries are available at the park. So, you need not carry food.