About Doddabetta Peak
Whether you are seeking an adventurous trip with friends or a leisure tour with family, the Doddabetta peak makes for a perfect holiday spot amidst majestic hills and misty clouds. The fourth highest peak of South India next to Anamudi, Mannamalai, and Meesapulimala, Doddabetta is the highest mountain in the Nilgiri Hills at an astonishing height of 2,637 meters or 8652 feet. Located at a distance of 10 km from Ooty, Doddabetta translates to "Big Mountain" where Dodda means Big and Betta means mountain.

A haven for hikers, it is one of the most visited places in Ooty with a magnificent view of the surrounding areas as you climb to the top. You can view the entire Nilgiri mountains from this picturesque peak because of its strategic location between Eastern and the Western Ghats. With access by both foot and vehicle to the summit, the viewpoint is covered with dense flora of colorful rhododendron trees and herbs.

With a spectacular trail of approximately 3 km to Doddabetta Mountain, you can trek through rugged paths and grassy slopes that are covered with ferns and alpines with their rich fragrance filling the air. The exciting trek to the breathtaking mountains offers a bird's eye view of the surroundings, thus making it a perfect vantage point for the Nilgiri Hills. On the top of the peak, there is a Telescope House from where you can observe the skyline of Ooty and panoramic forests of Bandipur National Park.
How to Reach Doddabetta Peak
By Road: Doddabetta is located around 9 km from Ooty City Centre and 8 km from Ooty Bus Stand and is accessible by both bus and car.

By Rail: Ketti Railway Station is the nearest railway station which is located around 14 km from Doddabetta Peak. Another closest railway station from Ooty is Mettupalayam which is well-connected by the Nilgiri Mountain Railway Toy Train, a World Heritage Site declared by UNESCO. Tourists enjoy a fun-filled ride while traveling from this Toy Train.

Trek to Doddabetta: For enthusiastic trekkers who want to explore the rugged trail amidst grassy plains, misty clouds and dense forests, Doddabetta offers just that. If you are looking for some thrill and adventure, climb up the highest mountain and witness the spectacular view from the top of the peak.
What Not to Miss at Doddabetta Peak
Activities at Doddabetta Peak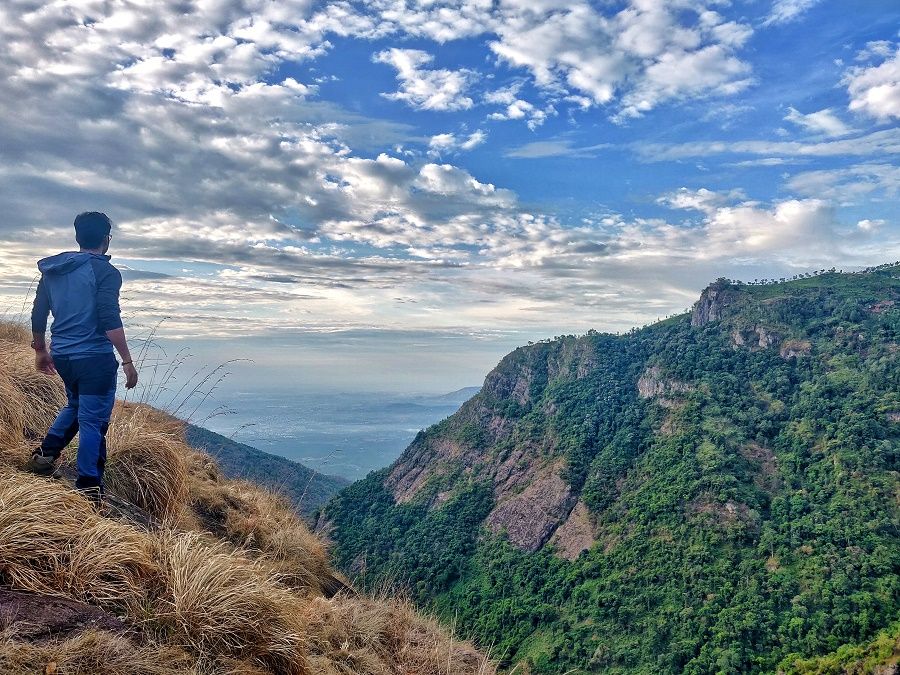 1. Trek to Doddabetta Peak: 
Experience the thrill of hiking up the Doddabetta Mountain as you enjoy the expedition amidst coarse grass and fluffy clouds. Start from the main town of Ooty and choose from any of the several mesmerizing trekking trails. The total trek of 10 km is quite an easy trek that ends with a spectacular flattened surface at the top. You can also reach Doddabetta Peak by car or jeep but hiking the mountains will give you an unforgettable experience.

2. Visit the Telescope House at Doddabetta Peak: The befitting reward of this challenging trek is witnessing the stunning 360-degree panoramic view of the pristine Nilgiri Hills from the Telescope House. Located at the peak, this popular observatory popular among tourists has two telescopes from where you can spot Bandipur National Park and grassy plains of Coimbatore and Mysore during summers when the sky is clear.

3. Embark on a tour of Doddabetta Tea Factory: The much-acclaimed Doddabetta Tea Factory offers you a marvelous taste of freshly grown tea. Visit this 14-year old tea factory and know about its history and how various flavors are manufactured here. Enjoy a steaming cup of tea here while soaking in the natural beauty of the highest mountain of Nilgiri Hills. You can also buy some tea samplers as souvenirs or gifts. If you are a tea connoisseur, attend the famous annual "Tea and Tourism Festival" at Doddabetta Tea Factory.

Places to visit near Doddabetta Peak


Situated close to Doddabetta Peak, there are various places to explore and unwind by the water on Ooty Lake or enjoy the marvelous architecture of the famous St. Stephen's Church

1. Ooty Botanical Gardens: 
The vast area rich in the flora at the foot of Doddabetta Peak is Ooty Botanical Gardens which has an astonishing display of exotic tree species and tropical flowers. The 55-acre intricately designed park that was originally used to supply vegetables to the local villagers, is now famous for years old fossil of a tree trunk and a unique cork tree.
2. St. Stephen's Church: The pleasing architecture and marvelous stained-glass windows give a magical appearance to one of the oldest churches of the Nilgiris region - St. Stephen's Church. The magnificent cream-colored exterior and exquisite interiors with huge colossal beams are the most striking features of the Church which is engulfed by the dense pine trees.
3. Ooty Rose Garden: Step into this jaw-dropping Rose Garden and discover an expansive selection of exotic species of rose that include tea roses, ramblers, and floribunda. With around 20,000 roses on this splendid terraced garden, you will be impressed by the exquisite varieties and a divine view of the city from the top.
4. Ooty Lake: Located a few minutes away from the City Centre, Ooty Lake is the perfect place to relax and go paddling in the calm water. This L-shaped man-made lake offers an amazing escape from the busy city as you explore the water on a paddleboat or enjoy the mystical woodland haven from the Toy Train.
Other Essential Information About Doddabetta Peak


Location: Doddabetta is located 9 km from Ooty in the Nilgiris District (Tamil Nadu).

Timings: The peak is open for visitors from 9:00 AM to 6:00 PM (All Days)

Entry Fee: The entry ticket is INR 6 for adults and no ticket for children below 5 years. INR 10 for still camera and INR 50 for the video camera.

Height: The highest mountain in the Nilgiri district, Doddabetta is at a height of 2,637 meters (8,652 feet).

Best Time: The pleasant weather of Ooty makes it favorable to visit all through the year, however, the best time to visit Doddabetta peak is from October to January. Early morning is the best time to visit this incredible viewpoint to avoid the crow.

Trek Duration: The 2-mile ascent to Doddabetta Mountain will take around 1-2 hours.

Distance from Ooty City Centre: Doddabetta Peak is situated 9 km away from the Ooty City Centre.


Places to Eat near Doddabetta Peak
While sightseeing and trekking are major activities to do as you explore Doddabetta Mountain, you should also indulge in some mouthwatering delicacies and enjoy the taste of various cuisines of Ooty.

1. Cliff Top:
Located within 3-4 km from Doddabetta Peak on an enchanting hill range, Cliff Top International Cuisine Restaurant is well-known for their vintage interiors with a classical vibe and outdoor seating. With a diverse menu including North Indian, South Indian, and Seafood, you can relish a sumptuous meal from a healthy breakfast to wholesome lunch or dinner.

2. Royal Cafe Ooty:
Famous for its wholesome international cuisines and authentic Badaga tribe dishes, Royal Cafe Ooty will give you a colonial feeling because of its British architecture and royal service. Tourists come here to relish their home-style delicacies and create memories over a homely meal.

3. Willy's Coffee Pub:
A must-visit for ardent readers and coffee enthusiasts, Willy's Coffee Pub is a fun place to be among various genres of books, board games and scrumptious European style food.

4. Place to Bee:
Tucked inside Nilgiri Natural History Society, this artistically designed cafe serves freshly made European dishes such as wood-fired pizzas, pastas and salads prepared out of locally sourced ingredients.

5. Tea County Restaurant:
Enjoy a hot cup of tea with delicious snacks at this pocket-friendly and cozy cafe located in Kotagiri town. The tea here is made using locally grown tea leaves that are rich in flavor and aroma. You can find varieties of tea including green, black, Assam or Nilgiri.

6. Cafe Coffee Bean:
One of the quaint cafes located close to Doddabetta Peak, Cafe Coffee Bean attracts tourists for its traditional filter coffee made out of fresh coffee beans and sumptuous croissant sandwiches. It is a peaceful, homely coffee place where you can enjoy the scenic view of Nilgiri Hills.

7. Kingstar Chocolates: 
Another popular indulgence is handmade chocolates if you are visiting Doddabetta Peak in Ooty. These melt-in-mouth delicious sweet decadents are locally made chocolates available in 40 flavors. A box of handmade chocolates also makes for amazing gifts!

Things to Carry for trek to Doddabetta Peak


Trekking to Doddabetta Peak in Ooty is quite an easy trek and it is recommended to keep these things in mind while you climb up the mountain.


1.
Wearing comfortable shoes will make hiking easier and will prevent you from slipping during monsoons.


2.
Carry at least 2 water bottles and some nutritious snacks such as energy bars and electrolyte drinks as you might not find any eatery on the trekking trail covered with dense forest.


3.
Carry sunglasses and sunscreen lotion if you are trekking in summers and raincoat during monsoons.


4.
A waterproof backpack to carry all the essentials.


5. Do not forget to carry basic medicines and a first-aid kit in case of emergency


Transportation and Network Connectivity on Doddabetta Peak


The easiest way to reach Doddabetta Peak is by public transport from Ooty Bus Stand. You can either hire a private taxi from the main town of Ooty or avail the shuttle jeep service from Ooty City Centre which is located 9 km from Doddabetta.

Buses and private vehicles will drop you 2 km from the peak from where you can hire an auto or walk. For avid trekkers, both easy and hard trekking trails offer an awe-inspiring view of the surroundings amidst coarse forest and misty valleys.


Traveler's Tips for visiting Doddabetta Peak
1. Plan an early morning trip to this lovely place to avoid the crowd and witness the breathtaking sunrise and stunning view of the lush green valleys. 
2.
If you are visiting during winters, carry warm clothes as the temperature falls to 5 degrees Celsius. 


3.
If you are trekking through the rugged landscape and coarse grass, wear comfortable shoes.


4.
If you want to click photographs here, you need to pay INR 10 and INR 50 for videography.